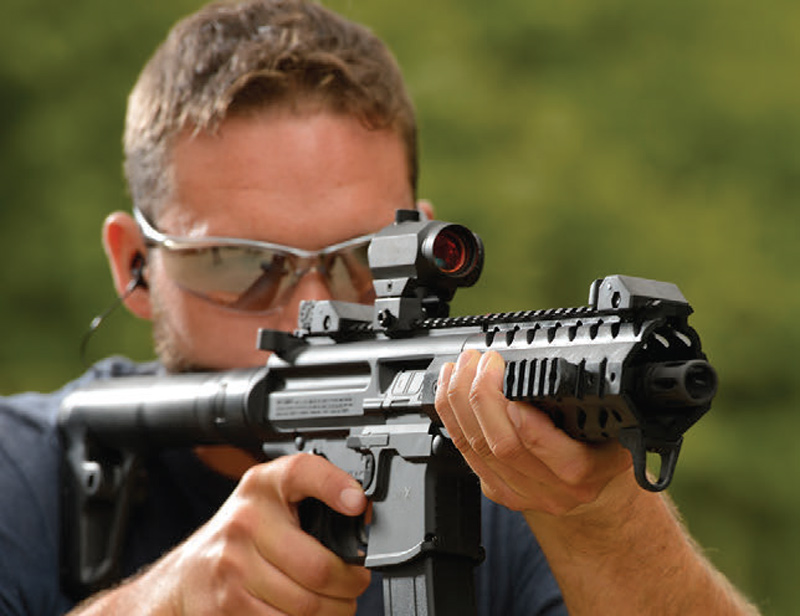 Sig Sauer®'s cool new line of high-performance airguns are not only a lot of fun, but great training tools as well. SIG Sauer Advanced Sport Pellet (ASP) CO2-powered rifles and pistols take airguns to a new level of performance while also offering a wide variety of ASP targets and pellet ammunition.
The starting lineup of SIG Sauer ASP airguns includes the SIG MPX™ and SIG MCX™ CO2 semiautomatic pelletonly rifles in .177 and .22 calibers, and SIG P226® and SIG P250® semiauto pellet-only CO2 pistols in .177 caliber. They are matched to original model specs and utilize authentic materials.
JUST LIKE THE REAL THING
SIG Sauer ASP airguns mimic the weight, balance, controls, and feel of the original guns and even have a similar trigger pull. They allow you to hone your skills at home for a fraction of the cost of going to the range. And the skills you learn with the ASP airguns translate directly to the actual firearm that's replicated.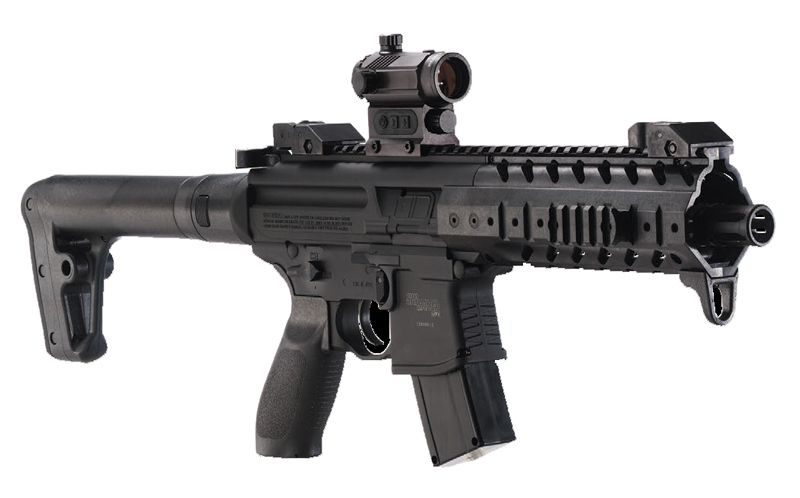 Most of us don't have the time to train as often as we want or should. And ammo is not cheap these days. Even .22 LR is going for a premium if you can find it. And that currently is a big if, at least where I live. An airgun is a logical choice to enhance training.
SIG Sauer ASP airguns are not licensed copies. They are made exclusively for SIG and designed and engineered to the same exacting standards as SIG Sauer firearms.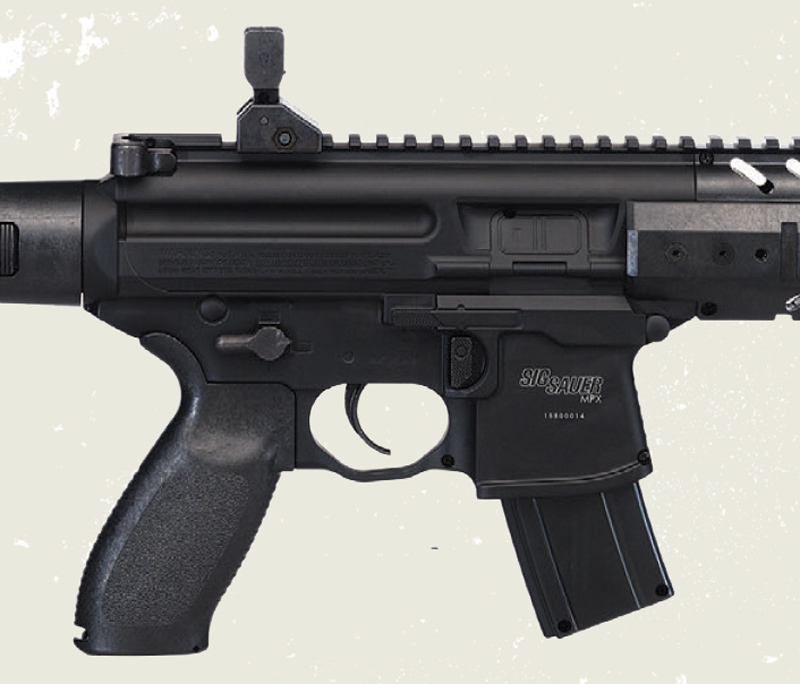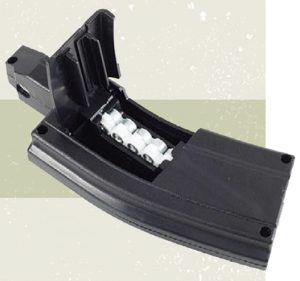 Although SIG ASP airguns are designed primarily for training purposes, one cannot ignore the fun factor. SIG didn't either.
The company is offering an assortment of ASP targets that are high on the fun factor, including spinners, traps, and a Texas Star with nine center-mass targets that spin around a central axis. All targets are compatible with .177- and .22-caliber airguns and are recommended for use with lead airgun pellet and lead shot only, not for steel BBs.
SIG Sauer also offers a variety of lead-free and lead copper- jacketed pellets. According to SIG, generally speaking flat-topped pellets are superior for target, domed designs have greater aerodynamics for long-range accuracy, and pointed tops increase velocity.
SIG Sauer provided me with a SIG MPX ASP in .177 caliber for evaluation.
The SIG MPX ASP is identical to its centerfire brother in appearance, weight, feel, and handling. The housing, controls, sights, barrel, and "flash suppressor" of the SIG MPX ASP are metal. The buttstock, pistol grip, forend, and magazine are made out of hard polymer. The buttstock is equipped with a rubber recoil pad. The pistol grip features an internal storage compartment.
The only cosmetic differences are in the shape of the magazine, lack of a folding stock due to the CO2 cylinder, and lack of QD sling attachment points on the SIG MPX ASP.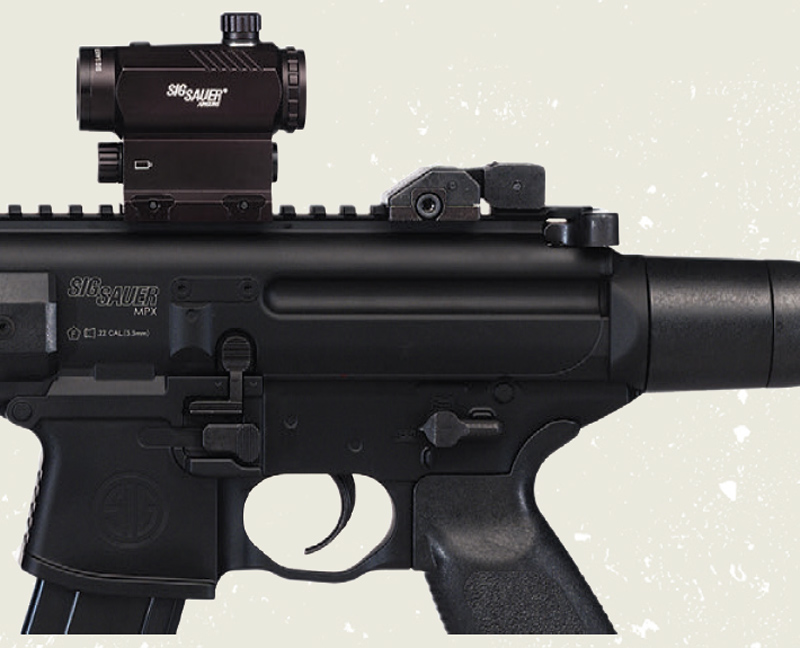 CONTROLS AND ACCESSORIES
All controls on the SIG MPX ASP are ambidextrous except the magazine release, which is right-hand release. The safety selector is positioned for easy thumb operation just as on an actual SIG MPX. The charging handle on the SIG MPX ASP is fully functional and utilized to reset the valve after changing CO2 cylinders. The bolt catch on the SIG MPX ASP is for cosmetic purposes only and non-functional.
The SIG MPX ASP comes with flip-up adjustable front and rear iron sights that are identical in appearance and function to those on an actual SIG MPX. A sight adjustment tool is included. An MRD red dot sight package is available from SIG Sauer as an option.
Like its big brother, the SIG MPX ASP has an integrated full-length 1913 (Picatinny) top rail. The forend features two moveable 1913 rail sections and a forend hand stop. The rail has plenty of space for optics and accessories.
Although the SIG MPX ASP lacks QD sling attachment points, SIG Sauer offers a low-profile QD socket for QD slings that mounts using any 1913-style rail section. Other companies, including Bravo Company Mfg and Magpul, also offer 1913 rail sling mounts.
POWER AND PELLETS
A single 88/90g pre-filled CO2 cylinder powers the SIG MPX ASP. The cylinder screws into a threaded port on the rear of the rifle and is covered by the stock. Using other types of gas cylinders may damage the gun and could result in injury.
The CO2 cylinders are widely used in paintball and pellet guns and readily available. SIG-branded 90g (88g) CO2 cylinders are available from SIG Sauer dealers and come in packs of two.
The SIG MPX ASP utilizes SIG Sauer's patentpending RPM™ (Rapid Pellet Magazine) Pellet Drive System, which is only offered on SIG Sauer airguns and allows for true semiautomatic function.
The RPM Pellet Drive System is a refillable, beltdriven loading system that consists of 30 pellets traveling along a continuous track contained in a rugged polymer composite magazine. Unlike MPX centerfire magazines, RPM magazines are not drop free and must be pulled from the magazine well after pressing the magazine release.
Reliability issues, if they occur, generally can be attributed to the pellets being used, failure to seat the pellets properly in the pellet belt, or low CO2 cylinder pressure. Pellets must be fully seated flush in the pellet belt for optimal performance. A pellet-seating tool comes with the SIG MPX ASP for this purpose.
A vast number of airgun pellets are on the market, with many variables. Differences include skirt diameter, overall length, and composite materials (lead, alloy metal, and polymer composite). These variables impart different ballistic coefficients and impact performance. You can't go wrong with SIG Sauer airgun pellets.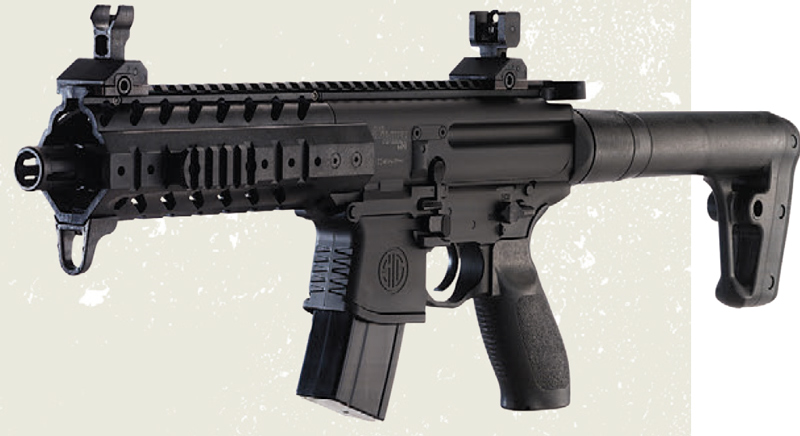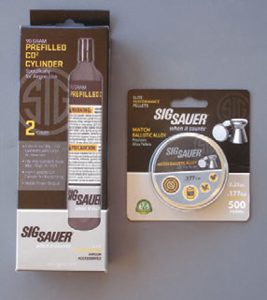 ACCURACY TESTING
The SIG MPX ASP features an eight-inch rifled steel barrel that provides aerodynamic pellet stability and preserves original model weight and balance. Although the SIG MPX ASP was designed as a training gun, not for target shooting, accuracy is quite good. During my accuracy testing, I was able to keep groups under three inches shooting offhand with iron sights at 25 yards at a local indoor range. During testing, I used SIG 5.25-grain .177-caliber Match Ballistic Alloy Pellets, which are lead free, lightweight, and accurate. Recommended by SIG Sauer for competition and training, they produce tight groups and cut clean holes.
Velocity of the SIG MPX ASP is on par with similar CO2 powered airguns—up to 600 feet-per-second (fps) in the .177-caliber model and 475 fps in the .22-caliber model. At the range, I got velocities from the high 400s to the mid-500s.
As with any CO2 powered airgun, the number of shots per cylinder and the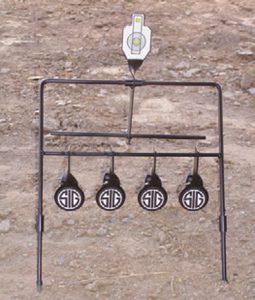 velocity vary depending on environmental and shooting factors. You get more shots and greater velocity at warmer ambient temperatures. And on any given day, you get the best velocity and consistency with slow fire.
Fast shooting results in decrease in temperature of the CO2 cylinder and gun, and therefore reduced velocity, which can mean reduced accuracy and fewer shots per cylinder.
CONCLUSION
The SIG MPX ASP is made in Japan for SIG Sauer. It is a rugged, well-designed and well-built airgun with features that make it eminently suitable for both professional training and recreation.
It has a suggested retail price of $229.99 and comes boxed with a 30-round (RPM) magazine, sight adjustment tool, pellet seating tool, and owner's manual. Additional magazines are available from SIG and include three refillable belts with each magazine. The SIG MPX ASP is available in either Black or Flat Dark Earth (FDE) and comes with a one-year warranty.
The SIG MPX ASP is performance tested for up to 15,000 shots. It's a great companion to your SIG MPX firearm or AR and a heck of a lot of fun.