Most of us don't get to the range as often as we'd like to or should. Few of us live where we can step outside and shoot. Even when we do get to the range, restrictions often limit our training. And as we all know, shooting is a perishable skill.
It would be nice to have an alternative that gives us the freedom to shoot virtually anywhere we want and whenever we want with the weapon we use for sport, duty or protection. Now we can do precisely that with the Civilian Training Ammunition (CTA) Target Shooting Kit from Ultimate Training Munitions (UTM) Reality Based Training (RBT).
CTA TARGET SHOOTING KIT
The CTA Target Shooting Kit allows you to shoot virtually wherever and whenever you want without expending a single round of live ammunition. Dry fire can be a valuable training tool, but it is boring and not a replacement for live fire. CTA offers another option, providing realistic training that offers the same feedback as live fire.
CTA has numerous practical applications. It gives new shooters the ability to train in the basics and safety without having to go to live fire immediately. It gives experienced shooters the ability to do some things they can't do on most live-fire ranges, including low-light practice, shooting 360 degrees, shooting from the ground, and immediate action drills and reloads. Whether novice or pro, CTA can take your training to a new level.
The CTA round is based on the proven UTM RBT ammunition such as the Man Marker Round (MMR) and Target Bullet Round (TBR) that have been used in military and law enforcement training worldwide for over a decade. It employs the same patented core technology as the MMR and TBR, heretofore unavailable to the general public. The MMR and TBR (both used in forceon- force training) are restricted to military, law enforcement agencies, and professional training organizations.
The TBR, being more closely related to the CTA, was designed specifically to eliminate the potential for serious injury or death during live-fire CQB training, as to allow more training options. UTM RBT sought to bring the target shooting benefits of TBR to the civilian market when developing CTA.
The CTA Target Shooting Kit is a complete system consisting of special target ammunition and a fail-safe conversion kit, all designed for the utmost safety, reliability, and maintainability. Normal weapon function, recoil, and cyclic rates are retained. It is the first such system to be specifically designed and engineered for target shooting at home. You are no longer limited to dry fire when off the range.
UTM RBT will be offering target ammunition and conversion kits for a variety of popular firearms. We received the .223/5.56mm AR-15/M4 CTA Target Shooting Kit on loan for evaluation.
WEAPON CONVERSION
As with all UTM RBT conversions, there is no permanent modification of the weapon. The AR-15/M4 conversion requires just a simple exchange of the standard bolt carrier group with the proprietary CTA bolt carrier group. It takes under a minute. The AR-15/M4 conversion is recoil operated (direct blowback) and works in both DI and piston platforms.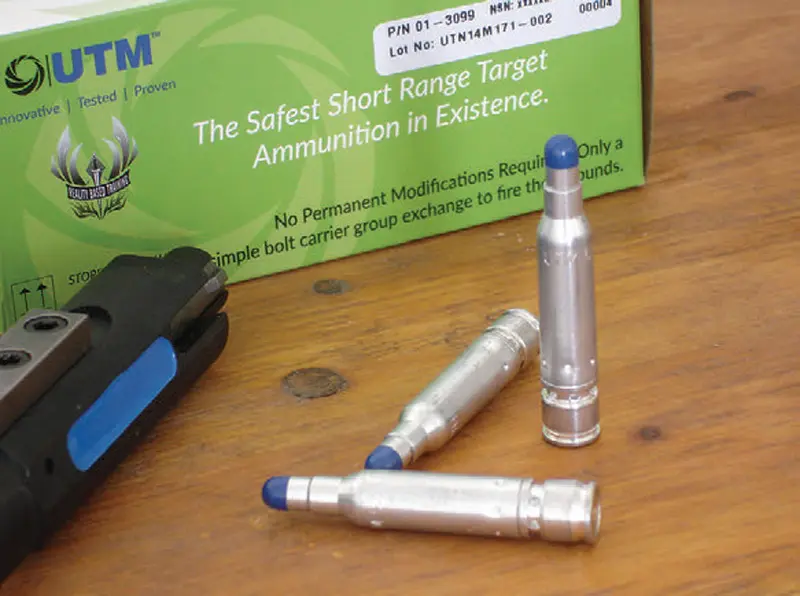 The AR-15/M4 Bolt Carrier Group Conversion is engineered with fail-safe measures that prevent the discharge of a standard "live" round. This is achieved with a 3mm offset firing pin design that only works with the rimfire Power Load employed in all UTM RBT ammunition.
It is impossible for a converted weapon to fire standard ammunition. In the event that a standard .223/5.56mm round is chambered and the trigger pulled, the offset firing pin will strike outside the primer pocket, preventing discharge.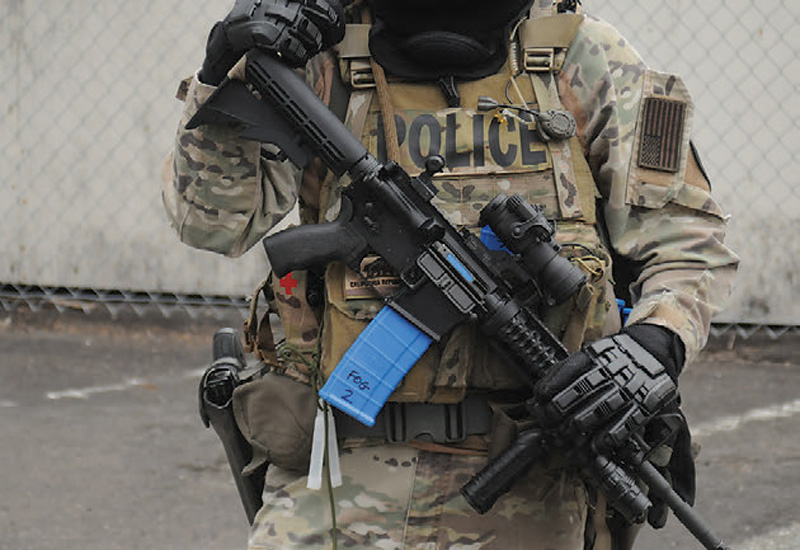 The bolt carrier features a blue indicator to easily differentiate a safe, converted weapon. The conversion is designed so the weapon's dust cover will not close with the bolt carrier conversion installed, keeping the blue indicator always visible.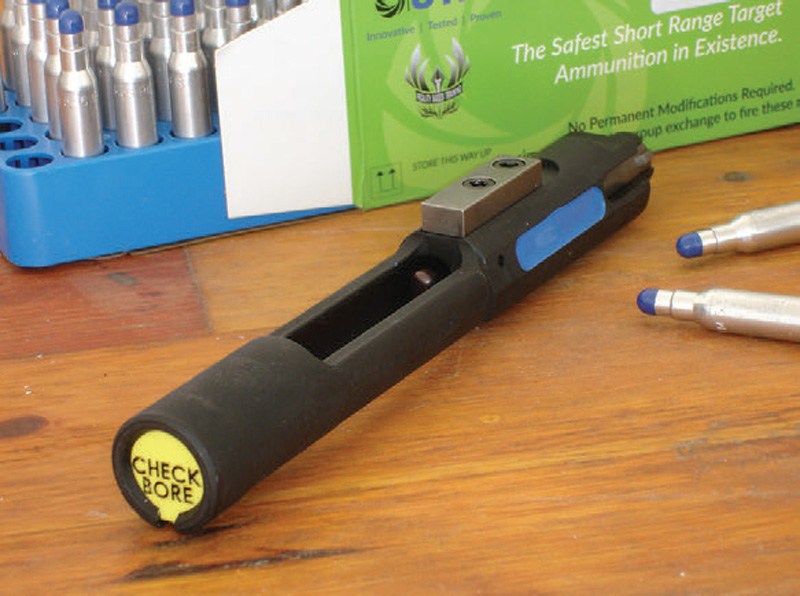 It should be noted that the AR-15/M4 conversion employs a non-shrouded (semi-auto) bolt carrier, although the bolt carrier is marked M16/M4. It can of course be employed in select-fire weapons, but only in semiautomatic mode.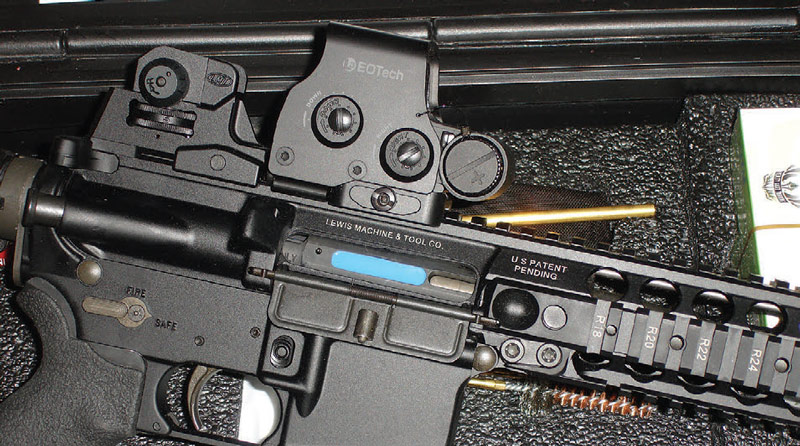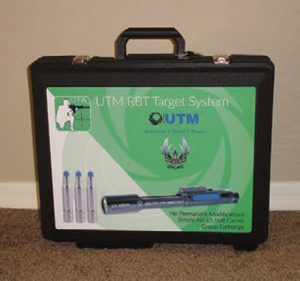 HOW IT WORKS
CTA features a patented proprietary dual primer actuated system and projectile driving band system. The cartridge contains no gunpowder. The isolated primers and expanding aluminum cartridge isolate the large operational energy necessary to cycle the firearm from the small amount of energy required for propelling the projectile. Standard magazines can be used. The round is hearing safe (113 db), non-toxic and lead free, although it is recommended that you shoot in a well-ventilated area. There is virtually no weapon fouling.
The CTA projectile assembly has an aluminum base covered with a blue plastic dome. It has a mass of 6.6 grains. CTA has an average muzzle velocity of 375 fps, and average muzzle energy is 2.1 foot pounds. This is similar to many Airsoft guns. That being said, CTA is not intended for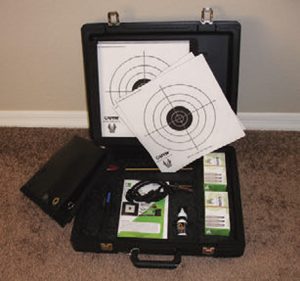 force-on-force training. It is designed solely for target shooting using an appropriate backstop.
Unlike the UTM RBT Man Marker Round (MMR), which has the marking compound in an open cruciform dome that dissipates some energy when it hits, CTA has a hard plastic projectile tip, which gives it excellent accuracy but does not dissipate energy. It will definitely dent or lodge in drywall from close range.
CTA has a maximum effective range of approximately 50 meters, although the optimal effective range is 30 meters and closer. Minimum safe distance is 175 meters. CTA has outstanding short-range accuracy. Under ideal conditions, the round is capable of producing 1.18-inch groups at 30 meters. The projectile is somewhat wind sensitive due to its low mass and velocity.
CTA core cartridge technology has over 99% reliability as certified by the U.S. Army's Picatinny Arsenal. During my testing, which consisted of firing 100 rounds (the amount provided by UTM RBT), there were no failures. Functioning was flawless.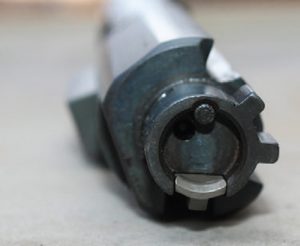 When it comes to functioning, the main safety is to be sure to run the ammo on a clean and dry chamber and bore. The projectile is very light and about the only way you can malfunction the system is with bad magazines or a very dirty or lubed bore, which can cause a projectile to get stuck from the oil. This is easy to deal with but completely avoidable if you just run a dry bore snake or patch before you convert the weapon and then run a rod before converting back to live ammunition to ensure it is clear.
Lubricate normally as you would in your bolt carrier group in areas where there is going to be metal-to-metal contact. But when it comes to the chamber and bore, clean and dry is the way to go.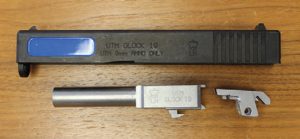 WHAT YOU GET
The AR-15/M4 CTA Target Shooting Kit comes with everything you need. Included in the kit are a UTM RBT AR-15 Bolt Carrier Group Conversion, two 50-round boxes of ammunition, one five-round Magpul PMAG M3, Cleaning Kit, UTM RBT Target Holder and Trap, two bungee-cord target hangers, three targets, and a detailed UTM RBT Conversion Manual with full color illustrations. It comes in a locking, foam-fitted hard carry case.
The AR-15/M4 CTA Target Shooting Kit has an introductory offer price of $349.00. CTA .223/5.56mm ammunition is $29.50 per box of 50 rounds. They may be ordered directly from UTM RBT. The kit is manufactured in the USA at UTM RBT's Long Branch, New Jersey, manufacturing facility. It is available in the contiguous U.S. only. CTA Products do not ship to Alaska, Connecticut, Hawaii, Illinois, New York, Washington D.C., or any APO, FPO or PO boxes.