SIG RATTLER DEEP DIVE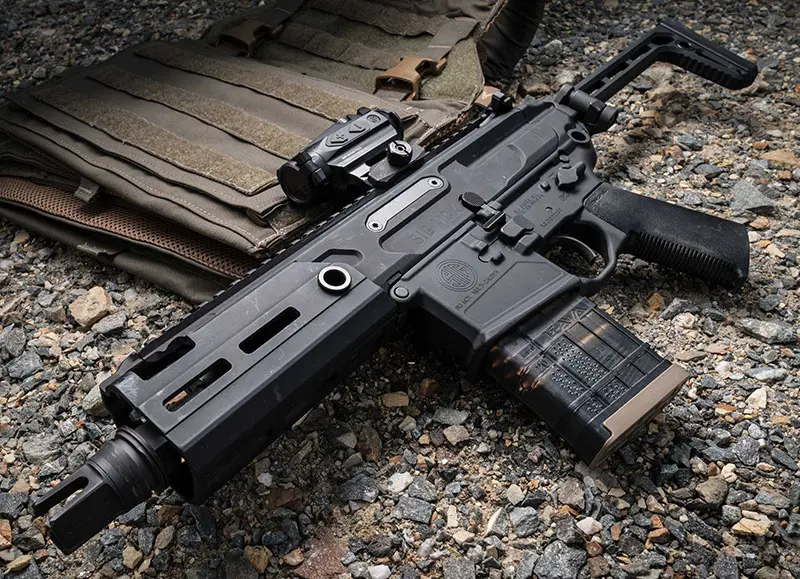 The SIG Sauer MCX Rattler SBR is one of the coolest new kids on the block. Billed as the "world's smallest rifle," it was designed from the ground up to be as discrete as possible while retaining all the capabilities of the company's MCX platform.
The SIG Rattler has its origins in a request from the U.S. Special Operations Command (SOCOM) for a Commercial Off The Shelf (COTS) conversion kit for the M4A1 to create a Personal Defense Weapon (PDW).
There were initially no plans to make it available on the commercial market. SIG now not only offers select-fire MCX Rattlers for government end-users, but also semi-auto SBR and pistol versions for civilian sale.
All SIG Rattler versions feature a 5.5-inch barrel (1:5 twist) with a SIG PDW upper that lacks the forward assist found on other MCX models. The brass deflector has been reduced in size. The SIG Rattler is currently only available chambered in .300 AAC Blackout® (.300 BLK/7.62x35mm), although a 5.56mm NATO chambering is rumored to be in the works.
SPECIFICATIONS, SIG RATTLER SBR
| MANUFACTURER | SIG SAUER |
| --- | --- |
| MODEL | MCX RATTLER SBR |
| TYPE | SEMIAUTOMATIC (select-fire available) |
| OPERATING SYSTEM | PISTON |
| CALIBER | .300 BLK |
| MAGAZINE CAPACITY | 30 ROUNDS (STANDARD MAGAZINE) |
| BARREL LENGTH | 5.5 INCHES |
| OVERALL LENGTH | 23.5 INCHES (STOCK EXTENDED) |
| OVERALL WIDTH | 2.8 INCHES |
| HEIGHT | 8.0 INCHES |
| WEIGHT (EMPTY) | 5.7 POUNDS |
| HANDGUARD | FREE FLOATING M-LOK |
| STOCK | PDW ULTRA-THIN FOLDING ALUMINIUM |
| RECEIVER FINISH | MILSPEC TYPE III HARD COAT BLACK ANODIZED |
| SUGGESTED RETAIL PRICE | $2979.00 |
RATTLER ORIGINS: SIG MCX AND MCX VIRTUS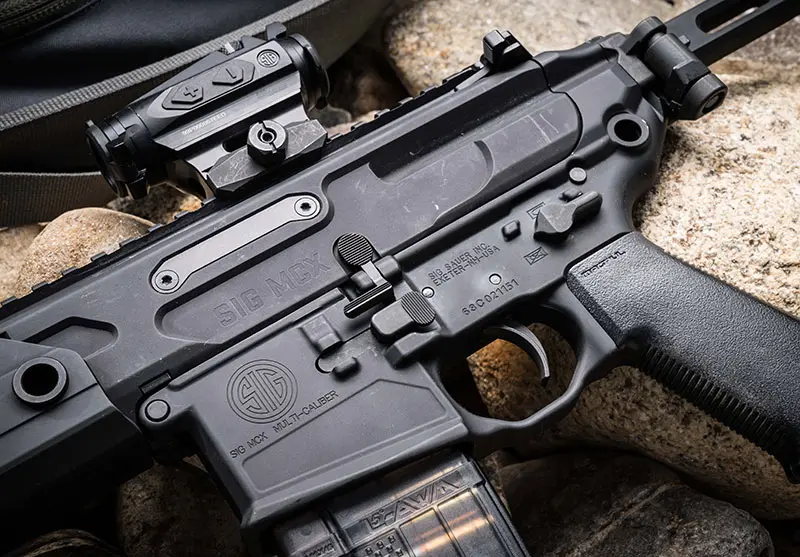 The MCX Rattler is a derivative of the SIG MCX VIRTUS, itself a refinement of the original SIG MCX design, which was also conceived to meet the requirements of SOCOM. The MCX has proven very successful and been adopted by many agencies, including a unit with the London Metropolitan Police Counter Terrorist Specialist Firearms Officer Programme.
The MCX features SIG's proven internal recoil system, which offers reduced recoil and a compact platform compared to the conventional AR buffer spring system. The MCX has a self-regulating short-stroke piston and fully locked and closed rotating bolt system.
The MCX features a hammer-forged barrel with a nitride treatment for increased life. All operating controls are ambidextrous and located similar to those of a standard AR. The upper receiver is hardened in select areas and utilizes replaceable parts in areas subject to the most wear.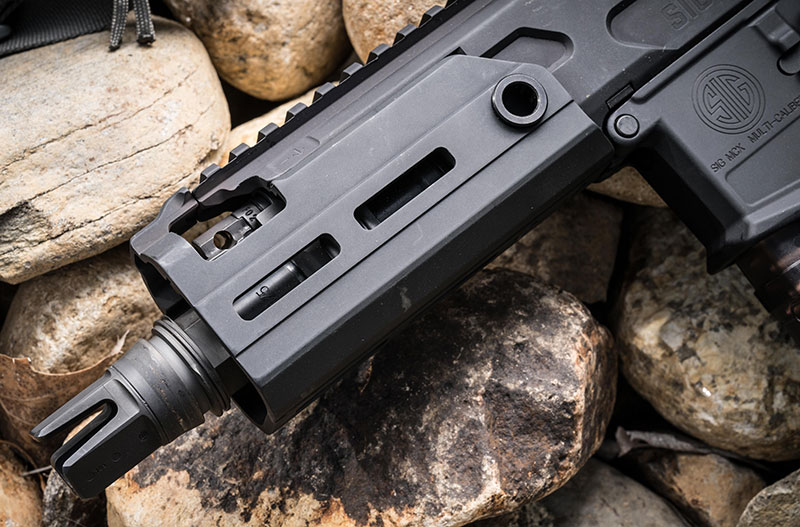 The MCX VIRTUS has a number of improvements over the legacy MCX. Improvements include a tapered lug bolt group, two-stage SIG Matchlite™ Duo trigger, thicker receiver/barrel, free-floating M-LOK® handguard, and modified gas port location. The forward assist and case deflector are now modular. The feed ramps of the barrel extension are part of a hardened-steel implant that bolts to the upper receiver and mates with those of the barrel extension.
Due to the changes, legacy MCX barrels cannot be used in the MCX VIRTUS, whose barrels are backwards compatible with legacy MCX rifles. If you purchase a VIRTUS barrel, it includes a compatible bolt with tapered lugs. The gas valves aren't in the right position to adjust through the windows, but they will work.
The modular MCX VIRTUS is configurable in more than 500 combinations. It was engineered for unmatched reliability and is designed to perform beyond 20,000 rounds without the need for replacement parts.
BACK TO THE SIG RATTLER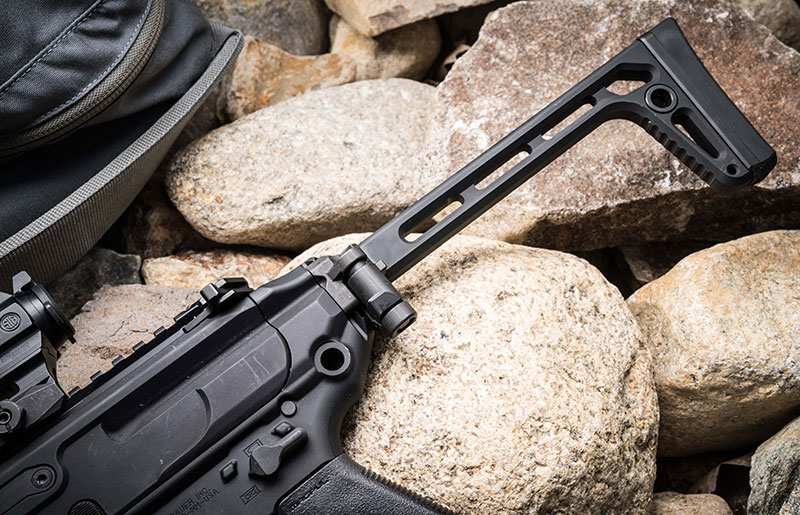 The diminutive MCX Rattler SBR has an overall length of 23.5 inches with the stock extended and weighs just 5.7 pounds. The SIG Rattler is equipped with an ultra-thin folding aluminum stock for easy concealment and stowage. Per SOCOM requirements, it measures under 17 inches in overall length with the stock folded. It is small enough to fit in a briefcase or small backpack.
The MCX Rattler features a unique-looking grip that SIG designed specifically for it. It's more vertical than the MCX's grip. This provides better ergonomics and control on the smaller weapon that's held close to the body.
CLEARING UP MISCONCEPTIONS
A lot of misconceptions about the MCX Rattler and its design parameters are circulating on the web and in print media. Let's see if we can't clear a few things up. The MCX Rattler chambered in .300 BLK was built with a specific purpose: to be an effective rifle system for a group of end users who needed a rifle as short and compact as possible. This requirement did not include quiet.
They were using one ammo (a Barnes 110-grain non-commercially available round) designed for a short-barreled rifle. The system did not require suppressed or subsonic function. It didn't have to last more than 1,000 rounds. As the development progressed, the interest from additional end-users grew, and the requirements shifted. The ammo requirement remained the same, but the desire for a suppressor was added. Through their hard work, the dedicated team at SIG was able to create a platform that could do more than anyone thought possible.
The MCX Rattler features a two-position adjustable gas regulator. The first position is for unsuppressed operation. The second position is for suppressor use. Adjustments are done through windows in the handguard.
Just like a direct impingement (DI) rifle, a piston-operated rifle uses gases from the fired round to cycle the action. The differences between the two are where the gas is performing the work, where the excess gases are directed to, and how much gas is required to cycle the action.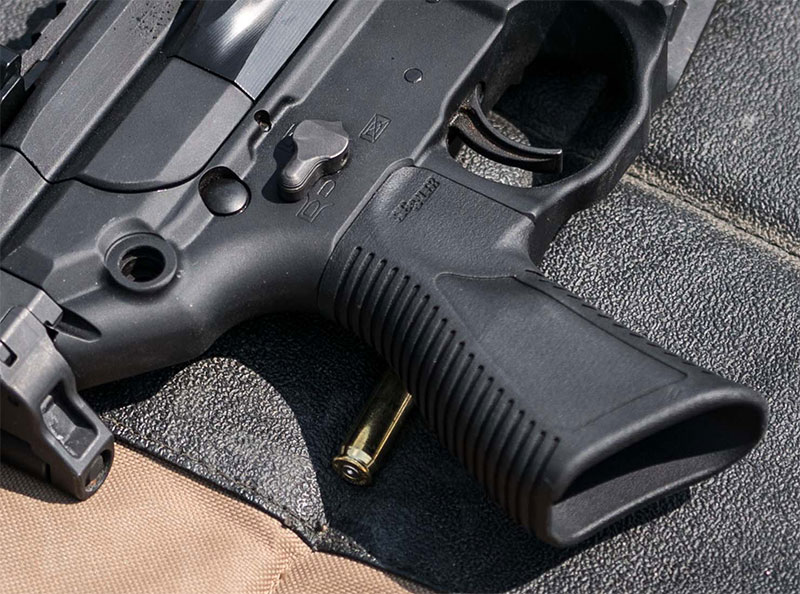 Although adjustable gas blocks are available, with a DI rifle you generally have a fixed gas system that is controlled by your barrel's gas port size. Regardless of the ammo you are using, you have a fixed system in which the only variable allowed is the pressure at the gas port. The result is a system that will run faster with high-pressure ammo and slower with low-pressure ammo.
When designing a DI system, the designer must decide where to sacrifice performance for function. If the system is ported for higher pressure ammo, the rifle will not function properly with low-pressure ammo, short cycling. If the system is ported for low pressure, the rifle will over-function, putting excess load on the system and causing premature parts breakage.
The benefit of a piston/valve system is the operator's ability to adjust the gas system to meet the need of the mission. The multi-position gas valve essentially creates multiple gas ports.
The closer the gas port is to the chamber and the shorter the barrel, the more rapidly the pressure curve changes. In the case of the MCX Rattler, the gas system needs to function with a larger variety of ammo in a 5.5-inch barrel.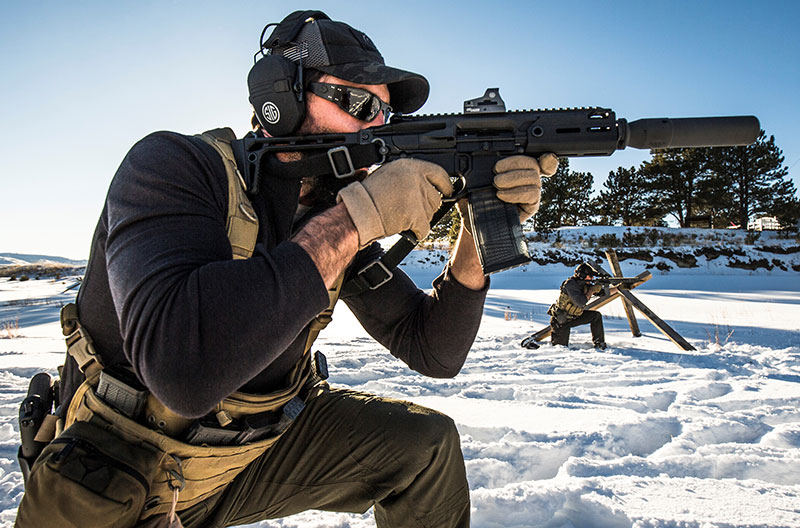 A suppressed rifle system, DI or piston, is affected the same way. The pressure is higher for longer than it would be if it were not suppressed. With a very short barrel, the addition of a suppressor changes the pressure at the gas port substantially, even when using the same ammo. After extensive engineering and testing, SIG was able to balance the recoil system and gas system to allow reliable function with a variety of ammo.
There is some crossover in pressure between commercially available supersonic ammo when unsuppressed, and subsonic ammo when suppressed. Because of this overlap, the SIG Rattler suppressed functions reliably with subsonic ammo.
SIG'S FINAL PRODUCT REQUIREMENTS FOR MCX RATTLER
• Supersonic unsuppressed: 100% unsupported lock back.
• Supersonic suppressed: 100% unsupported lock back.
• Subsonic suppressed: 100% supported lock back.
• Subsonic unsuppressed: no requirement for lock back.
• Lock back: bolt locks to the rear on last round of a magazine (last round hold-open).
[Supported lock back: last round hold-open when supported by shooter's shoulder. Unsupported lock back: last round hold-open when supported by shooter's shoulder.]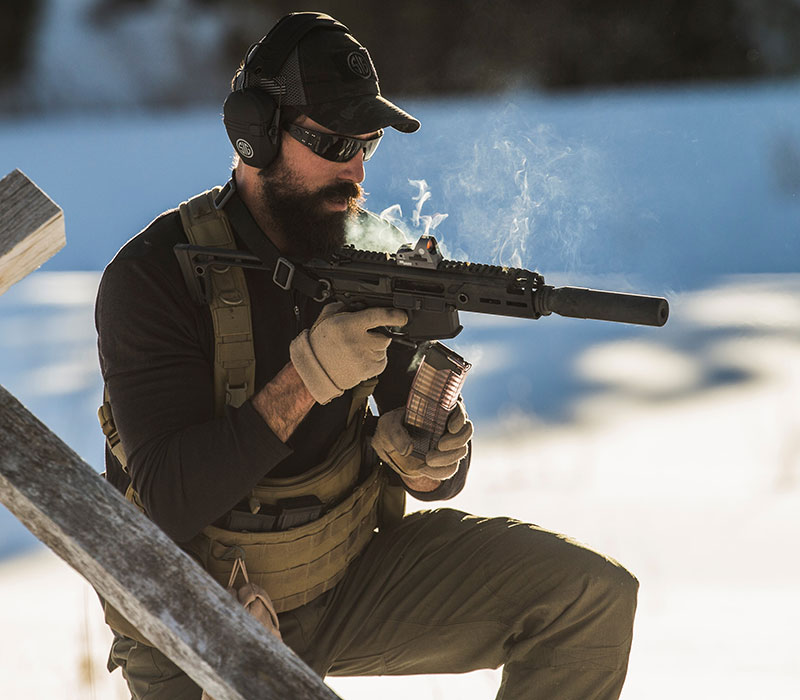 The MCX Rattler is capable of reliably shooting supersonic ammo suppressed and unsuppressed, and subsonic suppressed in a wide variety of environmental conditions. The rifle is also able to shoot some subsonic ammo unsuppressed under some operating conditions, but not reliably enough to meet SIG's very strict reliability requirements.
AT THE RANGE
I arranged to have an SIG Rattler SBR transferred from SIG to C2 Tactical for my evaluation. C2 Tactical is an FFL/SOT that I often work through, as well as a SIG Sauer Elite Dealer.
With locations in Tempe and Scottsdale, Arizona, C2 Tactical has been voted Best Indoor Range in Arizona. It has a 25-yard state-of-the-art range with 23 air-conditioned shooting lanes, state-of-the-art simulators, full retail store (including NFA firearms), gunsmith services, numerous training courses, and much more. They're great people and have graciously provided the use of the range for my evaluations.
SIG gave me 200 rounds of .300 BLK, 125-grain OTM Elite Match Grade Ammunition for my evaluation. It features match-grade brass cases loaded with Sierra MatchKing® projectiles that run with all Standard NATO magazines.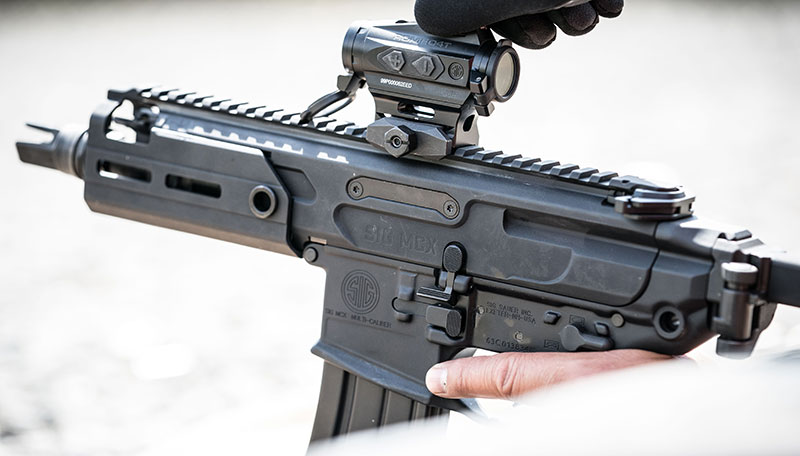 The MCX Rattler shipped with a single 30-round Lancer Systems L5 Advanced Warfighter Magazine (L5AWM). The Rattler ships without sights. C2 Tactical provided me with a SIG Romeo 5 red dot sight for use during my evaluation.
The SIG MCX Rattler SBR performed flawlessly at the range, with zero malfunctions. The gun handled and shot exceptionally well. Muzzle blast was far less than I expected from a barrel this short. The flash hider did an exceptional job of reducing flash.
The MCX Rattler supposedly got its name from the teeth rattling it produces when fired on full auto. I had expected felt recoil to be more than it was, due to the narrow butt on the folding stock. This wasn't the case, largely due to the fairly thick rubber butt pad and weight of the gun.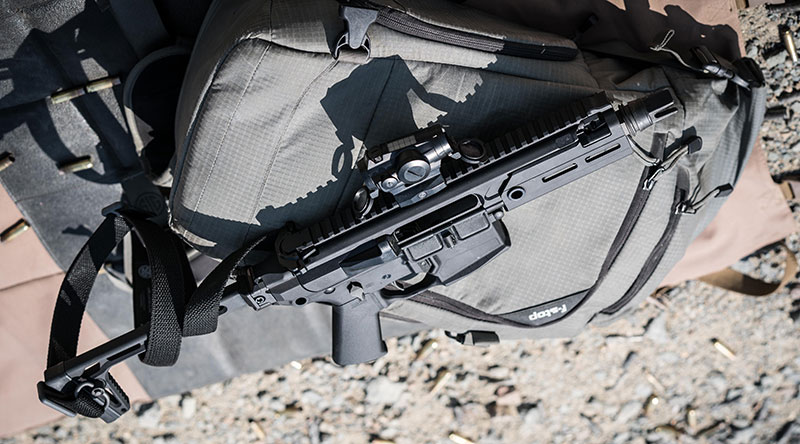 As mentioned, the SIG MCX Rattler has the same trigger as the MCX VIRTUS. SIG trigger specs for the trigger weight are five to nine pounds. I have read differing reports about the trigger, with some users reporting rough, heavy triggers.
The trigger on the test sample was quite good. Although I didn't measure the pull weight, I estimate the pull as being between five and six pounds with a crisp break. Aftermarket triggers are available. Geissele offers its Super MCX SSA trigger, a high-performance 4.5-pound non-adjustable two-stage trigger derived from the Geissele CRANE Safety Certified Super Semi-Automatic (SSA) M4 carbine trigger.
The SIG MCX Rattler SBR is inherently accurate, with five-shot groups averaging about 0.5 inch at 25 yards with the 125-grain SIG Match ammo, fired from a rest off a bench. SIG wisely went with the 1:5 twist to stabilize bullets in the very short barrel.
Although I didn't chronograph the rounds, SIG stated that the 125-grain Match load runs about 1,767 feet-per-second out of the SIG MCX Rattler in their internal testing and, if anything, they expect one might see even higher velocity.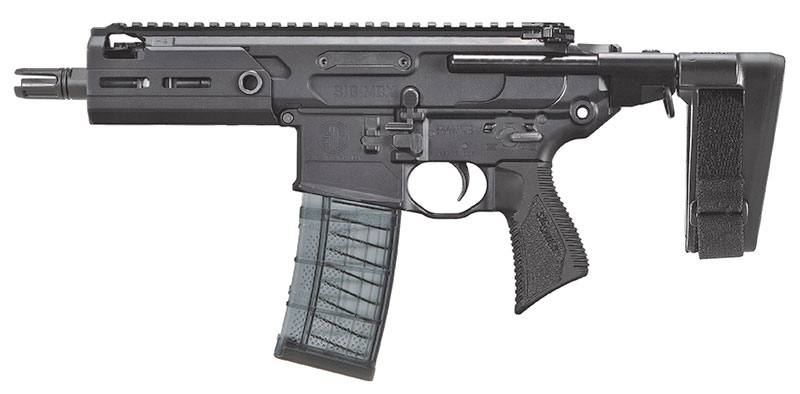 The design parameters of the .300 BLK make it an ideal round for shorter barrels (where the 5.56 NATO is especially lacking) and for suppressed applications. Supersonic loads provide ballistic performance on par with the 7.62x39mm, while subsonic loads vastly outperform 9mm NATO for suppressed applications.
Although the .300 BLK was developed around standard AR/M4 magazines, they were designed for 5.56mm NATO, limiting performance and compatibility. While some .300 BLK rounds function reliably in 5.56mm magazines, others don't interface correctly with the contact areas of the magazine. Dust and fouling from blowback exacerbate the problem, especially with some subsonic and monolithic bullet rounds, creating side-pressure-induced friction and slowing stack movement.
Although the Lancer L5AWM magazine performed flawlessly with the SIG 125-grain loads provided for evaluation (and I am told it also performs flawlessly with SIG 220-grain loads), I prefer to use a magazine purpose-designed for .300 BLK due to the wide variety of projectile weights and shapes that may be encountered. The magazine I use and wholeheartedly recommend is the Magpul® PMAG® 30 AR 300 B GEN M3™.
MY THOUGHTS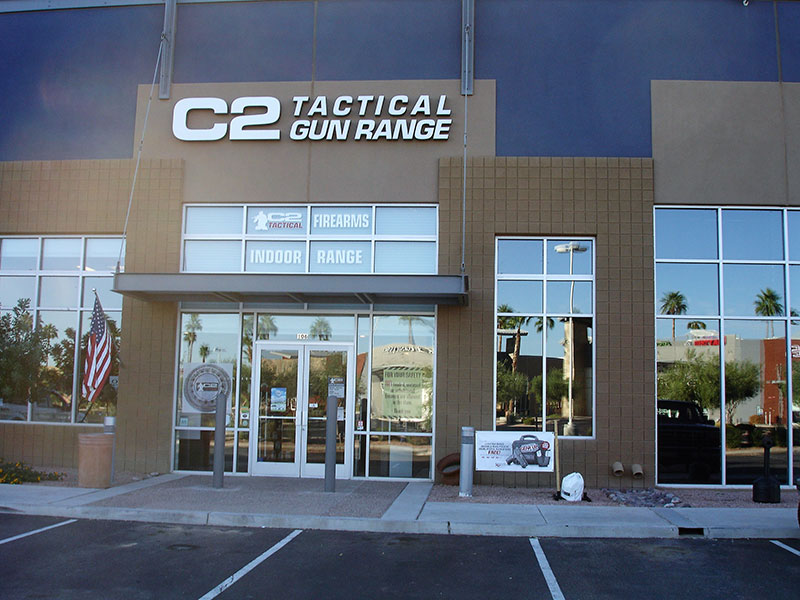 After spending some time at the range with the MCX Rattler SBR, first off I can say it's a very cool gun. I was very impressed with it, as was everyone who handled it at the range. It drew a lot of attention.
Coolness aside, it's a niche firearm designed with a special mission in mind. It serves that mission very well. Certain Tier 1 units obviously agree. So unless you're a high-speed low-drag type with that need or a fictional British super-secret agent who drives an Aston Martin, where do I see the MCX Rattler SBR fitting in?
Other than fun at the range, and it is a lot of fun, possible uses for the MCX Rattler are as a home-defense or car gun, though you might also consider the MCX Rattler PSB pistol with SB Tactical™ Pistol Stabilizing Brace®. As it is considered a pistol, the SIG MCX Rattler PSB isn't subject to NFA regulations. And subject to state and local law, it may be carried as a pistol under circumstances where a rifle (SBR or not) may not.
Also, if you intend to shoot suppressed 100% of the time, consider the MCX VIRTUS with 6.7-inch barrel. It's better suited for that mission and is fully configurable to the rest of the MCX VIRTUS platform, which includes 11.5-, 14.5-, and 16-inch 5.56 NATO, and 9- and 16-inch .300 BLK.
The SIG Sauer MCX Rattler SBR has an MSRP of $2,727.00. As with all SIG Sauer firearms, the SIG MCX Rattler is covered by a Limited Lifetime Warranty.
SOURCES
PHOTOS PROVIDED BY SIG SAUER
SIG SAUER
(603) 610-3000
www.sigsauer.com
C2 TACTICAL
(480) 588-8802
www.c2tactical.com
GEISSELE AUTOMATICS
(610) 272-2060
www.geissele.com
LANCER SYSTEMS
(610) 973-2600
www.lancer-systems.com
MAGPUL INDUSTRIES
(877) 4MAGPUL
www.magpul.com
SB TACTICAL
(603) 854-5030
www.sb-tactical.com