Photos by Richard King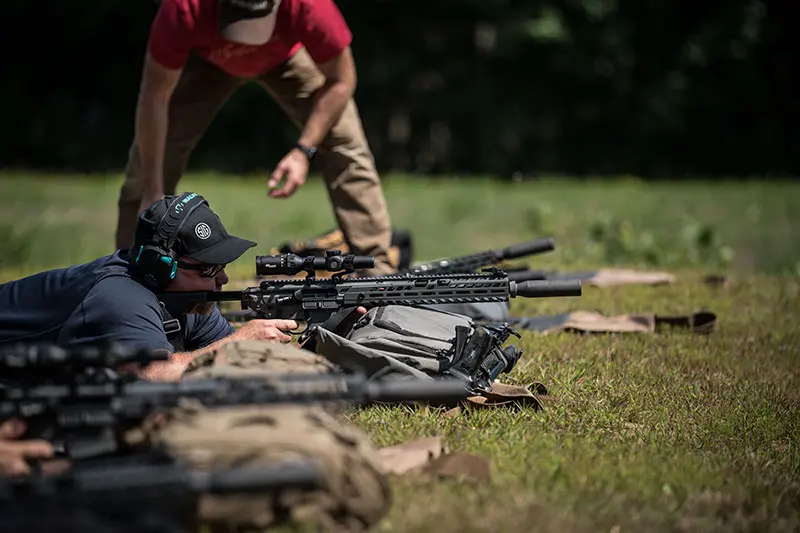 SIG Sauer has evolved into a recognized industry leader in the development and manufacture of rifles, SMGs, handguns, optics, ammunition, suppressors, and more.
This leads us to SIG Sauer's latest rifle offering—the MCX Virtus. The MCX Virtus represents the latest rifle methodology typified by modularity without sacrificing rugged reliability. While sharing similar aesthetics to the venerable AR, the MCX Virtus is a new approach, blending adaptability of caliber and configuration.
One thing immediately jumped out at me when the Virtus was introduced. How could the MCX Virtus be worthy of supplanting the original MCX? It had only been on the market for a few years. SIG mulled over the same question and correctly decided the advancement of the MCX platform could not be held back.
The logistics of introducing the MCX Virtus platform was deemed worth it. Part of SIG's decision with the MCX Virtus was the haunting feeling that the original MCX had never been fully defined or explained to the shooting public. The Virtus would offer a second chance.
SIG MCX VIRTUS IMPROVEMENTS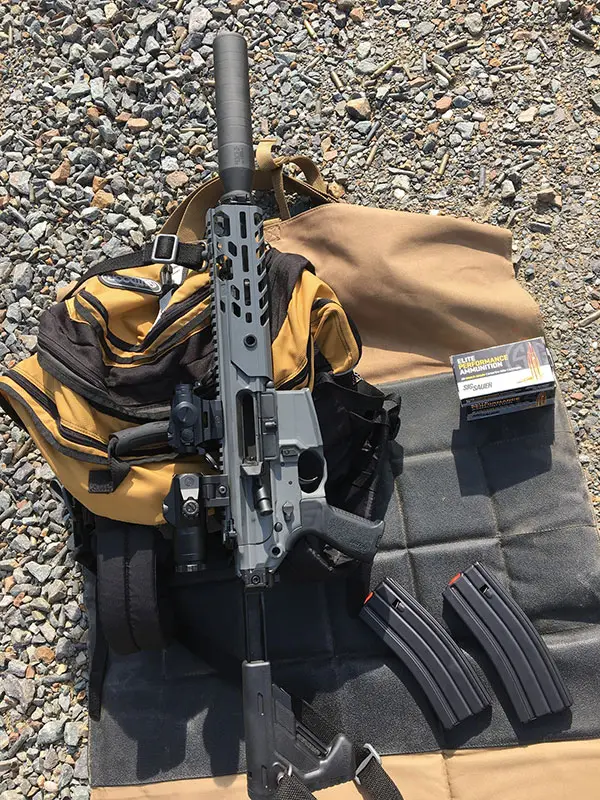 The Virtus improvements consist of the tapered lug bolt group, two-stage SIG Matchlite Duo trigger, thicker receivers/barrels (the reason why MCX and MCX Virtus barrels and bolt groups are not compatible), M-Lok handguard, and gas port location modified. All the improvements were driven by additional Tier One DoD unit contract requests that sought to increase accuracy, modularity, and durability.
The SIG MCX Virtus is not another AR platform. It is a distinct system with features that justify this claim. The folding stock and modularity are big indicators of this. The MCX spawned from SOCOM request to develop a lightweight, compact multi-caliber rifle that was intended to be operated suppressed.
SIG Sauer MCX Virtus design impetus originated with request from U.S. Special Operations units.Based on this, it is not surprising that the MCX's initial chambering was .300 BLK, with 5.56mm quickly following. Typical of SIG Sauer's Swiss/German engineering background, the MCX design was not hastily introduced. The process took years before the company was ready to debut the original MCX. The Virtus improves upon this with even more refinement.
SIG Sauer designers needed to meet a 50,000-round-count criterion for the upper receiver to satisfy the initial solicitation that brought the MCX to life. The MCX Virtus takes this even further, with a 20,000-round endurance requirement before replacing even normal wear-and-tear components. This should allay any concerns over its modularity affecting durability in terms of wear and "loosening" with use.
Quality materials are obviously a must, along with a full understanding of high-wear parts on the rifle. SIG designed the MCX Virtus with certain key wear components upgraded to steel versus aluminum. These parts are also easily replaceable, for example, the cam-path and feed-ramp inserts.
The charging handle latches move over steel pins as opposed to aluminum pins. Barrels for the SIG MCX Virtus are hammer forged and receive a nitride treatment for increased barrel life. The MCX utilizes a self-regulating short-stroke piston combined with a fully locked and closed rotating bolt system that prevents any chance of out-of-battery failure/malfunction.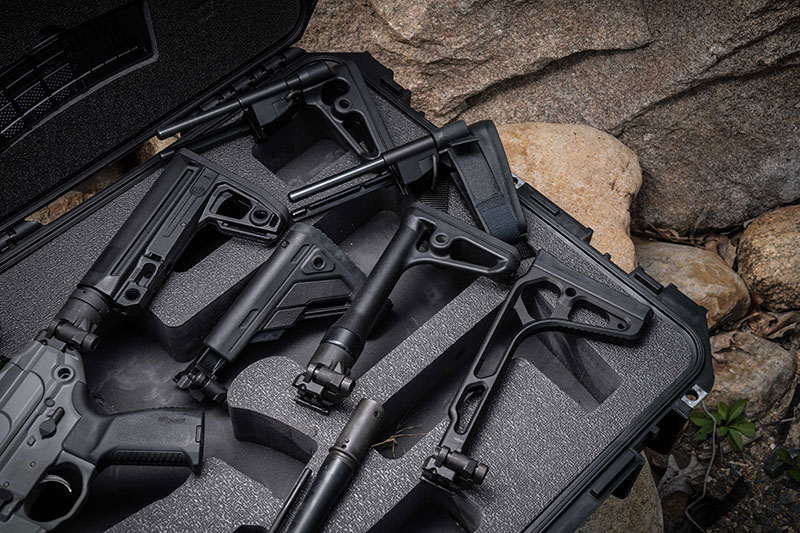 Caliber, barrel length, forend, and buttstock are all MCX Virtus options capable of being changed based on user desire, with no hassle involved. SIG Sauer claims over 500 combinations are possible. Currently, colors available are Concrete Grey and Flat Dark Earth.
The modular nature of the SIG Sauer MCX Virtus is not a gimmick or applied only to a handful of custom rifles. The Virtus is a fully vetted production rifle backed up by one of the world's most reputable firearms companies. SIG Sauer's decision to go the extra mile in designing and manufacturing the MCX Virtus to military-like specifications establishes a baseline of quality separating the SIG Virtus from other rifles.
AR SIMILARITIES AND DIFFERENCES
The MCX Virtus' ambidextrous operating controls and basic ergonomics are similar to the AR-15, which is an important consideration for training and orientation purposes. A flattop upper allows for any AR-type sighting system.
This AR-centric theme is reinforced by use of an AR-type fire control system. But the bolt carrier group is different than an AR's. This stemmed from the initial user's request to use a folding stock in lieu of a typical AR lower receiver extension (buffer tube) setup. SIG installed dual recoil springs above the bolt carrier group. Due to this recoil spring placement, the charging handle sits slightly higher on the MCX compared to an AR. Not only did the dual recoil springs enable the folding stock, but they also had other benefits in terms of a smoother and softer recoil impulse, eliminating buffer tube wear associated with AR piston-driven rifles, and increased overall reliability and durability.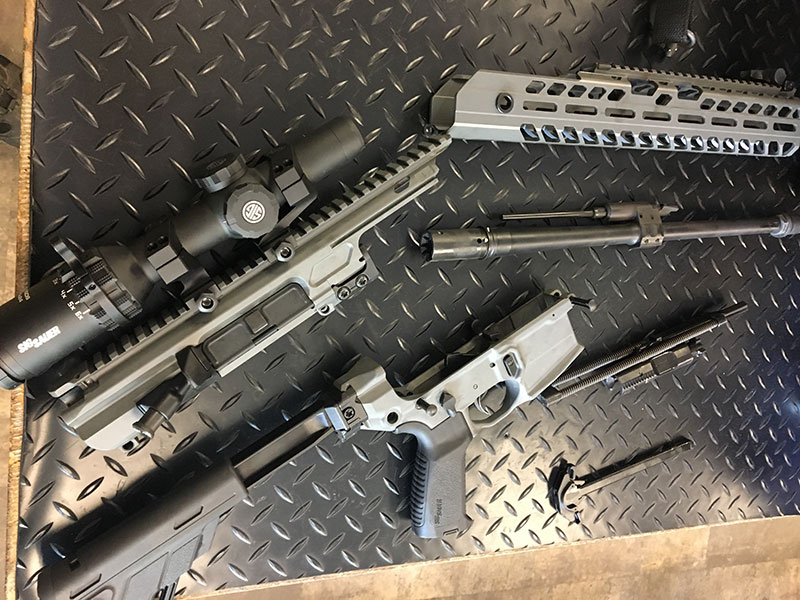 The SIG MCX Virtus can be viewed as a fresh design in a market dominated by the AK and AR. Caliber change between 5.56mm and .300 BLK is a simple matter with the MCX. The fact that the 5.56mm and .300 BLK share the same magazine and bolt group is the foundation for this.
Removing the forend exposes two captive T27 Torx bolts. Loosening these allows the barrel and gas piston to be removed. The new barrel and gas piston are then installed, with the two T27 Torx bolts tightened to 60 inch pounds. The whole process is truly as simple as it reads.
The MCX Virtus gas-port locations change depending on the caliber chosen. Much of the SIG Sauer Virtus development focused on finding placement of the gas ports to optimize reliability. As stated previously, the MCX was designed from the beginning to accommodate suppressor use, an obvious reflection of its adaptation to current trends in fighting rifles.
SUPPRESSOR USE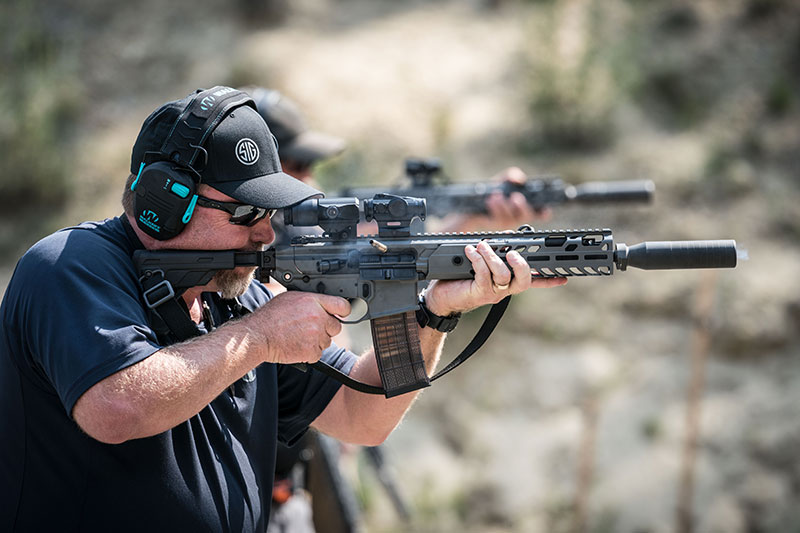 The MCX features an adjustable gas regulator, with the first position for normal operation and the second for when using a suppressor. The MCX's short-stroke gas piston's advantage is that heat, soot, and carbon from propellant combustion are not routed into the bolt or chamber, keeping these critical areas cooler and cleaner for greater reliability, especially with suppressor use.
A SIG Sauer SRD762-QD suppressor was chosen for use with the MCX Virtus. It was as simple as installing a SIG Sauer Taper-Lok muzzle device adapter on each of the Virtus barrels. The Taper-Lok is not only an ingenious mounting system for the suppressor body, but also an effective flash hider in its own right.
It was decided to use the SRD762-QD on both the .300 BLK and 5.56mm barrels to keep things streamlined. Basically, if the bullet diameter is .30 caliber or less, the SRD762-QD can be used—perfect for the adaptable/modular MCX .300 BLK and 5.56mm barrels.
OPTICS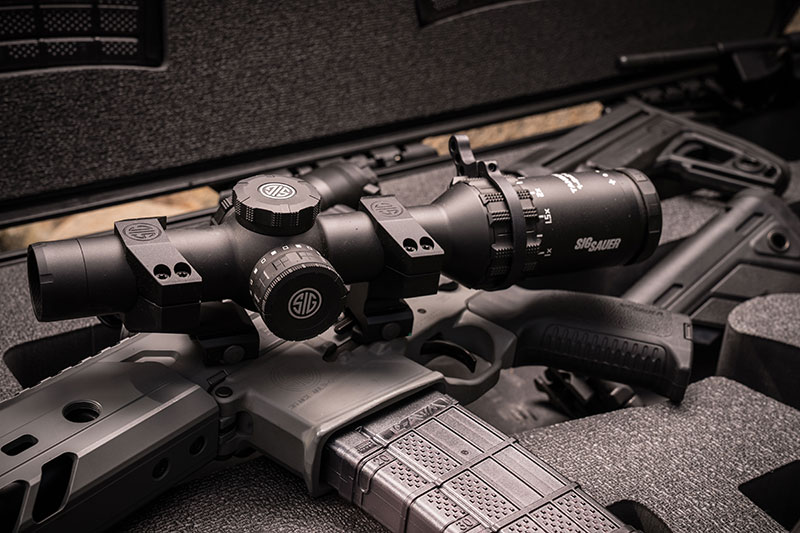 The SIG Sauer theme was continued with the decision to mount a SIG Tango 6 1-6X24mm optic. The Tango 6 offers a 1X illuminated reticle setting for quick target acquisition at close range with both eyes open. A quick turn of the knob to 6X enables longer precision shots.
The SIG Sauer Tango 6 is loaded with high-end features such as adjustable illuminated MOA reticle, extra-low dispersion glass combined with high transmittance glass for outstanding light transmission and clarity, along with resettable lockable and zero stop turrets.
A reticle with multiple hash marks is preferred with a caliber such as the .300 BLK so that both subsonic and supersonic ammunition hold points can be established. This is further supported by also having to accommodate 5.56mm chambering with the MCX. Once sighted in, a user can take note of where each load strikes relative to each other and adjust accordingly either via turret knobs or with reticle hash marks, depending on situation.
The SIG Sauer in-house supporting "kit" separates the MCX Virtus from competitors' rifles. For example, a SIG Sauer Romeo 4T red dot enhanced with SIG Sauer Juliet 3X magnifier was also utilized. The Juliet magnifier was on a tilt mount, so it could be swung out of the way until needed. The Romeo 4T proved ideal in the Echo Valley Training Center's Hesco Shoot House. The CQB format helped highlight the potential of the .300 BLK MCX Virtus, especially when suppressed.
AMMUNITION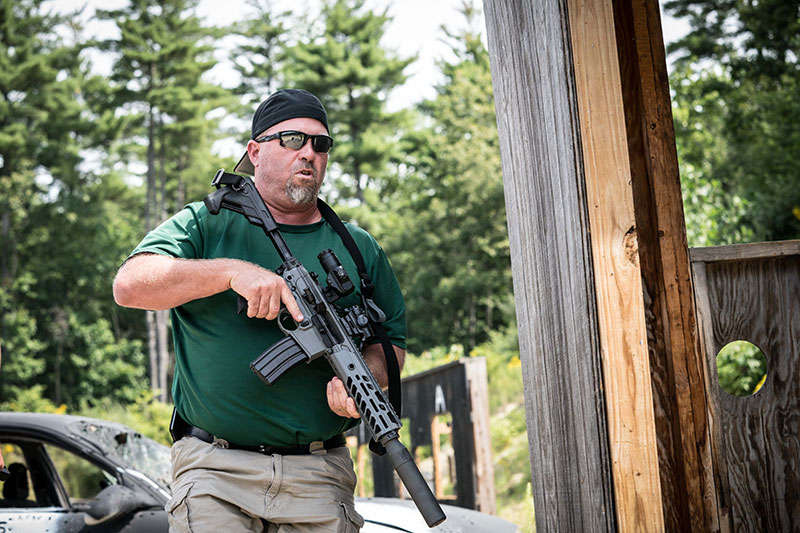 Ammunition tested with the SIG MCX Virtus was a combination of multiple 5.56mm/.223 Rem loads from SIG Sauer, Black Hills, and Hornady. No load tested produced greater than 1.5-inch groups at 100 yards. Premium loads typified by SIG Sauer Elite 77-grain Match punched five rounds into .75-inch groups.
Remember, the MCX Virtus is a fighting rifle, not a match target rifle, making this performance even more impressive. .300 BLK ammunition tested with the MCX Virtus was Hornady supersonic 125-grain HP, Hornady 208-grain AMAX, and SIG Sauer Elite 125- and 220-grain Match subsonic.
What distinguishes and attracts users to the .300 BLK cartridge is ability to access both typical supersonic rounds while maintaining a trump card of subsonic ammunition for more discrete specialized work. The supersonic .300 BLK loads offer superior long-range performance compared to the 5.56mm.
ON THE RANGE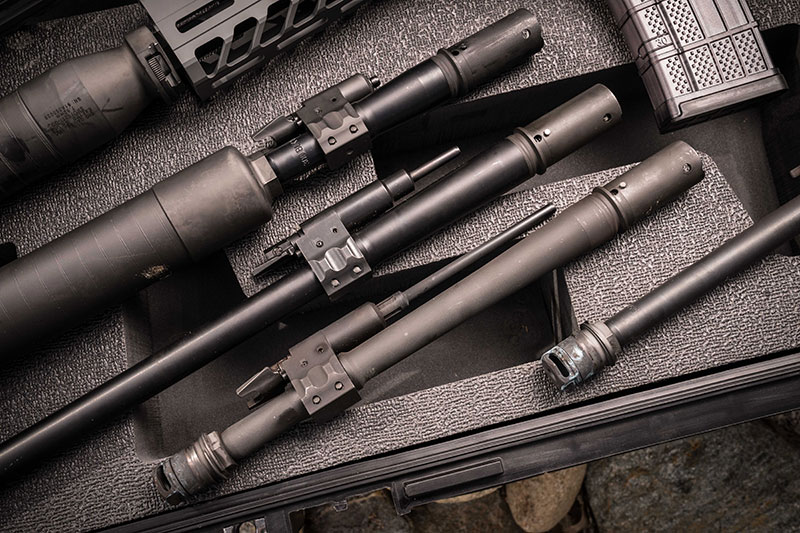 I can state without reservation I have thoroughly vetted the MCX Virtus. Part of this involved a visit to the SIG Sauer Academy, where I attended a training seminar involving the Virtus. My class put thousands of rounds downrange over a two-day period, switching out calibers, stocks, forends, optics, suppressors … well, you get the point. This was not a writers' junket; we were handed over to the SIG Academy instructors, who then put us and the Virtus through our paces.
This was followed up with a separate opportunity to privately T&E the Virtus at my home Echo Valley Training Center (EVTC) range facility over a period of months. Multiple magazines of ammunition were spent engaging plate racks and man-sized steel targets, changing calibers periodically. Drills quickly moved past stand-and-deliver drills to more dynamic scenarios involving movement, magazine reloads, and firing from behind cover.
I decided to concentrate on using the SIG MCX Virtus in training scenarios involving team tactics and patrolling to contact through EVTC's 360 and Jungle Walk ranges. This allowed the SIG Sauer to shine in terms of potent firepower and combat accuracy. Firing from unorthodox positions while working around range vehicles showed why the lightweight 7.9-pound MCX is such an effective platform in either .300 BLK or 5.56mm.
SUMMARY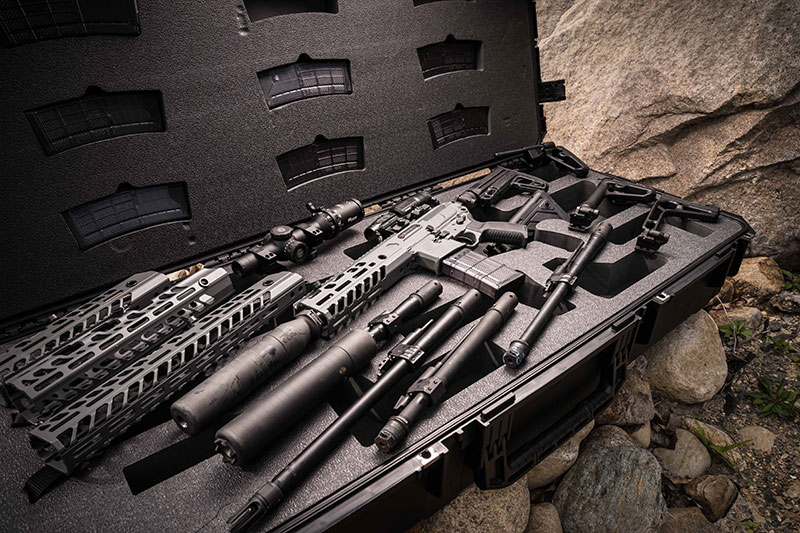 At the beginning of this article, I openly questioned if the new MCX Virtus should have replaced the original MCX so soon. With a cumulative total of over 14,000 rounds fired or witnessed fired, involving multiple rifles, the MCX Virtus answered this question definitively for me.
The real shame would have been if the improvements represented in the MCX Virtus had been withheld. Performance is the quickest way to appeal to the shooting public, and the MCX Virtus will have no problem proving its worth.
Also see the Eugiene Nielsens review of the SIG Rattler
SOURCES
SIG SAUER
(603) 610-3000
www.sigsauer.com
BLACK HILLS AMMUNITION
(605) 348-5150
www.black-hills.com
ECHO VALLEY TRAINING CENTER
(540) 450-7998
www.echovalleytrainingcenter.com
HORNADY MFG. CO.
(800) 338-3220
www.hornady.com