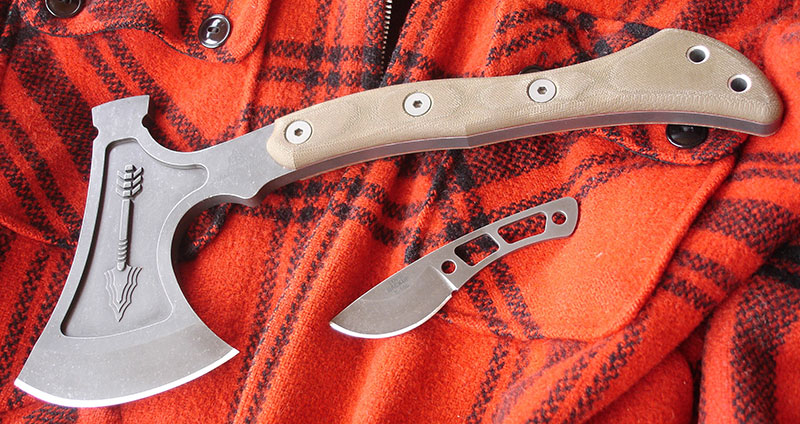 TOPS Knives recently provided me with its much-awaited Hammer Hawk tomahawk and Backup fixed-blade knife combo for evaluation. It's a very impressive combo that will meet the field requirements of many readers.
Designed by TOPS Knives president Leo Espinoza, the Hammer Hawk and Backup combo is a versatile paired-blade system for the outdoors that's capable of handling everything from heavier chopping tasks to delicate precision cutting and skinning game.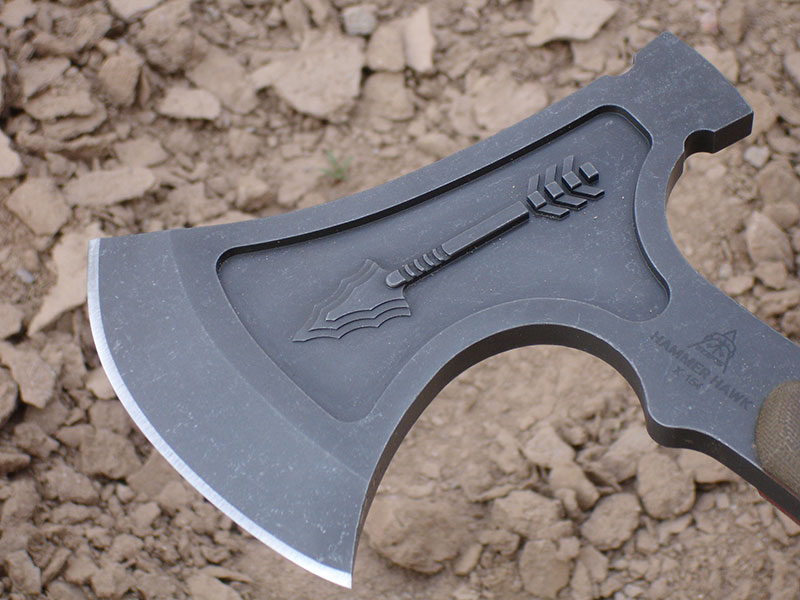 First announced over a year ago, the Hammer Hawk and Backup are now available for purchase. And buying them as a combo will save you considerably over purchasing them separately.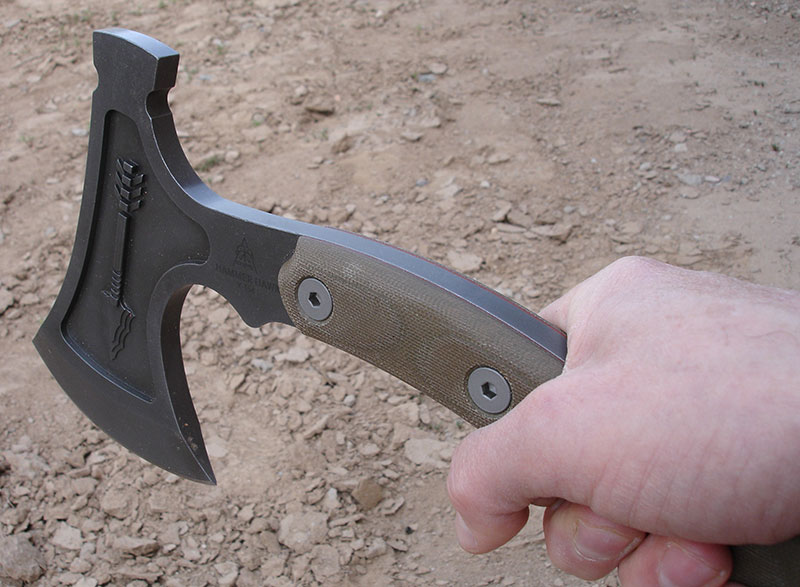 THE HAMMER HAWK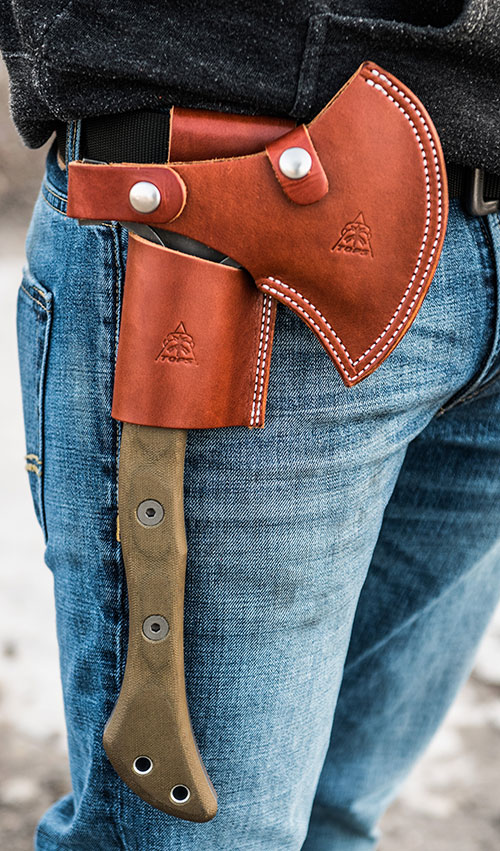 The market is awash with tomahawks, but the TOPS Hammer Hawk stands out from the pack – it's no ordinary tomahawk. Every feature has been carefully thought out for maximum functionality and visual appeal.
The Hammer Hawk is not lightweight. Weighing in at just over 2.25 pounds, it's a full-tang 0.38-inch thick piece of tough 1075 carbon steel. Overall length is 14.5 inches.
TOPS opted for 1075 for the Hammer Hawk instead of the 1095 it uses for most of its knives. Although 1095 is harder and holds an edge better, it is more brittle than 1075 due to the higher carbon content of 1095. Both steels are iron and carbon, with trace amounts of other elements. Both steels are easy to resharpen in the field. They will rust if not cared for properly.
The heat treatment is as important as, if not more important than, the steel. TOPS knives and tomahawks are differentially heat treated, a technique used during heat treating to harden or soften certain areas of a steel object, creating a difference in hardness between these areas. The blade edge is significantly harder than the spine and tang, creating a sharp knife or tomahawk that is less brittle than one that is fully tempered.
The Hammer Hawk features a traditional bit shape with a 4.25-inch cutting edge that allows it to perform chopping tasks that most tomahawks and smaller hatchets cannot accomplish. The head is CNC machined for weight reduction and enhanced balance and features a Native American spear design milled into it for an added stylish touch.
The head is designed with a choil to permit choking up for added control and also features a differentially heat treated hammer pol (butt) opposite the blade for blunt force impact tasks. TOPS opted for a hammer pol for all-around utility rather than a spike. The head and tang are acid etched and tumbled finished, which TOPS refers to as an "Acid Rain" finish.
The full-tang handle features thick, contoured textured green canvas Micarta® scales for durability and impact resistance, as well as to provide a no-slip grip in all weather conditions. The scales are attached with heavy-duty black-oxide finish stainless steel hex-head screws. The contours of the handle allow for multiple grip options. The handle has a large swell for additional control and protection from slippage. The swell has dual lanyard holes.
A hatchet, ax, or tomahawk needs to be designed with balance between the head and tail in mind. The Hammer Hawk has been. It's exceptionally well balanced, making work easier and reducing fatigue.
The Hammer Hawk comes with a two-piece brown leather sheath system that features a blade cover and belt frog for carry. The blade cover has two snaps to keep it in place. It's separate from the belt frog, so you can carry the Hammer Hawk either on the belt or in a pack. It also allows the Hammer Hawk to be drawn and inserted easily from your hip. The belt frog fits belts up to 1.75 inches wide and features a pocket with a Kydex® insert for the optional TOPS Backup fixed-blade knife or other small skeletonized knife of your choice (TOPS Knives has many that will fit). The sheath system is shaped to balance the Hammer Hawk well when worn.
TOPS BACKUP
The TOPS Backup fixed-blade knife was designed to complement the Hammer Hawk. This four-inch skeletonized knife is made from 1095 carbon steel. It has a 2.38-inch upswept drop-point blade with substantial belly for slicing. The knife is 0.13-inch thick and weighs a scant 1.6 ounces. It also comes standard with TOPS Acid Rain finish. The Backup is a great little knife and the perfect companion to the Hammer Hawk.
CONCLUSION
The TOPS Hammer Hawk and Backup combo are an outstanding paired system that performs exceptionally well in the field. As with all TOPS Knives products, they are well designed and well made. The workmanship is excellent.
The TOPS Hammer Hawk has a suggested retail price of $350 ($370 with TOPS Backup included). The TOPS Backup carries a price of $75 if purchased separately. They are made in the USA and come with TOPS lifetime warranty. The sheath has a one-year warranty.
SOURCE
TOPS KNIVES
(208) 542-0113
www.topsknives.com