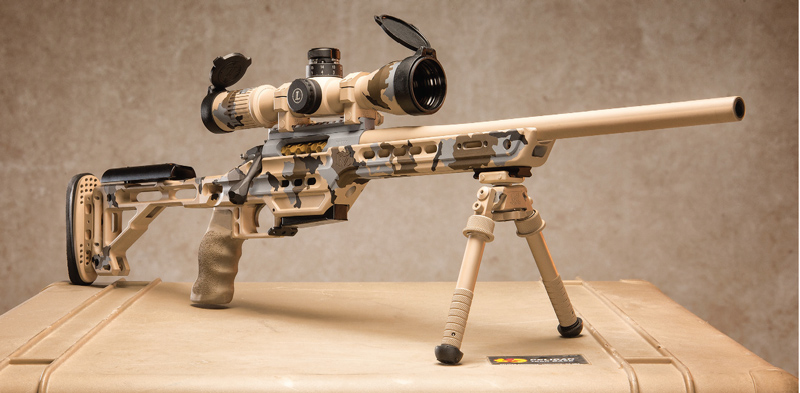 Social media, magazines, and outdoor TV are full of new product releases associated with the popular AR platform, but seldom do you see anything truly new in the world of bolt rifles. So I was intrigued when I heard that AR manufacturer Modern Outfitters had come out with their own bolt rifle design.
They labeled their new rifle the "MR1" and the initial offering comes in several configurations. The rifle itself is offered in three configurations: M24, Medium Sporter, and Lightweight Hunter. Since hunting season was around the corner, I selected the Lightweight variant to try out.
THE MR1 SPECS
Let's talk MR1 specs first. The rifle is offered in 6.5 Creedmoor (1:8.5 twist) and .308 Winchester (1:10 twist), with additional calibers coming in future releases. The heart of the MR1 is a proprietary 3-lug titanium action with a 60-degree bolt throw. The action has a 20-degree extraction angle to ensure brass is ejected directly out the side. It has a cone-shaped bolt nose that meets a cone-shaped breach for faster, more reliable feeding and extraction.
Modern Outfitters uses Bartlein barrels in M24, 3B, and 2B profiles. You can custom order your barrel length or go with their recommended 16-inch barrel for the .308 and 18-inch for the 6.5. The M24 and 3B come threaded with a Phantom thread protector for suppressed shooting. The M24 comes with a unique deep hex fluting to reduce weight, and it just looks cool!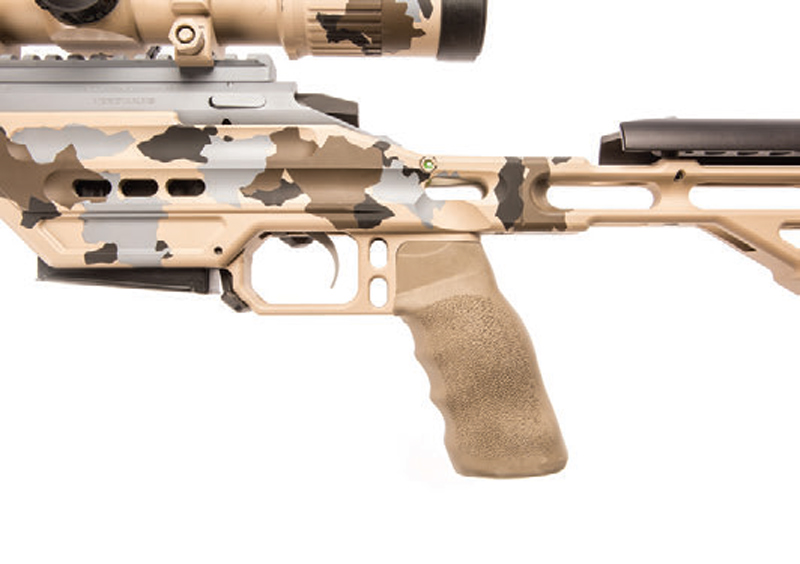 They use adjustable Jewell triggers that come set at 2.5 pounds. They chose a chassis system that I wasn't familiar with but quickly came to love. The chassis is made for Modern Outfitters by MasterPiece Arms. They utilize the Competition and Lightweight chassis. The main differences are a forward Picatinny rail for mounting night vision or thermal optics, rear monopod, adjustable length of pull, and cheek riser. Both versions accept Accuracy International magazines.
The action is on a 700 footprint, so you can go with additional chassis options. They will have complete rifles available on their website and in their stores, but you can custom order to your specifications. All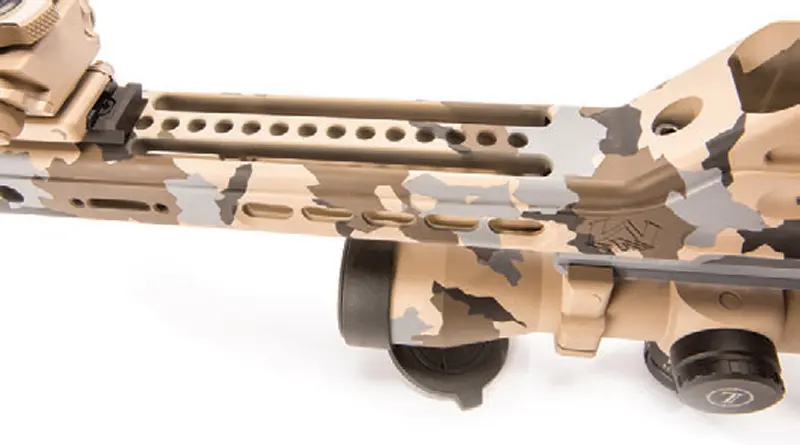 manufacturing, machining, and coating are done in-house by Modern Outfitters.
THE INSPIRATIONS
I had the opportunity to visit two of the Modern Outfitters principals, Eric Stubbs and Andrew Houser, and ask them about the inspiration for the MR1.
Modern Outfitters started as a retail store in 2010 with no aspirations of branching out into manufacturing. Eric summed it up concisely: "We got into retail because we wanted to change the gun store experience, and we got into manufacturing because we thought we could make something better." They told me they serve a variety of law enforcement and citizen consumers, but a large portion of their base is avid hunters.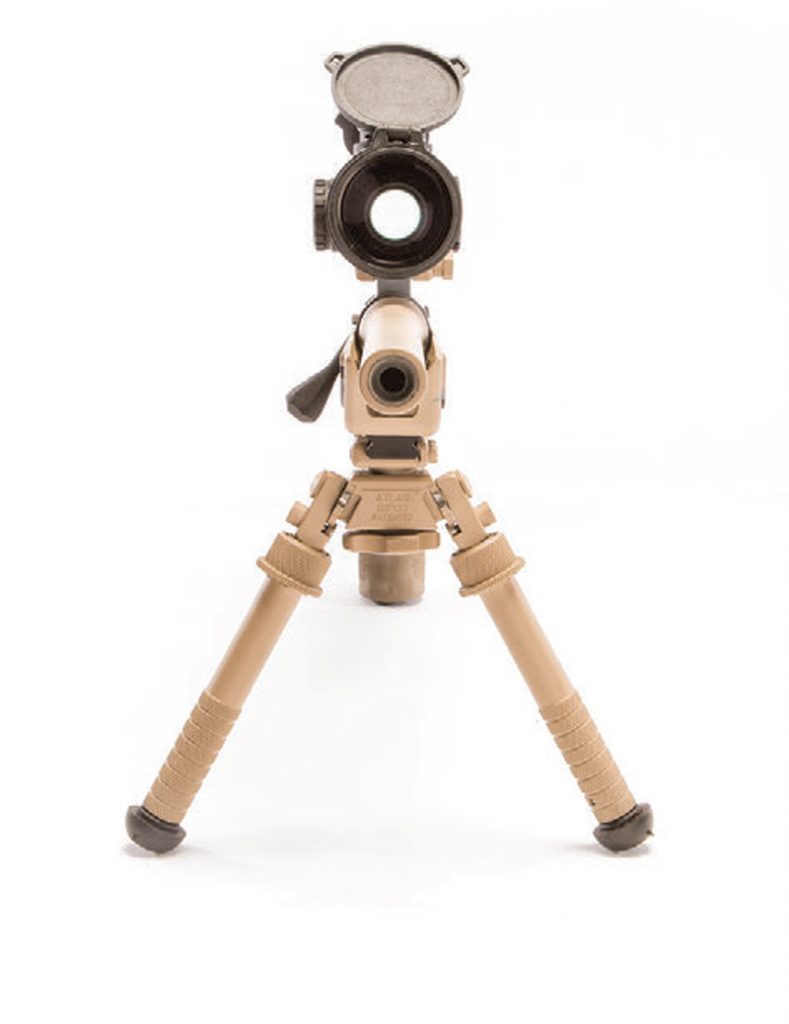 "When we design a rifle, we want it as light, short, and accurate as possible," added Stubbs. Houser summed up their brand strategy: "We don't sell every brand in our stores. We focus as much as possible on products made in the USA that are backed by a lifetime warranty. We don't make or sell anything we wouldn't spend our own money on." They told me the common gripe from customers is how long it takes to get a custom rifle. Many customers have to settle for semi-custom rifles. "Our rifles are match grade, 100% custom, and they are in stock."
My first impression of the MR1 Lightweight was that it almost didn't look real. It is a rifle you have to hold to appreciate just how light it is. The distinctive hex fluting of the bolt was flawless, and the custom Cerakote looked incredible. So it looks cool, but is it a shooter? I had a variety of 168- and 175-grain .308 loads and intended to find out.
RANGE TESTING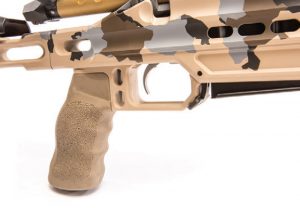 I shot off an Atlas bipod and a rear bag. Felt recoil was less than it should've been from a 4.5-pound rifle, but I suspect the awesome ergonomics of the stock helped in that department. There was considerable movement of the rifle after the shot, as to be expected shooting such a featherweight off a bipod.
I opted for three-shot groups instead of five due to the slim profile of the barrel. Accuracy was awesome, with an average of .560 inch across five different factory loads. I let the barrel cool and then started stretching it out. I worked my way out to 1,000 yards in 100-yard increments.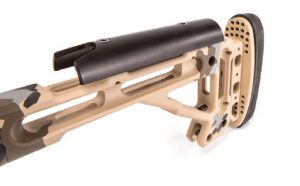 It took a few shots to deprogram my muscles and get accustomed to the 60-degree bolt throw. I soon found my rhythm, and working the bolt became second nature. Feeding and extracting were perfect, and chambering a round felt like one movement. Not quite a straight pull feeling like a Blaser, but not far off. I put 200 rounds through this little rifle without any issues. Now it was time to get off the bench and try it out in the field.
Most hunting in Texas is done from hunting blinds or high racks, which allows for use of heavier rifles without much aerobic exertion. I imagine that I would really appreciate using this little rifle on a backcountry hunt.
It was July in Texas, so the prospect of sitting in a metal box to hunt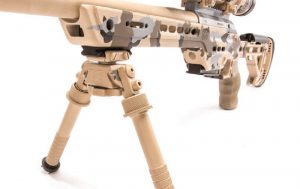 was not very appealing. We opted to break out the top-drive Excursion and see the ranch. They asked me to help cull Axis does, and I was more than eager to assist. Axis is my favorite venison and the skins are beautiful. As the sun went down, animals appeared.
HUNT TESTING
Did I mention that Modern Outfitters also offers hunting packages? In Texas, they offer trophy whitetail, exotics, hogs, helicopter hog hunts, free-range Aoudad sheep, and mule deer hunts. On their New Mexico ranch, they have a limited number of elk, mule deer, and bear tags available. These are not brokered hunts. All hunts take place on their properties with their people.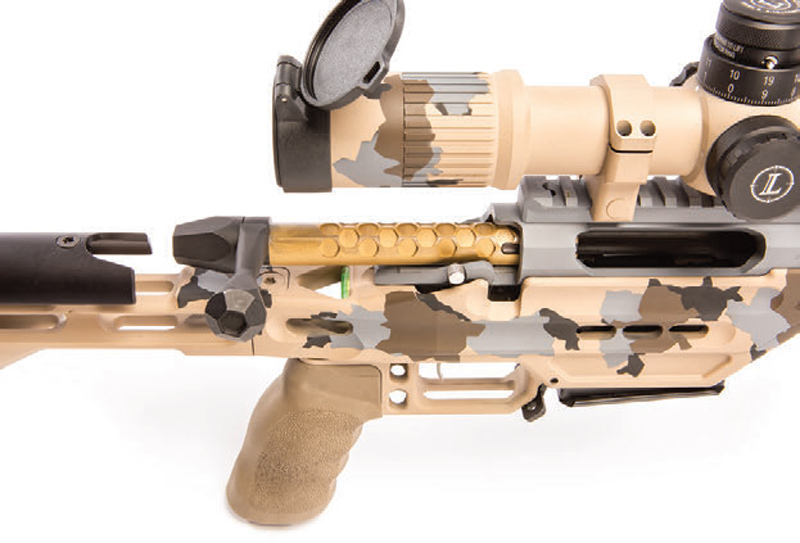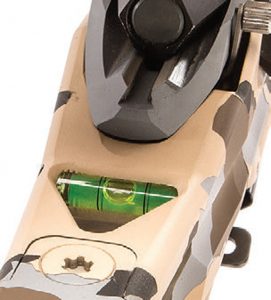 Stand 1 Armory is a boutique ammo manufacturer located across the street from Modern Outfitters' Dallas, Texas retail store. The guys at Stand 1 equipped me with their .308 loads using Hornady 165-grain SST bullets.
As we drove the ranch, we saw several groups of Axis playing peekaboo with us through the thick mesquite. It was unusually green for summer in Texas due to recent rains. Hunting the South Texas brush country in the summer is a totally different game than in the fall or winter. The dense foliage and knee-high grass make spotting game much more challenging than if they are coming to a feeder. The groups we did see that evening immediately took off when the Excursion came to a stop. They seemed to know how this movie ended. The beautiful pink sunset signaled the end of the evening hunt, and we headed back to the camp house.
The next morning was a cool 85 degrees at 0800. We spotted a good size herd of 20 to 30 Axis feeding through the brush about 600 yards away. We wanted to make sure we didn't shoot any does with young ones, so we disembarked and started our stalk. We carefully made our way through the brush, meticulously placing each step to make sure Mr. Rattlesnake wasn't hanging out. We finally worked our way to within 200 yards of the browsing herd and set up in the shade of a small live oak.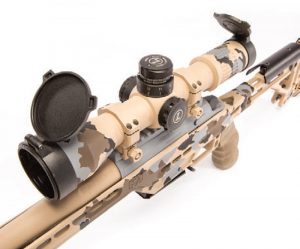 Through an opening in the brush near the herd we could see five to ten Axis at any one time. The grass was too high to shoot prone, so I used a friendly branch from our shade tree. I picked out a mature doe, dialed the Leupold VX-6 3-18X50 to "2" and broke the shot. Few things are sweeter than a finely tuned Jewell trigger, and the shot was on the money. My doe didn't take a step. We made our way through the brush to check her out.
It wasn't a difficult shot (especially for the MR1) and an Axis doe isn't a crazy tough animal, so I won't pretend it was a strenuous test for the rifle or caliber. But the MR1 was a breeze to carry during the stalk, both in weight and length.
MORE TO COME
Modern Outfitters is a young company by gun company standards, but they are doing it the right way. These aren't budget guns, and no corners are cut. The pride of craftsmanship is evident through conversations with the owners and when you hold their rifles. It's refreshing to hear their passion when they speak about their stores, their products, and their customers. They believe their customers are an extension of their family, and they want a long-term relationship with them.
I look forward to trying out Modern Outfitters' AR rifles and future offerings in their bolt gun line.
MR1 LIGHTWEIGHT HUNTER SPECS
6AL-4V Grade-5 Titanium construction with Certification of Alloy (medical and aerospace grade). CNC machined for enhanced accuracy and tightest tolerances. The action is 47% lighter than other steel actions.
Bolts and handles made of 4140 Chrome-moly, with the same steel in crank and cam shafts.
Recoil lugs made from O-1 Tool steel, surface ground to be flat within .0002 inch, double pinned for absolute alignment even after a barrel change. This allows for multi-caliber options and interchangeable barrels.
3-Lug design provides short 60-degree bolt throw for faster follow-up shots, faster bolt cycling, and less shooter position disruption.
Cone-shaped bolt nose meets cone-shaped breach for faster and more reliable feeding and extraction.
Six anchor points for scope base vs. four on Remington and similar actions.
Larger ejection port to accommodate longer seated projectiles and custom hand loads.
Complete action weighs in at 1 pound, 3 ounces (action, bolt, and hardware only).
20-degree extraction/ejection angle provides ejection low and away from expensive scope windage knobs. This prevents brass from hitting parts of the scope and being pushed back into the ejection port.
Mini M16-style extractor for the most positive grip you can get on the rim of a case. Bolt design and mini M16 extractor make replacing an extractor in the field easier and faster.
Fits Remington 700 footprint stocks and chassis.
Compatible with aftermarket Remington 700-style triggers. MR1 comes with 1.5- to 2.5-pound Jewel Trigger.
Side bolt release.
Aesthetically pleasing bolt knob and cocking piece shroud made from aluminum.
0 and 20 MOA Picatinny bases available.
Bayonet-style fire control system. Quickly and easily remove fire control to clean bolt of debris or foreign objects without a tool. Dual lobe allows for equal even pressure on cocking-piece shroud for more concentric mating of parts.
Barrels are threaded and chambered by hand to ensure high-quality chambers.
Barrels that have been threaded for muzzle devices are also done by hand and cut to tight 2A thread fit to ensure suppressor fit.
Each barrel threaded for a muzzle device also receives a thread protector that is flush to the barrel to give a seamless look when not in use.
Barrels are available in three different contours: Heavy M24, 3B Medium Sporter, and 2B Lightweight Slim.
Available in .308 Win and 6.5 Creedmoor.
Chassis system features aluminum construction, adjustable comb, and adjustable length of pull.