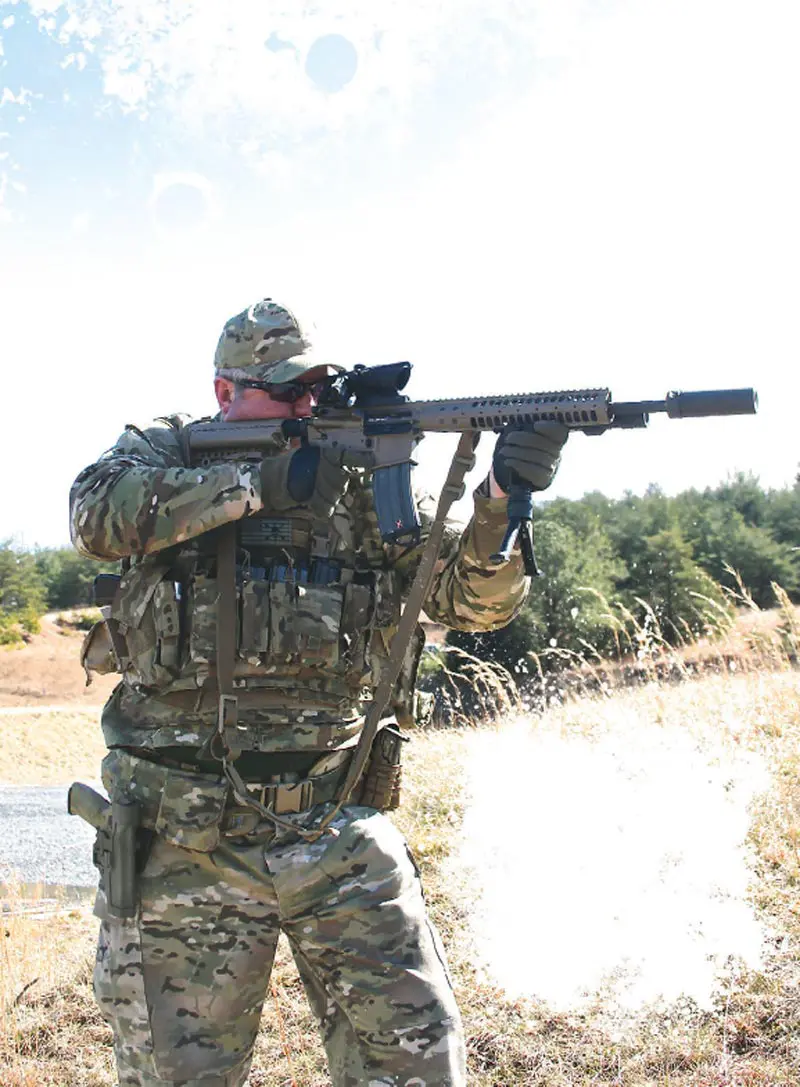 Multiple companies produce ballistic protection systems today. This was not always the case, with consumers paying the price both literally and figuratively. This business competition has not only spurred R&D but also lowered the cost of armor, making it available to a wider range of clients besides the military.
A leading armor solutions company helping equip DHS, law enforcement, private security contractors (PSC), and military units with body armor is Velocity Systems. While military or law enforcement budgets often fixate on high-end equipment procurement, it is the unspoken rule that trained personnel are the real commodity in any organization.
Though not the most widely known ballistic protection company, Velocity Systems is used by many law enforcement and military units. At the present time, Velocity Systems' niche in the marketplace lies with armor carriers, soft and hard ballistic plates, and extremely responsive service.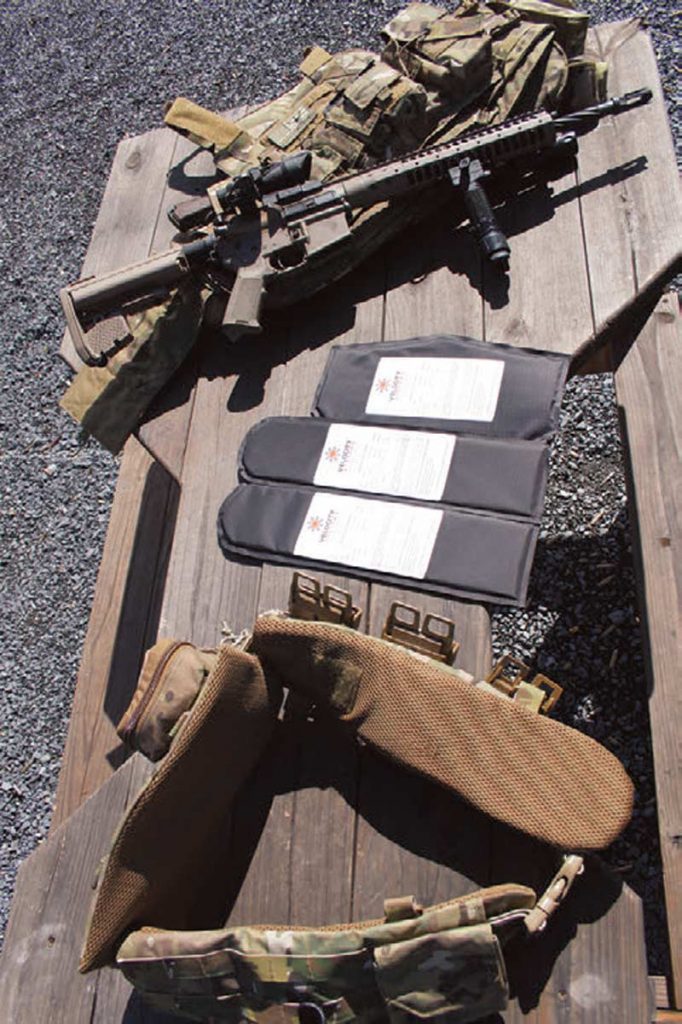 SISTER COMPANIES
Different operational entities arrive at Velocity with an armor product need in mind. If a Velocity Systems' item is not already available or designed, Velocity can have working prototypes ready within weeks, not months. Velocity's sister company, Mayflower Research & Consulting, is another asset that melds well with Velocity Systems' body armor carriers.
Velocity and Mayflower operate as two different companies, but at times this close relationship has design cues and material choices creeping across the factory floor to the mutual benefit of both companies. The principal owner of Mayflower is good friends with one of the Velocity owners. In 2008, Velocity was approached to help support the increasing manufacturing needs of Mayflower.
Velocity Systems agreed to OEM manufacture Mayflower chest rigs and other kit. In 2010, Velocity owners acquired a minority share of Mayflower and started sharing manufacturing assets, distribution outlets and contacts.
Mayflower Research & Consulting (MRC) was formed in 2007 by a recently retired U.S. Special Forces Warrant Officer, marking a transition period from a 20-year career with six combat deployments as an assaulter and reconnaissance specialist. Mayflower's raison d'être is to take that experience and those hard-learned lessons and contribute to the military and law enforcement communities.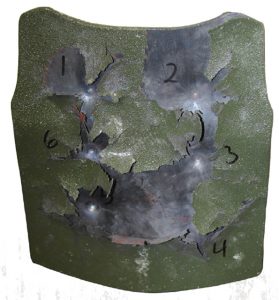 Mayflower realizes that our military and law enforcement personnel have been engaged in and will continue to be engaged in open global conflict and domestic security threats. The design focus of MRC is to build mission-focused equipment that enhances the warfighters' capability by reducing the individual soldier's load as well as continuously adapting to the changing battlefield. Mayflower uses several avenues to accomplish this.
SPEC OPS CONNECTIONS
Mayflower's close connection to the Special Operations community allows for a very diverse group of equipment users providing constant feedback from distant battlefields in a variety of operating environments, such as domestic urban areas, mountains, and deserts.
Mayflower is constantly looking at new materials and manufacturing techniques to maintain durability and concurrently reduce weight. This philosophy centers on trimming unnecessary weight off the warfighter's load by analyzing each piece of load carriage equipment for lighter yet durable alternatives. Sometimes changing the base design and manufacturing technique to eliminate excess and unnecessary materials can achieve this. Another alternative is to incorporate hybrid designs.
Mayflower analyzes the type of usage the pouch or pocket is designed for and its expected life cycle. If it is a low-friction or limited-use pouch such as a signal kit or admin pouch, a lighter denier material is chosen to reduce weight. High-friction or high-usage pouches such as magazine or grenade are made with a mid-weight denier to balance out weight and durability.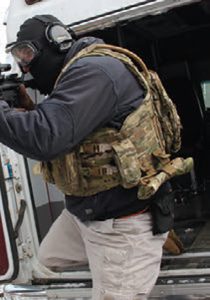 Rapidly changing technology, with resultant new equipment being fielded, and environmental factors often make a nylon pouch or vest obsolete after one or two deployments. Mayflower's goal is to maintain the necessary agility to continually evaluate the relevance of their items and update and/or replace them as needed.
Mayflower's perception of individual soldiers and law enforcement officers as athletes determines how they seek to refine gear performance through fit, form and function.
Mayflower likes to encourage skills enhancement, team building, and athletic competition by sponsoring select individuals and teams throughout the year in endurance races and team competitions, with the intent of learning more about creating equipment that enhances performance.
ARMOR SOLUTIONS STAT
What separates Velocity Systems from other armor companies? Velocity Systems' tag line is "At the Speed of Need." It is a specialty house that provides custom armor solutions rapidly, while maintaining no volume constraints.
Velocity's lead designer has over 20 years' experience designing armor carrier platforms and ballistic solutions. A "typical" Velocity procurement process involves meeting with a customer to discuss mission profile for armor. A working prototype is then manufactured, with the customer encouraged to run the kit for a couple of weeks to proof the design criteria in a field environment.
Once feedback is given, Velocity is generally 30 to 45 days in standard production for the final product. People and agencies that have short lead times and are going downrange are put on the fast track.
Velocity's commitment to being a solutions provider also involves their acquiring non-Velocity items to support customers. The relationship between Velocity Systems and Mayflower Research tactical gear is a good example of this mentality.
SWIFTCLIP ATTACHMENT SYSTEM
The adaptability of Velocity Systems body armor is accentuated by the SwiftClip attachment system. With Velocity's SwiftClip, auxiliary equipment such as Mayflower chest rigs, med and E&E bags can quickly clip on or off base component Velocity armor, such as an armor vest, plate carrier, or load bearing vest.
The SwiftClip system allows for a stable load versus the excessive movement of simply wearing an H-harness over your existing armor. The SwiftClip system is a much faster way of adding gear than tediously weaving MOLLE tabs, especially if multiple mission requirements are present during deployment. A Mayflower Research and Consulting UW Chest Rig Gen IV is a good example of how Mayflower chest rigs can be married to a Velocity Systems plate carrier.
The UW Chest Rig is a low-profile mission-focused vest built to be ambidextrous and designed to carry four AR magazines, two pistol magazines, up to two small radios, and two general-purpose pockets. The H-style harness features loops and elastic to route antennas, communication wires, and hydration bladder tubing.
The UW Chest Rig is removable via four one-inch SwiftClip buckles and designed to be mounted to the front of the Velocity Systems armor carrier. The body of the chest rig has a built-in map pocket with Velcro closure. Like the Velocity components, the Mayflower chest rig is 100% made in the USA.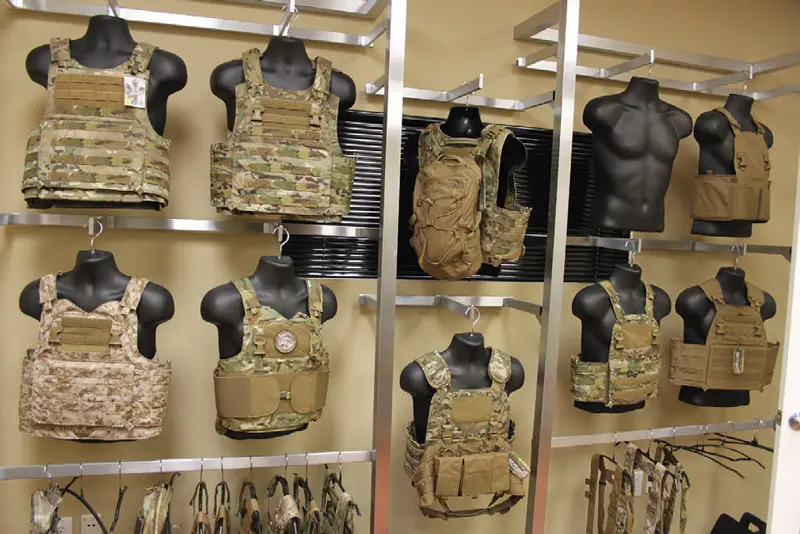 PERSONAL EXPERIENCE
I have become more familiar with Velocity and Mayflower products from using them the last couple of years in firearms training courses and other activities. I am fortunate to train with people equipped with various armor systems and always ask them about it.
The biggest issue I see is operators competing with their body armor. What does that mean? Armor can hinder or compete against efficient employment of weapons in terms of stock placement, sling snag, cheek weld, sluggish movement when drawing a pistol, and other motions.
The armor also shifts due to accessory weight and lack of shoulder movement. Velocity Systems has found the cures to these ailments and more, realizing one size does not fit all. Velocity Systems' experience and attention to detail allow them to set up a full armor rig within the confines of an agency or department's uniformity requirements, yet tailor the armor to the individual at the same time. Velocity has the ability to make armor "kit" ready for any mission and accessorize it with minimal changes to suit any environment or specification.
A crucial Velocity Systems advantage is the ongoing innovations in the body armor they create. They have an extensive development program for armoring solutions. The combination of R&D on plate performance and Velocity's employment of professional designers makes for a functional protection system for any shooter on any mission.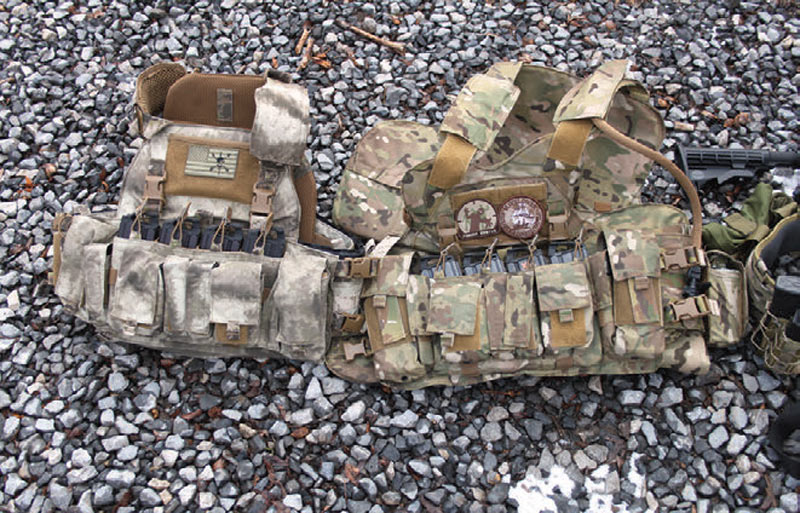 BODY ARMOR FOR TODAY'S MISSIONS
Velocity Systems recognizes the mission evolution that has occurred over the last decade. A lowering of one's presence, regardless of threat level, for a lower "print" relative to smaller team and less obtrusive behavior is the new norm. Velocity has developed the applicable body armor kits to accommodate that type of mission without compromising safety or security.
Velocity Systems is at the forefront of making body armor more comfortable and effective in stopping a wider range of projectiles. The increased comfort eases the operator's chore of maintaining selfdiscipline in wearing their armor. The company offers a variety of armor solutions for a wide array of situations—situations that weren't conceived of 30 years ago. Body armor has become just as crucial a part of an operator's equipment as a sidearm, rifle, and ammunition.
The most important thing is making sure the body armor is worn for the chance it is needed. As stated earlier, trained personnel are the real commodity in any organization.
Velocity Systems products help ensure personnel wear their armor with the confidence it will perform when needed while being as comfortable as possible considering the weight and mass involved in operating with body armor on.