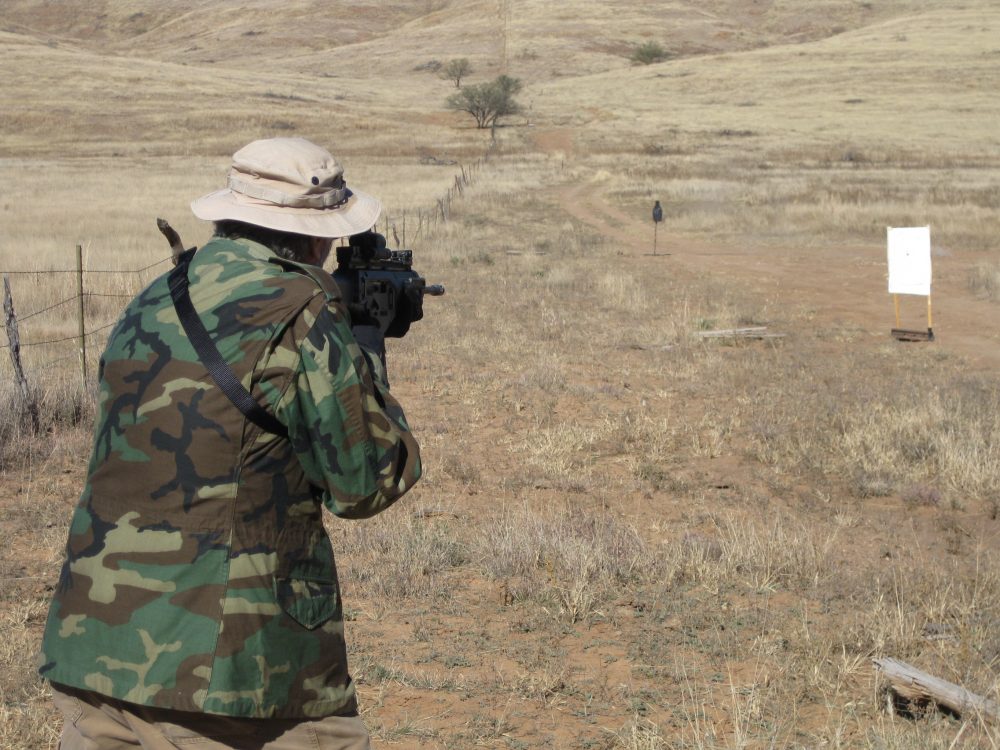 Author engages MGM IPSC target at 25 feet and metal plate at 75 yards from standing unsupported position with Aimpoint CompM3-equipped Beretta ARX.
---
As someone who carried government issued and personally owned Colt and Ruger 5.56mm NATO caliber carbines during my law enforcement career, I was interested in evaluating a Beretta ARX 5.56 NATO carbine to determine how this rifle performed compared to more popular designs. Here are the results of the ARX field test that began in 2014 and ended in 2015.
SPECIFICATIONS AND FEATURES
The Beretta ARX operates on a constant-contact, short-stroke gas piston. This modular multi-caliber-capable semiautomatic carbine with 16-inch barrel is largely based on the Italian armed forces service rifle known as the Beretta ARX 160, so its roots are in a battle rifle that has been thoroughly field tested.
The gas-piston system is worth noting. First, like other piston-operated rifles, the ARX runs cleaner and cooler than a rifle that operates with a direct-impingement gas system. The ARX gas system can also be adjusted to function reliably when the rifle is operated under adverse conditions, such as when the rifle is heavily fouled from extensive use or when certain types of ammunition are used.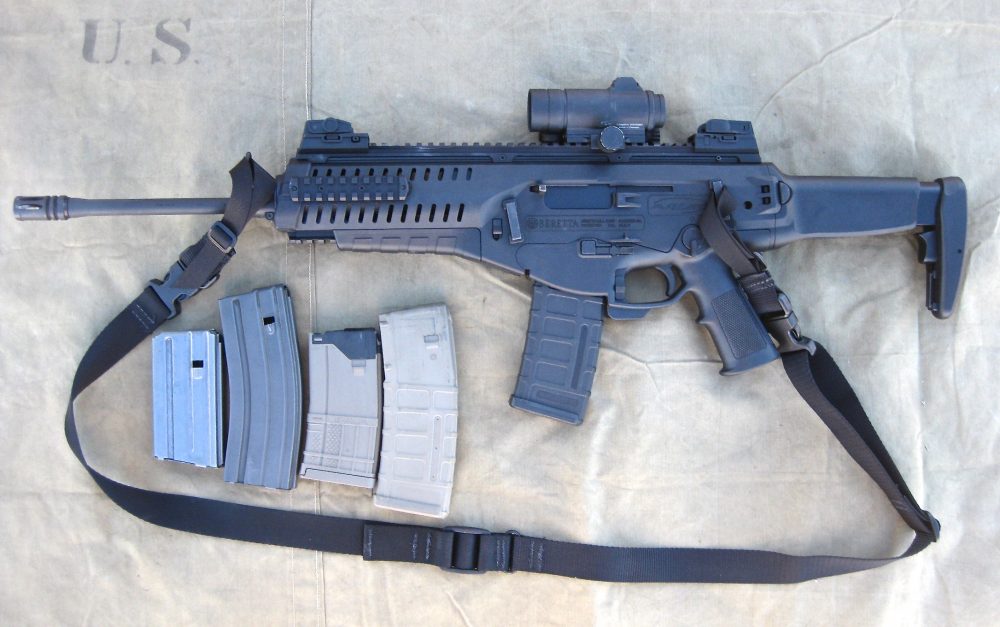 Beretta ARX proved flawlessly reliable while used with Lancer, PMAGs, BRAVO Company and 1980s-era Colt M16/AR-15 magazines.
---
The ARX is very easy to maintain due to its lightweight techno-polymer construction that requires very little lubrication. A Beretta ARX chambered in 5.56mm NATO is also designed to reliably operate with metal and plastic M16/M4 magazines.
The carbine is equipped with a full-length Picatinny rail that can accommodate a variety of optics. In addition, the ARX is fitted with rails at the three, six and nine o'clock sides of the forend. The side rails are attached to stand-off points rather than attaching directly to the handguard. This makes them protrude more than necessary.
In order to be U.S. compliant, Beretta USA manufactures their own cold-hammer-forged barrels for the ARX. The carbine barrels have a 1:7 twist and Nitride finish to protect against corrosion. The muzzle is fitted with a standard A2 flash hider.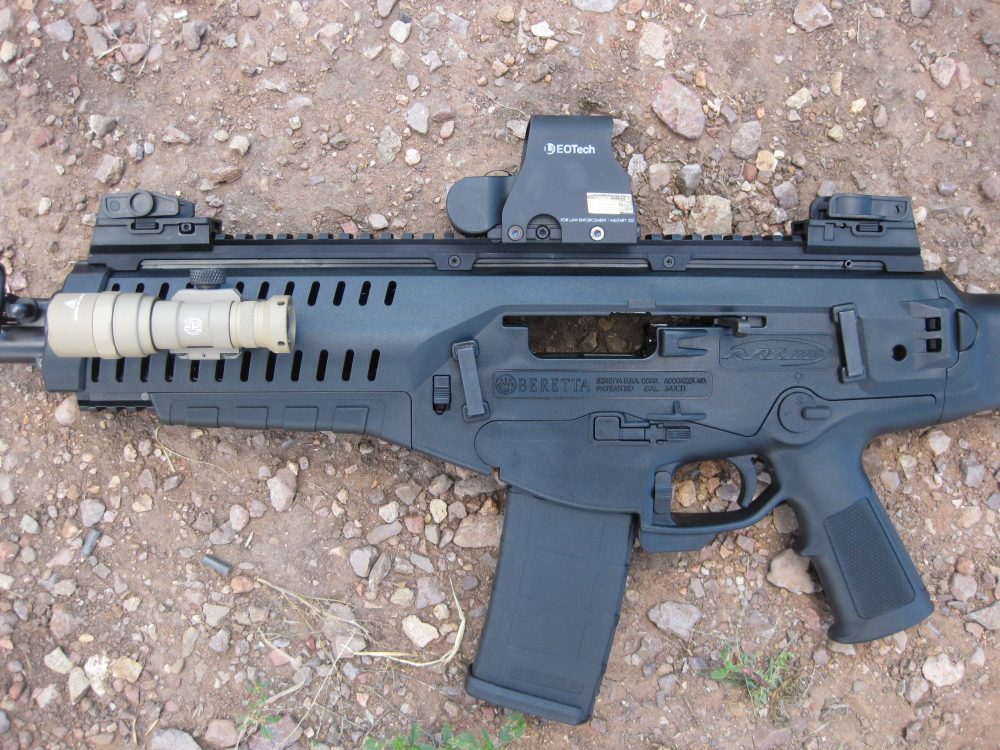 Beretta ARX with SureFire Mini Scout Light attached to left rail and EOTech optic.
---
The ARX is fully ambidextrous and can be easily configured without tools to be operated with the charging handle positioned on the left or right side of the rifle. In addition, it can be easily configured to extract empty brass from either side of the receiver. The ARX ejects empty brass at an angle that makes it possible for a left- or right-handed shooter to comfortably operate this rifle, regardless of how the rifle is configured. The ARX's charging handle is quite small.
Other ambidextrous features on the ARX are the magazine release mechanism, two-position safety, and bolt-release mechanism. A second magazine release is located under the trigger guard.
Beretta ARX can be easily and quickly disassembled into four main parts for cleaning and lubrication.
---
The ARX is equipped with a set of removable/flip-up backup sights. While the front sight is a rotating post that can easily be adjusted for windage and elevation, the rear sight uses a rotating wheel to make adjustments to the aperture. If you prefer a different sight picture, the ARX can be fitted with flip-up sights that are commonly used on M4 variants.
The Beretta ARX is equipped with a side-folding, four-position telescopic stock that the operator can adjust to meet his needs. This feature makes the ARX easier to store and carry while entering or exiting vehicles. The carbine has a plain Jane but functional pistol grip.
The ARX comes with an adjustable nylon sling, two steel Beretta 30-round magazines, a well-made nylon case, and a manual.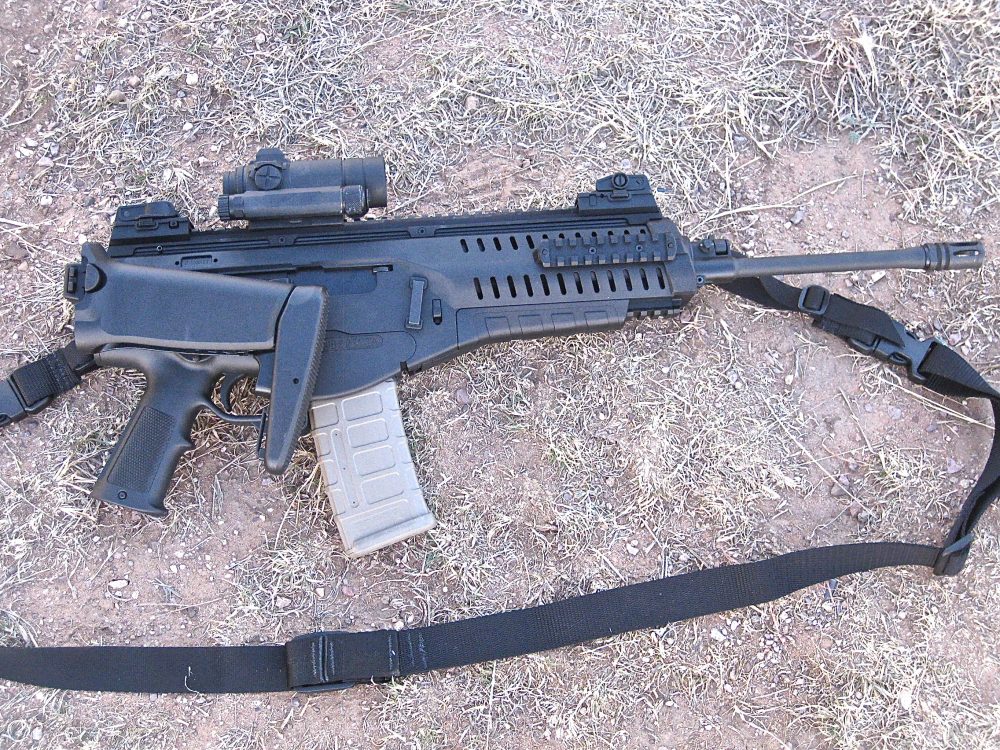 Right side of Beretta ARX equipped with Aimpoint CompM4, 30-round PMAG, and issued Beretta nylon sling with stock folded.
---
FIRST IMPRESSIONS
Six shooters, including three with law enforcement backgrounds, field tested the ARX. Once it was sighted in using the standard fold-down/flip-up sights, the ARX was equipped with an EOTech XPS2-0 holographic red dot sight.
One observation worth mentioning is that, even though the ARX does not look like an M4 carbine, five out of six members of my test team had no problem with the overall ergonomics or any of the ARX's operating features. (See the sidebar on Pros and Cons.) One member of the test team who did not like the overall ergonomics of the ARX and felt the trigger was too heavy for his personal preference was still able to score good hits with the carbine.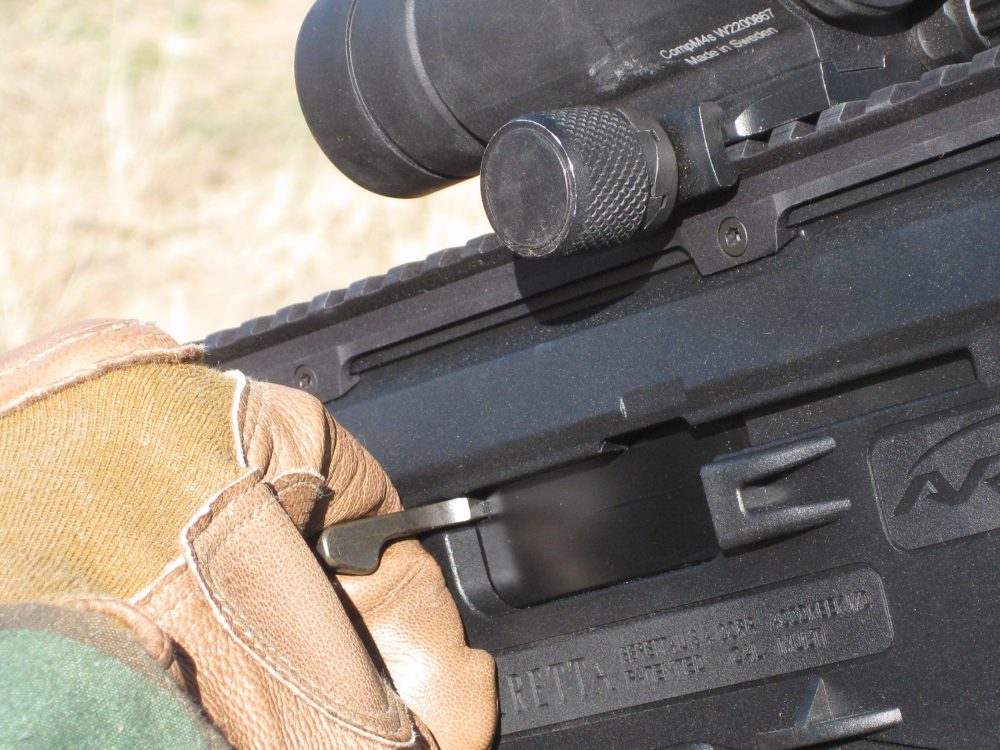 More robust extended charging handle would make ARX more user friendly.
---
Whether used to engage targets at CQB distances or beyond to 100 and 300 yards, the Beretta ARX delivered excellent shot placement.
The ARX proved to be flawlessly reliable at all times during this long-term T&E, while being used with premium brand Federal and Winchester 55-grain 5.56 NATO ammunition. Test magazines consisted of the supplied 30-round metal Beretta magazines, 20-round plastic Lancer magazines, various 30-round Magpul PMAGs, aluminum 30-round Bravo Company magazines, and 1980s-era metal Colt M16/AR-15/CAR-15 magazines. We also mounted a SureFire Scout Light.
The Beretta ARX was operated barehanded and while wearing Oakley tactical gloves.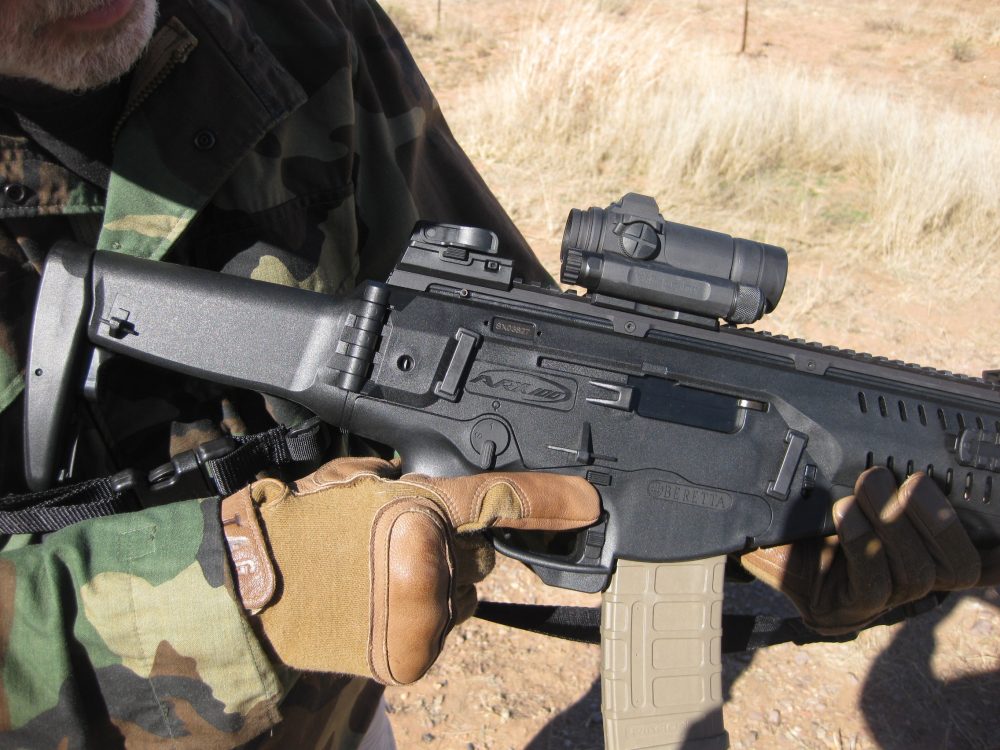 Many users will appreciate ARX's ambidextrous controls.
---
ADDITIONAL RANGE SESSIONS
During the second range session, a patrol sergeant, an FFL SOT dealer, a security officer and a retired SWAT cop who served as a security contractor in Iraq assisted me in field testing the EOTech-equipped Beretta ARX by engaging targets at 15, 25, 150 and 300 yards.
While engaging an Arizona POST-approved TQ19 Firearms Qualification Target at a distance of 15 yards from a standing unsupported position, the EOTech XPS2-0 holographic optic made it possible to deliver all rounds fired into the mid-torso area of the target. Once again the Beretta ARX proved accurate, easy to operate, easy to wield, and flawlessly reliable.
A left-handed shooter had no problem field testing the ARX, although the carbine was set up to eject empty fired brass from the right side of the receiver.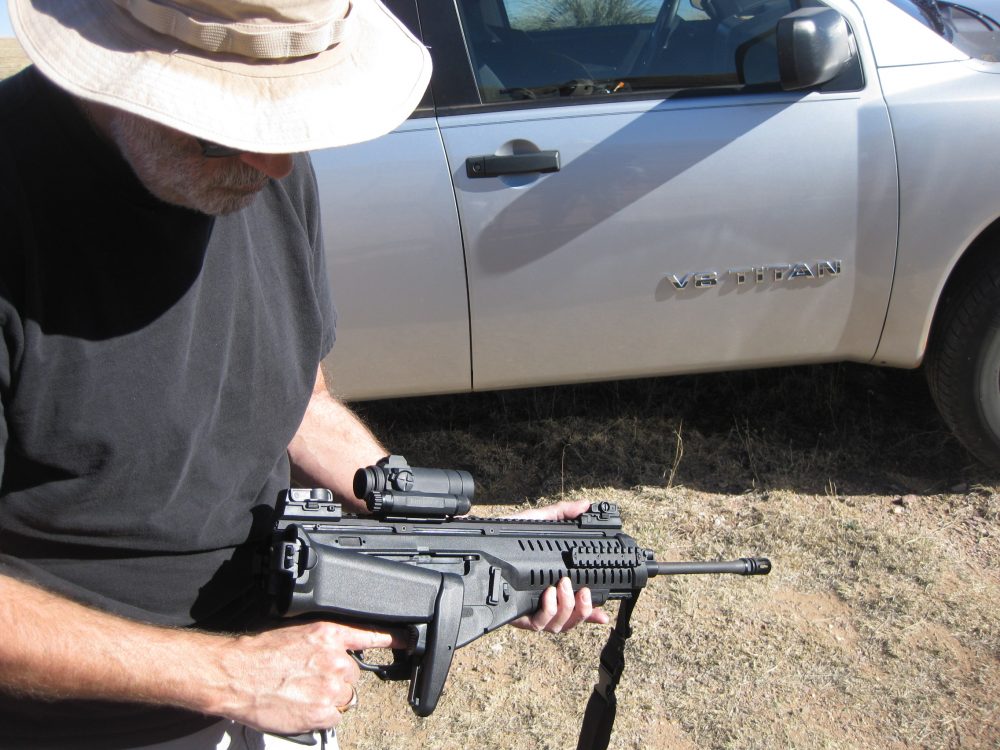 Beretta ARX, here with Aimpoint CompM4, folds into a compact package for use in vehicles.
---
During subsequent range sessions, the ARX was sighted in with an Aimpoint CompM3 in a GG&G QD mount and an Aimpoint CompM4. Once the ARX was properly sighted in with these optics, more rounds were sent downrange, with the results virtually the same as documented in previous range sessions.
After field testing the Beretta ARX on several occasions since 2014, I decided to put the ARX through another range session in November 2015 before submitting this article.
I began this range session by engaging an MGM IPSC cardboard target from a supported sitting position at a distance of 50 yards. A member of my test team who is a patrol supervisor and I engaged this target three times.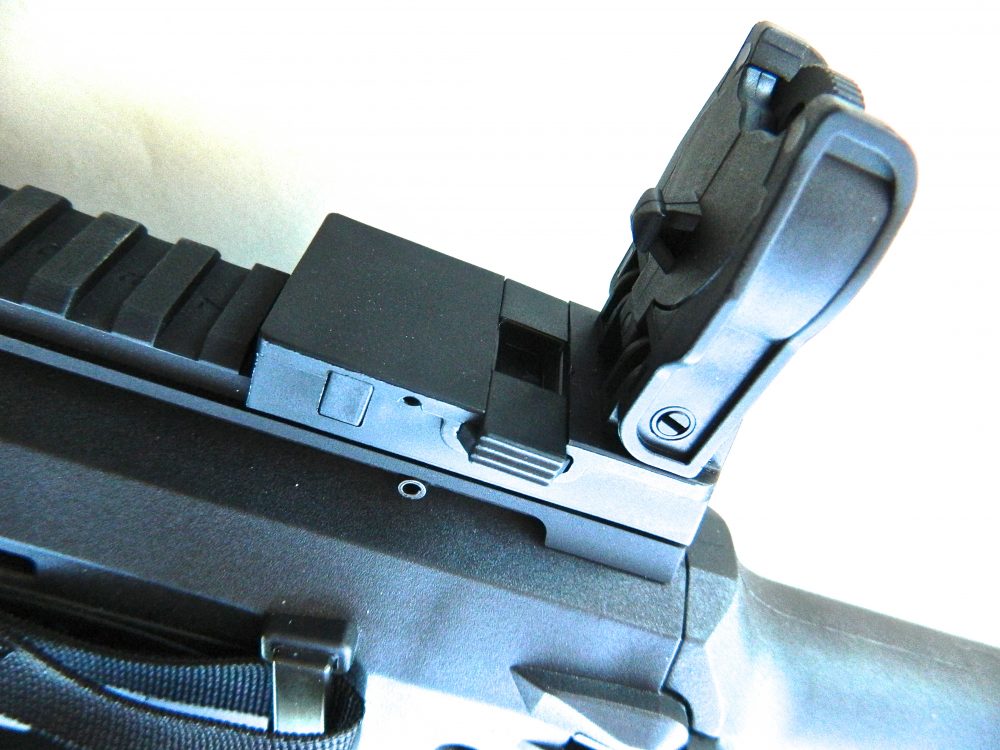 To raise sights, button is pushed from one side. To fold, button on opposite side is depressed.
---
The three groups produced during this range session were triangular in shape and delivered almost identical results, with group sizes measuring 2.5x.75×2.5 inches, 1.75×1.5×2.5 inches, and 2x.75×1.5 inches. Two additional similar-sized triangular-shaped groups were achieved when the ARX was used to engage a TQ19-size metal plate at a distance of 100 yards.
The second half of this field test involved conducting a "fast fire" drill with the ARX while engaging an MGM IPSC target at a distance of 25 feet standing unsupported, and a TQ19 metal plate at 75 yards from a kneeling position.
During this drill, 46 rounds of Federal M193 55-grain 5.56 NATO ammunition were successfully delivered on the head, chest and lower torso areas of the MGM target, while the remaining 14 rounds fired successfully impacted the metal plate.
The Beretta ARX was also used again to engage a metal target at a distance of 300 yards.
After being disassembled and inspected once in 2014 and once in 2015, the Beretta ARX proved to be very clean running. On both occasions, a Hoppes Bore Snake was run through the barrel and the internal parts were wiped down and lubricated with Slip 2000.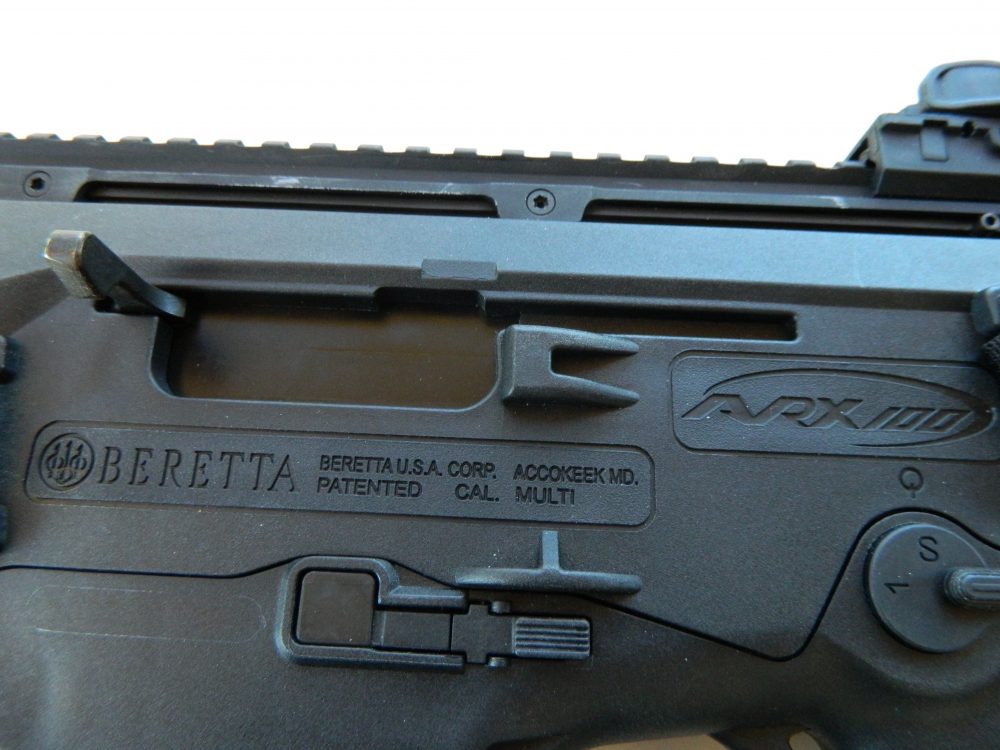 ARX has molded-in shell deflector at rear of ejection port.
---
CLOSING REMARKS
Even though I am a diehard fan of other platforms, including the M16/AR-15/M4, I am impressed with the overall performance of the Beretta ARX. The bottom line is that, while the Beretta ARX may have some warts, it still works.
Nick Jacobellis is a former police officer and U.S. Customs Agent who was physically disabled in the line of duty while working undercover.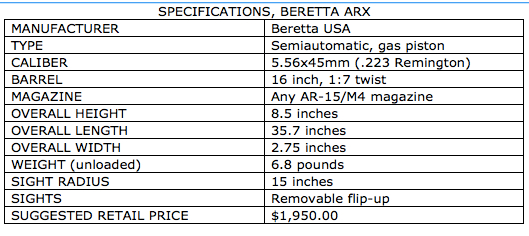 SOURCES
BERETTA U.S.A. CORP.
(800) 237-3882
www.berettausa.com
AIMPOINT INC.
(703) 263-9795
www.aimpoint.com
BRAVO COMPANY MFG.
(877) 272-8626
www.bravocompanymfg.com
EOTECH, INC.
(734) 741-8868
www.l-3com.com/eotech
LANCER SYSTEMS
(610) 973-2600
www.lancer-systems.com
MAGPUL INDUSTRIES CORP.
(877) 4MAGPUL
www.magpul.com
MGM TARGETS
(888) 767-7371
www.mgmtargets.com
SUREFIRE, LLC
(800) 828-8809
www.surefire.com
---
PROS AND CONS OF THE BERETTA ARX
Positive Features
During this evaluation, the test rifle proved to be combat accurate, flawlessly reliable, and easy to carry and wield.
The Beretta ARX has its roots in a design that was subjected to military testing before being adopted by the Italian Armed Forces and other nations.
While the side-folding stock is not as robust as other battle rifle stocks, the ARX's side-folding retractable stock is lightweight and comfortable to use. The same is true for the pistol grip.
The ARX is easy to disassemble into four main parts.
The ARX is reasonably priced for a piston-powered carbine, especially considering its potential for use in other caliber configurations.
Criticisms
The flip-up Beretta ARX sights are not as user friendly as the sights commonly found on more popular rifles and carbines, including M16, AR-15 and M4 variants. The good news is the ARX sights can be replaced.
During the earlier range sessions, the trigger in the test rifle was heavier than the trigger in M4 variants or in SIG 556/SIG 556xi rifles. But the test rifle's trigger seems to be improving with use.
The ARX's accessory rails extend too far from the forend.
While no one on the test team had any problems operating the charging handle, a more robust extended charging handle would make the ARX more user friendly.
The fire/safety control mechanism was initially very stiff to operate, but improved over the course of the testing.
OTHER IMPRESSIONS
Editor Denny Hansen took the ARX with him to Gunsite and sought feedback from six experienced shooters. The following is offered in the interest of full disclosure.
In running the gun, all but one shooter pinched his hand or a finger between the stubby operating handle and the molded-in brass deflector. Running the handle hard, Hansen ended up with a blood
blister on the knife-edge of his palm. All shooters felt the short charging handle is a negative design flaw.
In overall size, the ambidextrous magazine releases are smaller than those on an AR, with the ARX measuring .47x.23 inch, while the AR measures .29x.48 inch. The trouble, however, is that the ARX's
release only extends .14 inch from the receiver. The AR's safety extends much farther, at .24 inch. This made hitting the mag release on the ARX, especially with gloves, much more difficult. While
shooters thought the second magazine release located under the trigger guard was novel, they concurred that they didn't see a need for it.
Only one shooter liked the bolt hold-open, but this may be attributable to the other five shooter's familiarity with the AR system.
To flip up the sights, a button must be pushed. To fold, a button on the opposite side must be pushed. This was not considered a deal breaker, as there is time to depress the sights when the fight is
over, but it is somewhat awkward compared to other folding sights.
Finally, although all shooters liked the folding/collapsible stock and consider it a positive feature for use in a vehicle, it was offset by the bulk of the ARX's receiver measuring a full six inches at the widest point from the top rail to the bottom of the trigger guard. One shooter commented the ARX put him in mind of a pregnant guppy.