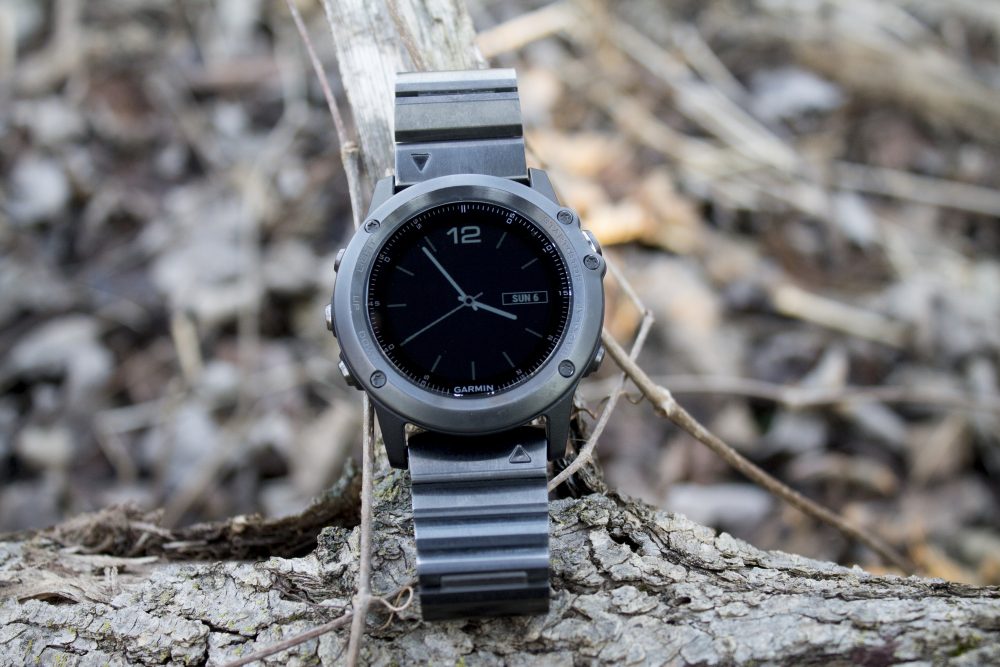 Analog face on Fenix 3 is a welcome addition, but can be switched to a digital face if desired.
---
I have always considered myself a watch guy. Unfortunately, I have a bit of a negative effect on analog watches and slow them down during wear, which is only compounded by my love for analog and distaste for digital.
For some time, I have either had to put up with a watch that ran slow, or use or make watch bands that separate the watch from my wrist. But with the invention of ABC watches (Altimeter, Barometer, Compass), I started taking a more serious look at digital watches. I didn't like the watch function being digital any more than I ever had, but the other functionality definitely made up for it.
Eventually companies like Suunto and Garmin upped the ante by adding GPS to their ABC watches, but something was still missing—an analog watch face. Now the Garmin Fenix 3 has finally changed the game for me: all the benefits of an ABC/GPS watch with the aesthetics of an analog watch face.
FUNCTIONS
If you're going to spend your hard-earned money on a watch, you want to make sure it'is functional enough to enhance your day-to-day life and add to your EDC without overcomplicating issues.
The Garmin Fenix 3 is a feature-rich watch that has a little something for everyone. Its full color (with optional negative mode) display provides a very vibrant experience and, with its available custom apps, widgets and watch faces, you can customize the Fenix 3 to your liking and personal needs.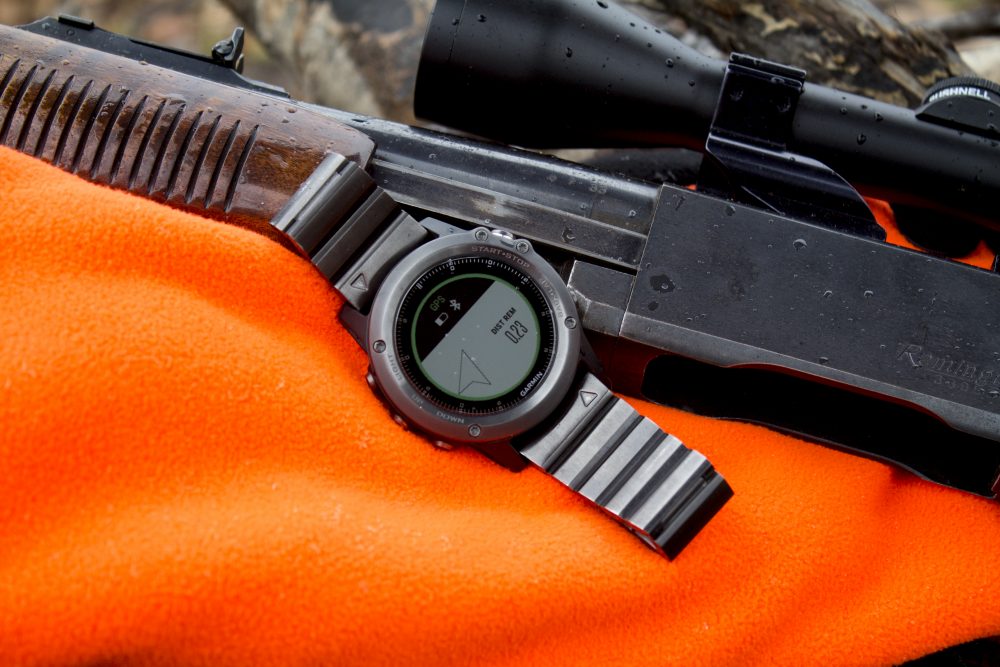 GPS features on Garmin Fenix 3 make it a great hunting companion during tracking.
---
The rechargeable battery means varying hours of use depending on the features activated and whether or not those features use GPS, which takes more battery power.
Out of the box, ready-to-use features include the standard compass, altimeter and barometer functions found on all ABC watches, while very little digging accesses the GPS features.
The Fenix 3 utilizes Bluetooth to pair with a smartphone, which displays smart notifications such as e-mail, text, and caller ID when receiving a phone call. It also has the ability to display the weather and allow you to control the music on your phone. But I have found that it un-pairs itself from my phone from time to time and needs to be re-paired.
The Fenix 3 is also enabled with GLONASS (Global Navigation Satellite System), which works with the EXO GPS antennae for faster satellite acquisition. With its 23MB of useable storage, it can store maps of your favorite areas or up to 1,000 waypoints, favorites, and locations, so you can mark a new favorite camping site, fishing spot, or point of interest (POI).
The Garmin Fenix 3 provides many features to help you get the most out of your exercise regimen, including features for hiking, cycling, swimming, skiing, running, and other physical activities. With heart rate monitoring and activity reminders, the Fenix 3 takes a healthy lifestyle very seriously.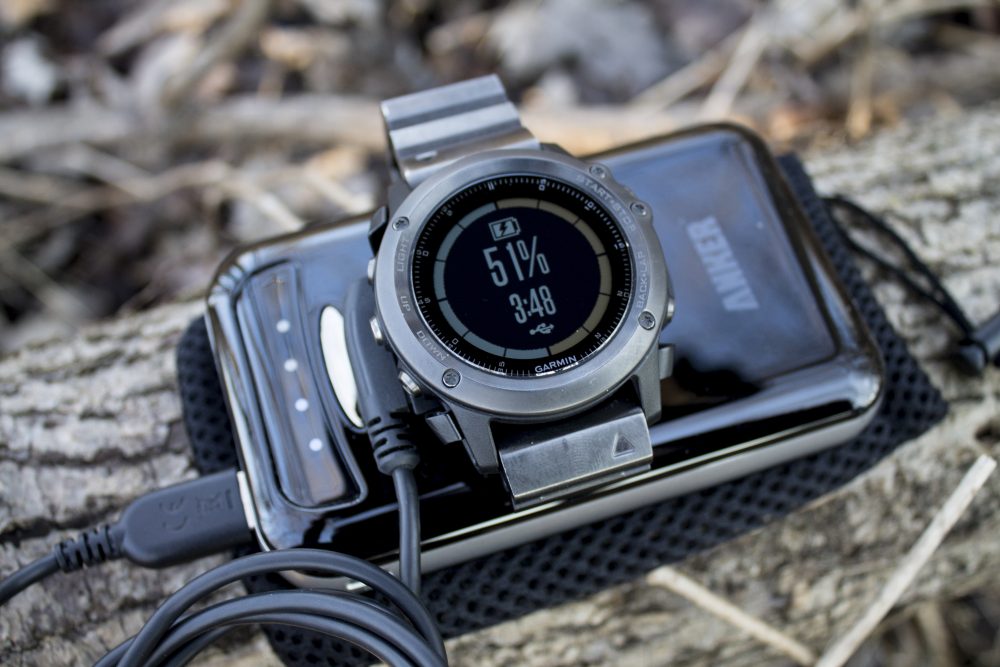 Fenix 3 can be charged in the field with any battery back-up or solar charger utilizing USB ports.
---
DAILY USE AND IN THE FIELD
When I started wearing the Fenix 3, I found the transflective MIP screen to be vibrant in the light but very dim and hard to see in low light.
One solution was to set my backlight on the lowest setting and set the timeout to "stays on." This way if I need the ability to monitor the time, stopwatch, GPS, compass, or other features during low-light situations, I can simply press the backlight button and the backlight remains on until I press the button again. Monitor battery consumption during this kind of use.
The battery holds a charge for roughly 14 days on average while utilizing the Bluetooth features, compass, GPS, and a few of the other built-in functions regularly. Battery use varies depending on the features utilized, but is listed at 50 hours in UltraTrac and 20 hours in GPS training mode. If you require more life out of your battery, limit your general daily use to watch mode only. This gives you up to six weeks of battery life.
In the colder seasons, I hang the Fenix 3 from the ridgeline of my hammock with the temperature screen displayed, so I can easily monitor my hammock's internal temperature throughout the night. With the quick press of a button, I can check the barometer to keep an eye on the weather. I have found the barometer to be accurate enough to give me a solid idea of changing weather patterns, while the temperature feature has proven accurate within a few degrees.
The Fenix 3 is equipped with a storm alert. During the entire time I have had it, I have not received one warning, even though some serious storms have moved through, so I have found that feature lacking.
The compass has been accurate during use, but needs to be calibrated from time to time to ensure accuracy. Fortunately, calibration is very easy and only takes one simple step, although when utilizing GPS, the compass gets its directions from the satellite and does not need to be calibrated.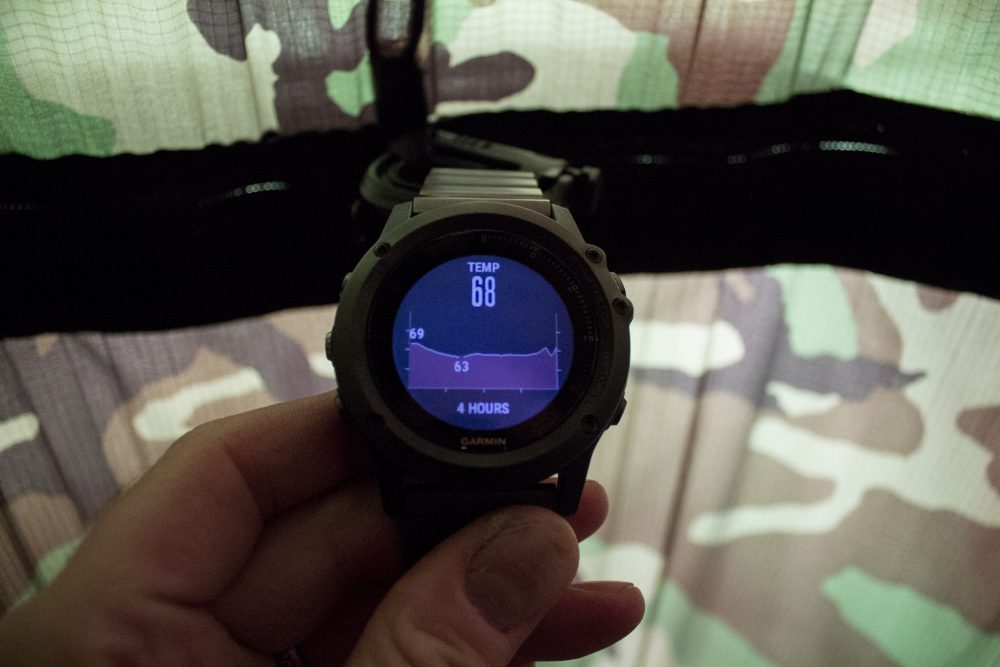 Author hangs Fenix 3 from ridgeline in his hammock so he can monitor temperature and weather.
---
The GPS makes a great hunting companion, allowing you to store the coordinates of deer camp in the event you lose your way while tracking game. Ideally you will be paying attention, but preparation is the key to longevity. The GPS communication with the satellite is very good during the winter months and functions as well as any other GPS while under heavy canopy, meaning it still performs but can be spotty.
For its size and weight, I have found the Fenix 3 to be comfortable and unobtrusive during daily wear. It's comparable in size to most other watches in the ABC category. The Fenix 3 is built for rugged durability and has been able to withstand everything I put it through without showing a mark.
If you want to change the look or fit, different bands can be purchased for the Fenix 3. They are attached using a durable rod and bolts for strength.
CONCLUSION
During the time I have been wearing the Fenix 3, it has been a very capable watch that has performed quite well in its field. Could I live without it? Of course. It hasn't become part of my DNA. Would I want to? Not really. It has become part of my EDC system.
In the new world of smart watches, the Garmin Fenix 3 has emerged as a wrist-top computing platform for the outdoorsman who is more interested in useful features than the ability to play games on it. I have quite a few good watches, but they all have one thing in common since I have been using the Fenix 3—they are all collecting dust.
With retail prices ranging from $499 to $599, the Fenix 3 will change the way you head into the field.
SOURCE
GARMIN
(800) 800-1020
www.garmin.com