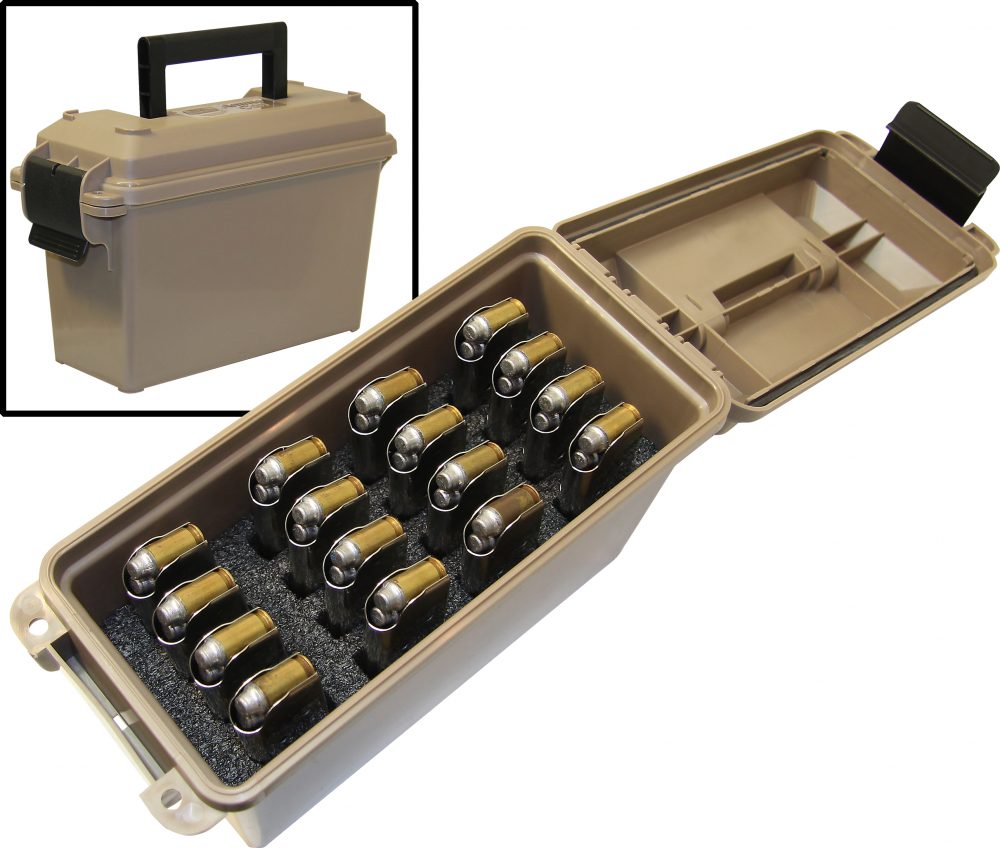 TMC1911 holds 16 1911 magazines. Each TMC includes "O" ring seal and tabs for padlocks.
---
When I plan a trip to the range, I preload magazines to make the most of my time while there. I follow the same procedure when attending a course, as it allows me to spend time hydrating or maybe jump back on the line if there's an empty slot on a relay.
More often than not, I place the loaded magazines in a range bag with other gear. This is not ideal because feed lips may be damaged or debris may get into the mags.
A BETTER OPTION
When it comes to shooting and reloading accessories, one of my favorite companies is MTM Molded Products Company. From ammo boxes to ammo cans and assorted reloading accessories, they make more products of this type than anyone.
Last year I covered MTM's Ammo Can Combos, which come complete with individual boxes that accommodate 1,000 9mm rounds and 700 rounds of .45 ACP (IT'S IN THE CAN: Long Term Ammo Storage, February 2015 S.W.A.T.).
This year MTM added to their product line several ammo cans that are equally at home for a casual day at the range, attending a training course, or carrying spare ammo for an unexpected situation.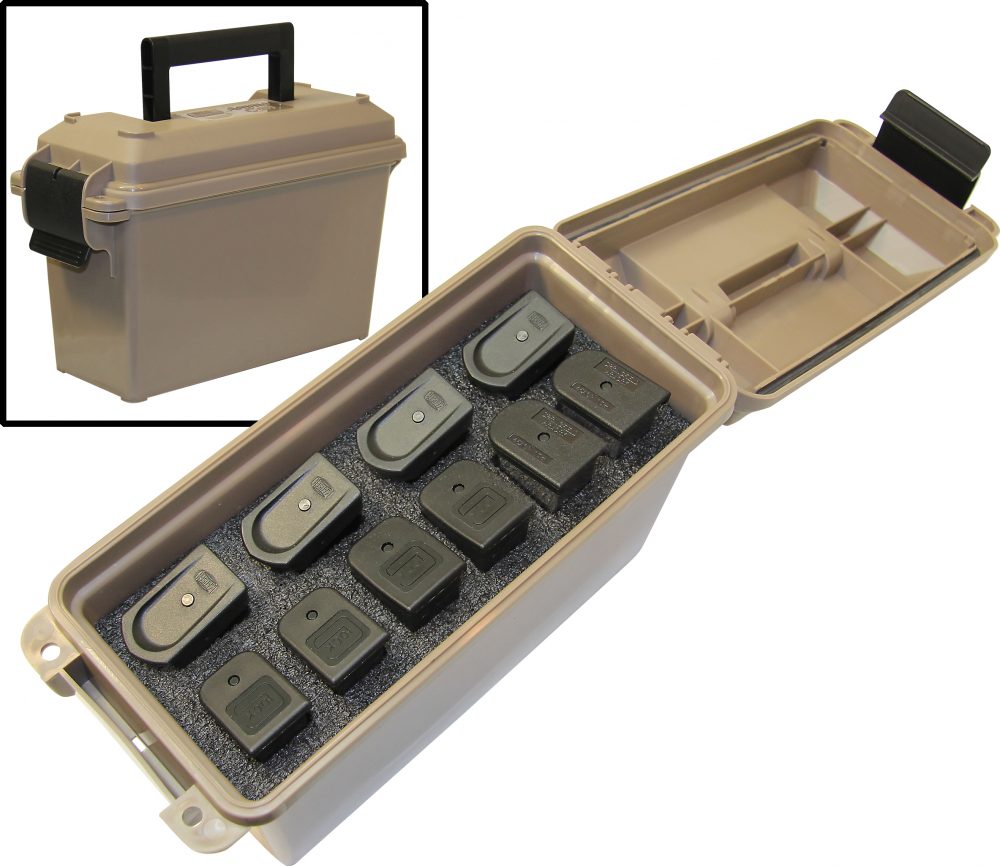 TMCHG holds ten double-stack pistol magazines and is great for taking preloaded magazines to a pistol course.
---
The Tactical Magazine Cans (TMC) are made of high-impact plastic, are air and water tight thanks to a rubber "O" ring seal, have heavy-duty latches, and can be locked with a padlock. Each can has an insert made of rigid foam padding with factory cutouts to hold specific magazines.
MTM makes five such cans, and each is a great way to haul your guns' food supply.
TMC1911 MAGAZINE CAN
The TMC1911 is the most compact of the TMC line, measuring 5 inches wide, 7.2 inches high, and 11.3 inches long. It has four rows with four cutouts per row, for a total capacity of 16 1911 magazines.
TMCHG
The TMCHG has the same exterior dimensions as the 1911 can but holds ten double-stack pistol magazines. Either the TMC1911 or the TMCHG would be great to take to a pistol course, so the student can concentrate on the subject matter rather than constantly "jamming mags."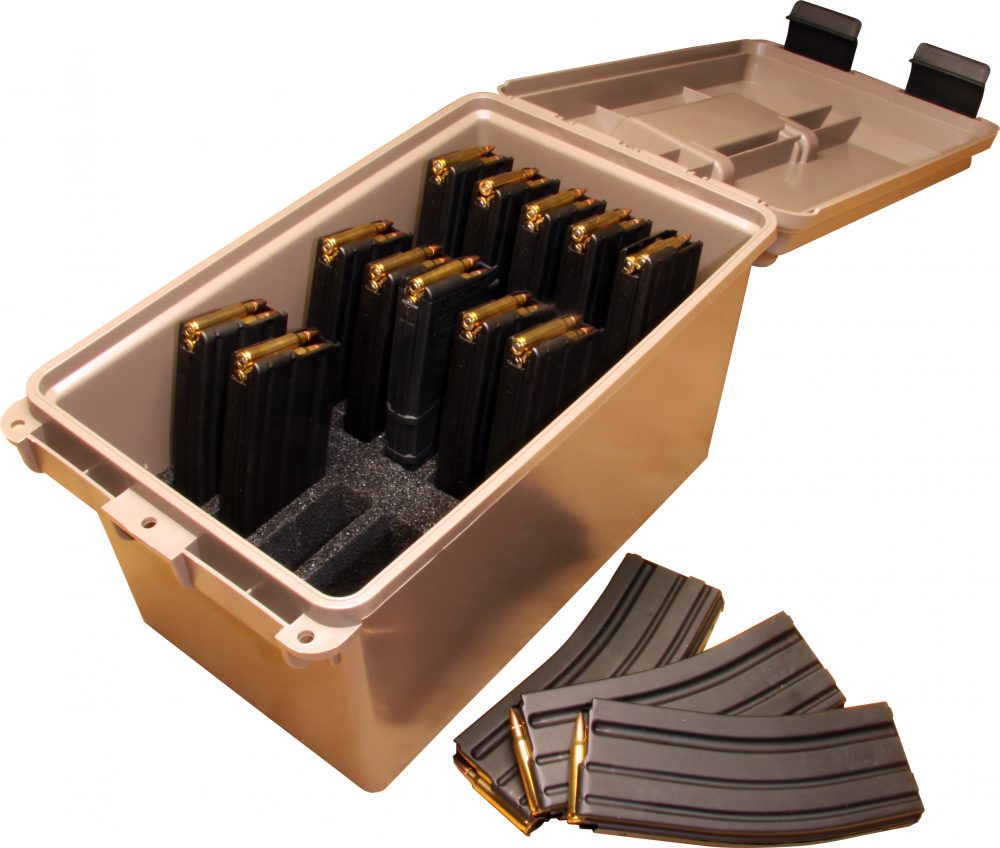 TMC15 has spaces for 15 AR-15/M4 mags. Assuming 30-round magazines, this means you can fire 450 rounds before you have to reload your mags.
---
TMC15
Moving up in size, the TMC15 measures 9.3 inches wide, 9.0 inches high, and 15.3 inches long. With spaces for 15 AR-15/M4 mags, you'll be able to shoot 450 rounds—assuming 30-round magazines—before you have to reload. That's more than most people fire in a day of practice, and meets or exceeds what is put downrange in all but the most intensive carbine courses.
TMCLE MULTI MAG
The TMCLE is the same size as the TMC15 but combines cutouts in the foam for ten double-stack pistol magazines and ten AR-15 magazines. This is a good piece of kit for a peace officer to keep extra ammunition available for an emergency, and should also serve a competitor well.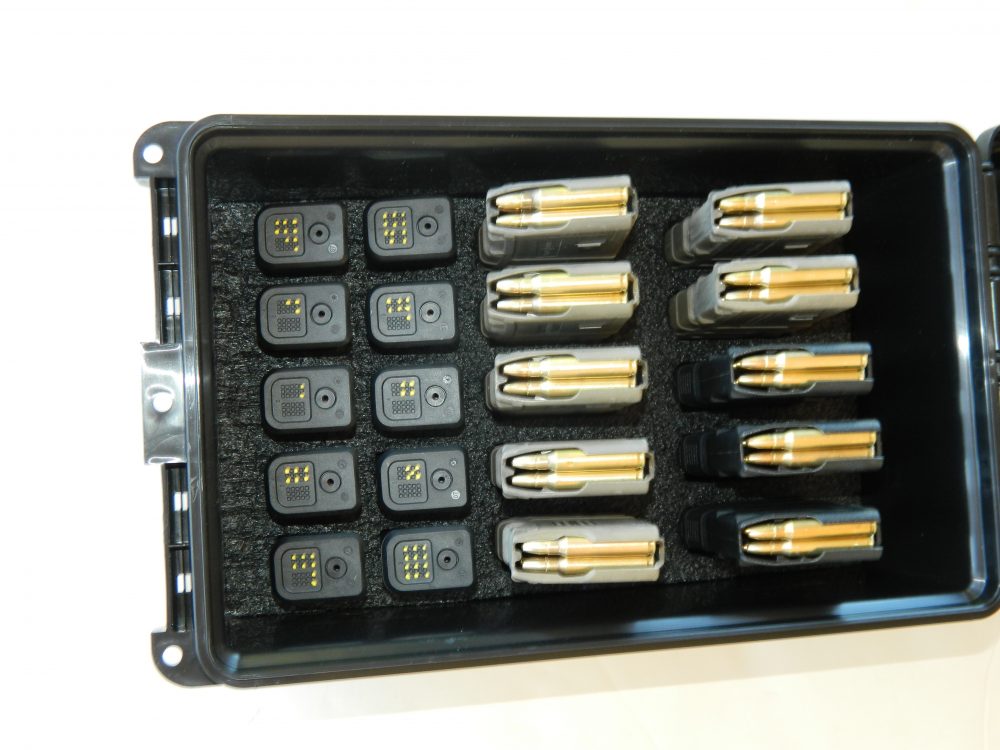 Author used TMCLE Multi Mag Can at a low-round-count combination pistol/carbine course. Preloaded magazines were enough to see him through the class with a minimum of jamming mags.
---
TMCAK
Although not as popular as the AR-15 platform, Kalashnikov (AK) rifles continue to enjoy a faithful following among shooters. MTM has not forgotten them, as there is a Tactical Magazine Can specifically designed for the AK. The TMCAK measures 9.3 inches long, 15.3 inches wide and 9 inches high, and holds nine AK magazines.
AT THE RANGE
I recently attended a two-day combination pistol/carbine course. I loaded the TMCLE with ten pre-loaded 30-round AR mags and ten double-stack pistol mags. I packed extra .223 in stripper clips and 9mm ammunition in MTM pistol ammo boxes, and then placed all the ammo in an MTM Ammo Crate (ACR4-18).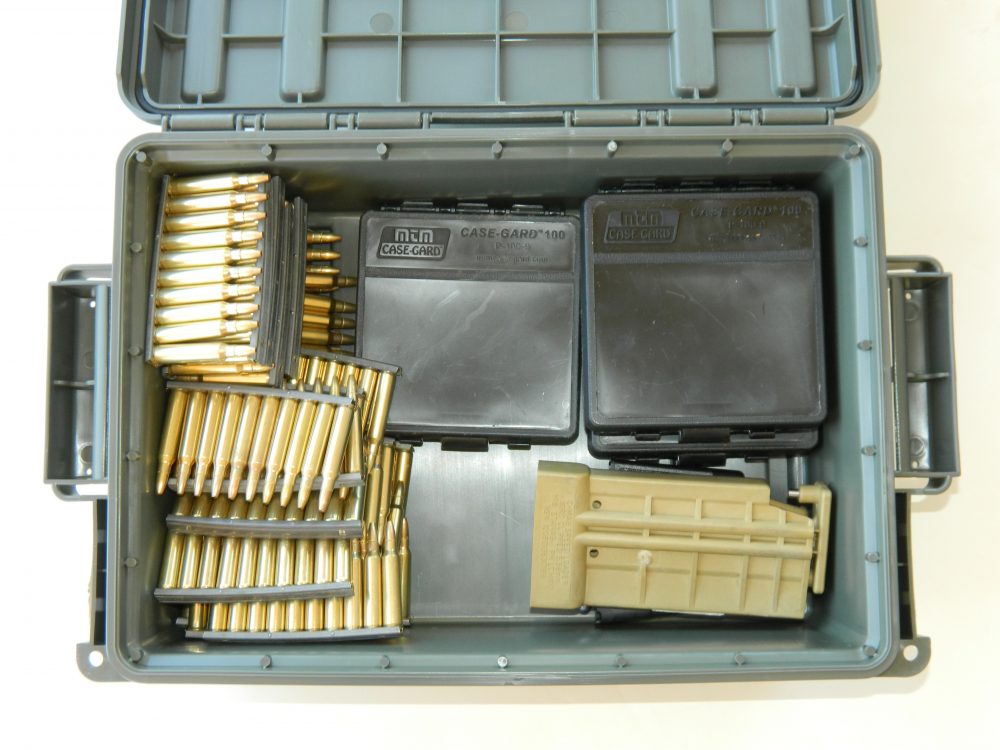 Author also used an MTM Ammo Crate to take extra ammunition with him to a course.
---
This was a low-intensity, low-round-count class and, besides topping off—because I wanted to, not because I had to—I only had to fully reload four of the 9mm mags. Having multiple loaded magazines allowed me to keep shooting while other students were reloading mags. And I think we're all agreed that more shooting is always a good thing.
If you don't already have a good system for carrying and protecting extra magazines for practice, a course, competition, or any other situation, check out the MTM Tactical Magazine Cans.
SOURCE
MTM MOLDED PRODUCTS COMPANY
(937) 890-7461
www.mtmcase-gard.com