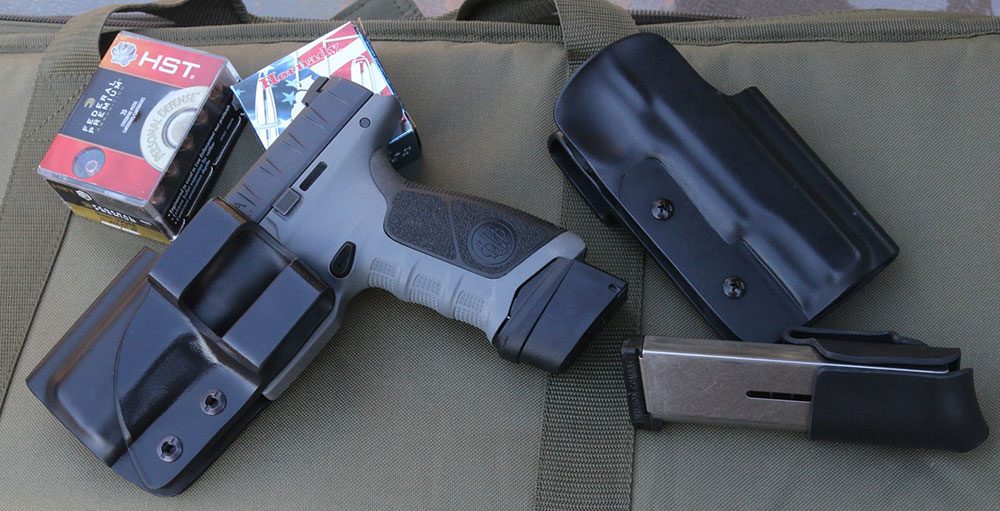 Kydex or similar molded holsters are the norm today and visible everywhere across the shooting landscape. That wasn't always the case.
I can remember the first Kydex holster I saw, in about 1995. It was formed much like a leather Threepersons-style holster, but open to the rear where the folded material joined, and it was bolted through to secure the pouch portion to another fold to the rear that formed the belt loop. That basic design, popularized by Blade-Tech, quickly proliferated with minimal variation.
I used that design from several makers in training, competition, and carry both at home and overseas with satisfaction. Recently I needed a belt holster for a couple of pistols and was surprised to find that the "classic" outside the waistband (OWB) design had become downright hard to find.
It seems that the market had moved aggressively to the molded or Kydex "pancake" style pioneered by the Raven Phantom on one end and a more modular approach to the classic OWB that connected different mass-produced paddle or loop systems by screws on the other end.
I wanted the simple, integrated belt loop of the classic design. Luckily, one maker is still making it and doing it quite well. That is where Chris Stewart of Ready Tactical comes in.
Chris is an active competitor and talented shooter in his own right, participating and running competitions in several action disciplines. He also actively trains law enforcement and firearms instructors in his area. This is reflected in his design, which is a simple but beautifully refined and functional OWB. His basic holster has been used by several champion shooters in IDPA, where the competition requires the use of concealment holsters and cover garments.
I had actually used one of Chris' holsters and mag pouches a good bit a few years ago and was pleased to see that the current holsters are every bit as good as and, if anything, better than my older one.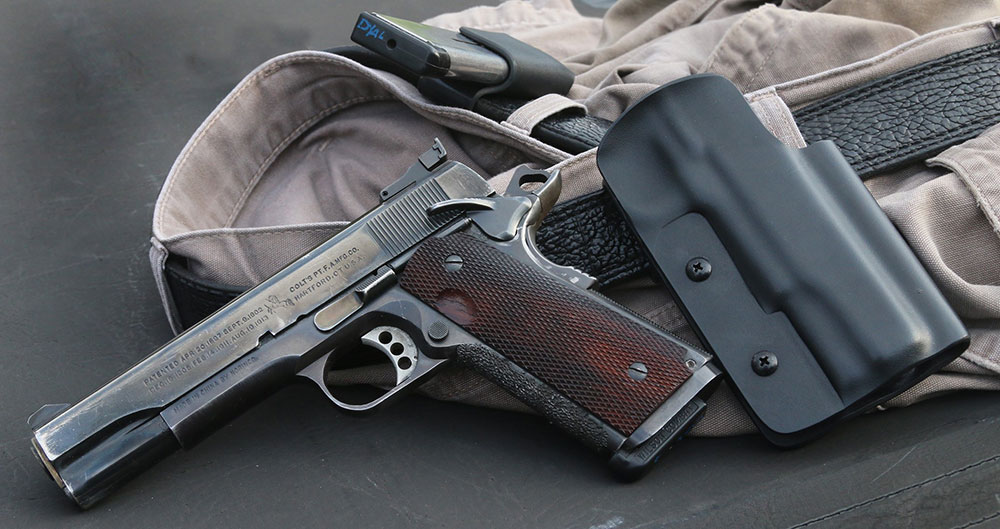 They are constructed of thick Kydex, which many small makers avoid because it is more difficult to form and work. The belt loop incorporates an offset that pulls in the butt of the pistol just a bit, aligning the handgun for concealment, but with a near-perfect offset for access on the drawstroke. In dry-fire work with the new holster, I found the cant, level of molding and retention, and ride height to be almost perfect to my druthers.
The Ready Tactical scabbard is fitted to the pistol in all the right places to allow good friction and retention in an open-top design with no rattle or sloppiness. Yet the holster yields to the drawing hand immediately on the upstroke. All the subtle things that speak of great design, craftsmanship, pride in the build quality, and experience are there.
People can lump Kydex holsters into an erroneous sameness. But in fact there is great Kydex and there is a vast sea of marginal surrounded by an ocean of heatgun garbage. One example of care and quality is visible on the Ready Tactical holster.
A lesser holster maker reveals themselves with pistols that have aggressive forward serrations or Picatinny rails by molding into these depressions and creating too much resistance for the draw. Ready Tactical provided a great form fit with no drag at all.
I grabbed the Ready Tactical scabbard and headed to the range to see what it would do.
Within the first few presentations with my 1911, I was up to two tenths of a second faster than with the holster models I had been using for the last year or so. That is nearly a full reaction time and a significant boost.
I'm a little slower from the holster with a 1911 than with striker-fired or DA/SA platforms. Not much, but persistently and measurably so. Thus, I was pleased that with the Ready Tactical offering, I was laying down times that were in the bracket of my favored rigs for platforms that I shoot the best.
The holster was comfortable, carrying steel 1911 weight well and concealing under a light garment. This is, however, not a baggy T-shirt type cover OWB. There are better designs if your goal is to carry on the belt under only a T-shirt. As a range or field holster, this rig works very well.
SKD Tactical, Ready Tactical's main distributor, also offers Chris' compact mag pouch design, which is self-tensioning and takes up less space on the belt than fold and bolt-through designs. As with the holster, the integrated belt loop incorporates a well-thought-out offset that splits the difference between concealment and ready access.
On the model I have for the Beretta APX, the sizing and self-tensioning feature allows most of the common 9mm/.40 S&W double-stack pistol magazines to fit well, unlike some that are rigidly molded to a specific magazine model.
The price-to-quality ratio of the Ready Tactical is remarkably high and a solid deal. I don't think you'll find many experienced one-at-a-time makers producing this level of quality at the selling price. I'm just happy I still have access to the integral belt loop design.
SOURCE
SKD TACTICAL
www.skdtac.com