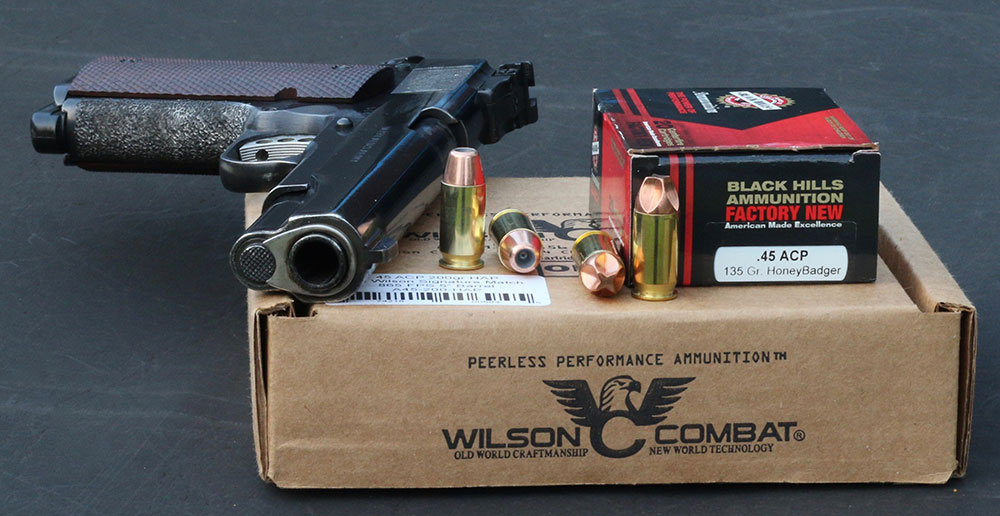 .45 ACP loads have been mostly boring for well over 100 years. For much of the cartridge's existence, there was "hardball," 230-grain full-metal-jacketed bullets launching somewhere between 825 and 875 fps, and a couple of mid-range target loads for the bullseye shooters.
In the modern era, jacketed hollow-points arrived in three standard weights: 185-grain, the occasional 200-grain, and the predominant 230-grain bullets.
Few cartridges have enjoyed the warm glow of retold mythology like the ACP. I grew up smack dab in the middle of the "9mm vs 45" era and was regaled by tales of hardball's derring do and mighty properties. Maybe all those legends stymied progress, because if something ain't "broke," it's hard to sell the market on a "fix."
However, two loads on the market I think are worth talking about: Black Hills Ammunition's .45 HoneyBadger and Wilson Combat's Bill Wilson Signature Match.
HONEYBADGER DON'T CARE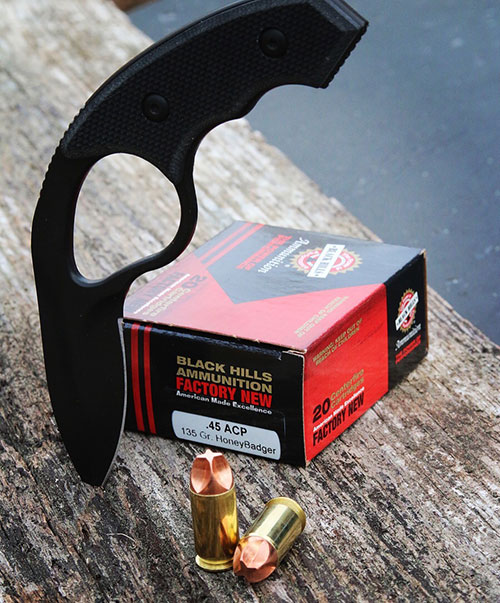 The .45 ACP has struggled to retain its perch in the JHP era since standardized ballistic testing using the FBI standards became commonplace. The .45's large frontal area works against it in the tests, typically allowing impressive expansion or impressive penetration, but usually not at the same time and not through barriers.
The law enforcement market moved to 9mm and the ammo companies' engineers achieved wonders to make the .355-inch bullets go deep and wide across the range of FBI tests. That technology has not always translated up to the .45 ACP with equally good results.
If you carefully scrutinize gelatin testing across ACP loads, you see moderate expansion and wound tracks or relatively shallow penetration. There are a couple of standout loads, but these typically operate at the very upper end of .45 pressure and recoil.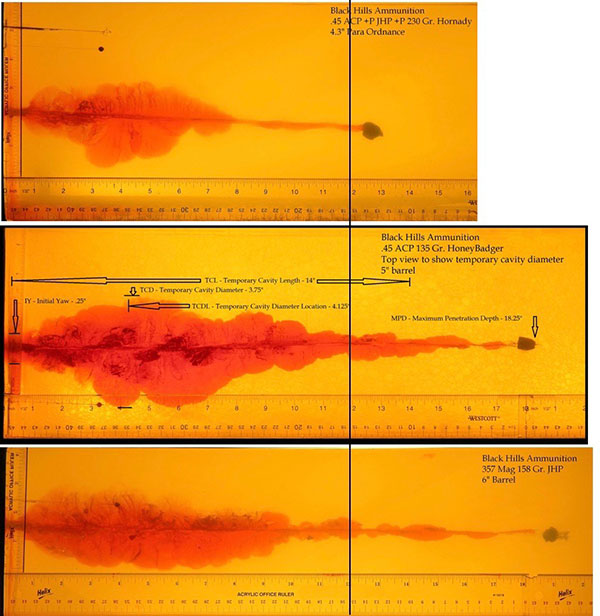 The HoneyBadger takes a different approach in several ways. First, the solid machined copper projectile is light for its caliber at 135 grains and is screaming for an ACP at nearly 1,300 feet-per-second (fps). Turning "heavy and slow" on its ear, the Black Hills load is by pure numbers similar to the vaunted 125-grain/1,250 to 1400 fps .357 Magnum police loads that ruled the 1970s and 80s, except with a larger diameter bullet.
The second unusual aspect is that the projectile is non-expanding, relying on machined flutes in the bullet nose to create a wound cavity. The concept is that fluid is redirected at such speeds as to create damage in what is essentially its wake as the copper projectile drives deep.
Calibrated ballistic gelatin has been positively correlated with actual shooting results over many years now, giving us a decent idea of what to expect from a given projectile and allowing us to compare one load's performance with another.
Take a look at the HoneyBadger and Black Hills traditional 230-grain +P JHP: The HoneyBadger drills inches deeper and leaves a larger wound cavity. The cavity is almost indistinguishable from a .357 Magnum hunting load fired from a long six-inch barrel. An additional upside is that the HoneyBadger isn't affected by barriers, since there is no hollow point to plug up or deform.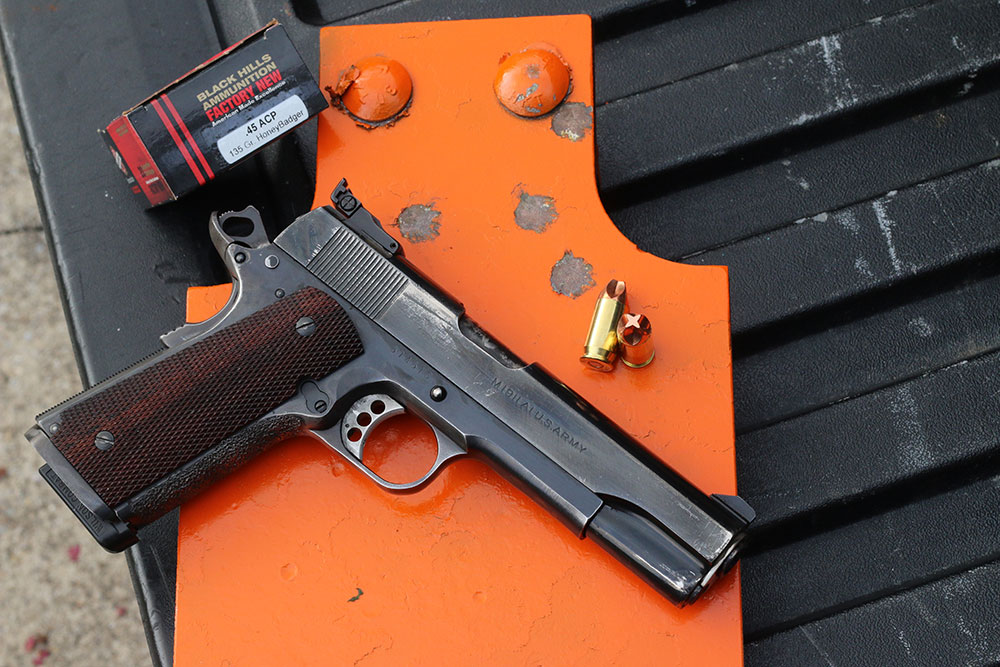 I haven't seen testing to confirm or deny, but I have a strong suspicion that the HoneyBadger will stand a far greater chance than 230-grain ball of successfully penetrating thick or tough intermediate barriers.
The HoneyBadger has fed fine in every pistol I've tried, ranging from vintage 1911s to a current M&P 45. The overall recoil impulse is different; I would classify it as lighter overall than full-power JHPs. There is much less muzzle rise, but the slide cycles more briskly. There is a little more blast, as the .45 is now supersonic rather than the traditional subsonic loads.
I've had accuracy that ranged from good to great across a small pile of pistols that I've grouped it in. I was surprised to find that the lightweight load has generally grouped pretty close to point of aim using sights regulated for hardball.
As promising as the HoneyBadger looks for anti-personnel use, I have to admit I'm kind of taken with the thought of the 1911 as a trail gun or short-range hog/whitetail pistol.
WILSON COMBAT BILL WILSON SIGNATURE MATCH LOAD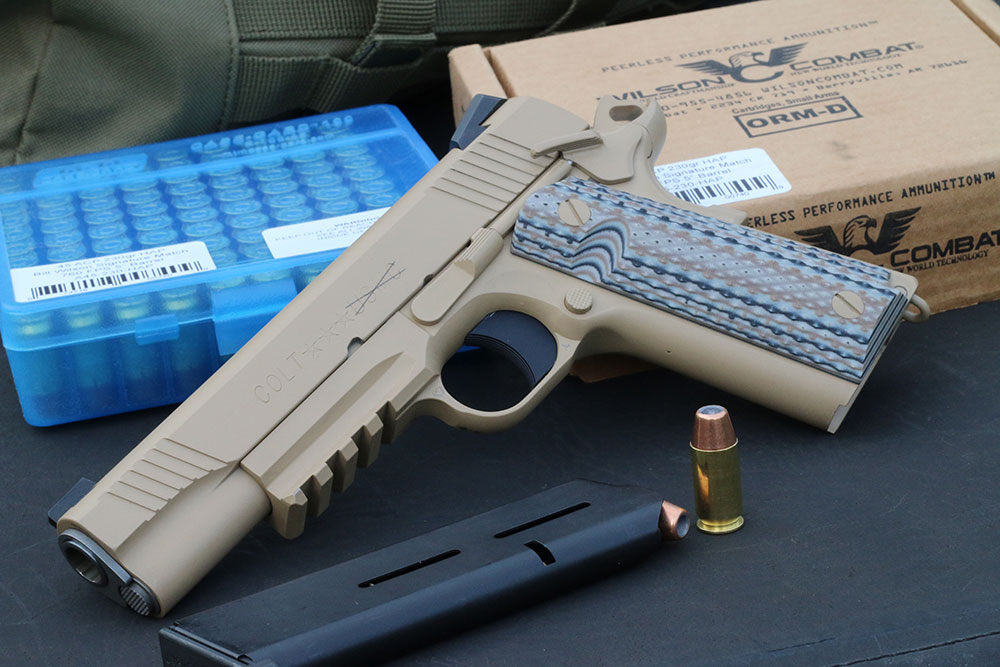 The practical shooting sports all have requirements to ensure that competitors are using comparably powerful loads, or else someone would show up with a barely lethal load one fps stronger than airsoft to gain an edge.
The International Defensive Pistol Association (IDPA) uses a power factor to determine the minimum, which is calculated by multiplying the weight of the bullet in grains by the velocity in fps and dividing by 1,000. Minimums are typically set by whatever the slowest common defensive-type ammo is fired out of a somewhat shorter "defensive" or compact barrel.
For the Custom Defensive Pistol (.45 division), this power factor is 165. Once the minimum is set, if you're shooting full-power fodder out of a long barrel, you're simply adding recoil and giving away time, which is how competitions are scored. More recoil and more time equal bad.
Hardball on the warmer side runs 875 fps, so 230 x 875/1000 equals a power factor of 201. Wilson Combat offers deluxe match ammo that steers right to the required 165 power factor with a small margin for insurance. So what, you say, I don't shoot IDPA. Fair enough. But if you do shoot .45, these loads are worth checking out.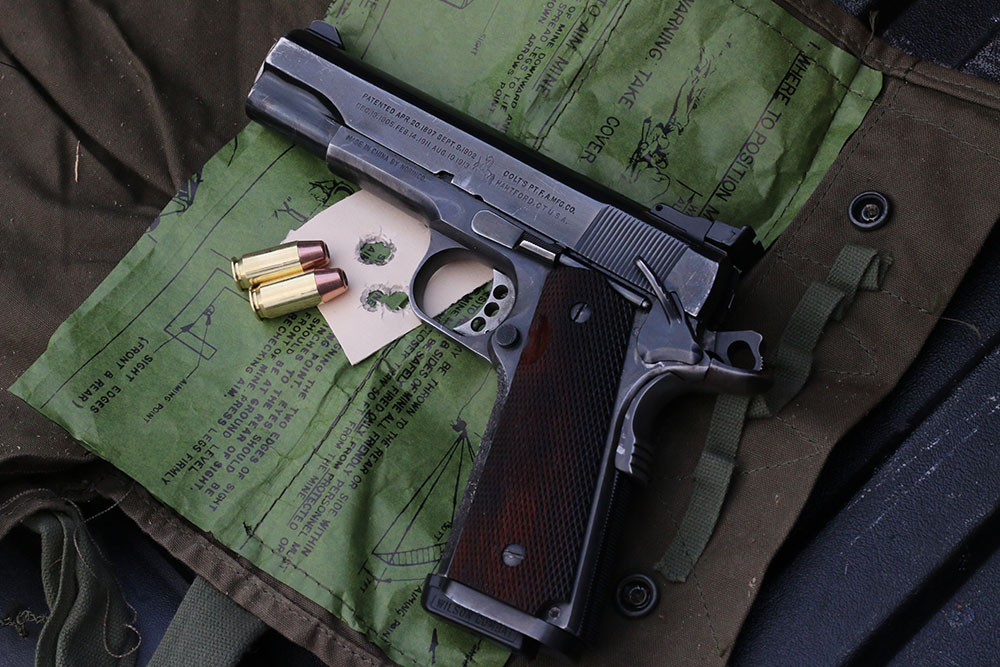 The 200-grain Hornady Action Pistol (HAP) bullet at 865 fps is maybe the sweetest-shooting factory load out there. The somewhat lighter bullet moving at modest velocity is very much full power and able to do about anything you'd attempt to do with ball, but registers significantly less recoil in the hand. I'm not talking light target loads like bullseye "softball" loads, but probably 85% of hardball recoil.
I've shot a lot of hardball over the years. I don't mind it, but I also don't particularly enjoy shooting 230-grain ball nearly as much as other loads. The Bill Wilson Signature Match loads hit a sweet spot for me: enough recoil to feel ".45-ish" and impart the significance of the transaction, but smoother, flatter, and less taxing on the joints. They are enjoyable, major power factor fare.
The 200-grain HAPs let a solid 1911 shooter step on the gas quite well. I find that on drills where I'm trying to place as many hits as possible in a fixed time limit, I can usually stack one extra hit with the Wilson load relative to hardball.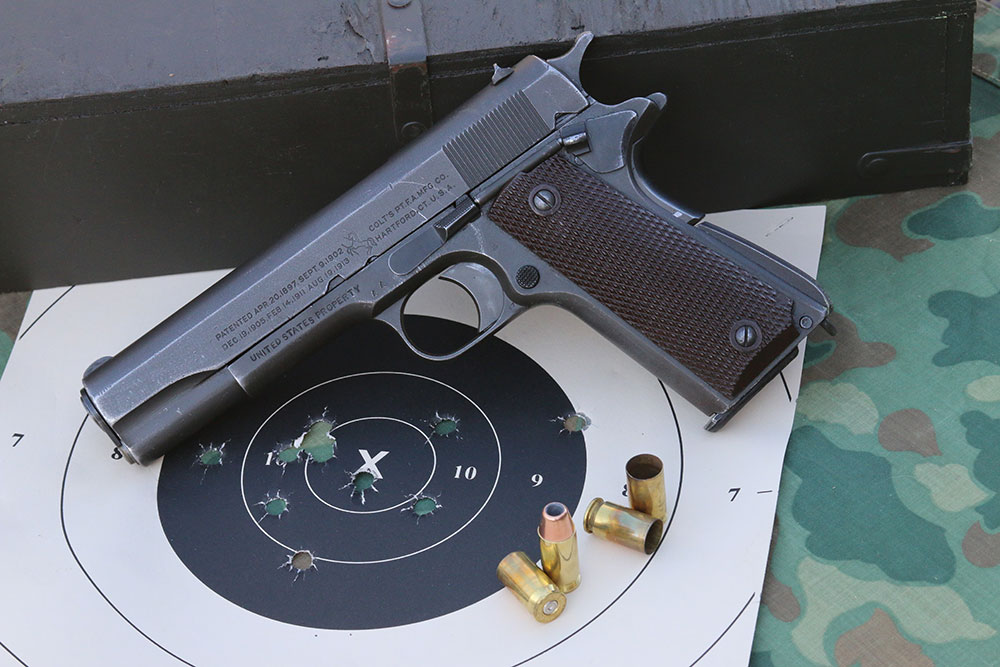 On drills that have an aggressive time limit for a fixed number of shots, I typically score a few more points. Faster recovery with the lighter bullet translates to the extra tenth of a second for the front sight to get extra crisp as the trigger breaks. As an FBI SWAT buddy of mine says, "I've yet to find someone who shoots better with more recoil…."
It is an equal upside that the Signature Match is a benchmark accuracy load. It's one of the first loads I reach for when I'm checking what a .45 is capable of. It has been the very best load in at least four pistols, ranging from the no-kidding one-inch group it produced in a BCM GUNFIGHTER 1911 a few years ago to monotonously predictable 1.5-inch groups in several of my pistols.
One additional area where the Signature Match shines is in vintage 1911s. The HAPs shoot far more precisely out of the "combat accurate" GI guns, which is welcome. Perhaps more importantly, the attenuated recoil decreases "hammer bite" on the old guns significantly.
With the market currently awash in hardball at fire-sale pricing, the sticker of the Wilson Combat ammo may seem like a luxury.
And put simply, it is a luxury. Worth is a relative thing, but I see this ammo as something a .45 guy or gal splurges on for a match, a run at a personal best on some drills, or a more pleasant session with a favorite 1911.
SOURCES
BLACK HILLS AMMUNITION
(605) 348-5150
www.black-hills.com
WILSON COMBAT
(800) 955-4856
www.wilsoncombat.com