A few months ago, I was at the range testing a couple guns for articles and shooting a couple more to stay current with them. During the process, I needed various tools to adjust a scope, mount and re-zero the dial, change the elevation on an AK front sight, and tighten some screws. I also needed a bushing wrench to take down a 1911 I was shooting.
My range box is a large plastic ammo shipping crate that I keep filled with everything I am likely to need, including short AK and AR-15 magazines, extra ear muffs, extra shooting glasses, ammo, and various tools.
But the box is not well organized, and finding the tools I needed wasted time, so I decided to organize the tools better. I had received some general and specific gun tools from Real Avid to test, and the time had arrived.
AR15 AND AK47 MICRO TOOLS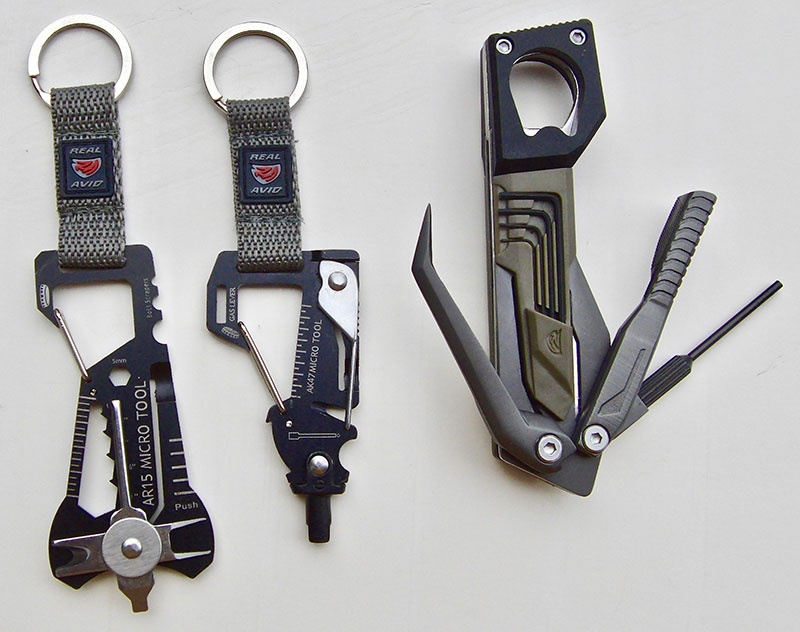 I decided to start by taking a look at the compact AR15 Micro Tool and AK47 Micro Tool. Both are small, light, and easily carried in a pocket. Each also has a key ring, so they can do double duty.
The AR15 Micro is described as an 18-in-1 tool. Among the useful tools incorporated are a flathead screwdriver, firing pin scraper, bolt tail scraper, 5mm bit driver, pin punch, front sight adjusting tool, bolt face scraper/screwdriver, cutter, five wrenches from 3/8 to 1/8 inch, and a one-inch ruler, which is very useful for measuring groups when zeroing a rifle.
The AK47 Micro claims to be a 10-in-1 tool. Included are a pin punch, cutter, gas piston shaft scraper, front sight adjustment tool, gas piston face scraper, gas tube removal lever extender, and a one-inch ruler. I can think of cases where I've needed most of those.
These little beauties are useful, easily carried, and inexpensive.
THE PISTOL TOOL
This tool replaces an array of items useful for maintaining a pistol. First, it incorporates a bushing wrench, necessary for taking down many 1911 pistols. Other items include four Bondhus Protanium hex keys for laser sights, a stainless steel pick/scraper, 2.5-inch bit driver, 3/32-inch pin punch, three-inch tanto-bladed knife, six bits (flat, Phillips, hex, and Torx), and a fine metal file. One of the metal surfaces may be used as a tap hammer.
I like this tool enough that I plan to keep one in my gun box and get a second one to stick in with my Springfield HRT Special—the 1911 I shoot the most often.
I recommend these three tools for any shooter who has respectively an AR-15, AK-47, or 1911. Real Avid offers three other larger tools that are useful for those who delve into their rifles a bit more.
THE GUN TOOL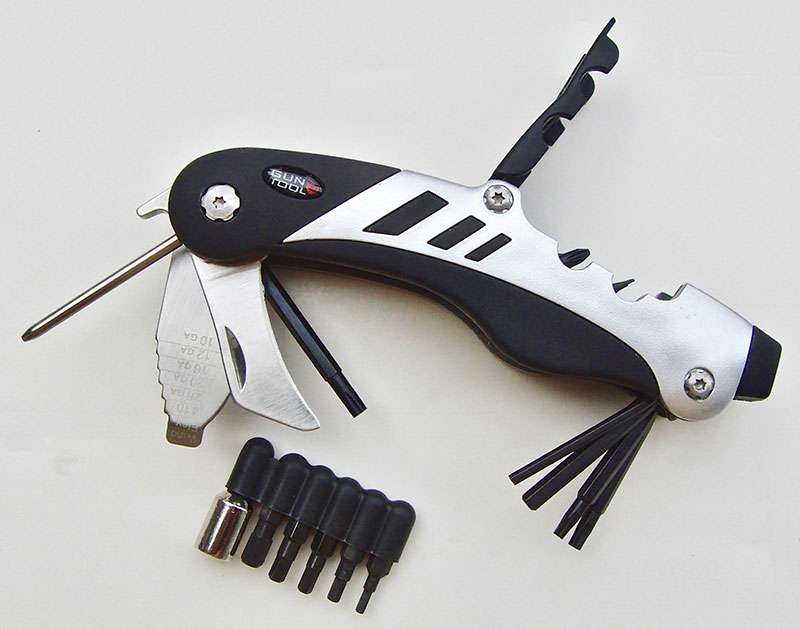 The Gun Tool is a versatile multi-tool for general use on rifles or shotguns. Among its features are a pin punch, three Torx and two Allen wrenches, a choke tube wrench, scope turret tool, 3/16-inch bit driver with two flat blades and two Phillips blades, and a stainless claw-point knife blade. All fold into the body, and the whole tool fits into a nylon pouch. This tool is another nice addition to a gun box or for carry in a gun case.
AR15 TOOL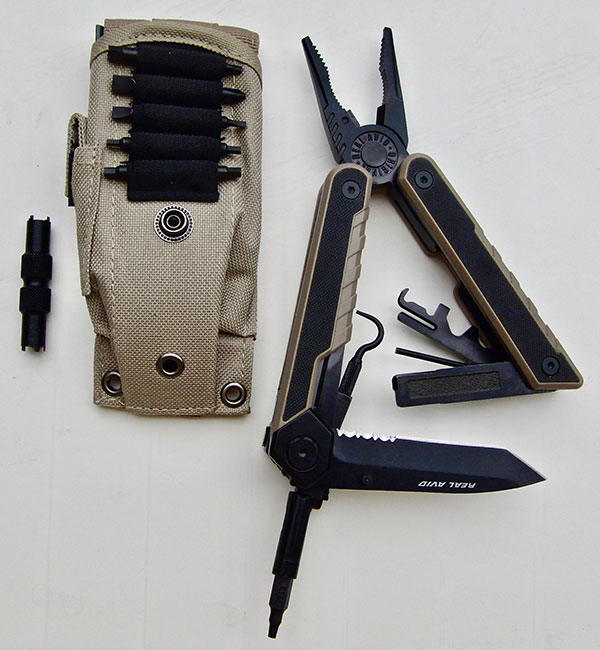 As with the Gun Tool, the AR15 Tool is designed to pack as many features into as little space as possible, all carried in a nylon case. As with a standard multi-tool, the AR15 Tool incorporates a set of needle-nose pliers with a carbide cutter. For those who carry an AR-15 with them, two features make the AR15 Tool ideal to carry in a vehicle: A serrated Tanto blade and a glass breaker make the AR15 Tool useful beyond just working on your carbine.
But back to the actual AR-15 tools. Included are a bolt carrier carbon scraper with file, ten-function bolt carrier group scraper, 3/32-inch pin punch, a pick, three-position locking bit driver, and 12 bits—five Allen, three Torx, three flat, and one Phillips. They stow in loops on the pouch. Separate, but stowable in the pouch, is an A1 and A2 front-sight adjustment tool.
I know it's starting to sound redundant, but this is another compact, useful Real Avid tool. This one is going to a pocket on the gun case of the M4 I carry in my truck.
GUN TOOL PRO-AR15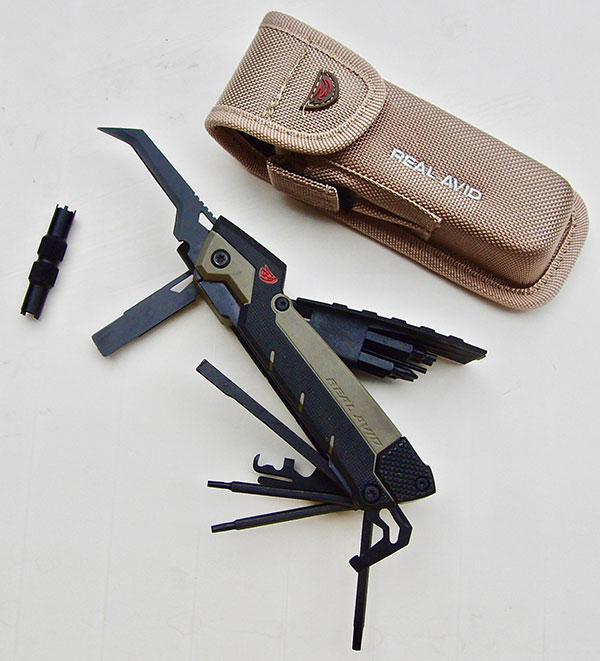 The Gun Tool Pro-AR15 may be above my sophistication level in that some of its uses may fall into the realm of things I let my gunsmith friend address. On the other hand, I occasionally surprise myself and sometimes am not around a gunsmith. It will do anything the AR Tool does, plus more. I've found again and again that I may have a tool I don't use for years, but when I need it, I really need it.
Features include a claw point utility knife; ¼-inch bit driver; interior bolt carrier carbon scraper; fine metal file; 8-32 threaded receiver that fits standard gun cleaning rods; cotter pin puller; nine-function bolt carrier group scraper; TORX 110, 115, and 120 wrenches; bolt override; tap hammer; side-mounted ¼-inch bit wrench; spring-loaded hatch for bits including five Allen, two flat, one Phillips, and one AR-15 pin punch; and magnetic small-parts storage compartment. Separately, but with a compartment in the pouch, is an A1 and A2 front-sight adjustment tool.
A couple of features of the Gun Tool Pro-AR15 I find especially useful. The magnetic compartment for small parts keeps them from getting lost—all too common when doing maintenance in the field. Having the three TORX wrenches fold out rather than as bits for the driver seems sensible to me, too, as they will be longer for convenience and leverage.
I'm not sure yet whether I prefer storing the bits under the spring-loaded hatch on the Gun Tool Pro-AR15 or in loops on the pouch as with the AR15 Tool. They may both prove equally secure. Only use will tell.
For now, it's the AR15 Tool I'm carrying with my M4, as its features allow me to maintain my carbine when away from home. But for some shooters, the additional features of the Gun Tool Pro-AR15 will make it their choice for all AR-15 maintenance.
SOURCE
REAL AVID
(800) 286-0567
www.realavid.com