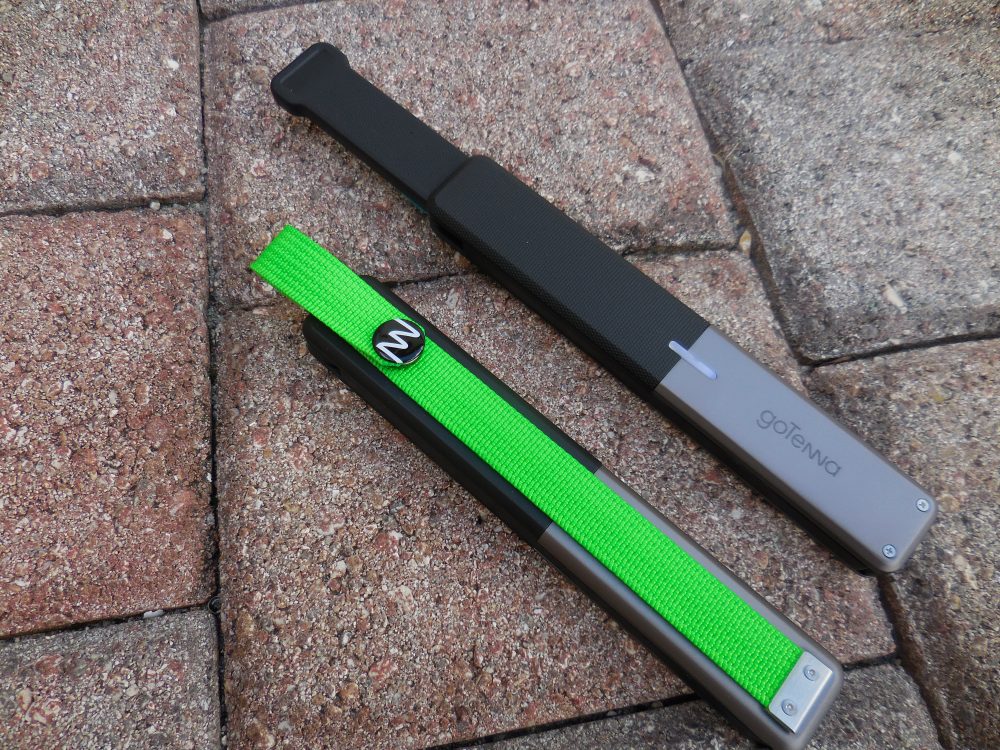 Extended antenna adds another 2.2 inches to the overall length.
---
Smartphones can now be found just about everywhere on the planet. It's no exaggeration to say that these incredible devices have changed everything, especially how we communicate. As device functionality and cell service reliability have increased, so has our dependence on this technology. But what happens when there's no service?
Without connectivity, smartphones can still perform some very useful functions, but you can certainly forget about communications. In the past, you had few options when you got the dreaded "no service" message. Wouldn't it be great if there were a way to create your own personal network for true off-grid communications using your smartphone? Now there is.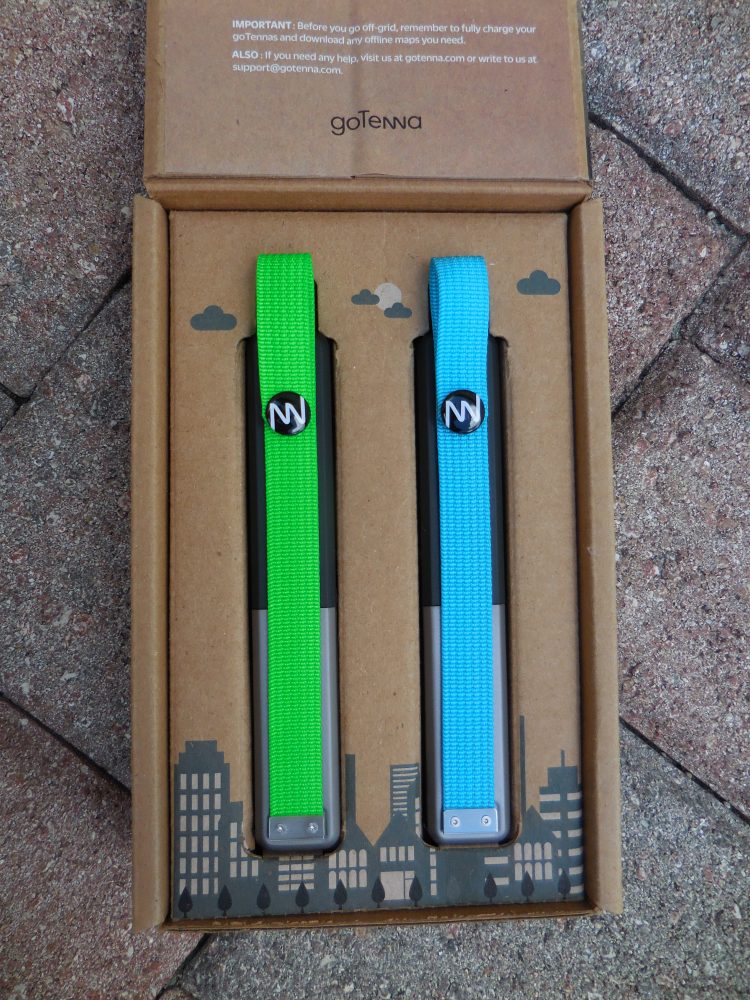 THE SCENARIO
A widespread disaster (manmade or natural) has brought down power and cell service in your area. Panic and confusion quickly follow, as hordes of stressed-out, frightened people struggle to make their way through the chaos. Knowing that all your plans and preparations are solidly in place is a big relief, but there's still a lot to do, and you immediately go into survival mode.
One of your first priorities is to locate all members of your family and get them to safety. But first you must locate them, and for that you need a way to communicate. The people you want to locate could be just around the corner, but without communications, you'd never know it.
Under normal circumstances, a simple cell phone call, text, or email would be sufficient to get everyone on the same page and to coordinate those next crucial steps. But these aren't normal circumstances and, in the absence of a cell signal, your smartphone is dead in the water. Or is it?
You reach into your pocket, pull out a slender device that you attach to your belt or bag, and within minutes you're sending and receiving text messages and sharing GPS information with friends, loved ones, and others within range using your existing smartphone. And you manage to do all this without cell service, towers, routers, satellites, or even wifi. How is this possible?
Enter the goTenna.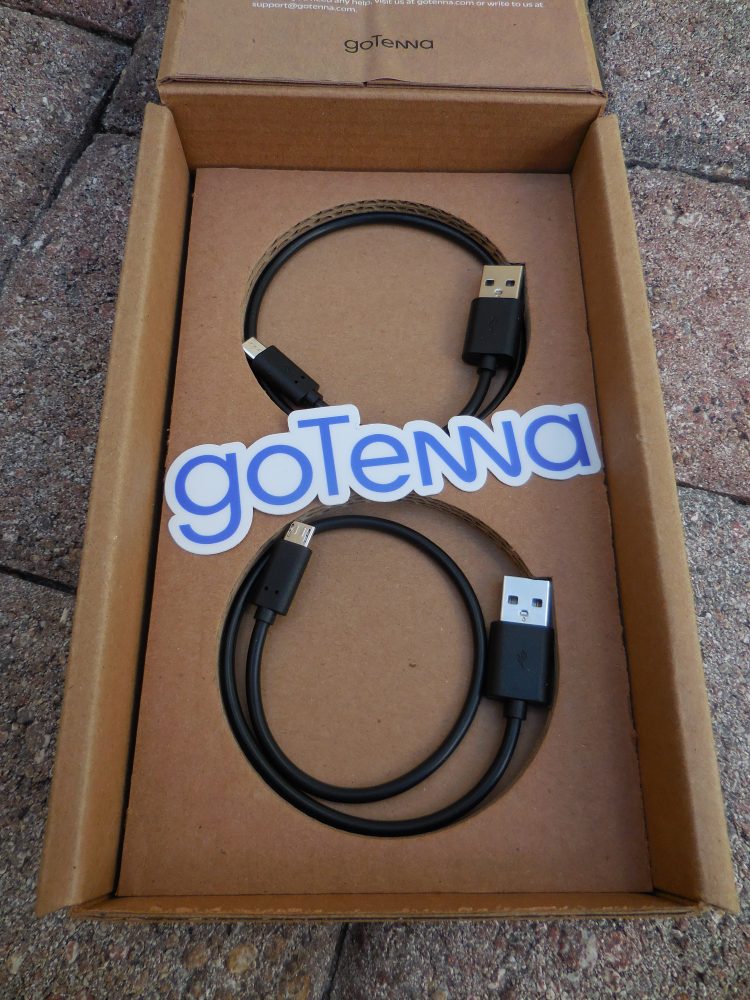 WHAT IS GOTENNA?
GoTenna is a lightweight, pen-sized device that generates a two-watt digital radio signal, allowing you to send and receive text messages, and to share GPS information with other goTenna units using your existing smartphone (iPhone or Android) and the goTenna app. Essentially, goTenna turns your smartphone into an off-grid communications tool that can be used anywhere on the planet without cell reception, wifi, or satellites.
GoTenna works on all Apple devices running iOS 8.4 or above that are Bluetooth enabled, and on Android smartphones running 4.3 or above, again with Bluetooth. GoTenna does not support voice or images.
HOW DOES IT WORK?
The goTenna device pairs with your existing smartphone using Bluetooth, and works in conjunction with the free goTenna app to send and receive end-to-end encrypted text messages, or to share your location with other goTenna devices.
You just compose your text message using your smartphone and the app sends the message to the goTenna device, which then transmits it to the intended recipient via long-range radio waves (151-154 MHz).
On the receiving end, the entire process is reversed. The receiving goTenna device receives the message and sends it to the paired smartphone via Bluetooth, where the text is displayed on the recipient's smartphone. Pretty cool.
Since goTenna creates its own wireless network, you can send text messages and share your location with specific individuals or groups. The entire process looks and feels very similar to any other text messaging app that many of us are already familiar with.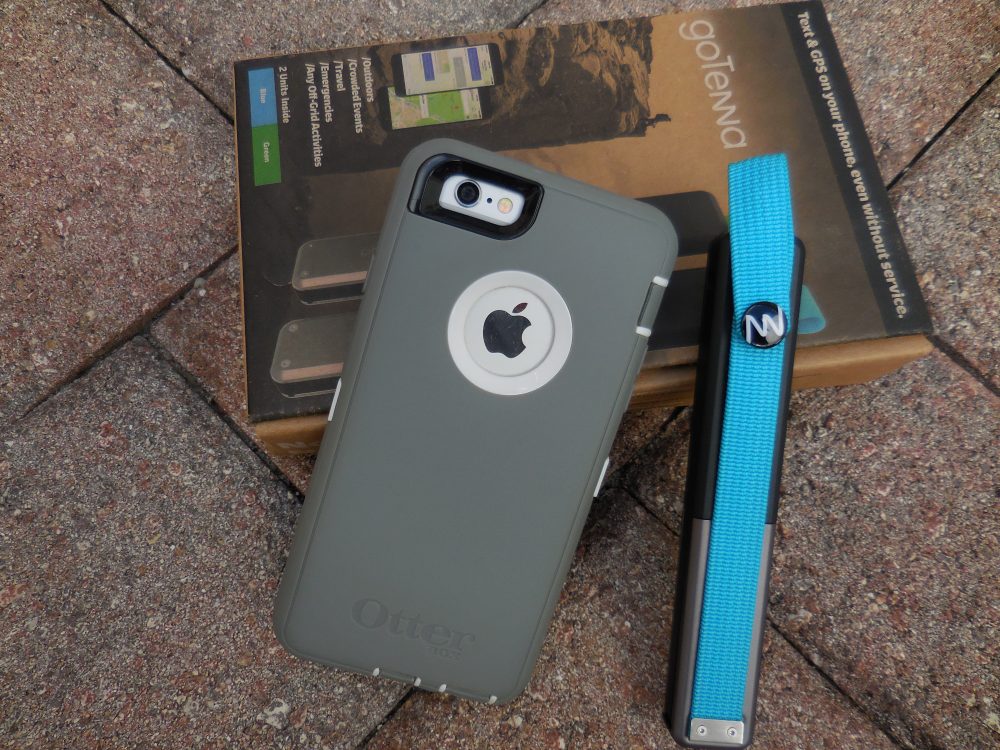 Extended antenna adds another 2.2 inches to the overall length.
---
GOTENNA RANGE
Overall range depends on the terrain, elevation, weather, and interference. The folks at goTenna claim the effective range will usually be between one and four miles, depending on the environment and elevation. The distance is much shorter in urban areas, where it's reduced to between one-half and one mile.
Since physical barriers and obstacles can affect your signal, it's always a good idea to get as much elevation as possible and to get out from behind large structures. It's also a good idea to attach the device to the upper portion of a pack or jacket using the strap. Don't hold it in your hand in an effort to get it higher, since this decreases range.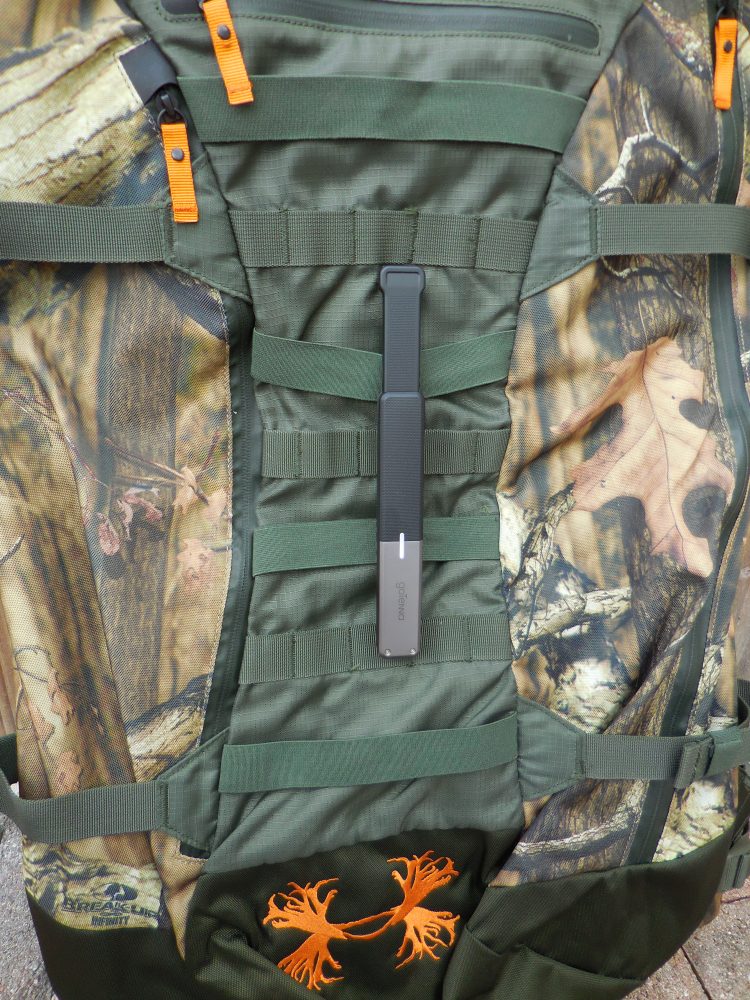 BATTERY LIFE AND CHARGING
The company states that the goTenna's rechargeable Lithium-polymer battery lasts 24 hours or more on standby (just listening, not transmitting); less if you send a lot of messages. You can also put your smartphone in airplane mode to save battery life. This presents no problem for goTenna's functionality as long as your Bluetooth remains on.
Charging the unit is a simple process. A small latch located on the bottom of the unit provides easy access to a micro-USB charging port. The goTenna takes one to two hours to charge depending on the power source. A red charging light located next to the charging port turns off when the unit is completely charged. The goTenna continues to work when it's charging, but with less range since the charging cable may interfere with the unit's radio signals.
In any event, plan on having a way of charging your goTenna device and cell phone that does not rely on the grid. It makes no sense to have this equipment if it can't be recharged in the field or when the power is out. Consider getting a back-up battery charger, or better yet, a solar charger.
MAPS AND NAVIGATION
Lost and need to find your way, or the location of others in your group? No problem. The goTenna app provides maps that you can download to your smartphone and use offline. Choose your maps by country or region and download the files using a data connection or wifi in advance of going off-grid.
All the available maps are free and feature full-zoom capabilities that can be used entirely offline in conjunction with the goTenna app. These maps are incredibly accurate and detail-rich down to street level, and can easily be used for navigation. This is yet another benefit of having the goTenna. By leveraging the GPS on your smartphone, the map will show your location with a blue dot. You can then share this information with others.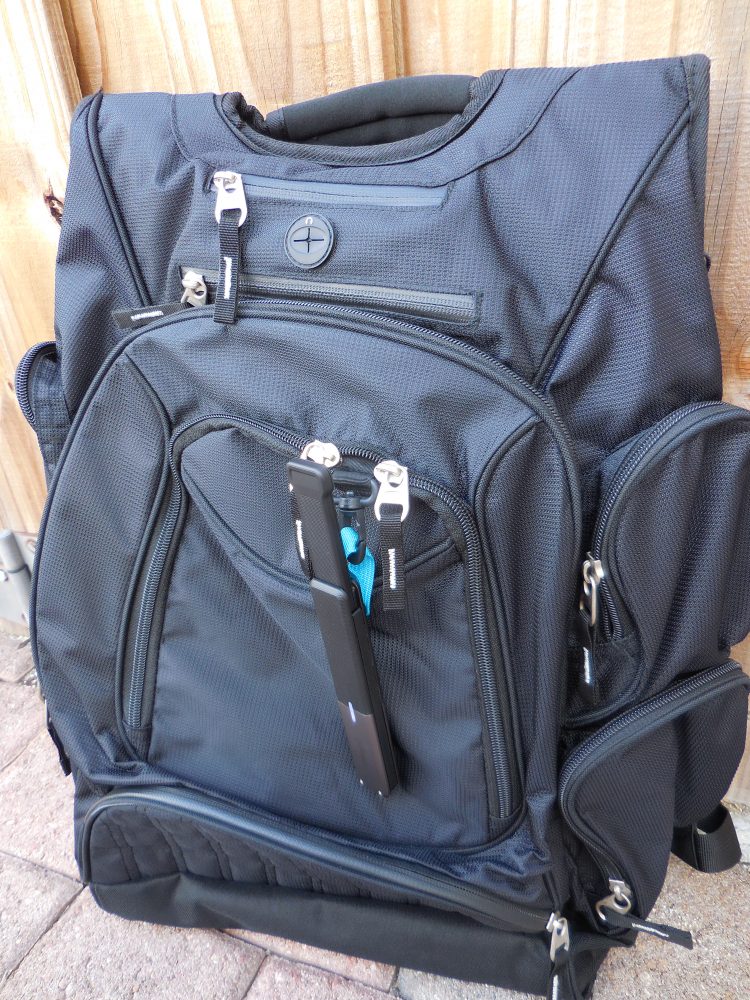 PRIVACY
As with any other radio device, privacy can be an issue. But you can rest easy knowing that all goTenna private one to one and group messages are encrypted with 384-bit elliptic curve public-private key ciphering. Messages sent using the "shout" feature are not encrypted. This can be a major consideration especially if operational security becomes an issue.
PRACTICAL APPLICATIONS
The possibilities for this product are limited only by your imagination. In a survival situation, the benefits are obvious. GoTenna breathes new life into smartphones that were once limited by coverage areas, signal strength, dark spots, and dead zones. All these barriers mean nothing when you can transmit and receive data independent of your carrier.
As with any other survival tool, this one has strengths and limitations. We can easily see the goTenna being used in a survival situation for critical communications and for keeping track of others in your group. Range is definitely an issue to consider, and if you need communications beyond the goTenna's range, you'll want to look for alternatives. But for essential communications in a grid-down situation, this product affords an option.
During our unscientific tests, the units performed well. We had no problems with the devices, app, and setup, or with downloading any of the offline maps. All went smoothly, and within 20 minutes we were sending and receiving messages.
Overall range performance was as expected once we entered heavily congested urban areas. The effective range dropped to just under a mile—not great, but still of value. While we were originally put off by the limited urban range, the goTenna still won us over with its simplicity, user-friendly app and maps, and its ability to bring communications into remote areas where cell phones usually don't have a chance of getting a signal.
PRICE AND WARRANTY
As of this writing, the goTenna costs $199 for a pair and $389 for a four-unit family pack. The app and offline maps are free, and there are no usage charges or any other such nonsense. The devices come with a one-year limited warranty and a micro-USB cord for each unit. Although the company claims you're not likely to have any problems, they will replace faulty units within the warranty period. And if you're not happy with your purchase, they also accept returns if postmarked within 30 days of receipt.
CONCLUSION
Being prepared is about giving yourself options. Communications before, during, and in the aftermath of a crisis are a big deal. Having a reliable and practical option for text communications and GPS on your everyday phone, even when the service goes down, provides you with a huge advantage in an off-grid or grid-down situation. Even with its limitations, the benefits goTenna brings to the table make this product a worthwhile addition to your survival preparations and planning.
Richard Duarte is an urban survival consultant, writer, and firearms enthusiast. He's the author of Surviving Doomsday: A Guide for Surviving an Urban Disaster, and the Quick-Start Guide for urban preparedness. For the latest news and updates, connect with Richard on www.quickstartsurvival.com.
PROS AND CONS
Still not sure if goTenna is right for you? Below is a quick summary outlining the pros and cons we found during our review of the goTenna. While there will never be one piece of gear for all situations, it's up to each of us to decide if the positives outweigh the negatives, and if the cost justifies the perceived benefits.
Pros
Private wireless network that allows you to send text messages and location information between goTenna-paired smartphones using the radio frequency (RF) spectrum.
Works without a cell signal or network connection.
Pairs wirelessly with smartphones using a Bluetooth connection.
Provides an option for private encrypted communications bypassing the wireless provider.
User-friendly app and device; easy to set up and operate.
Compact design incorporates essential functionality into a lightweight, ergonomic device. Dimensions are 5.8x1x0.5 inches. Extended antenna adds another 2.2 inches in length. Weight is 1.8 ounces.
Rugged color-coded nylon strap attaches the unit to a backpack or belt.
Weatherproof, water-resistant and dust-tight outer case.
Comes with micro-USB charging cables.
Great for outdoor activities in remote areas, traveling abroad, or to maintain critical communications during disaster scenarios when the grid and/or cell networks may be down or overwhelmed.
Free downloadable maps with full-zoom capabilities can be used entirely offline with the goTenna app.
App-based FAQ section features a "how-to" segment with instructions to guide the user through the most common functions.
Emergency Text function also automatically shares your location.
Easy to turn on: just extend the antenna.
Lithium-polymer battery can be recharged with any micro-USB cable.
Excellent option for areas with poor or no cell coverage.
Comes with a one-year limited warranty.
15% military discount and payment plans are available.
Cons
You must download maps and the goTenna app in advance while connected to wifi or your wireless network.
Texts are limited to 160 characters. No images or voice.
Battery lasts approximately 24 hours on standby, much less if you transmit messages often.
Range is limited: from one to four miles depending on the environment and elevation. Typical range in urban areas is one-half to one mile.
Cost. A pair of goTenna devices will set you back $199.00. Well worth it if they give you emergency communications during your time of need, but still something to consider.
SOURCE
goTenna
www.gotenna.com