Dressing to blend into an urban environment is not that hard. It just takes some thought. Coveralls, overalls or regular dress can do the trick. Bringing in a patrol or precision rifle is a whole other story. Even in an age populated by video games and media coverage, a person in your neighborhood with a rifle draws attention. Carrying them in camouflage- or drab-colored bags, heavy hard cases, or anything else is not much better. 
You want to use something that blends in, which requires more thought. Having dealt with this for years, my best solution is multifunctional. You get one system that provides a compact entry rifle and a patrol rifle. Both fit in a single bag with everything you need. It can be done with a number of rifles, but for me, the best so far is the Primary Weapons Systems MK107 rifle and MK116 upper receiver.
SWITCH BARRELS
Switch barrels have been popular of late, allowing for different barrel lengths and calibers. But it requires a different sighting system when moving from close contact to longer range. Removing and installing sighting systems present issues. It's too easy to lose your zero.
Thankfully, the AR has facilitated this for many years—just change uppers. Leave the optic on the long barrel and red dot on the entry rifle. You can decide what the mission requires at your car or command, and when deploying covertly, take them both. If you primarily deploy up close, leave the short barrel on the lower, and the opposite if long range is your thing. It takes less time than switching barrels, and it ensures accuracy.
TEST RIFLES
One of the most reliable seven- to eight-inch barreled ARs I've fired is the Primary Weapons MK107. It typically runs a larger variety of ammunition. It also works reliably suppressed—not something they all do. I thought it was the perfect rifle to start with.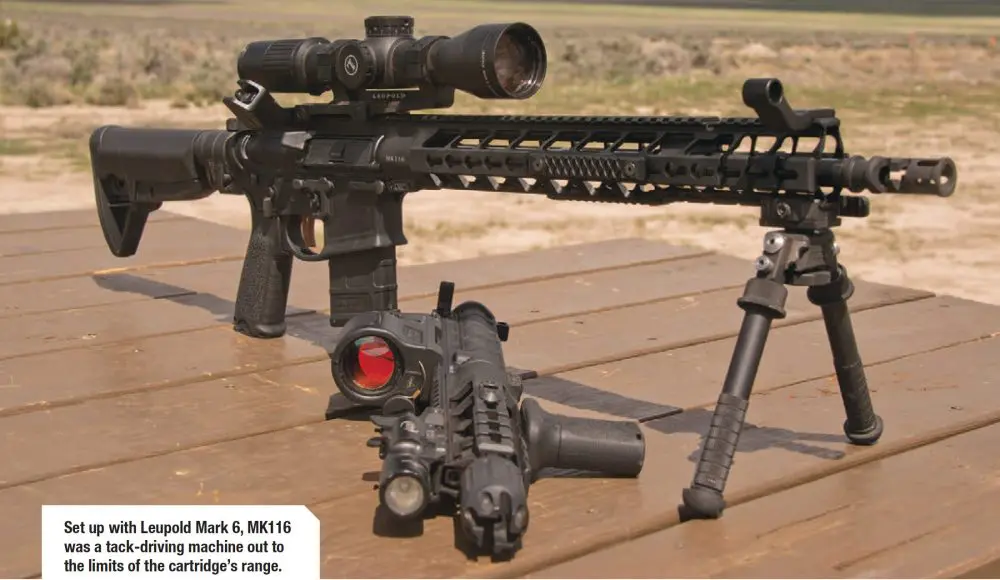 The barrel is 7.75 inches long with a three-position adjustable gas system to compensate for suppressors or ammunition changes. A new handguard using PicMod allows direct mounting of accessories to the rail while still accepting KeyMod devices as needed. No more rails coming loose for critical items. 
Their CQB muzzle device caps the custom barrel that has been tapered for weight reduction, yet maintains strength. QPQ coated, these chromoly barrels are accurate, consistent, and rugged. Hardened custom-designed bolt carrier groups machined from tool steel are coated for reliability.
Both MK1 MOD 2 receivers are forged, providing the greatest strength possible while keeping them light and stiff. MOD 2 handguards include a trunnion machined into the upper receiver, insuring a precise fit and contributing to strength and accuracy.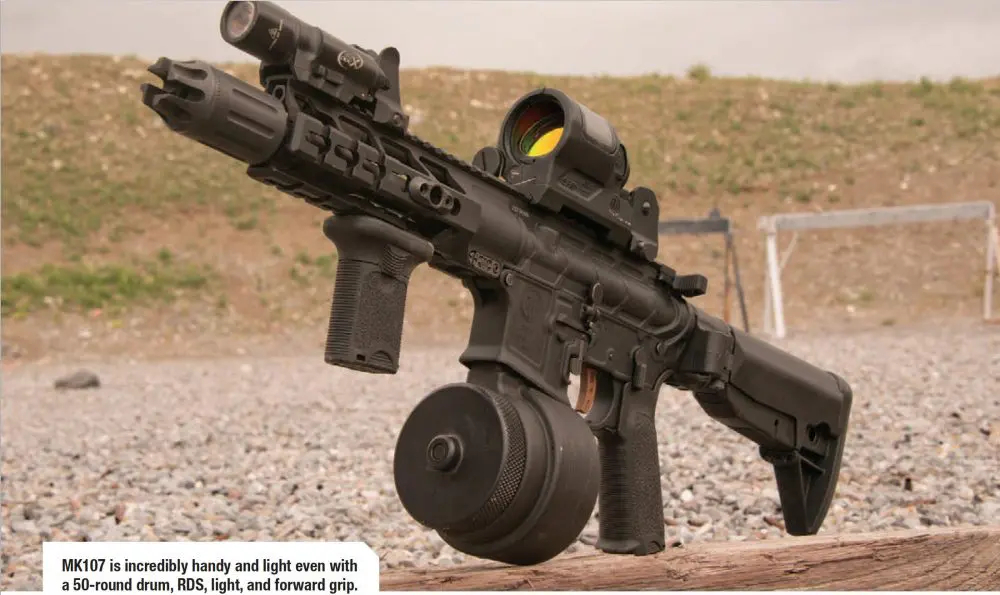 Each lower has ambidextrous controls, including the safety, magazine, and bolt release. Recessed nicely in the lower, they are easy to access when needed yet stay out of the way.
To ensure reliable and predictable accuracy while meeting most department policies, an enhanced trigger with 5.5-pound trigger weight is installed. A BCMGUNFIGHTER™ stock goes over the PWS Enhanced Buffer Tube MOD 2. It retains the plunger/ spring retainer notch and adds a Ratchet-Lock nut to secure the tube in place. Control is maintained using the BCM pistol grip.
For long range, the new MK116 MOD 2 upper was provided. With a 16- inch barrel, it takes the 5.56mm/.223 to the limits of its range. PicMod sits at the front of the handguard for a solid attachment of the Atlas Bipod. Three aggressively checkered rail sections attached using KeyMod can be placed to ensure a solid grip.
ACCESSORIES AND SIGHTS
I prefer a red dot with a fixed front and/or rear sight for CQ work, with a light mounted at 12 o'clock. The Trijicon SRS remains one of my favorite red dot sights (RDS). It provides a wide field of view with no tunneling effect.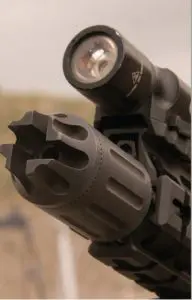 In close quarters, you may not have time to flip anything up if your RDS is occluded or inoperative. Daniel Defense fixed sights mount directly to the rail. Sight through them if needed; they sit in the lower third of the sight.
My trusted SureFire X200 is perfect for close work. It sits a bit lower than the X300 and is plenty bright. The BCM Vertical Grip MOD 3 installs easily using their direct KeyMod mount.  The Law Tactical Gen 3 folder works great and keeps things compact. 
While training with Follow Through Consulting, the TReMoR 3 (T3) reticle became my preference for a patrol carbine, especially if the area requires more distance. It provides fast ranging and hits on target out to 500 meters— maybe a bit farther. Wind is adjusted using dots, making for simple math. Leupold provided a Mark 6 3-18X with lighted T3 reticle sitting in a Mark 6 mount.
Griffin Armament Fail Safe Angle Sights were installed for close work. They line up at roughly one o'clock on the rail. Built from a single billet, they are very strong and always there if needed.
NOT SO "TACTICAL" BAGS
Fold the MK107 and just about any bag with at least 18 inches of vertical space will work. It fits nicely in one of my standard hydration packs. If you want all the gear in one pack, you need something bigger.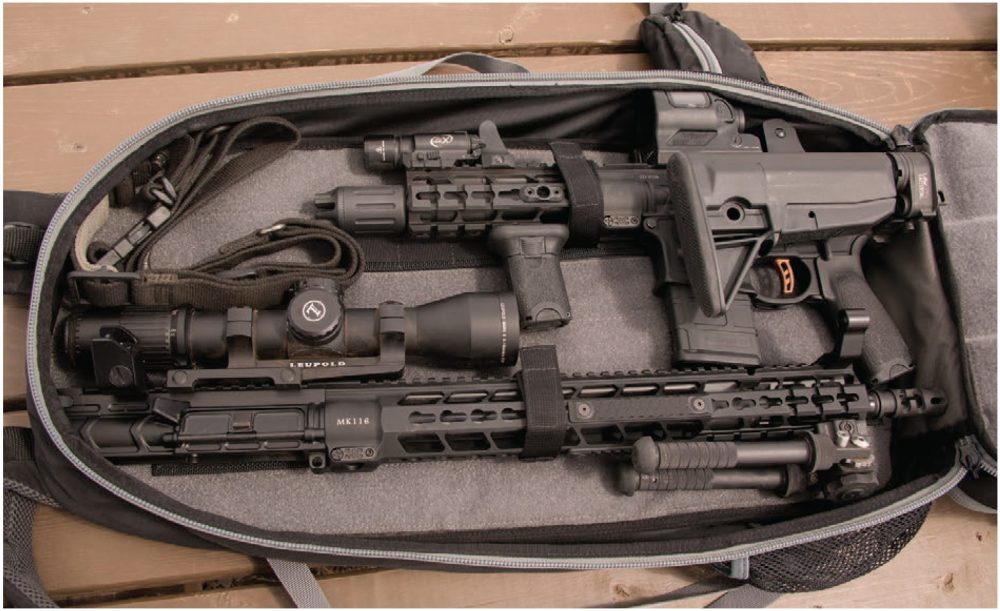 I settled on the Elite Survival Systems Stealth Covert Operations Rifle Backpack for this test. Designed for LE use as a covert pack, it accommodated the folded MK107 and MK116 upper (with bipod and scope) and accessories: spare magazines, emergency medical gear, sling, water, and snacks. Pretty much all you would need for a deployment lasting a few hours. It's a growing market, so more are on the horizon, but Elite packs are top notch and well designed.
RANGE TESTING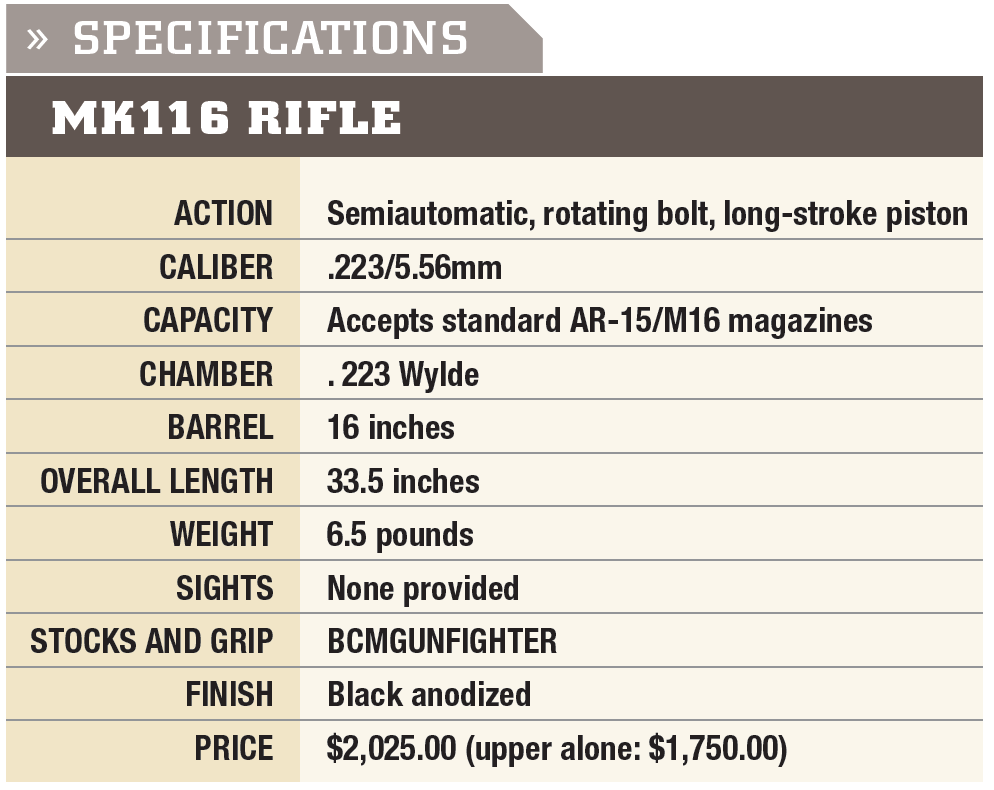 Your zero is critical. You must be certain that first round goes exactly where you aim it. It's why moving sights around can be problematic. With this system, they are never removed. Field testing proved the concept—there was no shift in zero switching back and forth. 
Both were zeroed using Black Hills 69-grain TMK ammunition. Sierra's TMK bullet is proving proficient at long range and is designed to expand at velocities under 2,000 fps, making it perfect for short barrels. It allows me to use one round for both uppers.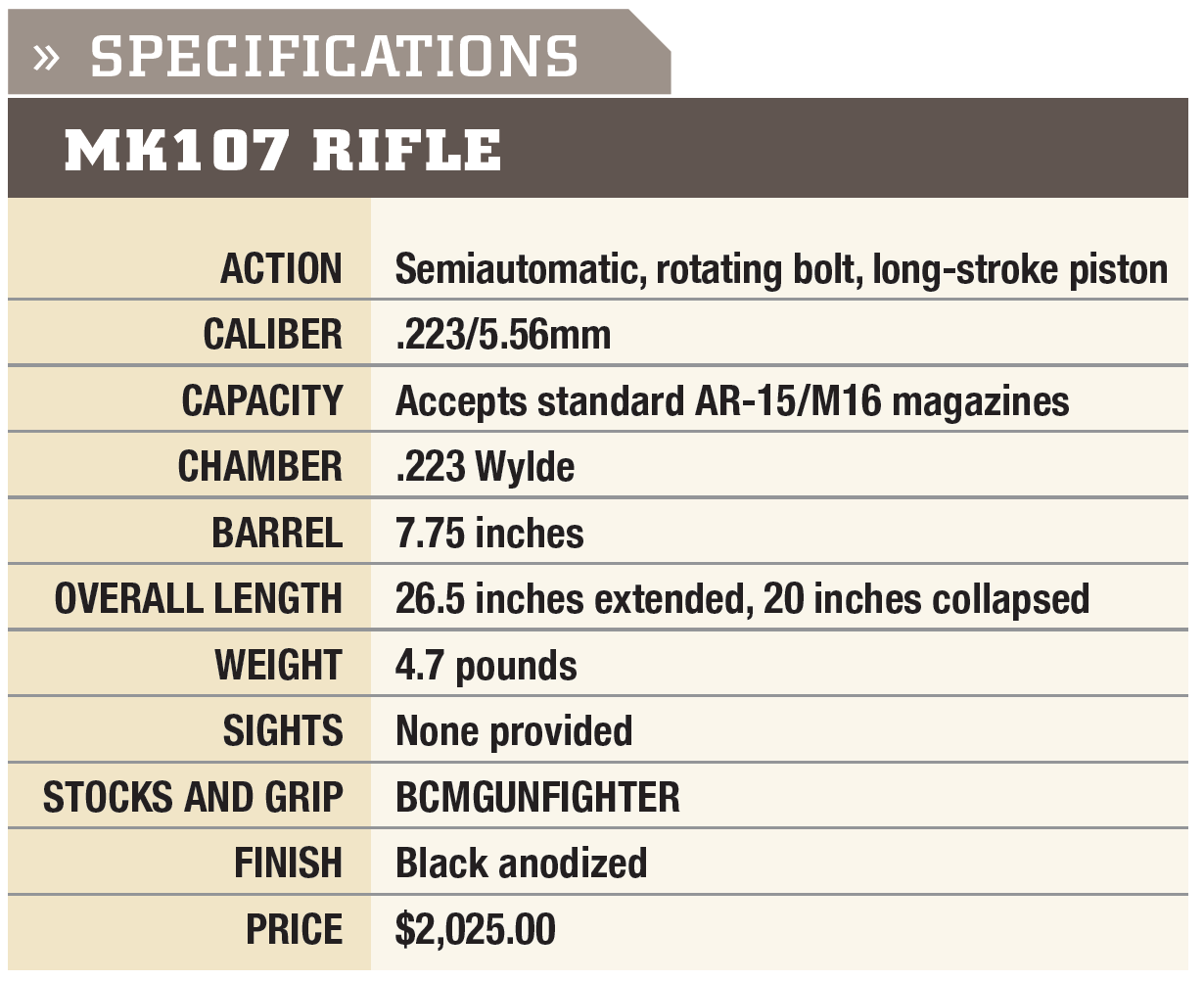 Switching back and forth over ten separate cold-bore shots, there was little if any shift in impact. At 100 yards (where it was zeroed), the MK116 put everything inside an inch. Ten-shot groups fired with Black Hills 69-grain TMK using my truck as an impromptu rest were under two inches. I would not hesitate one second to deploy this setup. Just a quick check to make sure nothing has moved and it's ready to go.
The Leupold Mark 6 uses a zero stop and windage knob cover protecting the turrets. Even if the elevation knob did move, just turn it back to zero and it stops. If all else fails, the Griffin Armament sights were zeroed at 100 yards and are rock solid. 
The MK107 was similar from 50yards. Using my truck bumper, it stayed under an inch at 50 yards. At 25 yards, it was one big hole. Swapping the uppers back and forth, it was dead on, with no shift in impact. The Trijicon SRS uses dual-lighting technology, so complete failure is unlikely at best. Even so, the Daniel Defense sights are right there—no transition, just aim and go to work.
Accuracy with both uppers was excellent. My best group came from the Black Hills 69 grain TMK at just over .50 inch. Everything was under an inch at 100 yards using the bipod from a supported position. The MK107 was similar at 50 yards, although the Barnes 70-grain TSX was just a bit tighter, again all under an inch. Anything off hand or even moving from 25 yards and closer was under three inches.
Moving out to longer ranges, both the Hornady 75-grain 5.56mm NATO and Black Hills 69-grain TMK were excellent. Starting at 100 yards, I engaged a 12-inch steel at 200, 300 and 400 yards.
The loads were all but interchangeable. Using the same zero, it was merely a matter of holding and reading the wind.


OTHER CONSIDERATIONS
This MK116 arrived with the new PWS FSC brake using a closed flash-hider section. It does a pretty good job keeping you on target with less muzzle blast directed at you than most. It was also tested using the SureFire WarComp and SOCOM556-RC suppressor.
Timing the WarComp for a right handed shooter, it was very controllable, not much louder, and the blast was similar. The MK116 ran well with the SOCOM556-RC with no change in accuracy and only an inch of vertical difference when removed using the 69-grain TMK.
Primary Weapons CQB is an excellent brake for sending muzzle blast forward. Firing at slower speeds, it removes much of the flash with most ammunition. Rapid fire, it sends out a pretty good flame every few rounds. As short barrels go, it's very pleasant to be behind or beside when firing. It also worked well with the SureFire.
The Enhanced Trigger was crisp, with no creep or overtravel. Reset is noticeable both in feel and sound. It remains a two-piece unit, meeting department regulations that ban trigger "packs" for the AR. At 5.5 pounds, it's heavy for me, but about right for most duty applications and the minimum for many policies.
All the new ambidextrous controls are well placed and effective. Three other similarly equipped lowers are in my inventory, and this configuration is the most intuitive. My left hand seemed to fall right on the bolt release when shooting off hand, as did my trigger finger releasing the bolt on the right. Safety manipulation was also easy, with a crisp release.
FINAL THOUGHTS
I'd been looking forward to testing the PWS MK1 MOD 2 rifles since the 2016 SHOT Show. Many of the designs meet my personal preferences. No disappointment here: they are excellent. Both uppers are accurate and reliable, with the soft-shooting impulse that long-stroke gas systems offer.
Fit and finish have tighter lines, more precise fit, and better ergonomics. They are lighter, stronger, and sleeker. The PicMod is excellent, with no rails to come loose. The handguard stays thin and sheds weight. The bolt carrier uses a standard hole at the rear. No more keeping track of specific extensions for the Law Tactical folder—they are interchangeable now.
Since I started the testing, the entire system has been in my possession inside an Elite Survival Systems Stealth Covert Operations Rifle Backpack. Whether carrying for specific deployment or in the back of the squad, it is very handy. Grab the bag and everything is in there. My preference these days is to leave the MK107 intact given where I live, but you can pack it either way. It's a tighter fit with the lower on the MK116, but it works.
If you need real stealth at your next call-out, keep a hydration pack handy, as the MK107 fits many of them perfectly.
One quick note: you need to start with the MK107 rifle since it is a registered item (LE or not) and add the longer upper. All in all, it's a very handy setup that gets you from across the room to 800 meters—and that's about perfect for government work!
Dave Bahde is a retired police lieutenant with over 20 years police experience and over ten years SWAT experience as a police sniper, team leader, and commander. Attending hundreds of hours of firearms and tactical training from world-renowned instructors keeps him current.