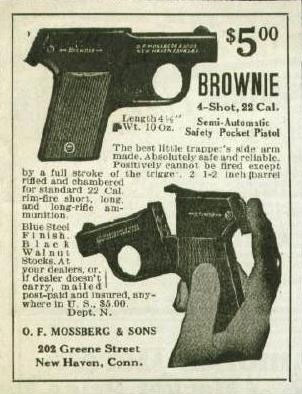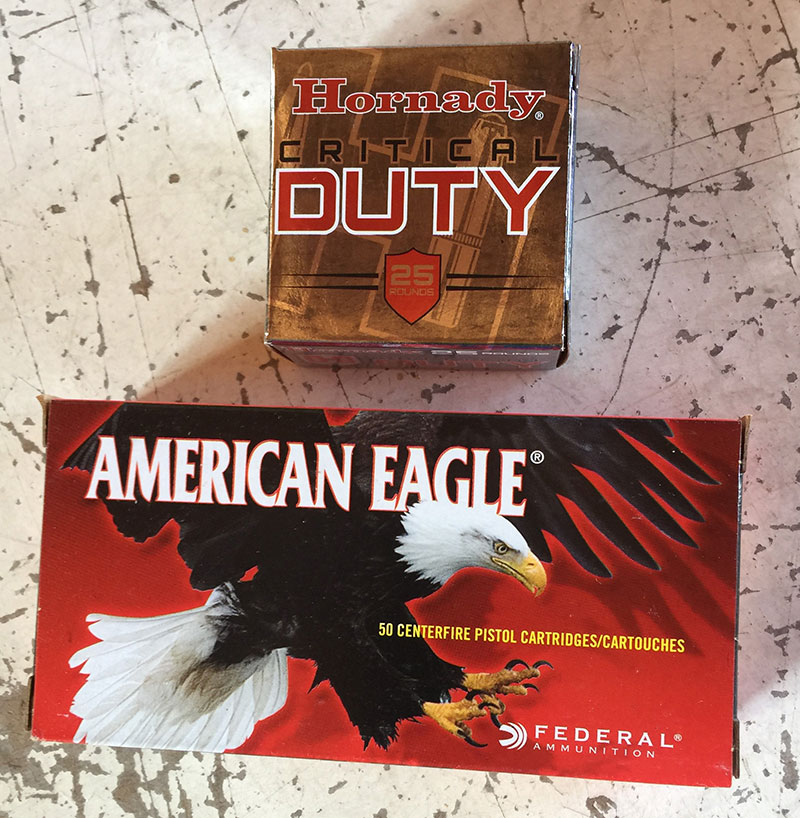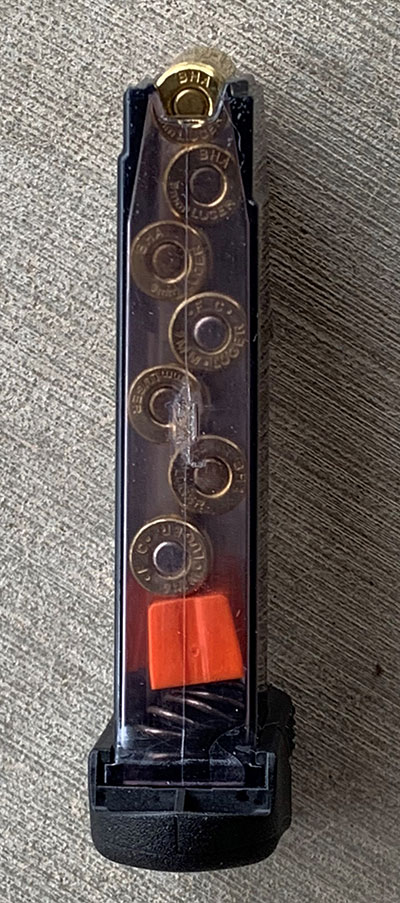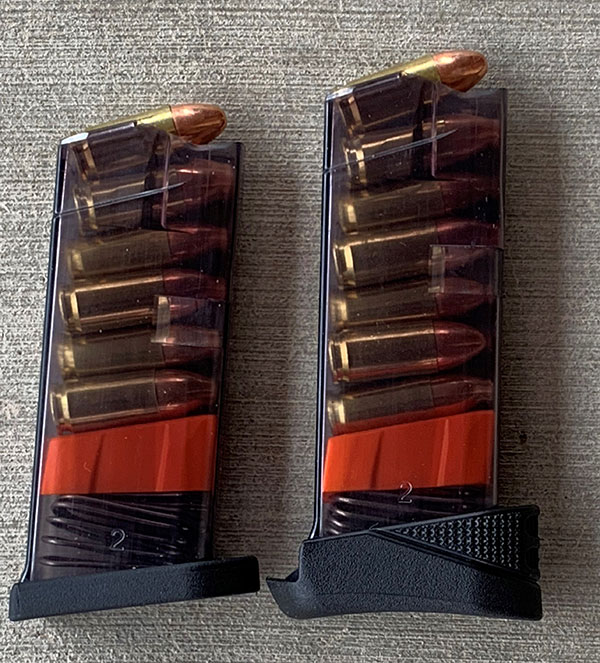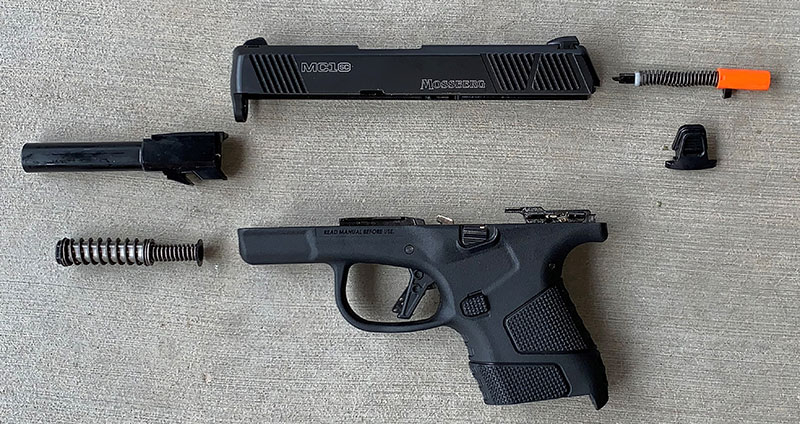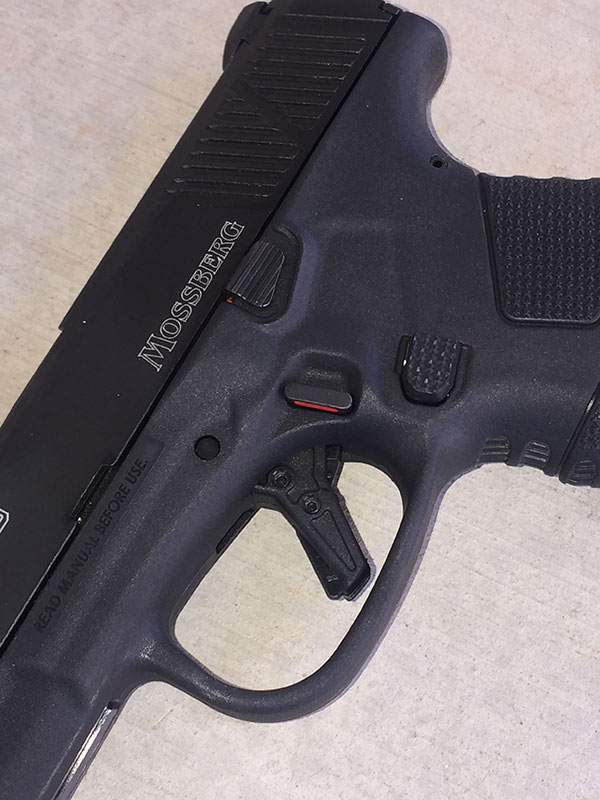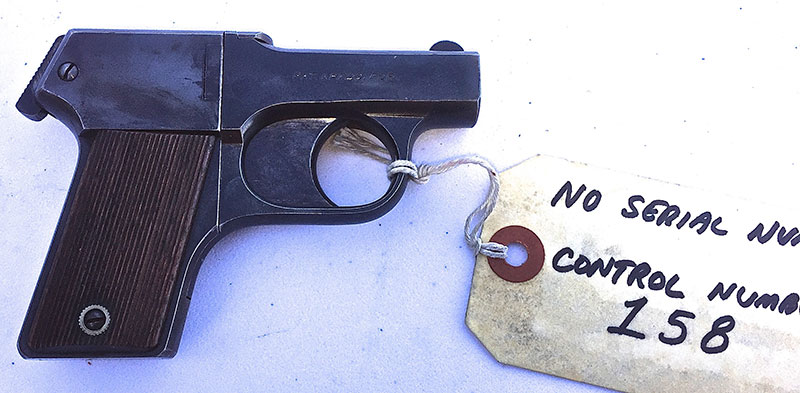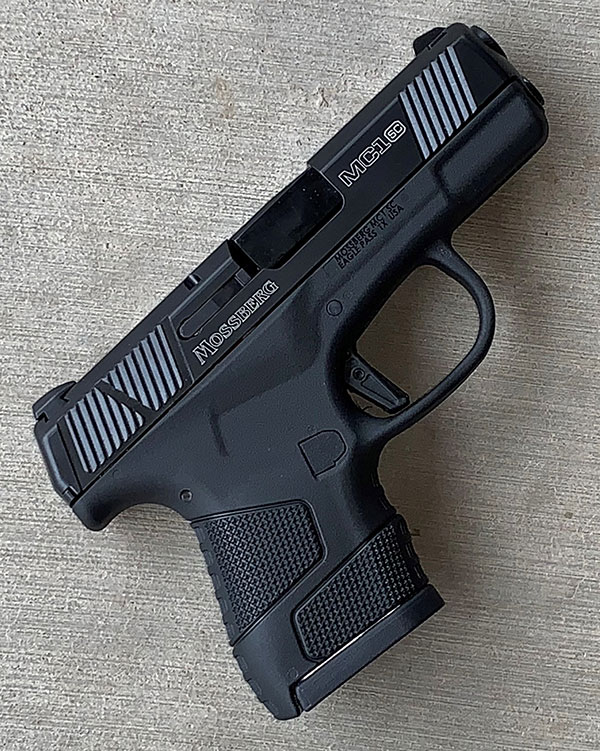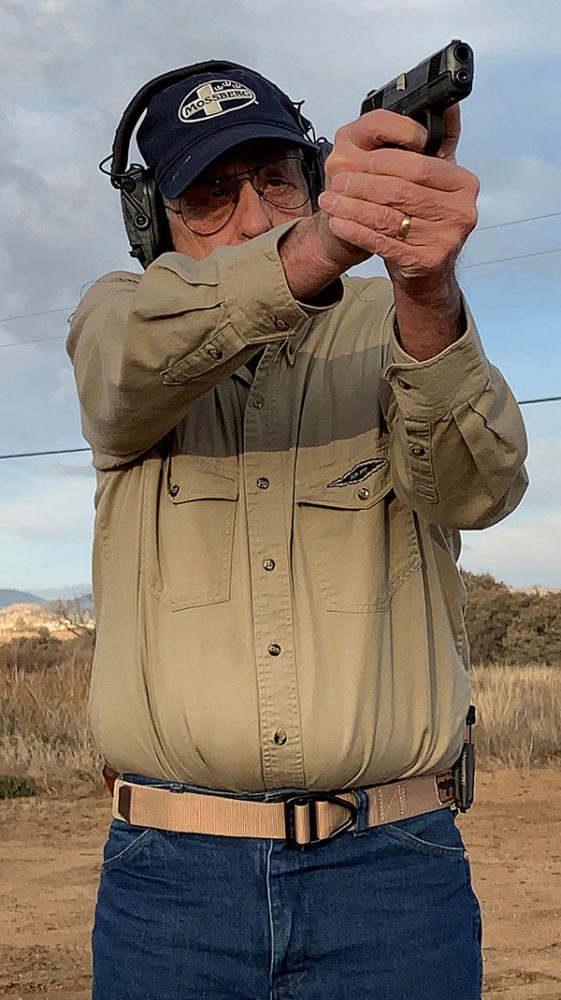 O.F. Mossberg & Sons is the oldest family-owned firearms manufacturer in the United States, having opened their doors in March 1919 and celebrating their centennial anniversary this year. In those 100 years, many product features pioneered by Mossberg have become the standards by which all modern firearms are judged.
Best known for their shotguns and rifles, it is virtually unknown that the first firearm produced by Mossberg was a handgun—the Brownie. (I was not aware of this myself until I received a call from Linda Powell at Mossberg in September of last year asking if I would like to attend a secret new product launch to be held at Gunsite in November.)
HAVE A BROWNIE
Designed for trappers and self-defense, the Brownie was somewhat of a cross between a derringer and a pepperbox. The break-action .22-caliber pistol had four 2.5-inch barrels (4.5 inches overall), and a double-action trigger. The pistol's firing pin rotated around the four barrels. Very innovative for the time—and even today.
Between 1919 and 1932, 32,000 Brownies were made at the price of $5 each. Using 2.77% as the annual inflation rate, $5 in 1919 would be approximately $75 in today's dollars, although it would actually be impossible to manufacture at that price, let alone make a profit.
MC1SC PISTOL
At Gunsite along with 13 other authors and editors, Mossberg introduced us to the MC1sc (Mossberg Carry 1 sub-compact). Chambered in 9mm Luger, the MC1 is rated for +P loads. The 3.4-inch stainless steel barrel has a 1:16 twist and a DLC (Diamond Like Coating) PVD coating. Overall length is 6.45 inches. It's 4.25 inches high and 1.06 inches wide. Weight with empty magazine is 19 ounces.
Slide material is also stainless steel with a DLC PVD coating. The frame is made from glass-reinforced polymer. The frame has a semi-aggressive texture that ensures a good grasp without creating a "hot spot" when shooting. A palm swell provides a very usable grip. The slide has multi-angle serrations for manipulation at the front and rear of the slide.
The low-profile sights are of the three-dot type installed in a dovetail (SIG #8 size).
The trigger has a flat profile with integral blade safety. Trigger pull weight is approximately five to six pounds. The trigger guard is oversized for large hands or use with gloves.
Besides the standard version covered here, other options include a model with cross-bolt safety, TruGlo Tritium PRO night sights, a model with Viridian E series red laser, and a limited run of 1,000 Centennial Edition. The model without the cross-bolt safety is great for on-body carry, but will be appreciated by those who wish to carry it where other items may cause an unintentional discharge, such as in a purse.
The MC1 comes with Mossberg's equally new Clear Count™ magazines, one with a six-round capacity and one seven-rounder. The MC1 is made at Mossberg's plant in Eagle Pass, Texas.
TAKEDOWN
The MC1 is very easy and safe to disassemble for routine maintenance, and the trigger does not need to be pulled to complete takedown. First remove the magazine and ensure the chamber is empty and lock the slide to the rear. Remove the slide's cover plate and remove the striker assembly. Pull back on the slide and ease the slide forward and off the frame. Reassemble in the reverse order.
RANGE TIME
After a safety briefing, Mossberg gave a very comprehensive presentation of the MC1, detailing the engineering that went into it and how they envision it fitting into the marketplace—as an everyday carry pistol. We were on the range and ready to put the MC1 through its paces by 1100.
Since all attendees had previously been to Gunsite, many of the preliminaries necessary at "writer events" could be bypassed. This allowed us to turn perfectly good 9mm ammo into empty brass almost immediately, under the watchful eyes of Gunsite instructors Il Ling New, Mario Marchman, and Paul Kultala.
Mossberg had obtained a large quantity of American Eagle (Federal) 115-grain FMJ and Hornady 135-grain Critical Duty hollow-point ammo. Mossberg also had holsters and mag pouches on hand for each writer, as well as extra magazines to keep us on the firing line instead of having to stop and jam mags.
My first impression was that the pistol had a very good trigger for a striker-fired pistol, breaking cleanly and crisply. Reset of the trigger was short and positive. I have fired other small, light guns and quite honestly, some begin to hurt the hand after 100 or so full-power loads have been fired. Felt recoil produced by the MC1 was surprisingly light and pleasant from the first shot on Day One to the last shot on Day Three, with approximately 350 rounds fired.
The MC1 proved to be very accurate and, despite the short sight radius with the 3.4-inch barrel, students were able to hit an eight-inch plate at 50 yards.
Most students felt the rear sight was on the narrow side and would prefer a bit more light to be seen on either side. Also, quite a few of the students—including myself—did not like the three white dots and blacked out the dots on the rear sight.
Full disclosure: I did not shoot as well as I know I can the first day and a half and my groups, as they say, sucked. This despite taking care to look at the front sight, press the trigger straight to the rear, and follow through.
Just before lunch on the second day, I left the firing line and took the MC1 over to the "fiddle table." With a Sharpie, I blacked out the front white dot. The difference when I returned from lunch was like night and day, and my groups improved dramatically. In an outdoor simulator, I was able to get a head shot on a target at about 40 yards with a single round.
No room is left in the mag tube when the six-round mag is filled to capacity. If the magazine was inserted without a firm slap, at times it would not lock up due to the top round putting pressure on the slide. This of course resulted in a "bang" and then a "click."
I did not notice this with the seven-round mag. Either there is a bit more room in the tube so the top doesn't push up on the slide, or the extended base aids in seating the magazine.
The Hornady Critical Duty seemed marginally more accurate than the American Eagle ball ammo, but the MC1 did not show a preference for either in terms of functioning. I estimate that each attendee fired about 350 rounds—some a bit less and some a bit more. This totals about 5,000 rounds fired. I did not see or hear of a single malfunction, excluding those that were shooter-induced.
Also, approximately 200 rounds of Remington 9mm frangible ammo was shot in the indoor simulators (shoot house) with no failures. Although frangible will not be carried for self-defense, I mention this to point out that some pistols will not run reliably with frang, so this is a credit to the MC1's design.
SUMMARY
I found the MC1 easy to shoot, accurate, and highly reliable. The standard and cross-bolt safety models have a suggested retail price of $425.00. With the competition among retailers vying for sales, I would not be surprised to see the pistol sold for $350 to $400.
Mossberg continues to be an innovative company. They won the National Rifle Association Publications Golden Bullseye Award for their 590 Shockwave 12-gauge pump‐action (SHOCKWAVE: Mossberg's Short-Barreled Shake-Up, July 2017 S.W.A.T.) and two premier Ballistic's Best awards for the company's Mossberg MVP LC (Light Chassis) bolt‐action rifle and 590M Mag‐Fed pump‐action shotgun (FULLY LOADED: Mossberg 590M Shotgun, June 2018 S.W.A.T.).
It's taken Mossberg 100 years to produce another pistol, and considering what a great little gun it is, I'm wondering what took them so long. The MC1 is a bargain, and with its accuracy and reliability will excel in its role as an everyday carry pistol.
SOURCES
O.F. MOSSBERG & SONS, INC.
(203) 230-5300
www.mossberg.com
FEDERAL PREMIUM AMMUNITION
(800) 379-1732
www.federalpremium.com
GUNSITE
(928) 636-4565
www.gunsite.com
HORNADY MFG. CO.
(800) 338-3220
www.hornady.com
SPECIFICATIONS, MOSSBERG MC1sc
| | |
| --- | --- |
| MANUFACTURER | O.F. Mossberg & Sons, Inc. |
| MODEL | MC1sc |
| TYPE | Semi-automatic |
| CALIBER | 9mm Luger (9x19mm Parabellum) |
| CAPACITY | 6+1 or 7+1 |
| OVERALL LENGTH | 6.45 inches |
| HEIGHT | 4.25 inches |
| WIDTH | 1.06 inches |
| WEIGHT (empty with magazine) | 19 ounces |
| BARREL LENGTH | 3.4-inch stainless steel |
| SLIDE | Stainless steel, DLC coating |
| FRAME | Glass reinforced polymer, semi-aggressive texture |
| SIGHTS | Three white dot type |
| SUGGESTED RETAIL PRICE | $425.00 (standard model) |