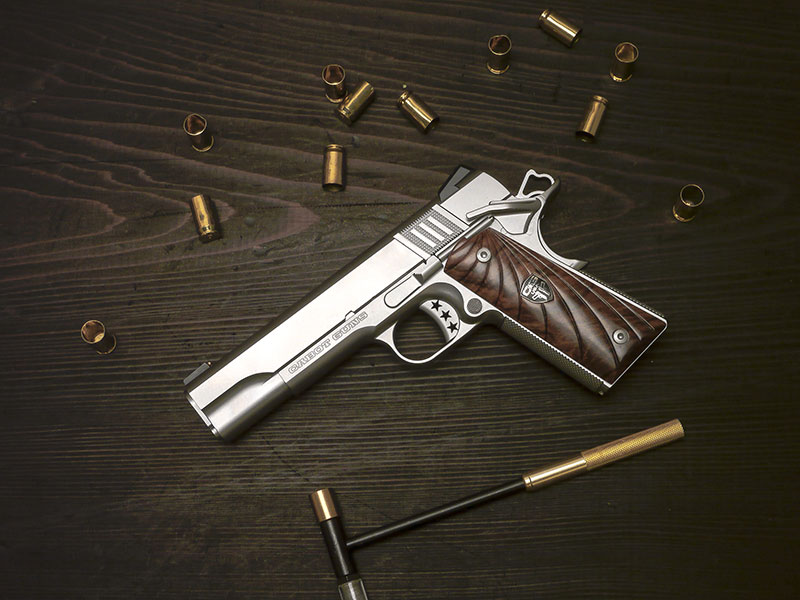 Henry Ford was alleged to have said that you can have a Model T Ford in any color you want as long as it's black. Cabot Guns CEO and weapons engineer Rob Bianchin could have informed a potential client in a similar manner: You can have any all-American-made Cabot 1911 in any caliber as long as it's .45 ACP.
Regular S.W.A.T. readers may recall my previous article about Cabot Guns (A PISTOL FIT FOR A KING: Cabot Guns Vintage Classic Commander, February 2017 S.W.A.T.). At that time, the company was married to the .45 ACP. But that has changed with Cabot's introduction of its S100 1911 in 9mm Luger.
This S series was launched two years ago in .45 ACP and was intended to be a more affordable model for the shooting public. The decision to include minor caliber models in Cabot's prolific lineup is a big deal. Parent company Penn United Technology's principals hold firearms genius John Browning and his iconic pistol in very high regard. Subsidiary Cabot Guns is therefore dedicated to replicating Browning's original design, and the .45 230-grain round is part of that.
In reaction to a potential military contract, Colt produced a 9mm 1911 in 1949. When FBI HRT was researching its transition from revolvers to semiautomatic pistols, operators liked the Colt 1911, but the FN HP Browning won out because of higher capacity.
MULTIPLE REASONS
Cabot's decision to downsize to the 9mm may have hinged on the facts that the nine is the most widely used centerfire pistol caliber today, is less expensive to shoot, and the FBI's finding that a specific make and load of the cartridge equaled the performance of its current .40 S&W service round, causing many manufacturers to follow suit.
The decision to "downsize" may be also welcomed by ladies and older customers. The nine is kinder to high-mileage shooters when arthritis and tendonitis creep into hands, elbows, and shoulders, and more petite women can tolerate the nine's recoil better. Frankly, the 9mm Luger is all that some people can handle for defensive purposes.
Due to advances in the 9mm's terminal performance, shooters who rely on it for personal defense are no longer criticized for being "under gunned."
Cabot offers 17 variants of the 1911, with prices ranging from $3295 to $12,000 and Price on Request.
TRANSITION COMPLEXITIES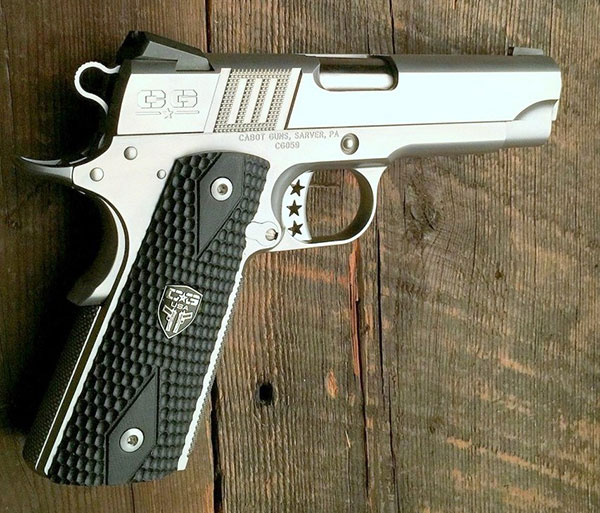 This caliber transition required far more than just changing a slide and acquiring new magazines. Specifications on the Browning-designed receivers had to be modified to facilitate feeding the .355-inch bullets, and mainsprings were set lighter than its .45 ACP predecessor. Wolff recoil spring weight was reduced to ten pounds.
The weight of the slide and components had to be tuned and balanced to enhance reliability. The slide's breech face had to be reduced in size for the smaller round, and the in-house ejector along with its extractor had to be redesigned and tuned for the smaller cartridge. Its firing-pin stop was modified to accommodate the changed ejector's configuration. The S100 is much more than just a conversion.
FINEST FOUNDATION
The S100's superstructure is entirely made of a billet of forged and hardened handcrafted 416 "American stainless steel," which Cabot ultrasonically inspects. Steel that is forged versus other forms of shaping results in optimum strength, ductility, and impact and fatigue resistance. Less expensive 1911s often have cast slides or receivers or both and, while more than capable for firearms manufacturing, the end product is not as "tough" as forged versions.
Cabot is completely customer oriented, and if a stock S100 does not meet your requirements, many options are available to personalize your handgun.
UNION OF OLD AND NEW
My enhanced sample arrived in a carbon-fiber display box. Other, more expensive models typically come in a display case or box made of an exotic hardwood. Heavily padded with black foam, the red-felt sock-ensconced pistol rested alone on the protective matting.
Out of reverence for things exotic, I carefully removed the pistol from the sock, which revealed a beautiful stainless-steel version of John Browning's history-making creation. With a few modern upgrades, Cabot faithfully references Browning's original blueprints. The result is a martial instrument that retains the best and time-tested features that made the 1911 a combat legend, now augmented by very tight but reliable aerospace tolerances, improved ergonomics, sights, metallurgy, and components.
Almost every major industry player markets a proprietary version of the veteran blaster. Many jaded gunfighters still swear by what Pancho Villa's troops called the "Yankee Fist."
SUPER SLIDE COMPONENTS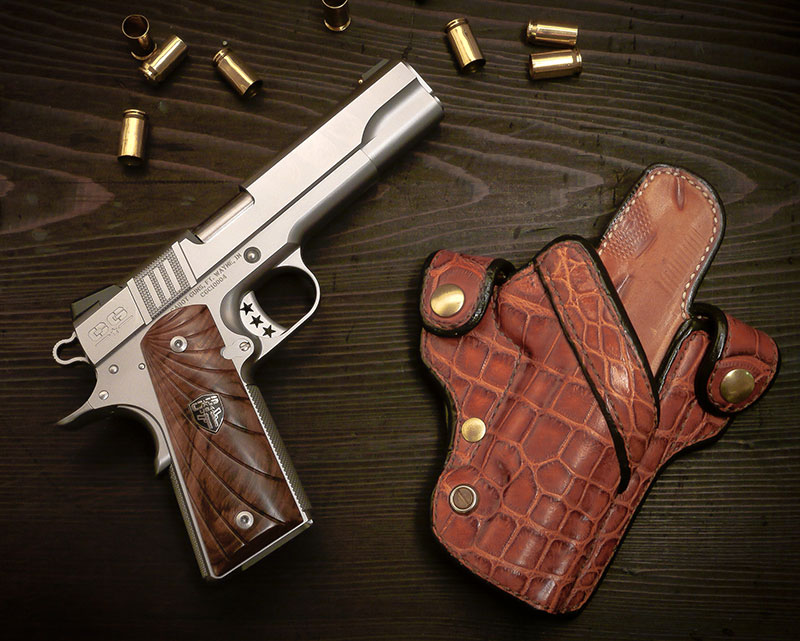 The muzzle of the deeply crowned barrel is firmly gripped by a nine axis billet-constructed match bushing. The five-inch match-grade stainless-steel and hand-fit barrel has a left-hand 1:16-inch twist. Its traditional feed ramp is polished. Residing at the bushing's six is a fully extended star-embellished 1.6-ounce steel guide rod and reverse plug. There are no forward serrations on the slide's flats, but the stainless-steel surface provides enough resistance for a press check as long as it's dry.
Posted dorsally is a slightly ramped black steel 0.138-inch wide front sight that is highlighted with an optional McGivern style gold plated bead. Interestingly, the blade is fixed into the slide with a reverse dovetail that is cut from the slide's toe and prevents any lateral movement, guaranteeing its zero. There are a number of other advantages to that style of cut, and it looks darn good as well.
Augmenting the bead's prominence are tastefully done arrow-terminated striations chiseled into the shotgun-rib style flat of the slide's top. This visual runway is interrupted by the slide's ejection port, which is enlarged and lowered. It resumes again where it terminates at the rear Novak sight.
The tuned extractor is internal. Continuing aft, Cabot's famous Trinity Stripes gripping serrations are found. The bilateral serrations are beautiful as well as practical. Taking 1.5 hours to machine, these serrations successfully passed a unique manipulation test performed by a Special Forces veteran. With the slide's surface lubricated with simulated blood, it was successfully reciprocated while wearing stiff welder's gloves. Each checkered stripe subtly increases surface area, which offers a larger area to grip. External and interior finishes are, of course, impeccable.
SERIES 70 ACTION
Internally, the slide reveals the lack of a firing-pin safety, a characteristic of the Series 70 action. To mitigate the possibility of an unintended discharge if the pistol is dropped on its muzzle, a heavier than normal firing-pin spring is employed. The ejector is installed and machined in place to aerospace tolerances. Instead of stakes, it has a full-length implanted "shoe" to substantially reduce the chance of the ejector coming loose.
The frame or receiver's profile is clean and 100% Browning. Therefore, it fits standard 1911 holsters. All my 1911s have a scar where the slide stop is reinserted into the takedown notch during reassembly. Uniquely, Cabot has developed a scratchproof slide stop, along with a modified takedown notch that makes reassembly much smoother. A small thing, but it's indicative of Cabot's attention to detail.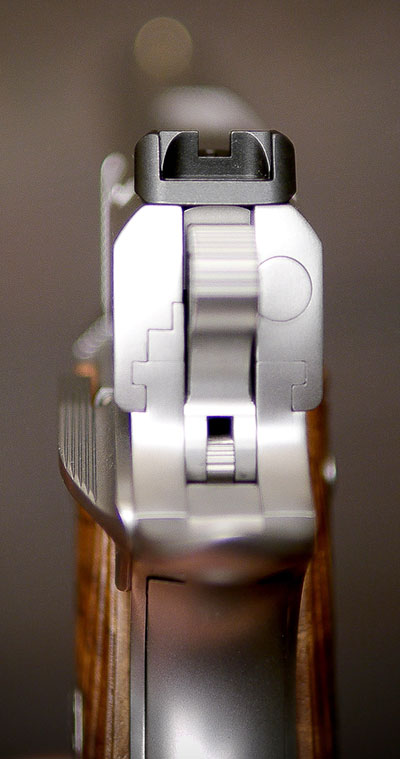 With its Series 70 actions, the linear trigger was set at three pounds even. Trigger reset is positive and super quick. All one has to do is relax the initiating finger slightly, and the trigger is ready to drop the hammer again. Immediately aft of the trigger is an oversized magazine release that can be operated without grip shifting but will not inadvertently release a magazine when the pistol is laid on its left side.
An enlarged and melted billet-steel thumb safety is also located on the gun's port side. Immediately adjacent to the positive safety is a skeletonized high-speed hammer that drops into the beavertail grip safety's deep notch when fully cocked. Also billet steel, the grip safety's base is raised to facilitate its disengagement by those who employ a high grip and ride the thumb safety with their dominant thumb.
Here we also encounter Cabot's unique and more-costly rhombus cut 24 LPI checkering, which is shared with the gun's flat mainspring housing. Traditional checkering is vertical and horizontal, but Cabot took a page from auto tire design and studied treads that produce excellent traction and slip control. These treads are never straight, and Cabot applied that to the control surfaces of the S100. Rhombus checkering delivers better traction control, particularly during accelerated firing.
Beautiful hex-nut-anchored Fibonacci walnut swirl grip panels with embedded ornate Cabot heraldic shields complete the 1911's natural pointing attributes. A beveled magazine well sucks stainless nine-round magazines in with alacrity.
I have always considered the nine-round 9mm magazine a limiting factor for the 1911 platform. Holding only one to two rounds more than the .45, it did not possess any real advantage over the larger-caliber piece. MEC-GAR has taken a step toward resolving this shortcoming in fire sustainability by offering ten-round reservoirs with witness holes and base pads that fit flush with the S100's grip. Magazine construction is superb and they functioned flawlessly.
Cabot believes a gun is the sum of its parts, and they must complement each other in every respect. Thirty-one components are built in-house from scratch, with the finest materials and closest tolerances. This practice produces a superior functioning instrument. Cabot painstakingly does its best to eliminate any Achilles heel that is attendant to the 1911 design.
ANDREWS LEATHER
To complete this equation of excellence, the S100 demands a scabbard of equal beauty and workmanship. Cabot's Rob Bianchin prefers to carry his corporate piece in a Samuel Andrews Monarch shoulder holster. Me? I carry the Cabot in my Comp-Tac International belt-mounted scabbard and enjoy burning sub-second presentations with a gun that could pay for a nice vacation in Hawaii.
GUARANTEED ACCURACY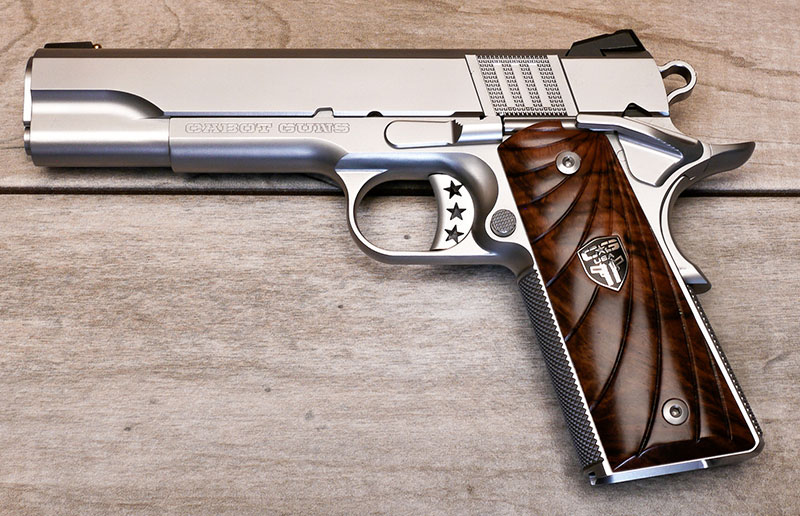 Before the Luger round achieved the level of popularity it enjoys today, it was not regarded as an inherently accurate caliber. That has changed, and Cabot guarantees 1.5-inch groups at 25 yards with the S100 nine. Cabot does not approve of +P or +P+ ammunition and advised that Browning never designed the 1911 to handle these higher-pressure loads.
Subsequently, Cabot employs a light ten-pound recoil spring. In addition to accelerated wear, these higher-velocity loads can, according to Cabot, disturb the gun's timing, which is critical for reliability.
Nevertheless, I included three higher-pressure loads because they are very popular with defensive-oriented shooters and, in my opinion, a personal-protection firearm should be designed to digest these hyper cartridges at least to a limited degree. While it is debatable that higher 9mm velocities increase terminal ballistic performance, the FBI has determined through extensive testing and street results that a standard-pressure load works best for them.
FIELD FIRING
Cold weather forced Top Shot: All Stars' finalist William Bethards and me indoors. From a makeshift rest, Bethards launched bullets from 16 different loads ranging in weight from 100 to 150 grains. With William's extremely careful shooting and Cabot's exceptional quality, half the loads fired produced groups under one inch.
William is a Cabot team shooter and has had the S100 in both .45 ACP and 9mm in his possession for some time. Weighing three to 3½ pounds, the trigger is a two-stage military affair. Both Bethards and National Champion Brian Zinns prefer that arrangement for bullseye shooting. A small amount of take-up allows the shooter to stabilize the sights before breaking the shot. After encountering sear resistance, continued pressure results in a sudden and crisp break. Reset is very short and positive.
UNEXPECTED MALFUNCTION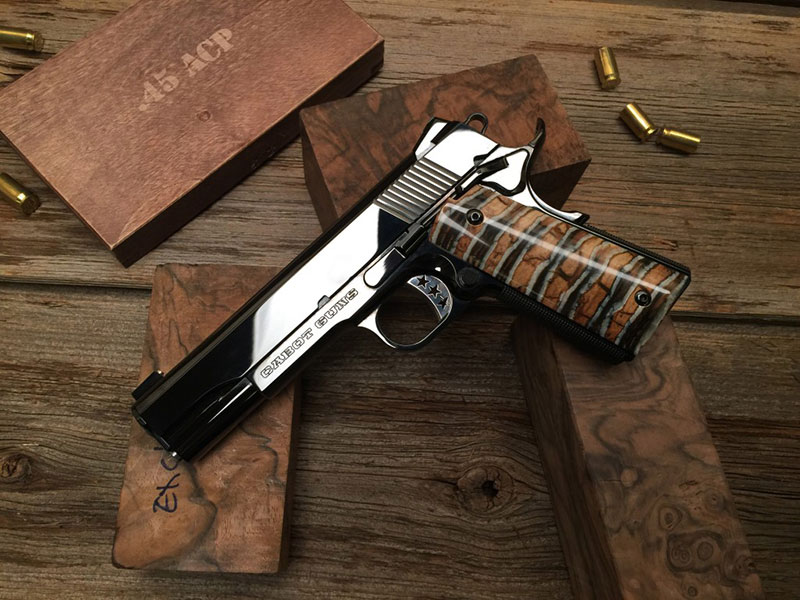 Everything went well until I started to run the gun through another 80 rounds while chronographing velocities. As stated above, Cabot does not recommend shooting +P or +P+ 9mm ammunition from their pistol. Because I expect a fighting pistol to handle the gamut of commercial defensive pistol ammunition and the 1911 has an exceptionally strong system, as well as S.W.A.T. readers' expectation that I include some higher-pressure fodder in the evaluation, a few of these loads were fired.
By chance, the first two I grabbed for velocity tests were both +P. I got through the first five rounds without incident, but the second batch at 1,500+ fps started to nose dive into the feed ramp and not feed, which culminated in pistol lock-up. I took the gun apart and everything looked solid.
But when I attempted to reassemble the pistol, its slide would not return to battery. The barely visible culprit turned out to be a slightly bent ejector whose tip was hitting the rear inside edge of the slide. Seeking advice from Rob Bianchin, he told me the ten-pound recoil spring cannot handle the hotter rounds, and going to a heavier one should solve the problem.
In time, a new ejector was installed, and a 13-pound Wolff recoil spring replaced the lighter weight coils. For +P+ ammunition, Rob included a 23-pound mainspring. Returning to the range, I decimated my supply of standard- and higher-pressure 9mm without any further drama.
CONCLUSIONS
Most new products have growing pains. Cabot Guns is no exception, but I believe their error was in not tuning the pistol for maximum-pressure service ammunition. Manufacturers normally recommend factory ammunition and avoid endorsing +P and +P+ loads but build their firearms to handle those pressures on a limited basis.
Train and practice with standard-pressure ammo and, if it is your choice, stoke your piece with rounds having extra zip. Those who give +P a green light caution that it will cause accelerated wear and shorten the life of the gun. That consideration aside, the S100 is one beautiful firearm that is a sweet shooter and exceptionally accurate for a carry pistol.
Many gun owners take pride in having something not common among shooters. But that often comes at a price. Only those who desire that level of gun ownership can tell you if the S100 is worth the big squeeze on their credit cards.
SOURCES
CABOT GUNS
(855) THE-1911
www.cabotgun.com
ANDREWS CUSTOM LEATHER
www.andrewsleather.com
MEC-GAR USA, INC.
(860) 635-1525
www.mec-gar.com
CABOT GUNS S100 STOCK SPECIFICATIONS
| | |
| --- | --- |
| ACTION | Colt Series 70 |
| CALIBER | 9mm Luger |
| CAPACITY | 9+1 |
| OVERALL LENGTH | 8.62 inches |
| OVERALL HEIGHT | 5.39 inches |
| OVERALL WIDTH | 1.35 inches |
| WEIGHT (empty) | 39.2 ounces |
| BARREL | Five-inch, crowned match |
| FRONT SIGHT | White dot in reverse dovetail |
| REAR SIGHT | Low mount with twin white dots |
| PRICE | $3,695.00 |
AMMUNITION PERFORMANCE
BRAND

LOAD

VELOCITY
(fps)

GROUP SIZE
(inches)

ASYM

115-gr. TAC-XP

1,284

.93

Atlantic Arms

115-gr. FMJ

1,207

1.99

Black Hills

115-gr. JHP

1,309

0.80

Black Hills

124-gr. +P

1,299

0.40

Corbon

115-gr. DPX

1,329

0.85

Federal

150-gr. HST

956.3

1.07

G2 Civic Duty

100-gr. HP

1,179

0.86

Glaser Pow'r Ball

100-gr. JHP +P

1,547

1.96

International

100-gr. JHP

1,390

0.86

Sintox

95-gr. JHP

1,377

2.01

Sintox

124-gr. FMJ

1,201

0.61

SIG Sauer

115-gr. JHP

1,296

1.61

SIG Sauer

125-gr. JHP

1,293

1.77

Speer G2

147-gr. JHP

1,014

0.95

Super Vel

115-gr. JHP +P

1,371

1.48
Average five-round velocities obtained from a CED M2 chronograph ten feet from the muzzle.