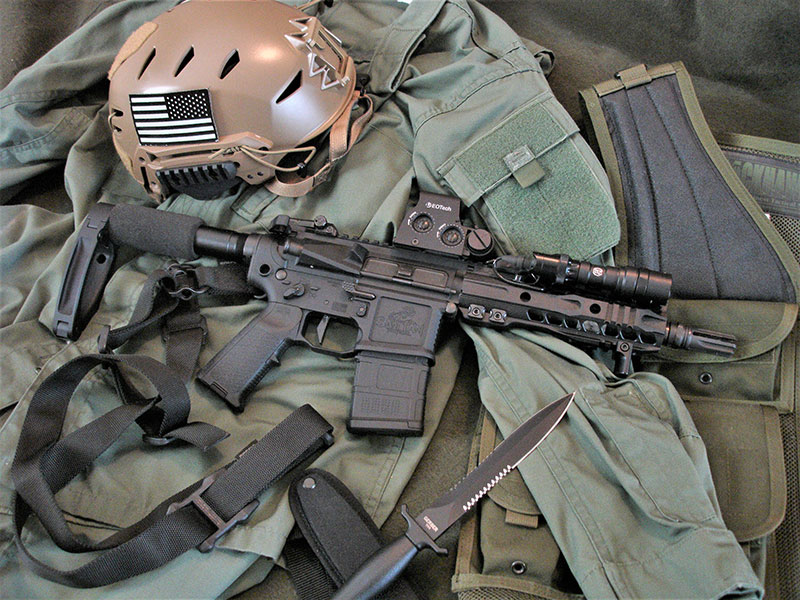 The use of a remote tape switch allows for optimal placement of a weaponlight without compromising light activation, a major benefit especially with SBRs and PDWs. A tape switch also provides an optimal method of light activation under stress.
In the past, poor mounting solutions, cable management issues, increased potential for negligible light discharges, and a reputation for fragility led many users to avoid tape switches, despite their advantages in many applications. These issues have been addressed by manufacturers.
SUREFIRE M312 MINI SCOUT LIGHT
If you're looking for a lightweight, compact, and powerful LED weaponlight for close- to medium-range applications, the 300-lumen SureFire® Mini Scout Light is tough to beat. It's an outstanding weaponlight and ideal where space is at a premium, such as in SBR, SMG, and PDW applications (OFFBEAT: SureFire M300 Mini Scout Light, May 2017 S.W.A.T.).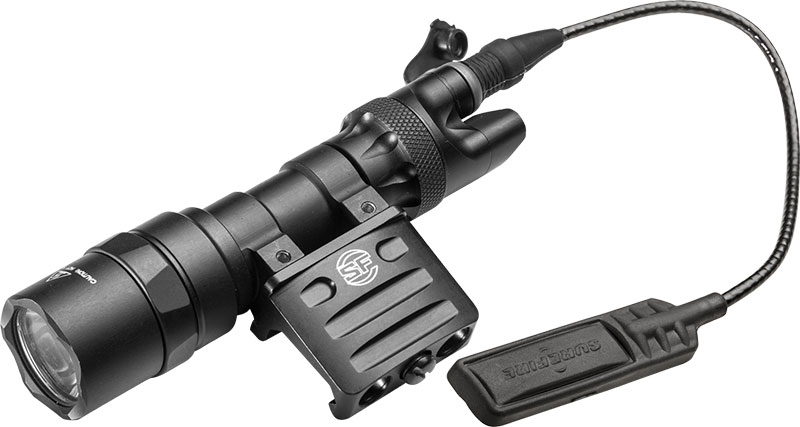 I recently upgraded my SureFire M300 Mini Scout Light® to the new M312 configuration, which combines the 3-Volt Mini Scout Light with the SureFire DS07 Switch Assembly and RM45 Off-Set Rail Mount.
The M312 Mini Scout Light configuration is a tad longer and slightly heavier than the M300 but not by much, adding only 0.8 inch in length and 1.1 ounces in weight.
The M312 Mini Scout Light replaces the thumb-screw clamp mount on the M300 with the SureFire RM45 Off-Set Mount, which was previously only offered as an extra.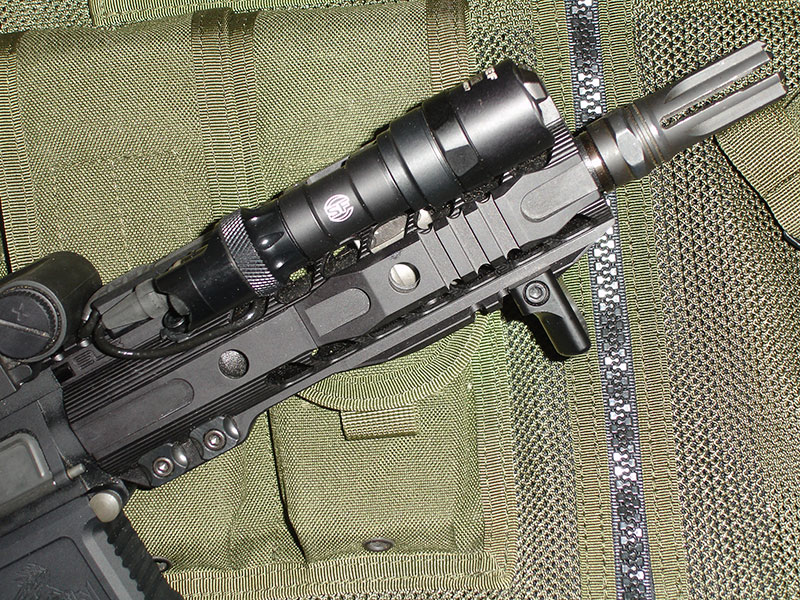 The RM45 positions the light in the offset position between the rails of a MIL-STD-1913 (Picatinny) forend for a significantly lower profile and reduced snag potential. It also offers better positioning of the light to clear barricades, requiring less push-off or rotation of the gun for clearance.
Like the Scout Light itself, the RM45 is constructed of aerospace-grade aluminum and hard anodized with a milspec Type III finish.
The M312 Mini Scout Light comes standard with the SureFire DS07 Switch Assembly instead of the tail-cap switch of the M300. The DS07 is a waterproof switch assembly designed for Scout Lights. It includes a plug-in ST07 momentary-on remote tape switch with a seven-inch cable length.
The DS07 also features a DS00 shielded click on/off pushbutton switch and a disable feature that operates independently of the tape switch. The two-piece O-ring sealed housing swivels to facilitate precise positioning of the click on/off switch.
The SureFire ST07 remote tape switch has proven itself to be both rugged and reliable. The switch pad has adhesive-backed Velcro® for attachment to the desired location. While the Velcro may work for some, it was not optimal for me. And then there was the cable management issue.
CLOUD DEFENSIVE LIGHT CONTROL SYSTEM
Enter the Cloud Defensive Light Control System with Integrated Cable Channels (LCS). The patent-pending LCS provides an integrated mounting and cable management solution in one product. Two problems solved.
The LCS is available for both the SureFire ST07 and Streamlight® ProTac® series DualFunction tape switch. Picatinny, KeyModTM and M-LOK® models are available.
Nothing quite like it is on the market. The Gen 2 LCS was recently released by the company and includes a number of design updates. I ordered the Gen 2 LCSMK1A for use with the ST07. It features a three-piece clamp design for a perfect fit across all Picatinny rails, with zero play or movement. It provides more clamping force than Gen 1 units due to a larger clamping surface area. Indexing points are machined into the clamp. It's fully ambidextrous and reversible. It can be mounted in any direction.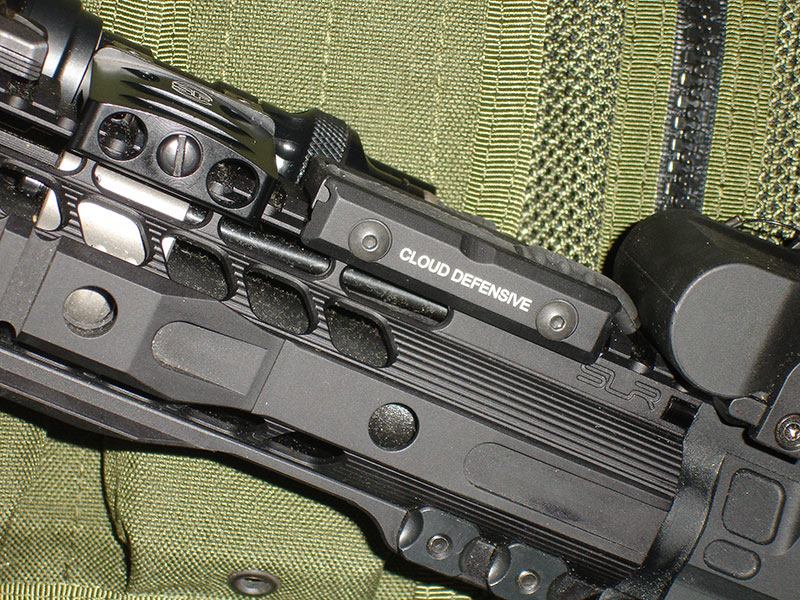 The LCS is built like a tank and is virtually indestructible. It's machined from 6061-T6 aluminum. Gen 2 units are black milspec Type III hard anodized for twice the durability and a flatter finish than the Type II anodizing used on Gen 1. If black anodizing is not your thing, Cloud Defensive offers other custom color coatings on special order. All edges on the Gen 2 are heavily radiused/chamfered, another improvement.
The LCS now uses custom-made size #8-32 screws for easier installation. The screws are hardened and have a milspec manganese phosphate finish for corrosion resistance.
The LCS makes cable management a thing of the past. It's designed to allow you to pin excess cable inside the mount. Proprietary Integrated Cable Channels (ICC) are on both sides of the mount, making it fully ambidextrous. The second channel can also be used to run additional cables, such as IR cables. There's even an "Early Exit" feature that lets you run a cable halfway through and then exit if more cable slack is needed.
The tape switch slides into the LCS with a very tight friction fit. Once it's installed, it isn't going anywhere … unless you want it to. The full-length aluminum base provides optimum switch engagement, permitting the entire length of the switch to be used, with no give when depressed, for positive switch engagement. This is a much better solution than a Velcro mount.
The LCS is designed to be low profile. It adds little weight to the weapon. The Gen 2 LCS has a lower overall height and narrower overall width than Gen 1 units. It's also 45% lighter. The LCSMK1A measures 2.5 inches long x 1.19 inches wide x 0.303 inch. It weighs only one ounce with all hardware.
The LCS comes with complete installation instructions.
CONCLUSION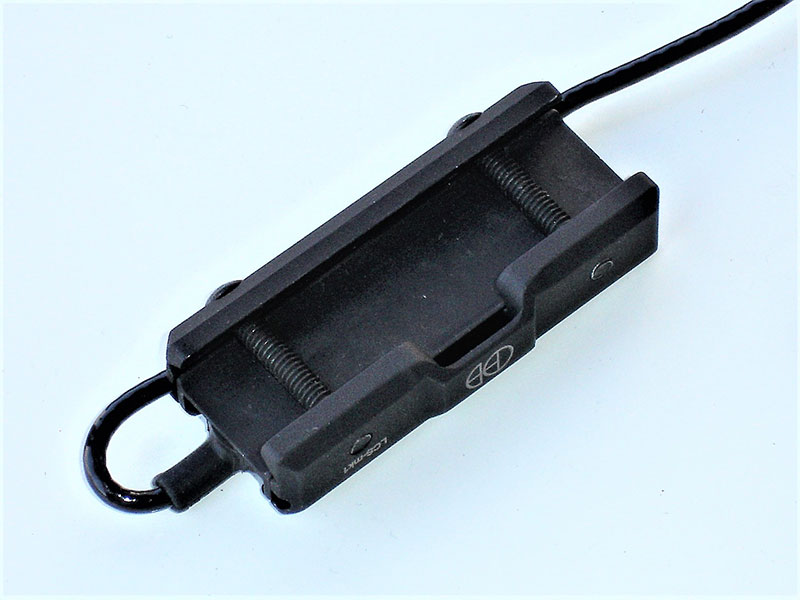 The LCS and M312 provide the shooter with additional white-light placement options. I am a right-hand-dominant shooter and have found running the light in the one o'clock position and the LCS remote tape switch in the 12 o'clock position works best for me. Of course, what works best for me might not work best for you.
The Cloud Defensive LCS is a great piece of kit and a must-have if you're running a tape switch with your weaponlight. It's made in the USA and comes with a no-questions-asked forever warranty. MSRP for the LCSMK1A is $60.00 and includes free shipping (USA/APO/FPO addresses only).
The SureFire M312 Mini Scout Light is an outstanding weaponlight. MSRP is $476.19. It's made in the USA and comes with Surefire's No Hassle warranty. If you already have a Scout Light, you can purchase the RM45 Off-Set Rail Mount and DS07 Waterproof Switch assembly separately. The RM45 has an MSRP of $69.00, and $170.00 for the DS07 Waterproof Switch Assembly.
The Cloud Defensive LCSMK1A and SureFire M312 Mini Scout Light are an outstanding combo. I highly recommend both.
SOURCES
CLOUD DEFENSIVE, LLC
www.clouddefensive.com
SUREFIRE, LLC
(800) 828-8809
www.surefire.com
GEAR HEAD WORKS
(615) 549-8800
www.gearheadworks.com
SAN TAN TACTICAL
(480) 204-0082
www.santantactical.com