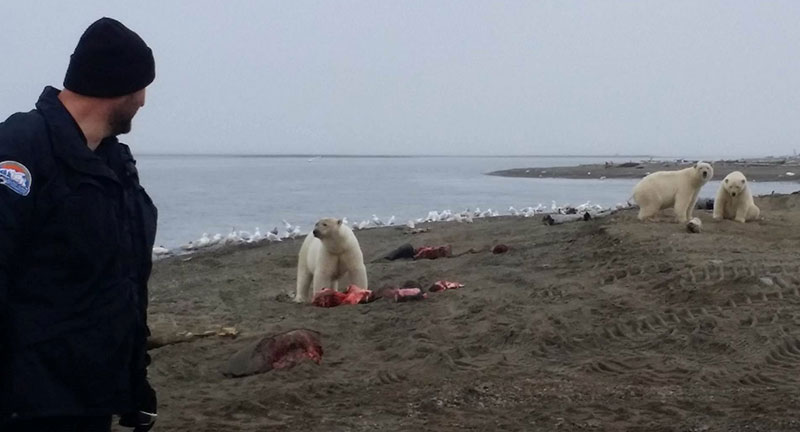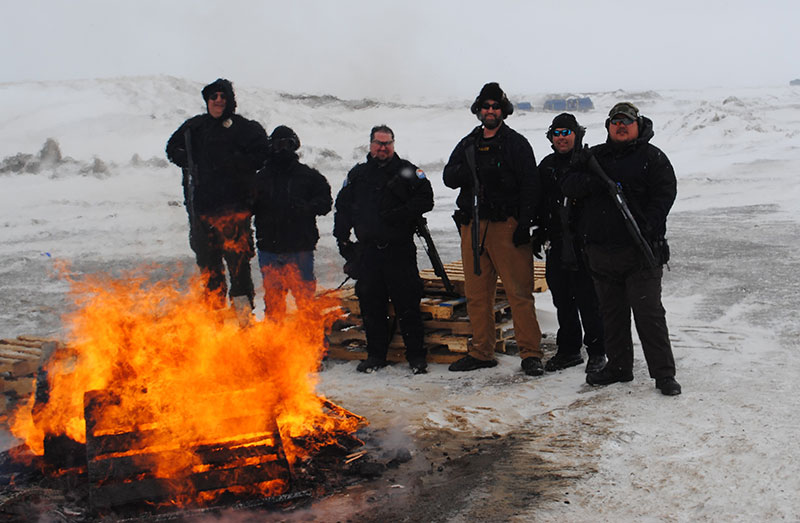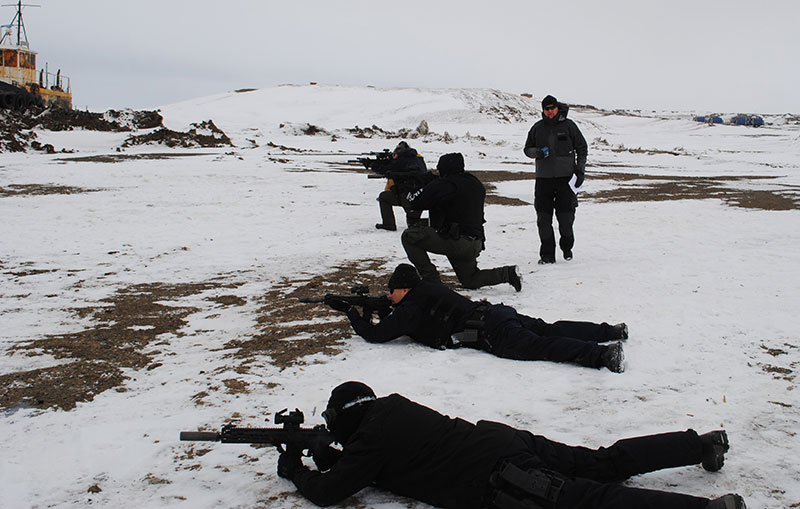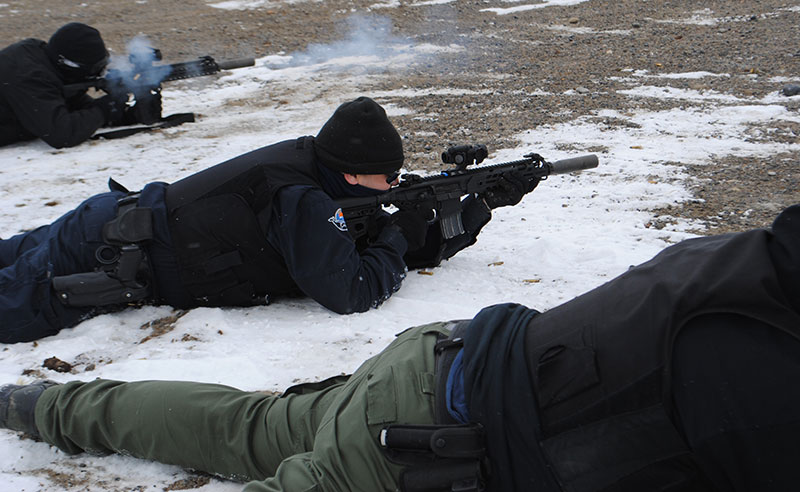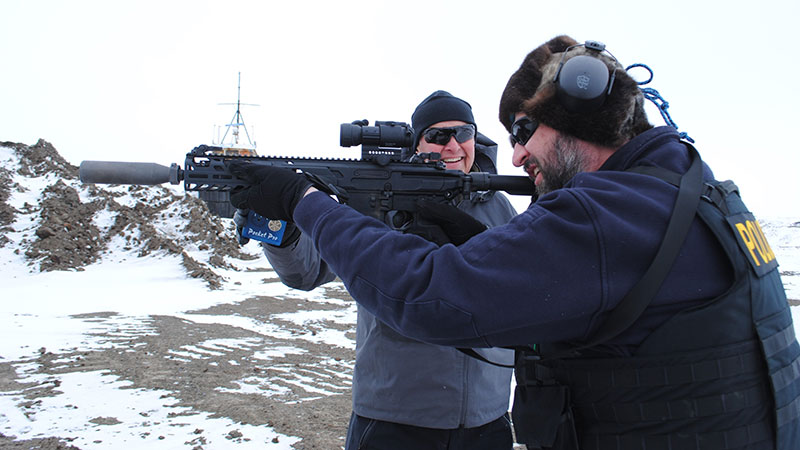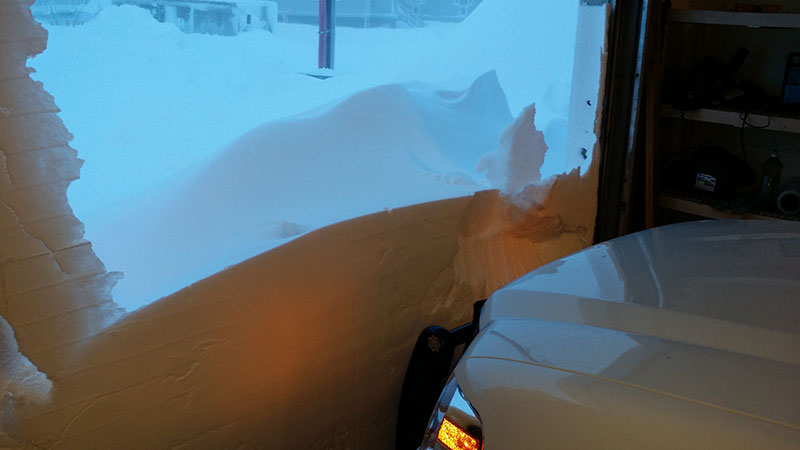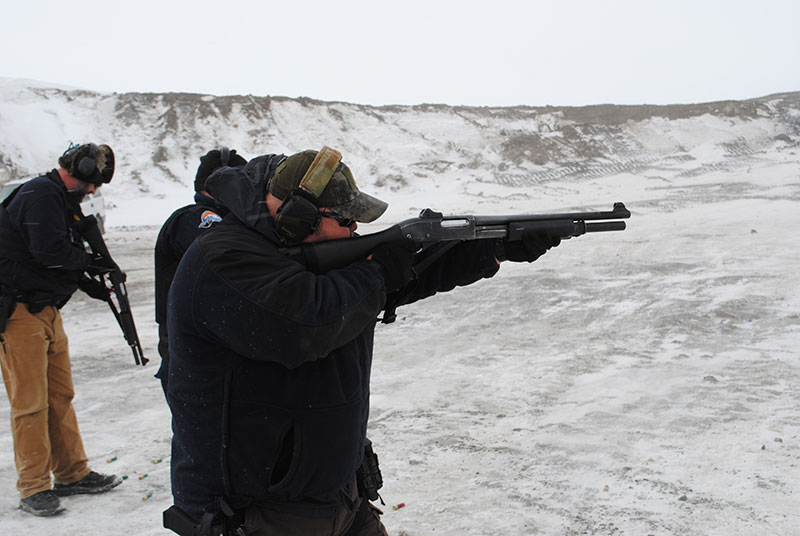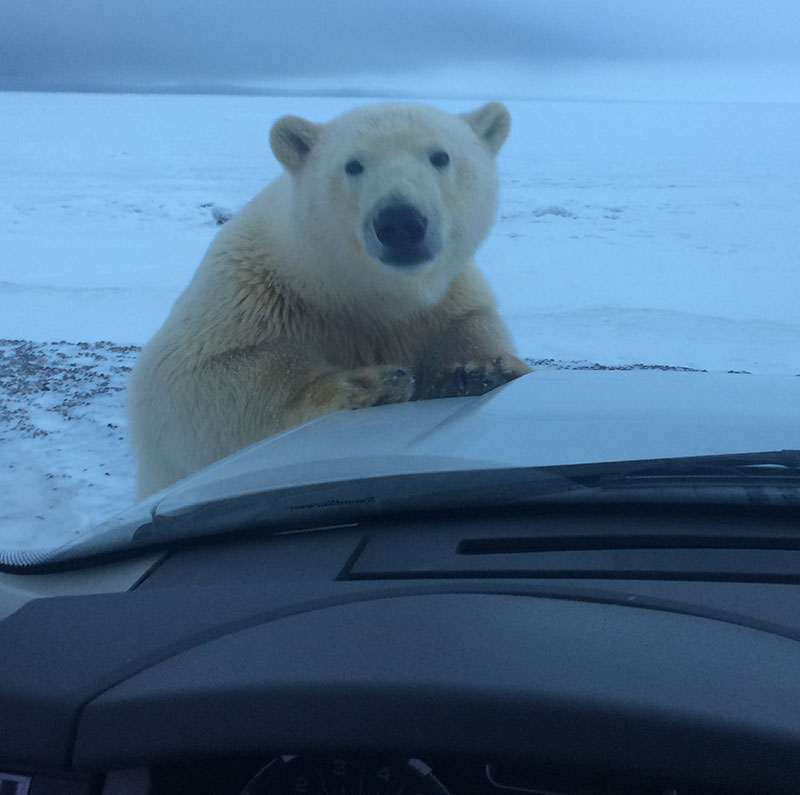 In January 2018, I was contacted by a police officer in Alaska. He asked if I was available to teach a 40-hour firearms instructor class the first week of May. I was, so we discussed the details. As it happened, the class was to be held in an Alaska town I never got to visit—Utqiagvik (oot-kee-YAH-vik), formerly Barrow.
ABOVE THE ARCTIC CIRCLE
Barrow is a mostly Inupiaq ("Eskimo") city of about 4,200 souls, located 300 miles north of the Arctic Circle. Barrow is the northernmost city in the U.S., and one of the most northerly cities in the world. Barrow is the government seat of the North Slope Borough, an area of 100,000 square miles that stretches from the Bering Sea in the west to the Yukon Territory, Canada, on the east. The borough stretches south to the summit of the Brooks Range.
During my week there, native hunters dragged ashore several bowhead whales, which were shared among all the local families. While it was golf and shorts weather where I currently live, daytime temperatures in Barrow were in the teens—and with the ever-present wind, working temps were 10 to 20 below zero.
The area is policed by the North Slope Borough Police Department (NSBPD). If you think your agency is understaffed, this department has 48 commissioned officers scattered in eight one- or two-officer posts, hundreds of miles from help—this is the toughest local police duty in the U.S. It is common for one officer to respond to a shots-fired call, and one-officer responses to domestic violence calls are a daily thing. Every adult in the borough owns at least one gun, and most have several, so every call is a potential gun call.
Back-up is controlled strictly by weather—it may be too windy, snowy, cold, or foggy for help to be flown to the village. There are no roads connecting villages, so every officer has to rely on himself.
For example, Kaktovik is 350 air miles east of Barrow, on a small island in the Arctic Ocean. If the lone officer gets hit in a gunfight, self-care is mandatory. If all the stars are in alignment—if the weather is good, the Lear jet is fueled, and a couple of officers are at headquarters—it will be three hours before boots are on the ground.
Every officer is Combat Casualty and E.T.T. trained and carries an IFAK at all times. The Search and Rescue unit (not part of the PD) has a Lear 31A fully equipped for medevacs, with trained medics. Even with this, it takes the Lear well over an hour to reach the nearest hospital, in Fairbanks, which is 520 air miles south of Barrow. The nearest SWAT team is the State Trooper team in Fairbanks—a minimum of seven to eight hours away.
Communications are another issue. Once an officer is 10 to 12 miles out of Barrow, there's no radio. The same applies to the eight posts. Each post has a satellite phone, which the officers take with them when leaving the village. Cell phone reception is spotty but improving—you'd best try to find high ground to get a signal. With the sat phone and a GPS unit, the officer can probably get a message in to the comm center to get the cavalry coming.
The post at Prudhoe Bay (the oil fields) is the only post reachable by roads year-round. An ice road from Barrow to Prudhoe is usually passable in winter. Once at Prudhoe, though, it's easily 16 hours to Fairbanks, weather permitting.
The NSBPD has responsibility for 180 miles of the road, the Dalton Highway (usually called the haul road). If there's a crash in Atigun Pass, it takes the officer a minimum of four hours, roads being perfect, to get to it. Again, no comms except the sat phone.
In addition to dealing with crime, the officers have to conduct search and rescues and keep stupid tourists from California or France from being eaten.
Polar bears are a real thing here, and tourists from all over the world fly to the North Slope to see them. Polar bears have no natural enemies, and anything they see on the ice is food. They are not primarily man-eaters, but they are totally inclusive—they'll eat anything.
So when some twit from Seattle wants a selfie of herself with the teddy bear, it may end up like the Treadwell tape—all you hear are the screams of some idiot being eaten. The victim then becomes the bear, so the officers also have wildlife/idiot control to deal with. In addition, moose, caribou, walrus, fox, and seals must be dealt with.
ARMAMENT
Each officer is armed with a Glock pistol, either a G21 or G17, soon transitioning to only G17s. Second guns run the gamut from five-shot revolvers to second G17s. Each officer is trained with and issued a Vang Comp Systems Remington 870 shotgun with 18-inch barrel and SureFire light, and a SIG Sauer MCX carbine in 5.56mm. Aimpoint optics are issued on all rifles. The armory holds Remington 700 SPS rifles, a couple of Remington .375 H&H Magnums for polar bears, Colt AR-15 and LWRC carbines, and a few Ruger Mini 14s. But the SIG is the primary long gun for individual issue.
This was my first exposure to this SIG, and after using it, I can say it would not be my first choice. The original guns were purchased two years prior and were problematic from the start, with two recalls in the first year and plastic parts that break in the cold. Only about 5% of the parts are interchangeable with ARs, requiring proprietary parts that may or may not be available. The eight-hour armorer's course was held in California, and it cost $4,000 for an officer to travel there to attend.
The guns are heavy, ten pounds empty, and cost $1,600 each on a "deal." The muzzle brake/suppressor mount is also proprietary, allowing only that mount and the SIG can to be used—if you already have suppressors, forget it. The dual springs on the bolt carrier group were so heavy to retract that even strong men had difficulty doing it with the support hand. Many had to use the strong hand after releasing the firing grip, and weaker officers are going to have real trouble.
The good points of the gun: It's totally ambidextrous, the supplied BUIS were all steel and locked positively, the ambi charging handle was steel, and they were reliable, with only four malfunctions in two days of shooting. Accuracy was consistent with other LE carbines. To SIG's credit, the first guns were eventually replaced, at no cost to the department, and improved versions were provided—that's about $80,000. The older guns were destroyed.
At any rate, my jobs are to train and certify, not to bitch about the choice of weapons. I left the Arctic years ago but knew it would be cold. However, I underestimated my tolerance.
At noon on Training Day One, I ran back to my room and put on all my layers—base, shirts, pants, long-sleeved undershirt, wind shirt, fleece, down vest, and Goretex. The wind blew through my gloves, resulting in my wearing two pairs, and my nose froze on Training Day 4.
The good news for my feet was the test pair of 5.11 XPRT six-inch waterproof leather boots. I'd worn them earlier at another class, mostly in the mud, and they kept me dry. While the weather was too cold for mud and slush, my feet stayed warm and dry, even at sub-zero temps. The new Peltor Rangeguard ear protection has much improved electronics, allowing me to hear well even over my fleece cap. They also helped keep my ears warm. The nine-volt battery slot is on the outside and is much easier to access than older models. Good gear like these two products make life easier.
TRAINING
Training Days One and Two were handgun, training the six instructors to Alaska Police Standards Council standards. These guys were dedicated and talented, and we had no difficulty meeting the 90% standards on accuracy, manipulations, and the written tests. I'm not stupid, though: We did all the manipulations (malfunctions, TAC and speed loads, etc) indoors, with dummy rounds.
Days Three and Four were with the carbine, and it was colder. We'd train for about 45 minutes, then warm ourselves in the trucks, which we started to get the heat on. After we thawed, it was "once more into the breach," and we'd train until we were too cold.
It may be hard for warm-weather folks to imagine, but at some point, even with gloves, your fingers are too cold to manipulate the trigger, hit the mag release, or feel the bolt stop lever. These guys were studs and never whined, whimpered, or complained. I did it for them. By the end of TD4, all had met all the standards, and Officer Daniel Churchill had cleaned the target twice. A couple others were one or two points down.
Training Day Five was my favorite: the shotgun. The officers dragged out more steel, so it was shotshells on steel and slugs on paper. We ran through singles, pairs, select-slug (try that when it's below zero and you're wearing gloves) drills, transitions—all the skills an officer or instructor needs.
We shot hundreds of rounds of 12 gauge, a little pistol ammo, had a ball, and all six qualified.
It was even colder, and snowing, so the LT took a road flare and lit a pile of pallets. We christened the bonfire "station, warming, one each, field expedient" and spent a fair amount of time there.
I'LL BE BACK
I left totally impressed with the officers, the mission, and the borough government. All are totally committed to public safety. In fact, the borough Search and Rescue unit just put into service a Sikorsky S92 helicopter, a $40-plus million-dollar aircraft that is better equipped and manned than U.S. Coast Guard birds.
They also have two Bell 412 helicopters, a King Air, and the Lear jet for medevacs to Anchorage. These guys are serious. The department is well funded, well supported, and dedicated to the mission.
I've been asked to return to do several more classes, and I can't wait. I'll build in time to see some sights, maybe do a little hunting or fishing, maybe get a selfie with a polar bear (just kidding), but I will be back. One thing is certain—I'll bring warmer clothes!
Jeff Hall is a U.S. Army veteran, retired Alaska State Trooper lieutenant, and NRA staff instructor. He also teaches for several state POST agencies. He is a martial arts grandmaster and founder of Hojutsu-Ryu, the martial art of shooting. He can be reached at [email protected].
SOURCES
5.11 TACTICAL SERIES
(866) 451-1726
www.511tactical.com
PELTOR
www.peltorcomms.3m.com
NORTH SLOPE INFORMATION
www.north-slope.org