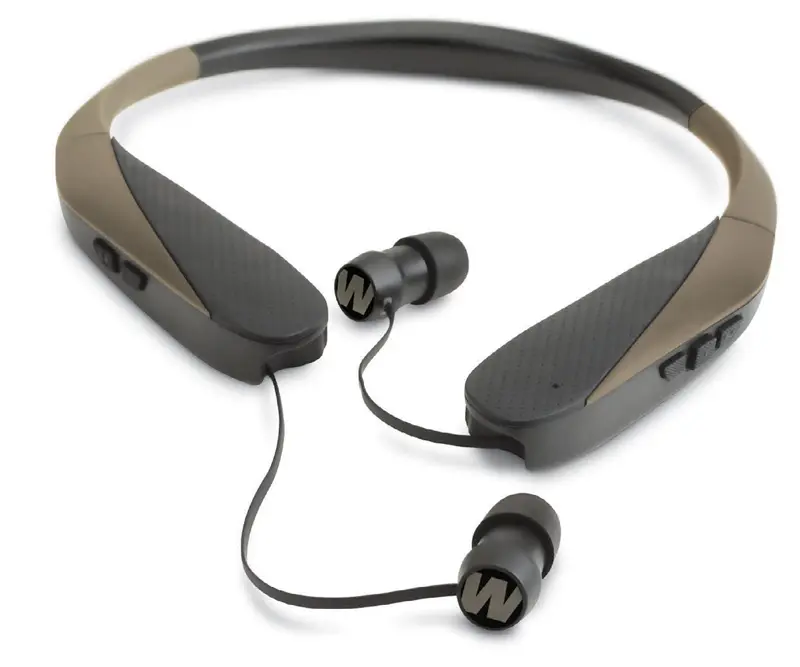 Over a quarter century ago, Walker's® revolutionized the hearing protection industry with the original Walker's Game Ear®. Now it has done so again with its new Razor™ X Series Digital Ear Bud headsets. Available in two models—the Razor X and Razor XV with Bluetooth®—the new headsets are game changers.
The patent-pending Razor X and Razor XV are a revolutionary new style of hearing protection incorporating a neck-worn design with retractable digital ear buds. The lightweight, flexible rubber neck band provides incredible comfort for all-day wear and zero interference with you, your weapon, or headgear.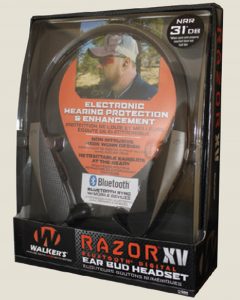 Not only do they protect your hearing, but they also enhance your natural hearing ability up to nine times. As with all Walker's products, they are weather resistant for outdoor use. I received the Razor XV for evaluation.
RAZOR XV
The Razor XV features Bluetooth® synchronization with mobile devices. You can take a phone call or stream your favorite music, all while protecting yourself from the harmful effects of gunfire.
The Razor XV features independent volume control between the Bluetooth feed and microphone, so you can quietly stream audio from your mobile devices and still hear voice commands and maintain audio situational awareness.
Neck-worn Bluetooth headsets have been on the market for a while, for example the popular LG TONE Active+ Bluetooth wireless headset. But Walker's Razor XV is the only neck-worn headset to combine Bluetooth and state-of-the-art electronic hearing protection.
When the Razor XV is turned on, it automatically searches for the last paired device and then connects. If the device is not found, it searches for a few minutes and if not paired, Bluetooth turns off to conserve battery power.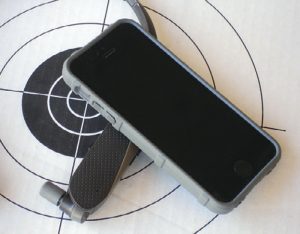 Designed with Sound Activated Compression (SAC) circuitry, the Razor X and XV feature a no-fail system that activates instantaneously (0.02-second reaction time) to protect your ears from harmful noises, providing an impressive 31dB of noise reduction when used with properly inserted ear tips.
The user can select from two compression modes: Outdoor Mode (shorter compression time) and Indoor Mode (longer compression time to compensate for range echo). The ear buds still provide passive protection when the device is in the "off" position.
The Hi Gain omni-directional ear-bud microphones and HD speakers on the Razor XV (and I assume the Razor X) provide clear sound enhancement. Audio quality is excellent. The volume control for the ear-bud mics lets the operator select from nine ambient sound levels: Sound Level 0/Mute to Sound Level 9/+14dB.
The retractable ear buds are equipped with flat, no-tangle cables. Simply pull them out to use and push a button to retract them back into the housing and out of the way. Three pairs of foam ear tips (S/M/L) are included to ensure optimal fit for maximum noise reduction and comfort. Extra ear tips may be ordered from Walker's.
Power is provided by an internal 250 mAh rechargeable lithium-ion battery that provides up to ten hours of operation. Charging is via an integrated Micro USB port. The port is protected by a rubber plug that is attached at one end to prevent loss. An AC wall adapter with USB port and a one-meter Micro USB cord are provided for convenient charging.
The unit is equipped with an auto shut-off (low power mode) after four to six hours. Pressing any button wakes up the unit and resets the timer.
OPERATION
All controls on the Razor XV are simple, well thought out and out of the way. They are easily operated, even with gloves. Audio beeps guide the user in selecting the various settings.
In Bluetooth pairing mode, an LED status-indicator light flashes blue then red until the device is paired. Once paired, the blue LED flashes every few seconds. The LED remains in constant "on" when the battery is charging and turns off when the battery is fully charged.
Due to the flexible rubber neck band, the headset can be folded and stuffed into a pocket or pouch for convenient carry. A cloth storage case comes with the unit.
In the relatively limited time I have been using the Razor XV, the performance has been outstanding. It is now my go-to hearing protection.
Suggested retail price for the Walker's Razor XV with Bluetooth is $159.95. Suggested retail price for the Razor X without Bluetooth is $119.95. Given the minimal price difference, I recommend going with the Razor XV. Both come with a one-year limited warranty.