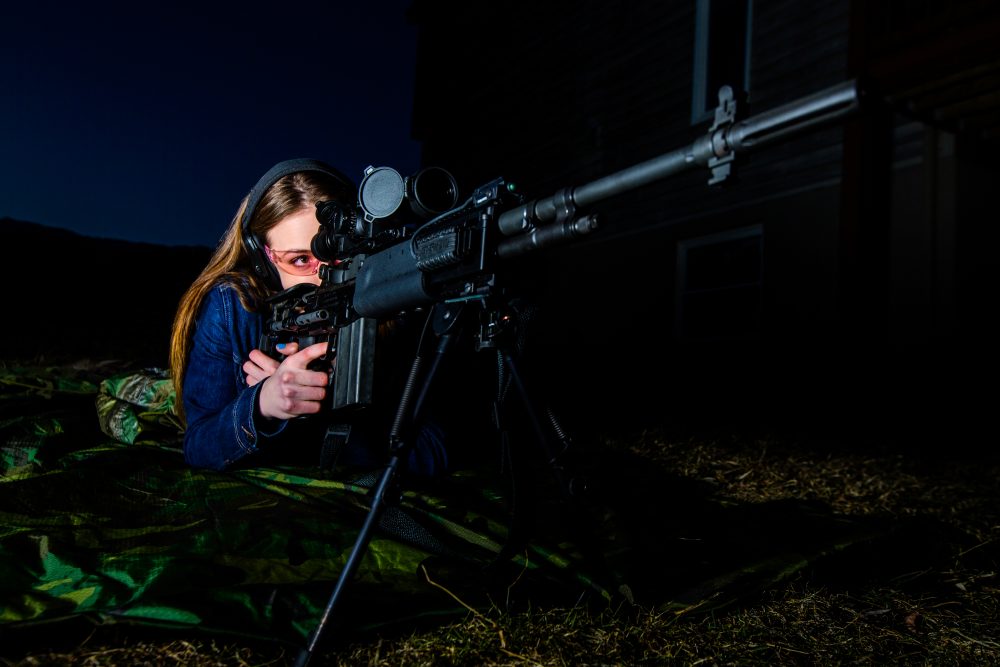 LaserMax UNI-Green Rifle Pack is a versatile, multi-platform laser sighting system that offers outstanding performance.
---
When it comes to visible lasers, green is good. Green lasers appear significantly brighter than red lasers of the same output and collimation. The color sensing cones of the human eye have their peak response in the green.
A green laser is also ideal for law enforcement agencies seeking to ensure safety by distinguishing the laser colors of lethal-force options from the red laser sights used by non-lethal-force options.
LaserMax® has been pioneering green laser technology for over 17 years. The company recently announced the debut of its new Native Green technology and has transitioned its green laser sighting systems over to it.
The groundbreaking Native Green laser diode offers significant advantages over frequency-doubled green Yttrium-Aluminum-Garnet (YAG) lasers, which have been the only option in the past to get a green laser beam, including far superior reliability and improved operating temperature range (0°F – 160°F).
To understand why we need to get technical, bear with me. Frequency-doubled green YAG lasers employ diode-pumped, solid-state (DPSS) technology. DPSS lasers are made by pumping a solid gain medium. Frequency-doubled green YAG lasers pump infrared (IR) light into crystals, which then convert the infrared to synthesized green laser light.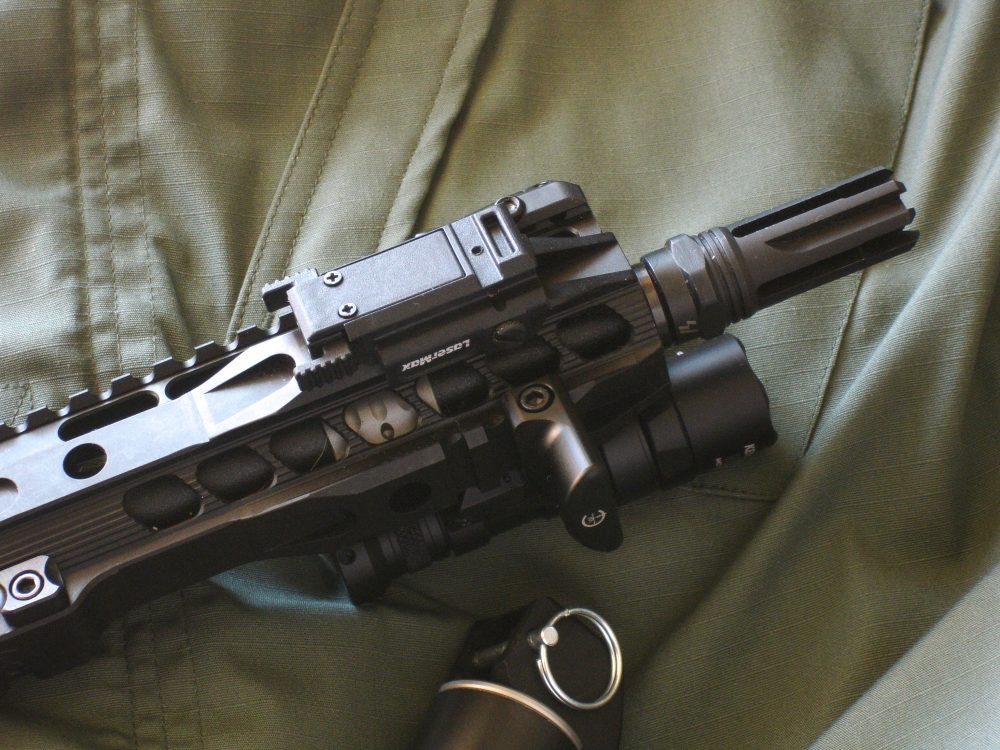 LaserMax UNI series is an outstanding choice for use on compact weapons such as this San Tan Tactical .300 BLK PDW Pistol.
---
Yes, this is very complex. With the complexity come issues that make frequency-doubled green YAG lasers less than ideal for many tactical applications. Although DPSS lasers are an obsolete technology, many commercial laser-sighting systems continue to employ them.
DPSS laser crystals are very inefficient, meaning a lot of power is lost when the frequency is converted to make green. It takes up to 300 mW of power to produce a mere 5 mW green beam. The energy that is not emitted as light is emitted as heat, and lasers with this technology are prone to thermal shutdown.
DPSS lasers are also sensitive to extremes in ambient temperature. They can only operate optimally within a relatively small range, meaning they can malfunction in extremely hot or cold weather.
The recent advent of green laser diodes has been the game changer. A green laser diode simply produces a green beam. There is no conversion in frequency and no excess heat. As is the case with red laser diodes, they operate over a wide temperature range. They are simple, reliable, and less expensive. Problems solved!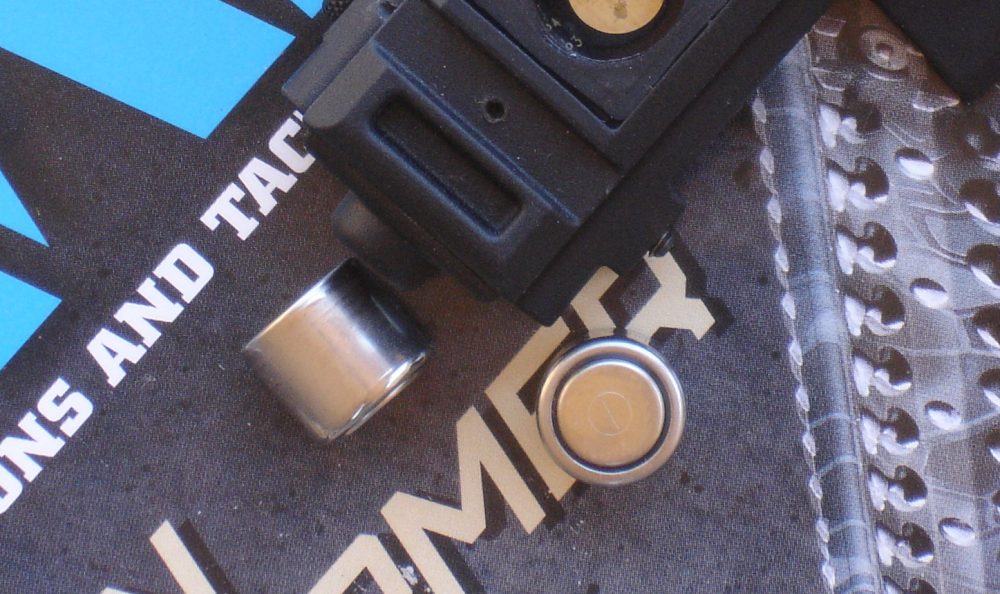 LaserMax UNI-Green laser is powered by two common 1/3N lithium photo batteries, the same batteries used by some Aimpoint and illuminated Leupold optics.
---
LaserMax recently provided me with its UNI-Green Rifle Pack, which employs Native Green technology. The Rifle Pack comes with a UNI-Green Laser, Momentary Activation Switch (MAS) with a six-inch MAS cord, and Manta Rail System. Also available in red and IR versions, the patented UNI series offers the world's only stackable rail interface for mounting of ancillary accessories.
LaserMax designed the UNI series to be suitable for both pistol and long gun applications. It fits any MIL-STD-1913 (Picatinny) or Weaver style rail with 1.75-inch minimum length.
Smaller than a matchbox, the UNI series weighs roughly one ounce without accessories. The low-profile housing places the laser closer to the barrel to reduce parallax for maximum accuracy. The housing is constructed of rugged fiberglass-reinforced nylon (FRN) and is equipped with an Integral Picatinny Rail (IPR), which allows the operator to stack additional rail-mounted accessories (such as a light or other UNI systems) together and creates an integrated module. For example, one could incorporate a visible and IR laser, as well as a tactical light, while still keeping a small overall footprint.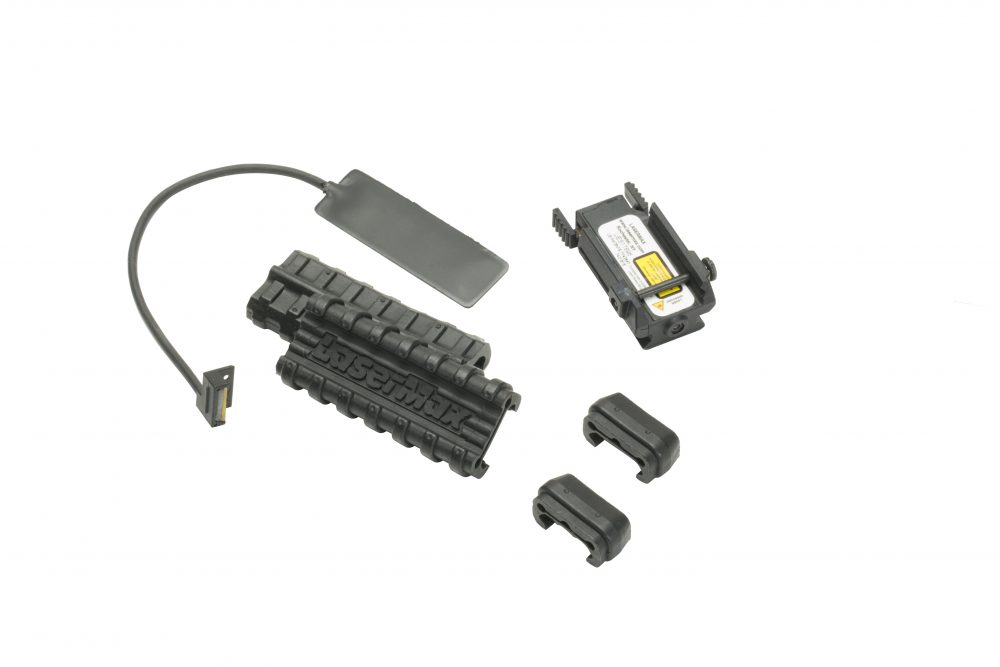 UNI Rifle Pack comes with UNI series laser, MAS pressure pad switch with six-inch MAS cord, and Manta Rail System.
---
The UNI series features advanced programming that lets the operator easily select between a steady or high-vis pulsing beam. Changing the laser mode is simple and foolproof. An automatic time-out mode shuts the laser off after ten minutes to prevent inadvertent depletion of the batteries.
The Native Green laser has a 520 nm wavelength. Power output is <5 mW, which is the maximum output permitted in the U.S. for consumer sales. Power is provided by two common 1/3N lithium photo batteries (included).
Changing the batteries is simple, although a small Phillips screwdriver is required. The batteries can be changed without dismounting the laser from the weapon.
The UNI series has a clamping screw/rail system that provides a more secure fit on the rails and repeatable accuracy. No tools are necessary for installation, although LaserMax recommends that the clamping screw be further tightened with a screwdriver or coin.
The UNI series is fully adjustable for both windage and elevation using the included adjustment tool. When the laser is installed for the first time, a slight shift in alignment may be noticed after firing due to settling.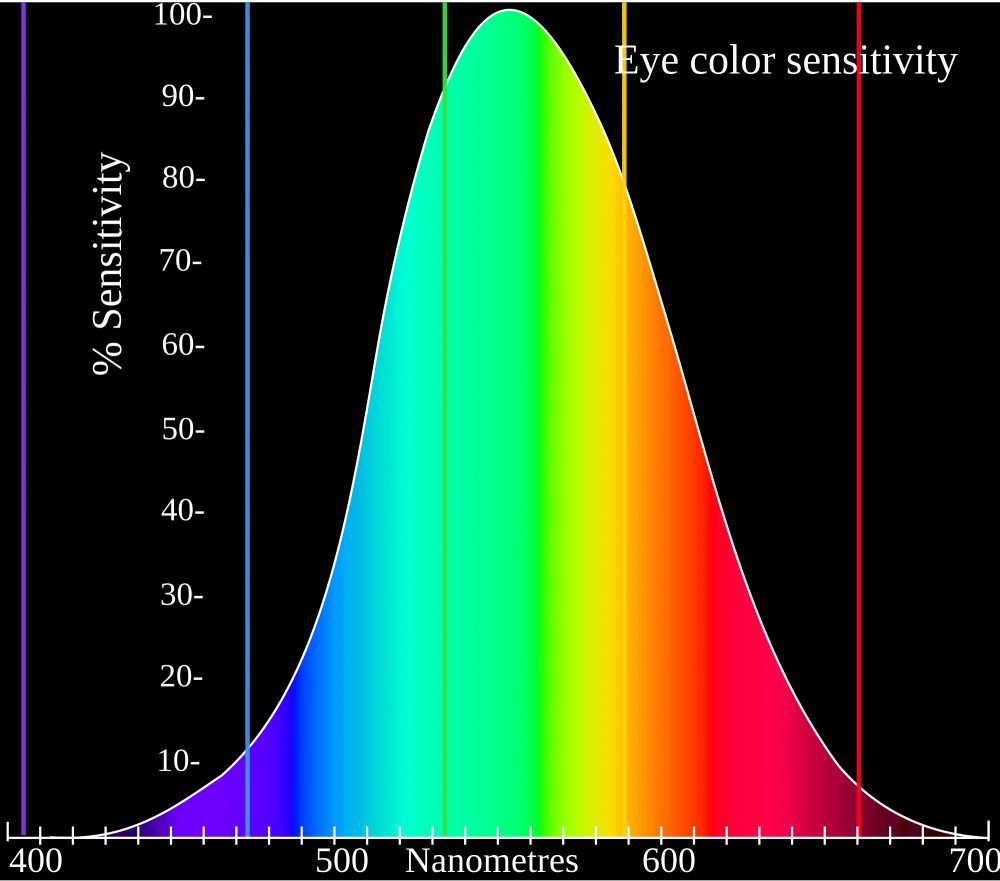 Relative brightness sensitivity of human visual system as a function of wavelength.
---
To activate the laser, one simply presses in on the activation switch from the right or left side. The center position is off. There is no master override (disable) with the standard switch.
The UNI Rifle Pack's MAS pressure pad switch replaces the mechanical slide switch and allows for comfortable pressure activation. The MAS is equipped with a master override switch.
The Manta Rail System attaches to Picatinny and Weaver rail systems without the need for tape or Velcro® and provides Neoprene® protection for the MAS. The MAS pressure pad slides into the Manta Rail Panel. The Manta comes with two end caps and a cut-to-fit cord clip to ensure snag-free operation.
The UNI series meets demanding MIL-STD and DHS durability standards, including drop tests, blowing sand, temperature and humidity extremes, and 20,000+ rounds of live fire.
How demanding is this? In the DHS drop tests, they had to survive six drops onto concrete from a height of four feet. In the DHS submersion tests, they remained fully functional after submersion in water to a depth of 66 feet for one hour.
The LaserMax UNI-Green Rifle Pack (LMS-UNI-GVP) is a versatile multi-platform laser sighting system. It offers outstanding performance and provides operators with the highest visibility laser under all operating conditions. It has a suggested retail price of $309.00 and comes with a five-year warranty.
Eugene Nielsen's background includes protective intelligence investigations and threat management, as well as red teaming security consulting. He has a BA degree from the University of California. He currently owns and operates an investigative and security consulting firm and is licensed in both California and Arizona.
SOURCE
LASERMAX INC
(800) 527-3703
www.lasermax.com