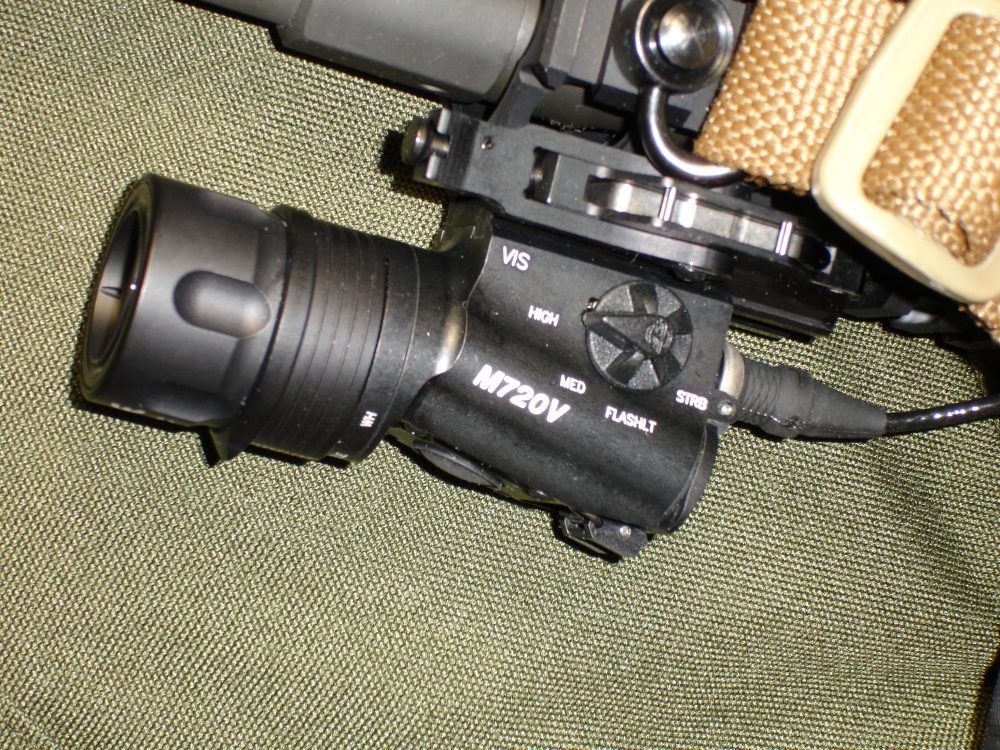 Variable-output SureFire M720V RAID WeaponLight produces 150 lumens of white light or 240 milliwatts of infrared output for use with night vision.
---
When it comes to weapon-mounted lights, SureFire® wrote the book. Since its introduction in 1986 of the first weapon-mounted light (a novel concept at the time), SureFire has continued to set the standard by which all weaponlights are judged.
SureFire has raised the bar once again with its M720V RAID™ WeaponLight®. With both white light and infrared (IR) capabilities, the M720V offers unsurpassed performance and versatility for close- and medium-range applications.
The M720V has been selected for issue by the U.S. Special Operations Command (USSOCOM) after meeting the stringent requirements of the Naval Surface Warfare Center, Crane Division, Visible Bright Light III (VBL-III) Program. The objective of the VBL III Program is to provide improved illumination capabilities for small arms employed by U.S. special operation force (SOF) units.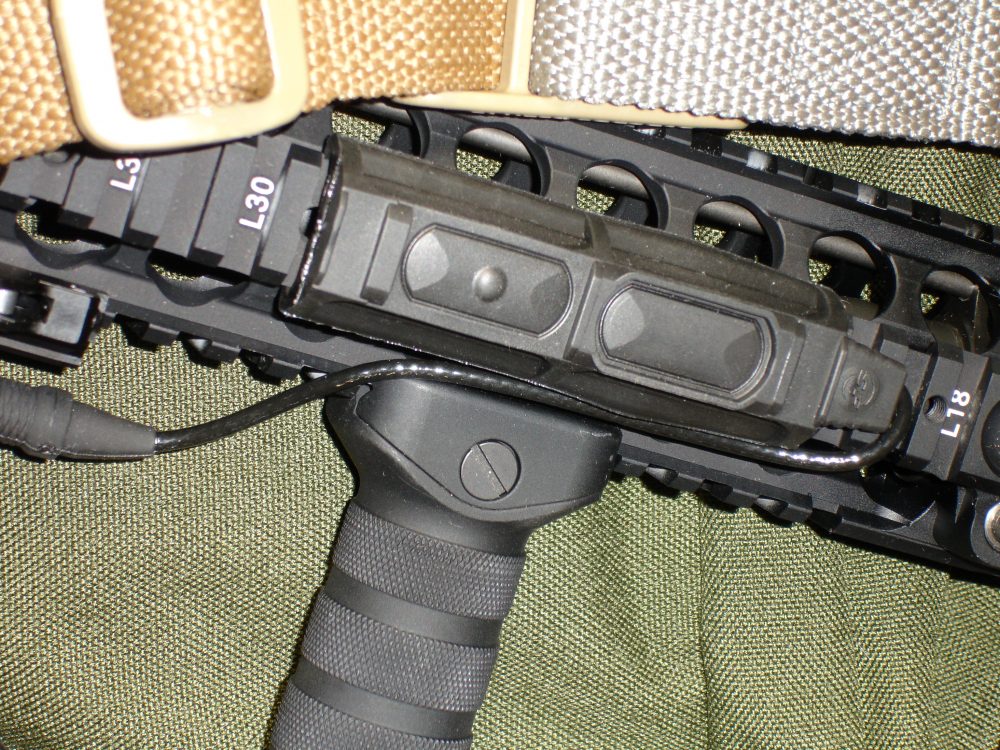 M720V comes with pressure-activated SR07-M720V tape switch (with seven-inch cable), with snap-on clamp that mounts on Picatinny rail.
---
The variable-output M720V utilizes the same dual-die LED technology employed in SureFire's revolutionary Vampire series head to provide both white light and IR output. There are no filters to be lost or damaged.
LEDs are silicon-based semi-conductor chips that are manufactured as a solid closed unit. With no filament to break or burn out, they will last for a lifetime of use.
The color rendered from SureFire's white LED is even closer to natural light than incandescent bulbs, which are biased to the warm end of the spectrum. Color rendering is important to depth perception and contrast—two parts of vision that can influence a shoot/no-shoot situation.
At maximum settings, the M720V produces 150 lumens of brilliant white light or 240 milliwatts (mW) of IR for use with night-vision devices. The max IR output has been upgraded from previous V-series lights. All controls are intuitive and easy to operate.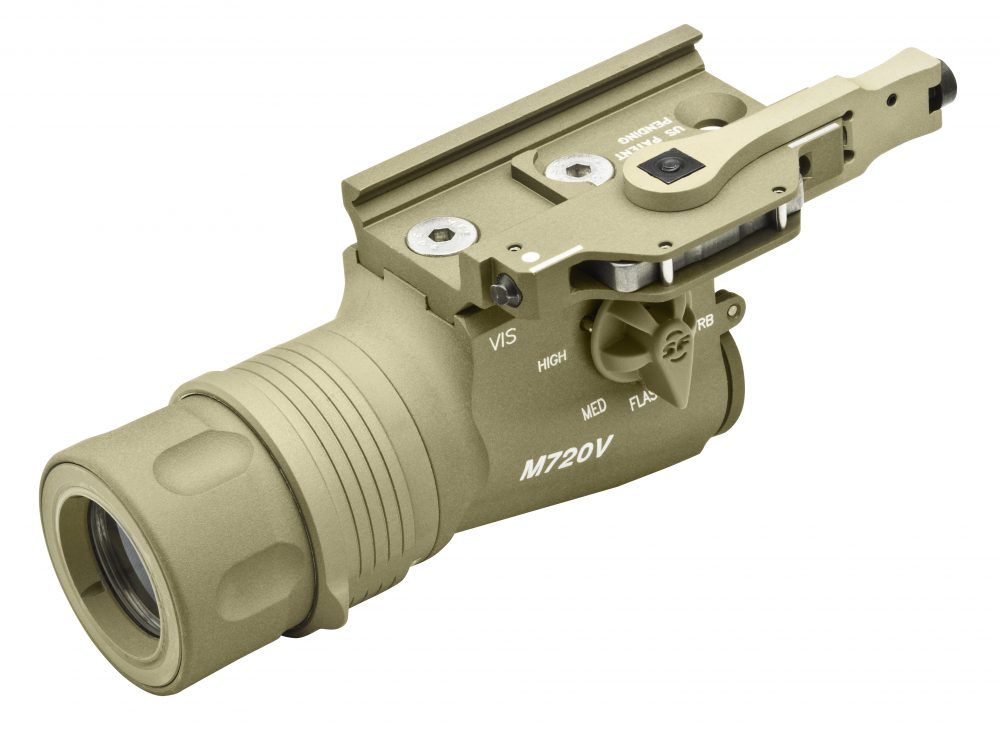 SureFire M720V features self-adjusting M93 Swing-Lever Rail Clamp. M93 fits any Picatinny rail, including out-of-spec and worn rails.
---
To switch between white light and IR or select "disable" to prevent negligent light discharges, simply pull and twist a self-locking selector ring on the bezel. The M720V features a tactile indicator for spectrum selection, and a raised ridge on both the housing and selector ring that are aligned when the light is in the IR mode.
The M720V features a total internal reflection (TIR) lens made of a special precision-molded optical co-polymer. It provides performance that cannot be duplicated with a reflector.
SureFire lights are designed to produce a focused beam with a bright central hotspot (the portion of the beam that provides "throw") and broad peripheral corona/spill (the portion of the light that provides flood) to accommodate peripheral vision.
Spill is important for situational awareness, especially in building clearing and room searches, where peripheral vision plays a major role. The M720V's throw is sufficient in either white light or IR mode for easy target detection, recognition and identification at well over 100 meters.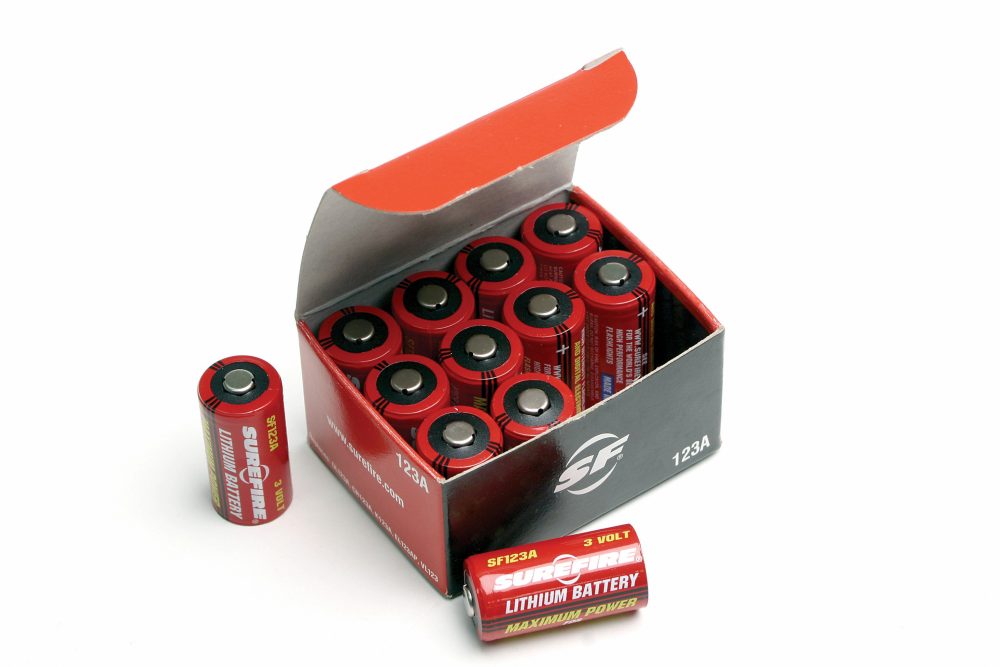 SureFire 123A lithium batteries are specially formulated for high-draw devices and are made in the USA. They're available in packs of 12 and 72.
---
The M720V comes with an SR07-M720V remote dual switch with seven-inch cable. The SR07-M720V incorporates a momentary-on pressure pad switch and a constant-on push-button switch. The design of the SR07-M720V reduces the likelihood of accidental activation.
Should the remote switch become damaged or disconnected, simply rotate the M720V's white-light selector switch to the flashlight mode and use the integral push-button dome switch to activate the white light at max output. Press once for momentary and twice for constant on.
Flashlight mode allows the M720V to be removed from the weapon and used as a handheld flashlight. In other modes, the dome switch activates low navigation output (15 lumens).
The M720V allows the operator to select the optimal output based on the situation. Lower output settings can be employed to conserve battery power or reduce your visible/IR signature.
The white-light selector switch has four white-light output settings — high, medium, flashlight and strobe. Strobing is typically employed when closing gaps, to disorient and confuse threats, channel the route of a subject, or gain attention.
The IR selector switch is located on the opposite side from the white light selector. It has three IR output settings—high, medium and low.
Power is provided by two side-by-side 123A lithium batteries. The battery compartment on the M720V is angled to allow batteries to be replaced without having to remove the light from the weapon.
The M720V is equipped with the SureFire M93 Swing-Lever Rail Clamp, which allows the M720V to be quickly attached to or detached from any Picatinny rail. The M93 is self-adjusting to fit out-of-spec or worn rails. It features a lever lock to prevent loosening from recoil, impact or vibration. Lock-up is rock solid.
The M720V is CNC machined at SureFire's southern California "Turning Center" from high-strength aerospace aluminum with a milspec Type III hard-coat anodized finish for durability and corrosion resistance. It is O-ring and gasket sealed and features an optically coated, tempered Borofloat® borosilicate glass window for maximum light transmission and durability.
The M720V has an MSRP of $800. Not cheap, but keep in mind that the M720V was designed to meet demanding SOF requirements.
While not everyone needs IR capability, those who do will find the M720V offers a currently unbeatable combination of versatility and functionality. The M720V comes with SureFire's lifetime no-hassle warranty.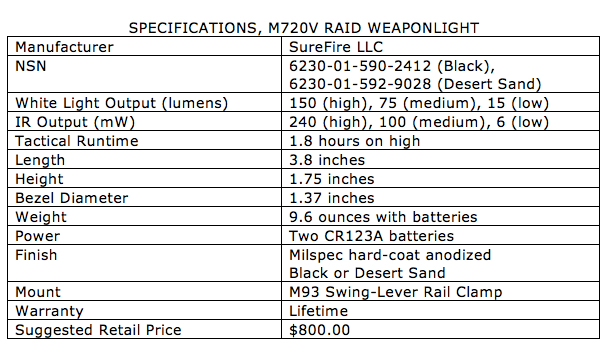 SOURCE:
SureFire LLC
(800) 828-8809
www.surefire.com