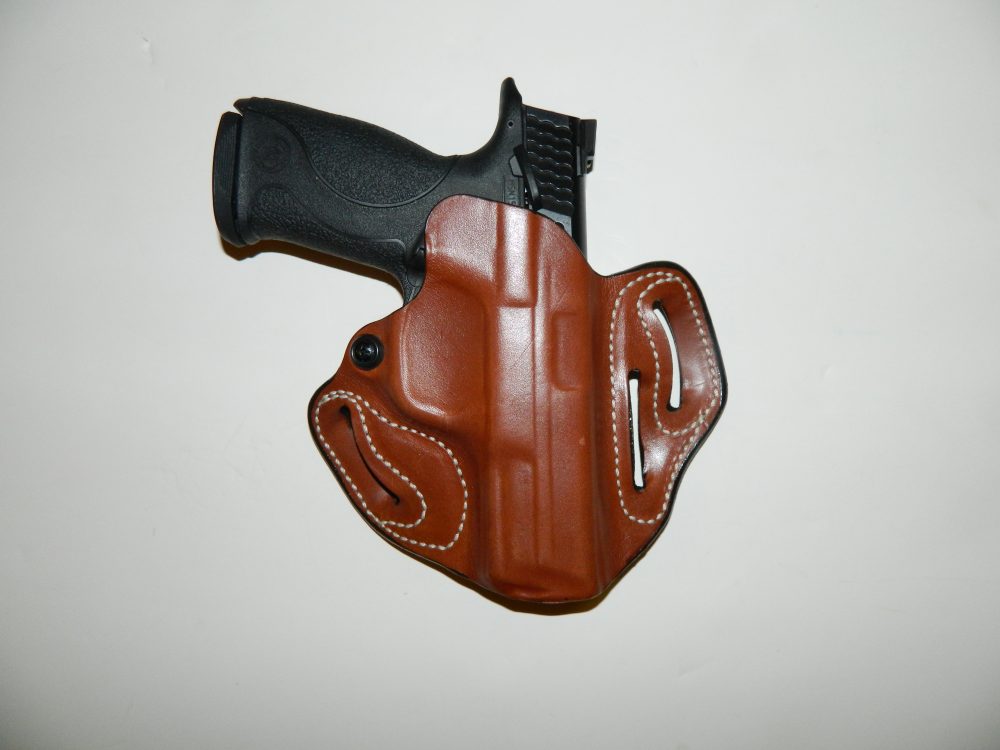 Front of DeSantis Speed Scabbard with S&W M&P. Each holster is molded for a specific model of pistol.
---
I have carried a gun most of my life. Even if it's just to go to the drugstore in the middle of the night to buy cold medicine for my son, I go armed. I admit that in the past at two AM, I may not have had my 1911 with a spare magazine. More likely than not, it was a J-Frame with a speed strip.
Those days are gone. A line has been drawn in the sand, and America is at war. Turn on the TV and you may see that a police officer has been shot or another terror attack has taken place. The lives of my family, friends, and fellow Americans are too important for me to trust a lower capacity weapon system. Now I take the time to strap on a 1911, an XD, or an S&W M&P.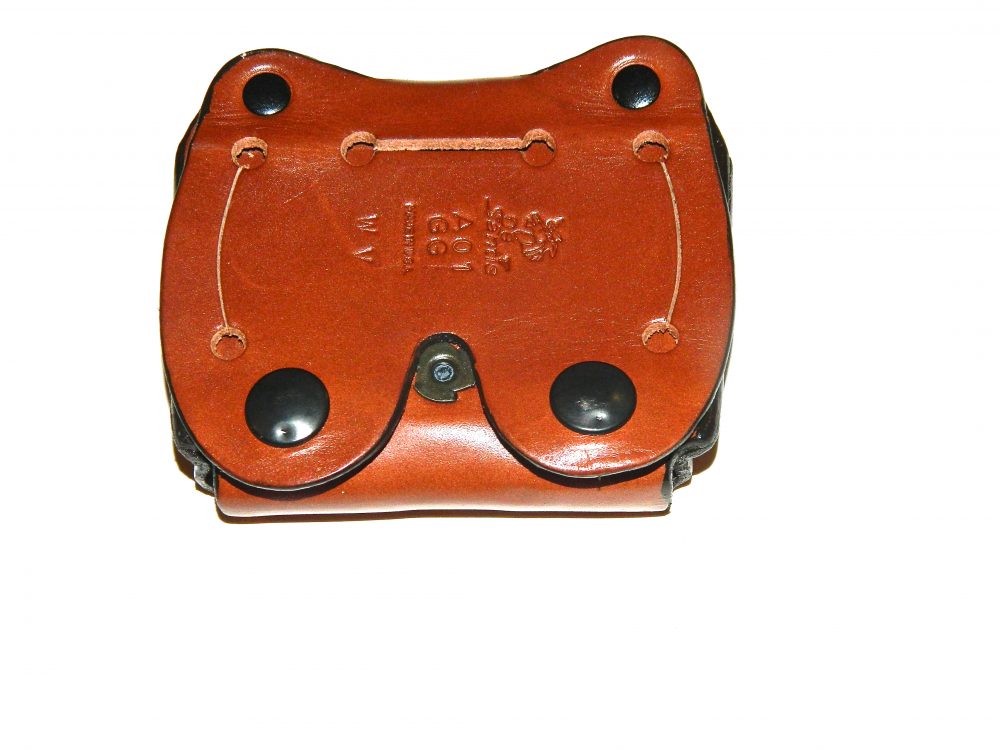 Rear of Double Magazine pouch shows two "pull-the-dot" snaps and slots for carrying vertically or horizontally.
---
I recently received a Speed Scabbard holster from DeSantis Gunhide. The Speed Scabbard is available for most popular handguns. The one evaluated here was for an S&W M&P.
The holster is a pancake, outside-the-waistband style. It carries a pistol very close to the body and almost eliminates "printing," making it a very good choice for concealed carry.
The top of the holster is an open top with no thumb break or other retention device. Friction fit applied by the belt and body keep a pistol secured in the holster. The bottom is also open-ended.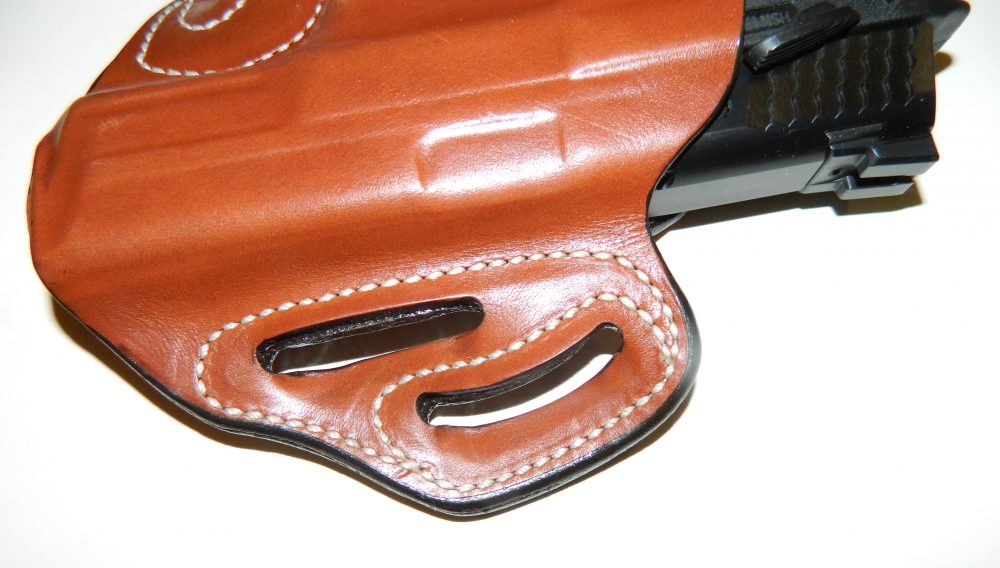 Front of holster has two belt loops, so it can be carried as a straight drop or canted slightly forward.
---
Behind the trigger guard area are a rubber washer and tension screw to adjust how tightly you choose to have your weapon held in place. The trigger guard is completely covered.
Like all pancake styles, the holster is made of two separate pieces of leather. The holster is molded to fit a specific model of gun, then glued together and double stitched.
The holster has three belt loops—one at the rear of the holster and two at the front. The area around all three is reinforced with stitching. This design, with three belt loops, allows the pistol to be worn in a straight drop or canted slightly forward. The entire holster is dehorned. No sharp edges means it can be worn comfortably, all day, every day.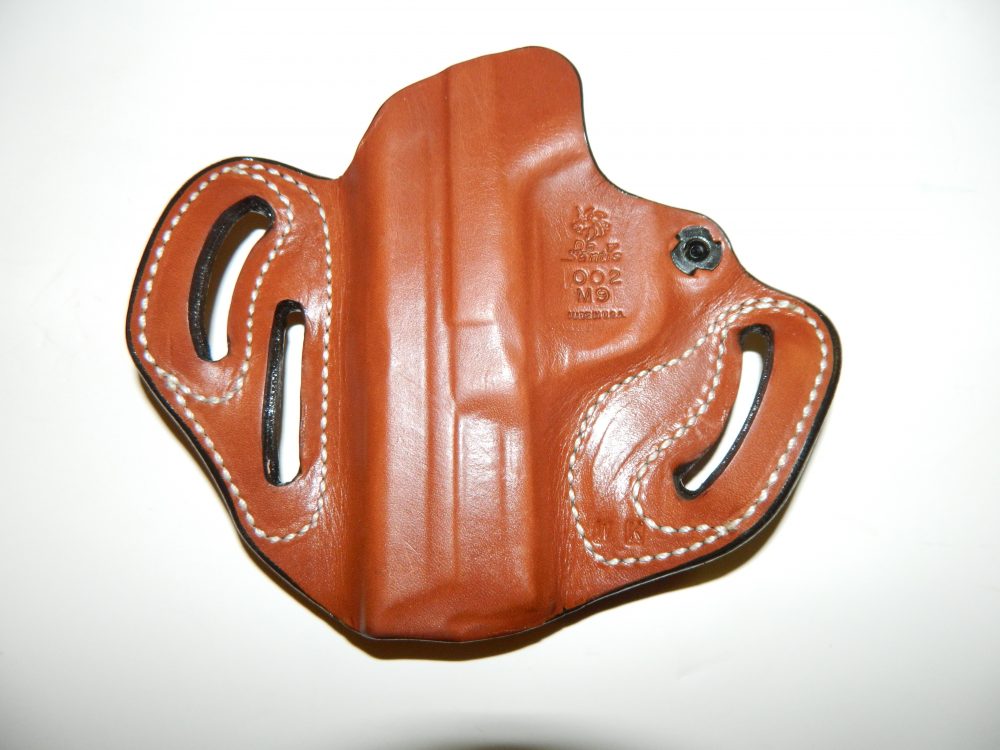 Rear of holster also has detailed molding.
---
I have always been a big believer in having a reload. One of the main reasons is the fact that most semi-auto weapon malfunctions are magazine related. Ending up with a magazine that won't function properly transforms a fighting pistol into an ungainly club that can only be deployed at bad-breath distance.
Another reason is that you may face multiple attackers. For good measure, throw in the possibilities that all your shots may not connect and that some aggressors require multiple hits before they stop their actions. A gunfight is an exercise in democracy, and the bad guy gets a vote.
For these reasons, I also acquired a DeSantis Gunhide Double Magazine pouch. It's made of two pieces of leather. The magazine body is one piece and the belt loop part is the second. Two tension screws with a rubber spacer placed between the pockets hold the magazines securely and separately.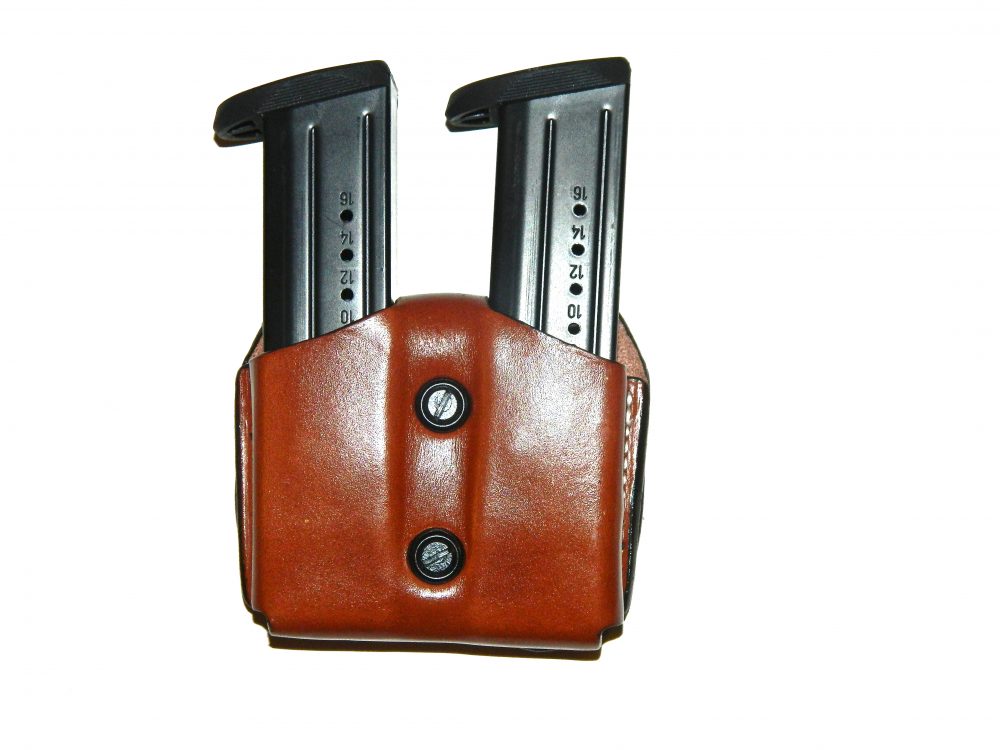 Front of Double Magazine pouch, which has two tension devices to hold magazines securely and separately.
---
The back of the magazine has two heavy-duty "pull-the-dot" snaps to remove the mag pouch without removing the belt each time. Three slots cut into the back of the pouch allow it to be worn with a narrow belt either vertically or horizontally. Like the holster, it is dehorned of rough edges and can be worn for extended periods.
Now when I need to run to the store in the middle of the night, instead of a five-shot revolver with a five-round speed strip, I have an S&W M&P with 18 rounds in the gun and two 17-round magazines on the belt.
The DeSantis Speed Scabbard has a suggested retail price of $76.99, while the Double Magazine pouch goes for $52.99.
SOURCE
DESANTIS GUNHIDE
(800) GUNHIDE
www.desantisholster.com