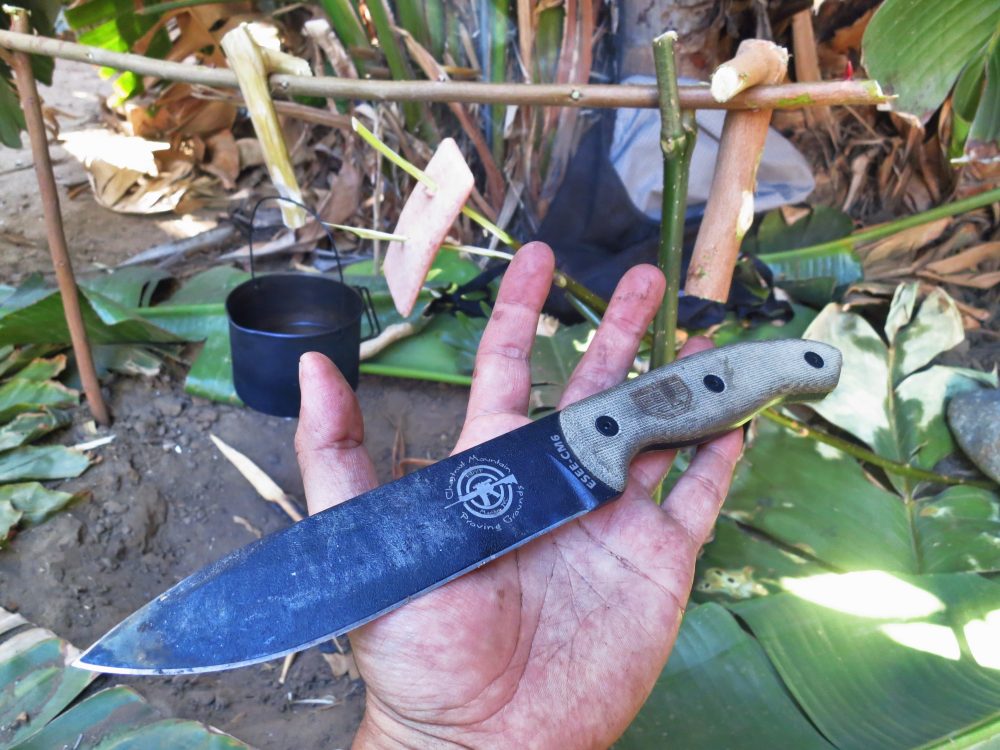 Author made all components of this tropical camp solely with ESEE-CM6. Blade length is suitable for an all-around survival knife.
---
ESEE Knives has collaborated with many outdoorsmen over the past few years, creating a new era of modern cutlery with years of experience behind them. The CM6 was one of the first collaborations of this kind, with outdoorsman Terrill Hoffman.
TACTICAL & PRACTICAL
I caught up with Terrill at a convention and got his views on the ESEE-CM6. "This is the knife I made because I wanted it—I designed the CM6 for myself," said Terrill. "I wanted a knife that could cover duties as a general-purpose outdoor utility knife, but could also serve as a tactical self-defense weapon if needed. This is the knife I would want to be part of my proverbial bug-out bag."
The ESEE-CM6 is 11.13 inches overall, with 5.88 inches going to the blade length. With a maximum thickness of .188 inch, it's relatively light for its size, at ten ounces. ESEE uses 1095 high carbon steel and canvas Micarta scales for the handle.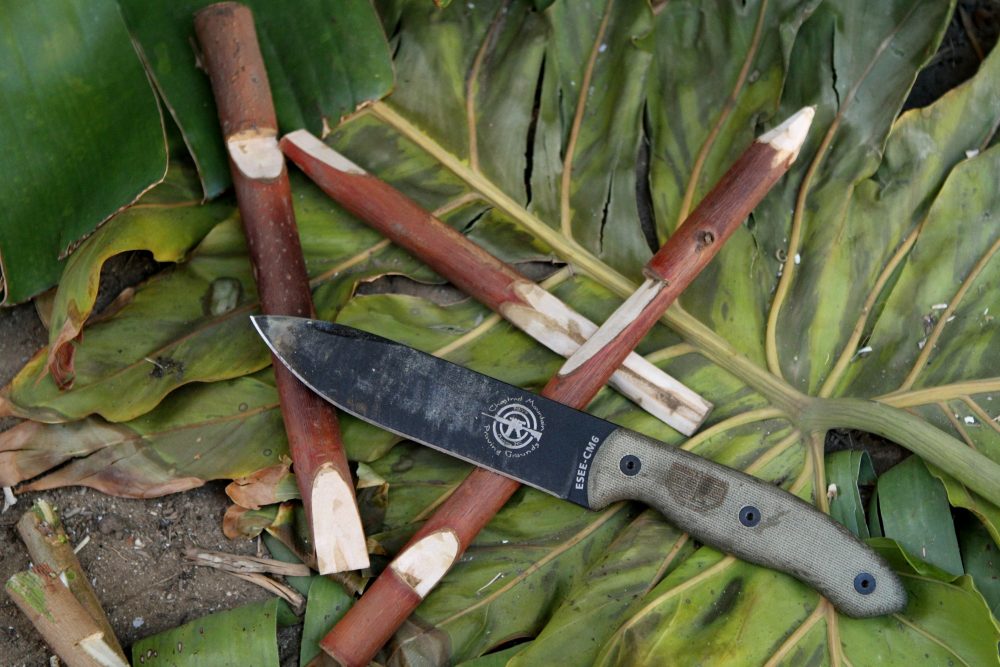 Doing small work with CM6 was no problem while making a figure-four deadfall trap. Even on semi-dry wood, thin grind carved like a smaller, thinner knife.
---
The blade is black powder coated with Chestnut Mountain Proving Grounds and PWYP etched on the blade. PWYP was a four-day camping and skills trip that Terrill held each year on his property.
The CM6 comes with a black Kydex sheath that features a metal spring clip for attaching to a belt or web gear. It has lashing points and can be adjusted for a variety of carry styles. Kydex was good for my specific trip because the blade and sheath were usually wet and muddy.
The CM6 is manufactured by Rowen Manufacturing in Idaho.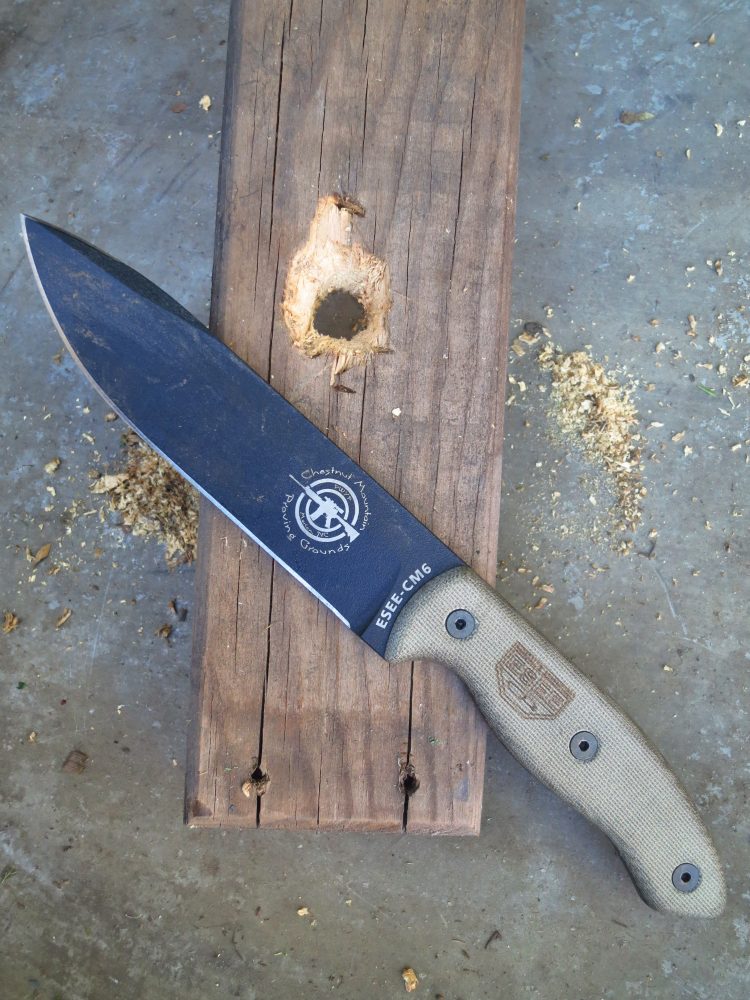 THE GAUNTLET
Luckily for me, I was on my way to Hawaii for some outdoor adventures when I picked up the CM6 at a show.
Before leaving the mainland, I took the CM6 to my old Korean War-era metal ammo box. For the first test, I stabbed the tip into the box using a reverse grip, then hammered it in a little farther with a chunk of wood. As expected due to the sharpened swedge, penetration was far superior to any other knife I own.
Drilling through wood was my next test for the CM6. I drilled each side of a 2×4 until the tip was peeking through. Surprisingly, this didn't take very long. After penetrating the ammo canister and drilling into the 2×4, the front portion of the main cutting edge still shaved hair off my arm. I'm no stranger to Rowen's heat treat found on every ESEE knife, so I can't say I was at all surprised.
The sharpened swedge is designed for penetration, but not limited to it. I personally wanted to test this feature as a scraper for general outdoor use, as well as its ability to pierce hard materials.
In my tropical camp on Kauai, Hawaii, I used a magnesium bar for tinder, but it needed to be shaved and collected. Rather than use my primary cutting edge for this task, I wanted to use the swedge (besides, I wasn't surviving—just camping out). I knew there would be more scraping tasks for making tinder and peeling green sticks, although there is a lack of leverage for that due to the length of the blade.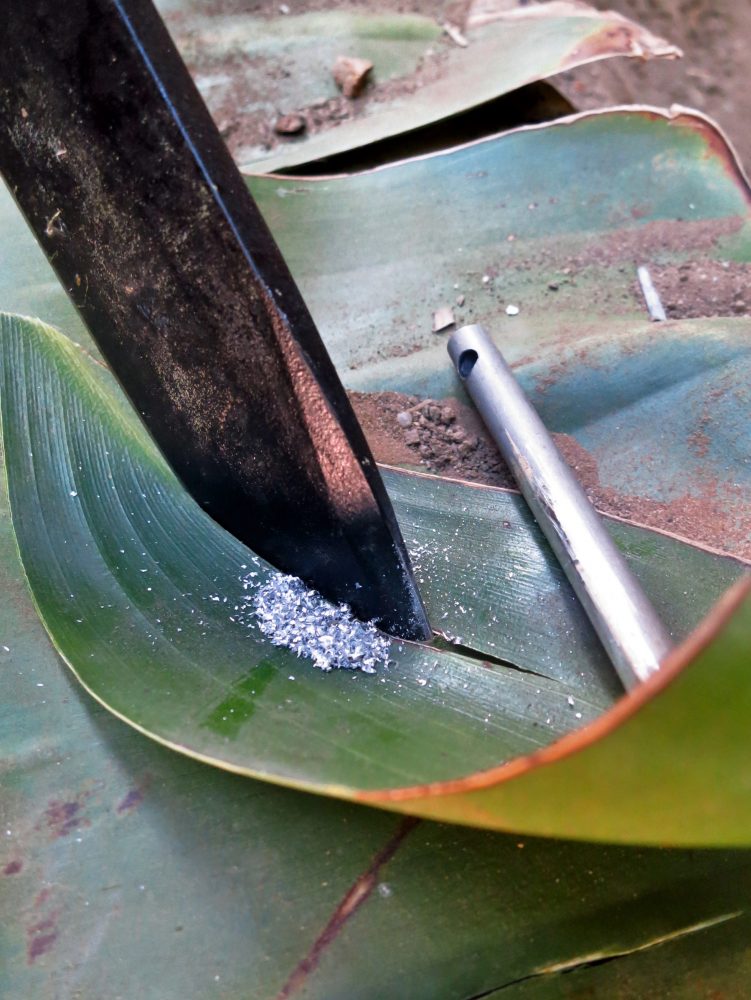 The best technique for scraping and peeling was to stab the knife into a piece of wood on a green banana leaf to collect the tinder shavings and keep them off the damp forest ground. Once the knife was secured, I drew the magnesium and wood against the sharpened swedge to produce shavings. As with sharpening, it's always more stable and energy efficient to move the smaller, lighter object.
Small work with a somewhat "bigger knife" was easily accomplished as I made a figure-four trap. The blade geometry of the high sabre grind left me plenty of flat ground area to bite deep into the wood when making trap parts and tarp stake notches.
When it was time to create a camp, the only tool I used was the CM6. Choking way back on the handle gave me enough leverage to lop off a few large banana leaves for preparing food on top of, and for piling them up to create a sitting mat. I had a few extra-large leaves to cover the fire when it would occasionally rain for a few minutes.
I also needed to procure quite a few broomstick-thick and finger-thick pieces of green wood to make utensils, pot hooks, and a quick hanging rig for my titanium kettle. No need for a machete—the CM6 was adequate for such basic light chopping tasks.
The hanging rig was a simple affair. I stuck two Y-shaped forked sticks into the ground, just a couple of feet apart, since this would be a small cook fire. I laid a green stick across the Y supports about 1½ feet above the fire to hold the kettle. I kept it low to the flame since the fire would be small enough for boiling and roasting.
Pot claws were quickly carved from green wood left over from the hanging rig. The CM6 felt comfortable and quicker in the hand than most knives of similar size. Even when putting a quick point on the tip of a green stick, it felt like I was using a lighter, shorter-bladed knife.
Having a strong yet sharp point is a must-have characteristic for a combat knife. Author plunged CM6 into a metal ammo box without any damage to the knife…only beauty marks.
---
The slicing capabilities of the CM6 were also impressive as I prepared to roast a Hawaiian delicacy—Spam!
On hikes and day trips where a fire wasn't needed, I took a Sterno-size can to warm up my tuna and boil my water. After eating the tuna, I converted the can into a "down and dirty" pot stand for my kettle. Once again, the penetrating ability of the CM6 helped cut vents around the can to create some space for air and raise the kettle. Crude, but it worked.
After using the blade as my can opener and cutting into the sides to create vents, the CM6 was still sharp and able to take on more of the green paradise with ease.
The ESEE-CM6 proved to be very versatile. The sharpened swedge enhanced this tool's usefulness. The high sabre grind helped keep the weight down while preserving its toughness.
Terrill Hoffman has designed a knife suitable for combat and outdoor utility. ESEE Knives has done his design justice, making it worthy of the name Tactical & Practical.
SOURCE
ESEE KNIVES
(256) 613-0372
www.eseeknives.com