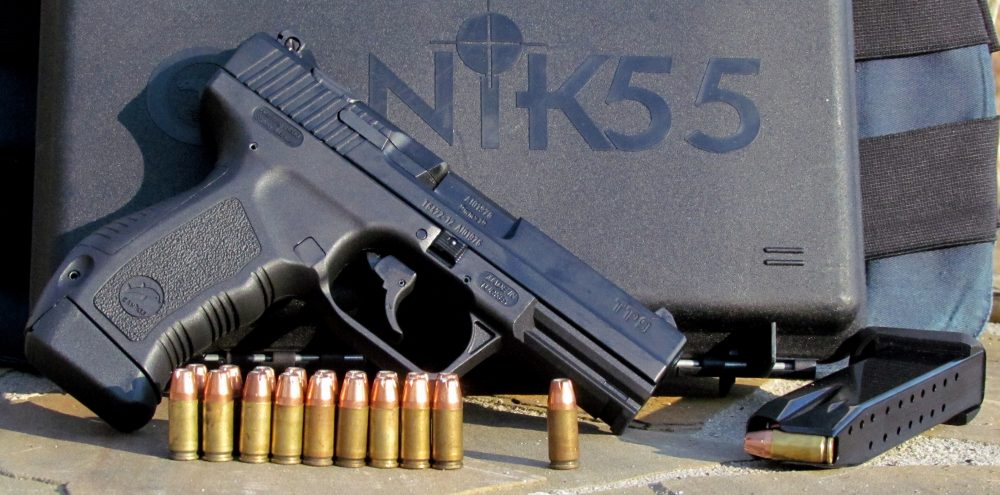 TP-9 comes with two 18-round magazines. Magazine baseplates meld nicely with pistol's grip.
---
In 1979 at age 13, I rode my bicycle to the local Otasco store and bought my first handgun, an Italian-made 1851 Colt Navy cap and ball replica in kit form, with money scrounged from an entire summer mowing grass. I still own and shoot that pistol.
In the subsequent decades, I scrimped, traded, and bartered through countless firearms in an ongoing quest to perfect my firearms collection, a quest that continues to this day. What I needed back in my early lean years was a reliable tactical handgun with plenty of bells and whistles that I could afford on my meager budget. It turns out I was just born a few years too soon.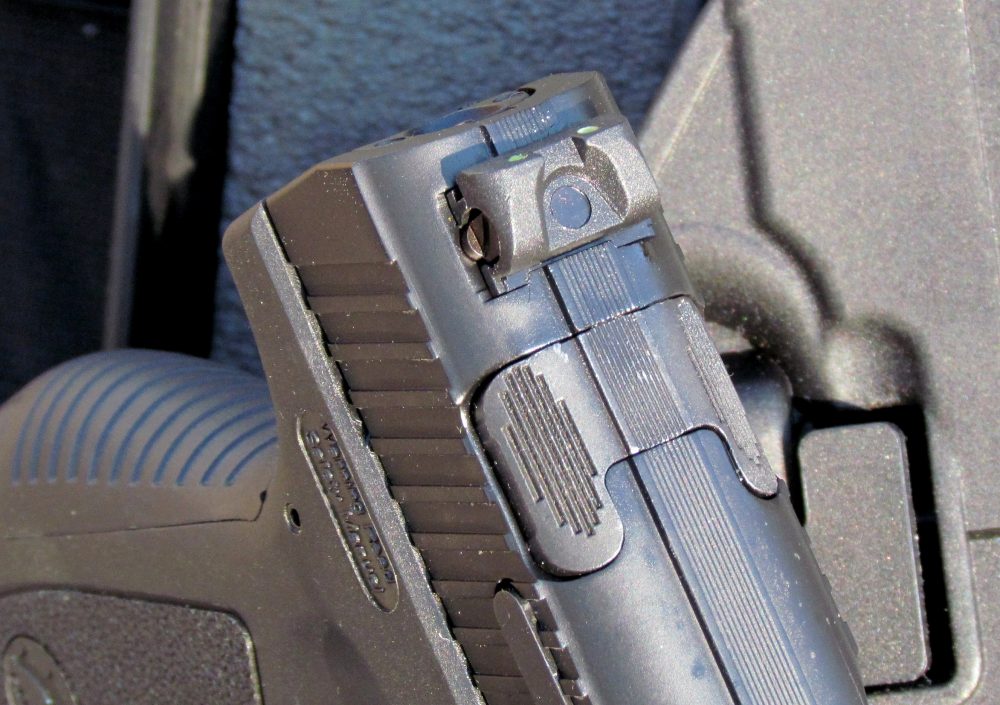 Ambidextrous decocker is mounted on top of slide. Activating this device unloads the striker for a longer double-action trigger pull.
---
Tactical firearms are big business these days. Societal uncertainty combined with a truly abysmal political landscape have fueled an orgy of commerce in guns, gear, and ammunition. And somewhere out there is the contemporary version of me, that young guy just getting into this gig who needs some good tactical iron that isn't going to bankrupt him. For this particular demographic—as well as a surprisingly wide additional audience—Century International Arms rides to the rescue.
The new Canik 55 TP-9 is produced in Turkey in a modern state-of-the-art facility. While Turkish firearms are not exactly ubiquitous on our side of the pond, the Turks have an excellent regional reputation for quality firearms. What their late entrance into the American firearms market means for U.S. shooters is a lot of cool for not much cash.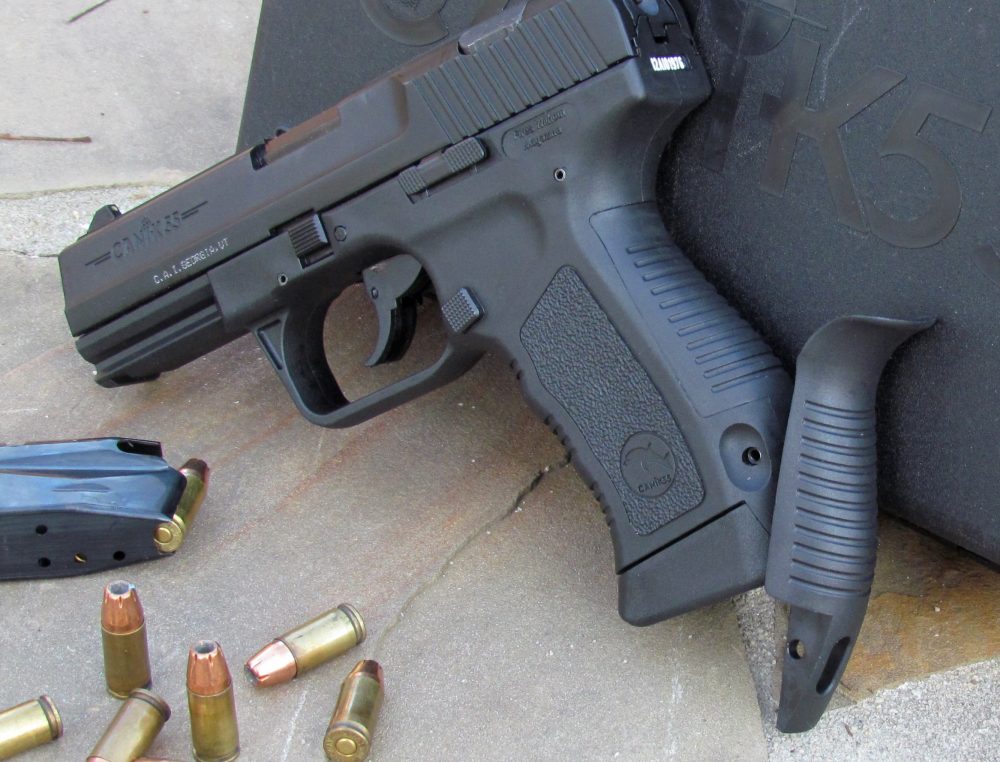 Walther P-99 pioneered replaceable backstraps. Two included with TP-9 encompass a broad spectrum of hand sizes and melt nicely into the frame.
---
IMITATION IS THE SINCEREST FORM OF FLATTERY
The TP-9 shares an obvious design lineage with the Walther P-99. The P-99 is, in this writer's opinion, a severely underappreciated handgun. I can honestly say that the Walther P-99 is my favorite plastic handgun design based upon ergonomics, trigger pull and reliability. It was good enough for James Bond in the movie Casino Royale, and 007 is a markedly more discriminating tactical operator than I will ever be.
Now the Turkish TP-9 brings most of what the German offering possesses plus some fascinating additional features.
Locking is via the time-proven Browning tilting lock system, wherein the barrel cams into the slide and is unlocked by means of an inclined plane milled into a locking lug beneath the barrel. This system is imminently reliable and embodied within the vast majority of tactical handguns produced today.
The envelope is slim and compact and provides a concealable chassis with nothing protruding to snag on gear or clothes. The most interesting aspect of both the P-99 and its Turkish clone, the TP-9, is its trigger system.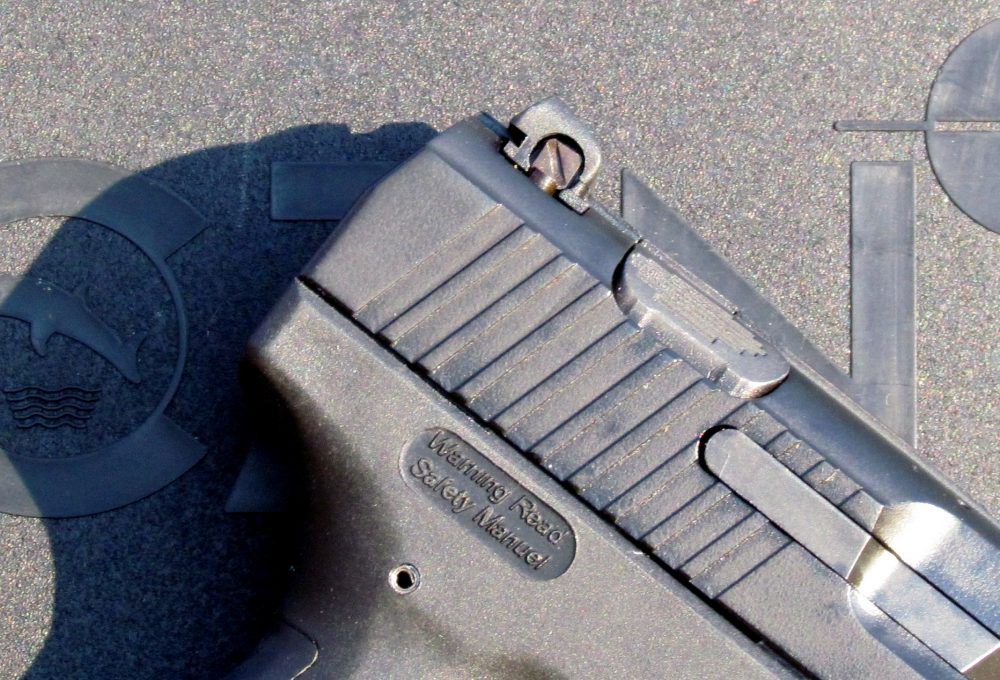 Rear sight is readily adjustable for windage, though luminous inserts seem a bit anemic.
---
Both of these pistols incorporate a user-selectable double-action/single-action trigger without an exposed hammer. In its default condition after charging, the trigger remains in the forward position, but the striker remains partially compressed.This yields a fairly long yet smooth trigger pull with a discrete take-up at the end of the stroke as the striker is fully compressed.
It is actually possible to pull the trigger back to this take-up point and stop, leaving the firing mechanism fully charged in the manner of a set trigger and ready to discharge with the slightest further pressure. In most tactical applications, these nuances are transparent. The operator simply presses the trigger and the weapon fires.
Should the operator desire a greater measure of safety, however, he may engage the slide-mounted decocking button and fully release the striker from its preset position. In this configuration, the first round has a longer, heavier double-action trigger pull while subsequent shots are fired in single-action mode.This configuration is not unlike the SIG 220 series, Beretta 92, or any other single-action/double-action automatic pistol.
For the operator who cannot make up his mind between a SIG P-226 or a Glock 17, the Turkish TP-9 gives him the option of either trigger system embodied within a single handgun.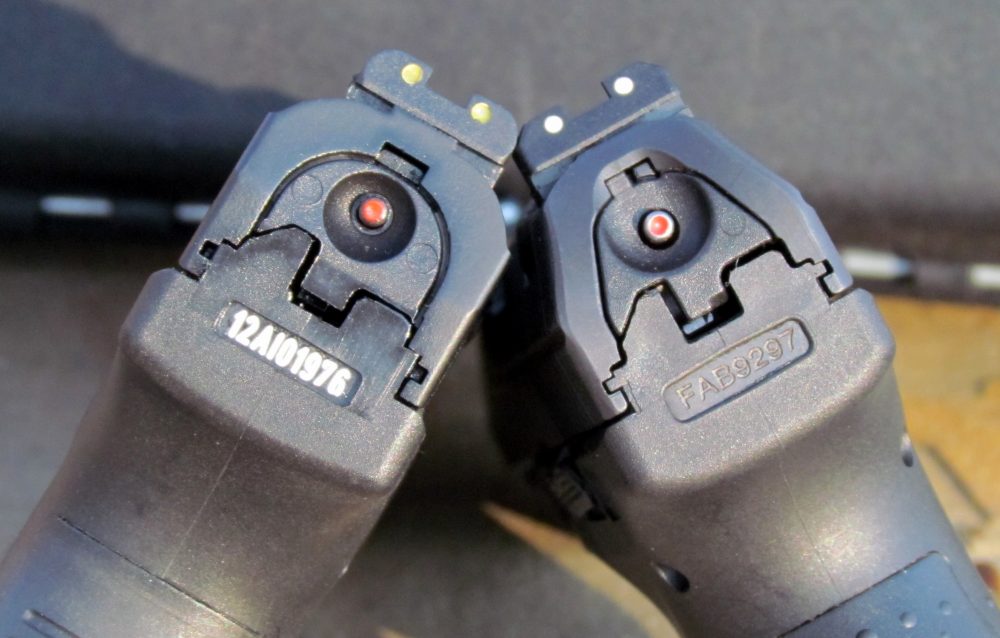 Just like the P-99 (right), tip of TP-9's (left) striker protrudes from back of slide when fully cocked to indicate its state. Dropping striker with frame-mounted decocker stows pin back in the slide.
---
Additionally, unlike the P-99, the TP-9 decocker is fully ambidextrous. The condition of both pistols is readily discernible by means of the rear tip of the striker protruding from the back of the slide when cocked.
There are other subtle differences between German parent and Turkish child. The P-99 has an ambidextrous lever to release the magazine, while the TP-9 sports a conventional one-sided button. Though the TP-9 magazine release is clearly reversible, there is scant mention of this in the manual. The German weapon sports a 15-round magazine while the Turkish box carries 18. Turkish TP-9 magazines are produced by Mec-Gar in Italy. The magazines are not interchangeable between the German and Turkish guns.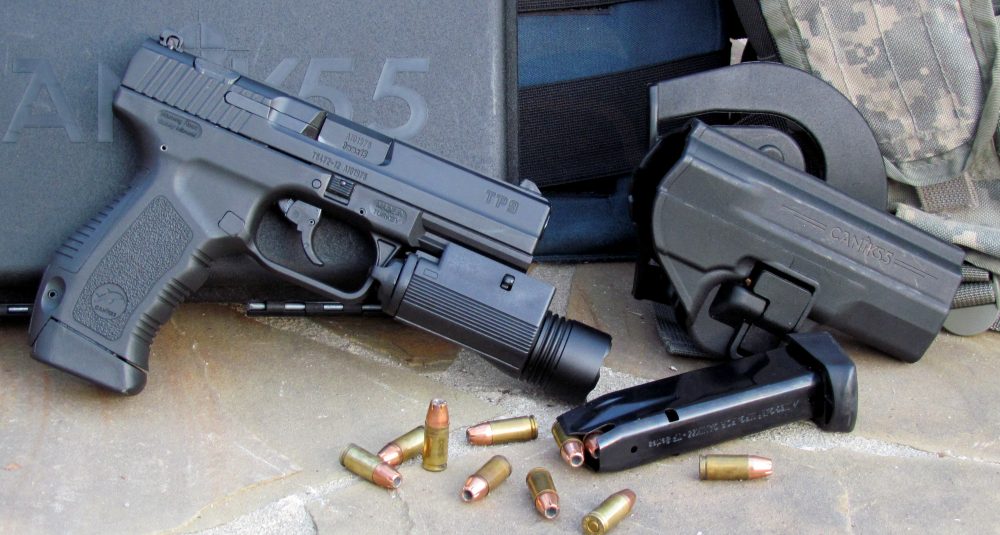 Dust cover is railed for standard accessories. Holster is included with pistol purchase.
---
DO-IT-YOURSELF PISTOLERO KIT
The Turkish TP-9 as imported by Century International Arms comes with everything the neophyte shooter needs to get started in tactical shooting and self-defense all wrapped up in an attractive plastic case. The gun comes with two 18-round magazines, full-color manual, and holster.
The holster incorporates a solid spring-loaded push-button retention device that is simple, effective, and intuitive to use, as well as interchangeable mounts for both belt and paddle use. These mounts incorporate a wide variety of mounting holes to facilitate any imaginable cant.
The dust cover sports the ubiquitous rail, and all the tactical lights in my collection fit perfectly. Interestingly, the rail is incrementally longer than that of the P-99 and as a result accepts some accessories that the German gun will not. The TP-9 also dispenses with that wretched magazine disconnect safety so prevalent these days from some manufacturers.
Quality and workmanship of all supplied components appear flawless. There are no discernible machine marks on the test gun, and the finish is uniform and pleasing.
The overall impression is that of a top-notch product from a reputable manufacturer. In addition, the slide, frame, and barrel sport matching serial numbers. While this is clearly superfluous in the days of CNC machining and mass production of weapons, it is a nice professional touch that harkens back to those pre-World War II artisans in Germany who serial numbered everything but the screws.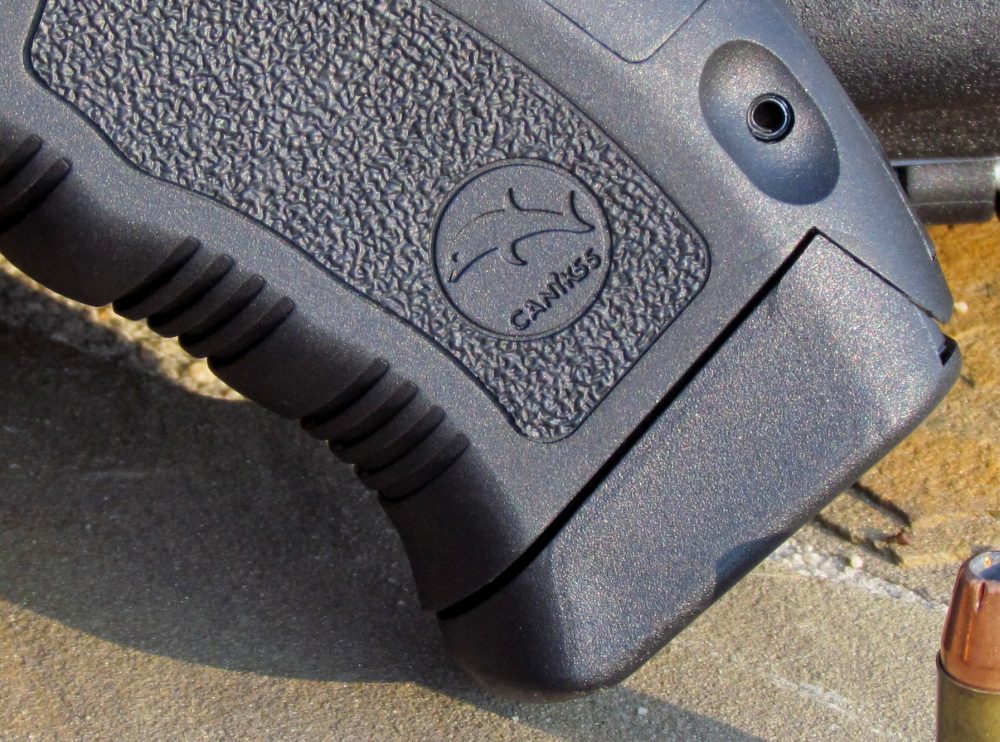 Side of frame sports cavorting dolphin logo. While this may not strike fear in the hearts of your enemies, it is aesthetically pleasing. Frame stippling is generous and effective.
---
HOW DOES IT RUN?
On the range the TP-9 was extraordinary. There were no failures encountered in extensive testing with ammunition ranging from top-end defensive loads to steel-cased bulk ball to some of my ancient subsonic reloads of questionable quality. The TP-9 ate everything without a hiccup.
The 18-round magazine provides sufficient weight to make recoil appreciably more manageable than comparable designs with a shorter grip, the Walther P-99 among them. As with the German P-99, trigger reset is remarkably swift.
The rear sight is adjustable for windage via a recessed screw, and both sights incorporate greenish dots. The literature claims that they are tritium powered, but the sights on my piece were not nearly as luminescent as comparable Glock or HK versions. The magazines do indeed reliably carry 18 rounds, but you have to want that last round pretty badly to stuff it in. Counting a round in the chamber, the TP-9 carries a whopping 19 rounds.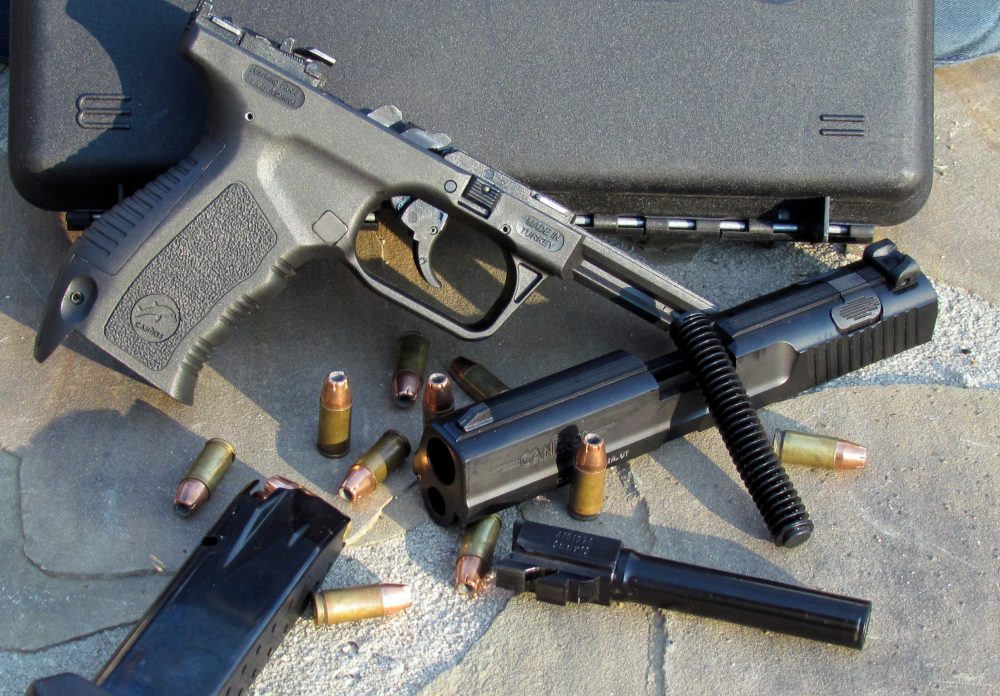 Disassembly is stupid-proof. It requires no tools and takes mere moments. All parts are nicely executed and uniformly finished.
---
The Walther P-99 pioneered the now-commonplace interchangeable backstraps, and the TP-9 comes with two. Interface between the polymer frame and the backstrap is near seamless. I have moderately long fingers, and the large backstrap fits me perfectly. The smaller version seemed comfortable in the grasp of my 14-year-old daughter. Of potential shooters, 99% should fall between those two extremes.
I fired the TP-9 alongside my P-99, SIG P-226, Steyr M-9, HK USP and Glock 22 with a 9mm conversion barrel, and was frankly amazed to find that I shot better and tighter with the TP-9 than any of the name-brand competition.
Due to its 18-round magazine capacity, the grip on the TP-9 is slightly longer than most, and that ¼ inch makes a remarkable difference in ameliorating muzzle flip and recoil. My test gun shot to point of aim out of the box without any sight adjustment.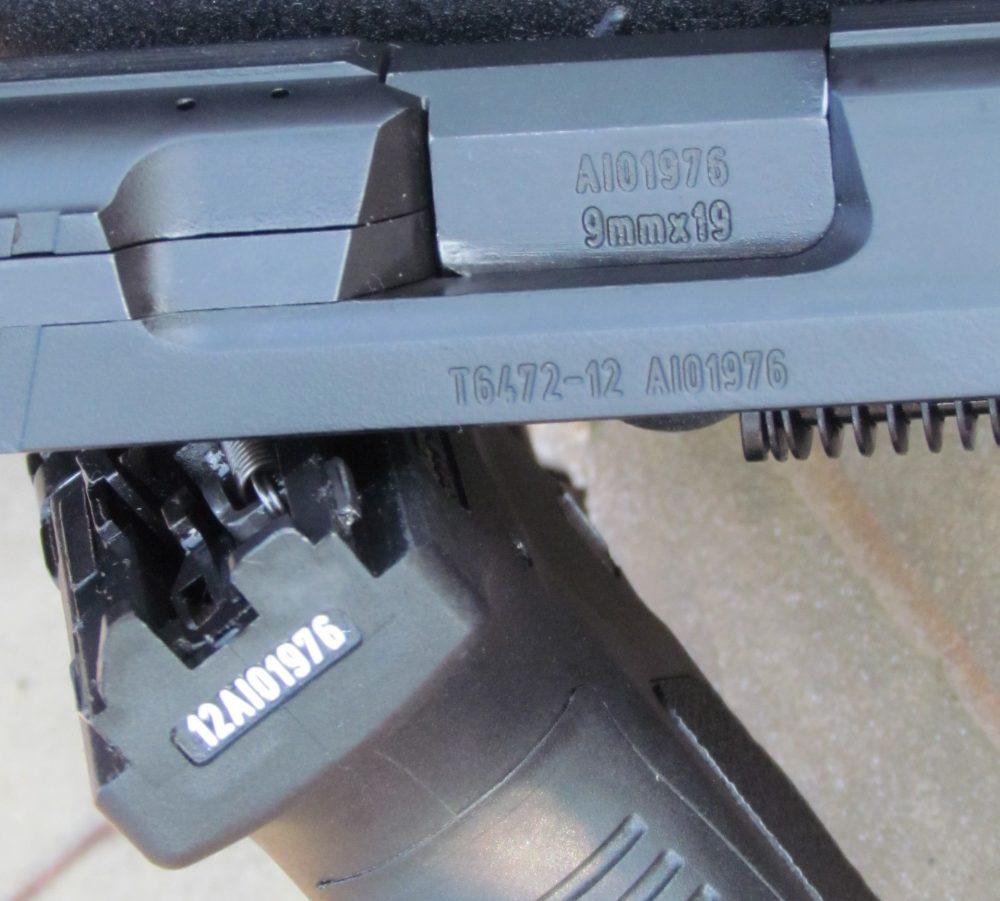 Frame, slide, and barrel all sport matching serial numbers—a nice professional touch.
---
LET'S TAKE IT APART
Clear the weapon and point it in a safe direction. Activate the decocker and pull down on the disassembly catch in front of the trigger guard. Let the slide run forward off the frame rails. The barrel and recoil spring assembly pop out of the slide just like most tactical handguns on the planet. That's all there is to it.
The logo on the side of the frame shows a cavorting dolphin. I don't have a clue as to the significance of this, but it is not aesthetically displeasing. The 18-round magazine incorporates a generous baseplate assembly that melds into the pistol grip to enhance the gripping surface. This feature would hypothetically make removal of a stuck magazine much easier, but it's a moot point as both magazines dropped freely away with ease during rapid magazine changes.
UNIQUE OFFERING
In a sea of "tactical" handguns, the TP-9 is genuinely unique. The system was clearly designed and executed by somebody who has carried and used a handgun before. The weapon is well made and was completely reliable in my extensive testing. It incorporates all the tactical bells and whistles that we expect from today's name-brand defensive pistols and actually sports some improvements as well as a prodigious magazine capacity. The argument could be made that if you cannot deal with your problems with 37 rounds of 9mm jacketed hollow point, you should seek out a different set of problems.
And now comes the punchline. The TP-9 shot better than any handgun in my stable, yet the entire package is currently available from wholesale sources for around $300. That is frankly phenomenal. The luminous sights are not very bright, but at a bit more than half of what its competitors cost, I will cut them some slack.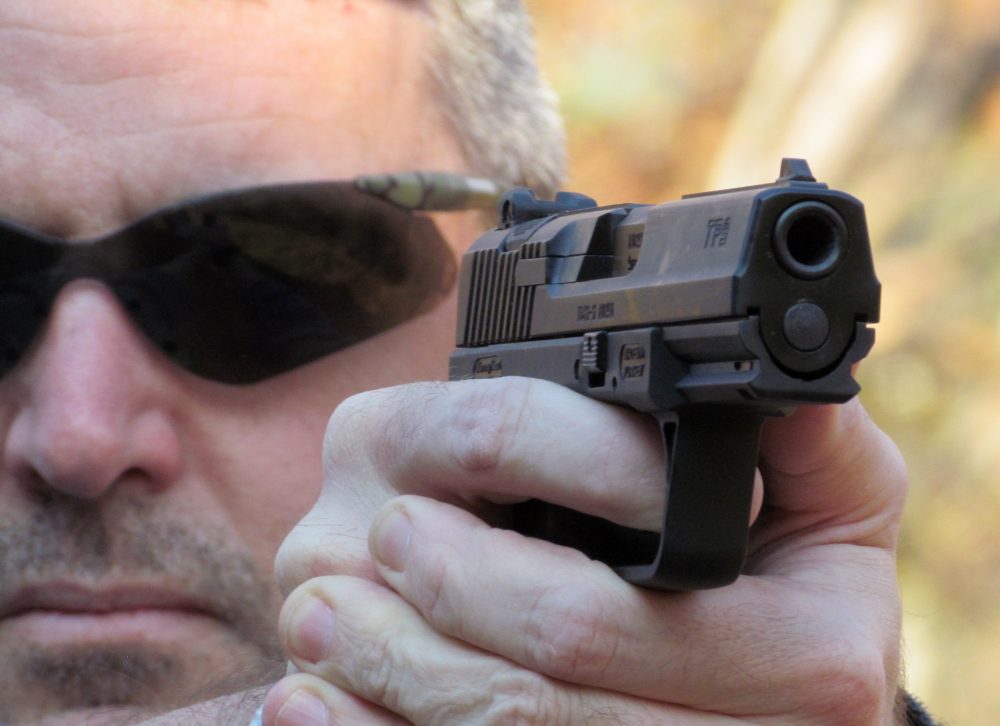 If serious gunmen can get over the stigma of carrying a pistol that comes from a little-known manufacturer and sports a leaping dolphin on the grip, the TP-9 is an amazing handgun at a mind-boggling price.
---
I see three major niches for the TP-9 among American shooters. For the new shooter on a budget who needs a reliable defensive tool with plenty of associated bling, the TP-9 is an obvious solution. That hypothetical young shooter can pack iron like the big dogs and have plenty of cash left over for ammo and food.
For those of us who already have a few guns, the TP-9 is a great deal as well. I can use the TP-9 as a car gun for literally half what a name-brand firearm might cost and still end up with plenty of mags and carry gear.
Lastly, if you are a serious gunman and can get over the stigma of carrying a handgun with an aquatic mammal on the side made by a company nobody recognizes, I have to reluctantly admit that the TP-9 actually runs better than my "fancy" plastic pistols.
To call me middle aged would be generous, and I've been writing for gun magazines for more than 20 years. It's difficult to impress me with a new firearm these days, yet I was genuinely impressed with this pistol. It is an extraordinary value considering the features it brings to the table and the thoroughness with which it has been executed.
I could not make a legitimate complaint about any of it and am quite floored at the price. Once again, Century comes through with the goods.

SOURCE:
Century International Arms
(800) 527-1252
www.centuryarms.com