I've shot a lot of battle rifles designed for indoor training with .22 Long Rifle ammo. This has included the excellent German conversion units for the G3/HK91 and FAL, purpose-built AK .22 rifles, AR-15 conversion units, and purpose-built AR-15s in .22 Long Rifle. The M&P15-22 I've been shooting for the last few weeks may well be the best I've ever tried. If I factor cost and convenience into the mix, it certainly is.
Smith & Wesson set out to create a carbine which would allow law enforcement agencies to train inexpensively on indoor pistol ranges, sport shooters to have a reliable M4-type carbine in rimfire chambering, and a new generation of youthful shooters to have a .22 carbine which functions virtually the same as the U.S. military issue carbine. That last group may be especially important to the future of the United States, since young men and women who grow up as shooters are also more likely to enter law enforcement or the armed forces.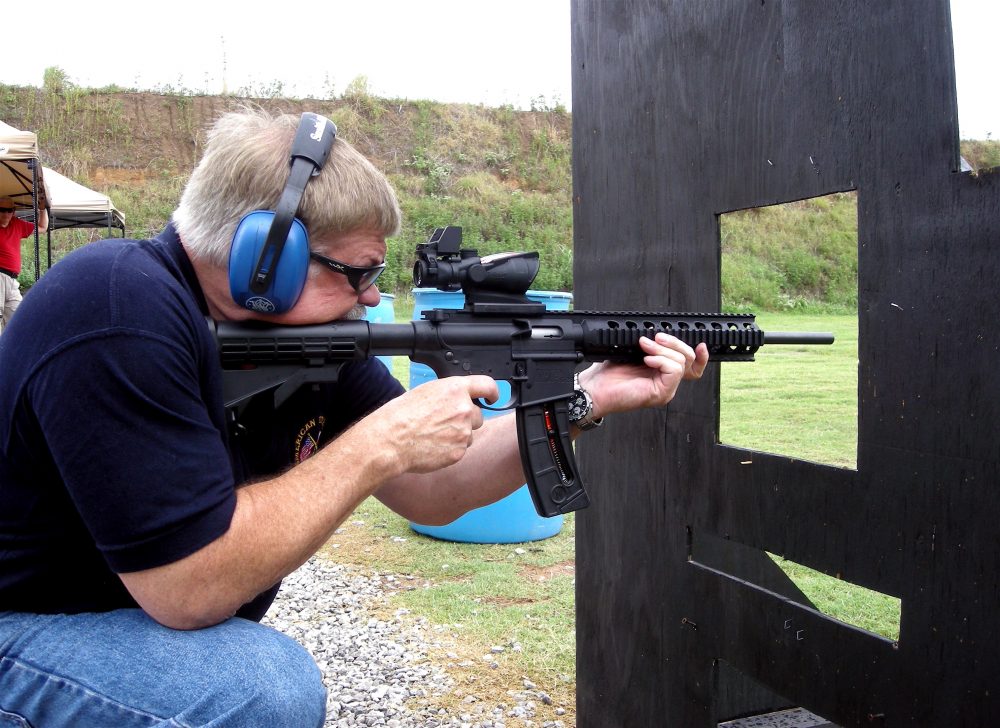 Thompson practices engagement from "cover" with M&P15-22. Optic is Trijicon ACOG TA31DOC, which has piggybacked red dot sight.
---
Among the features that the M&P15-22 shares with the M4 are the six-position collapsible stock, A3-style flat-top receiver, quad accessory rail, working bolt release, 90-degree safety, standard position mag release, A2 pistol grip and standard takedown. Smith & Wesson even gave thought to training when they made the receiver extension tube milspec so it will take SOPMOD, EMOD, or other enhanced stocks.
As both the upper and lower of the M&P15 .22 are made of high-strength polymer, weight of the .22 is a bit less at around five pounds, but the 16-inch barrel and 34-inch length with stock extended are standard for 16-inch barreled M4s. Barrel twist on the .22 carbine's match-grade barrel is 1:15.
One thing that is different is magazine capacity. While standard M4 5.56mm magazines take 30 rounds, the M&P15-22 magazine takes 25 rounds. The magazine is well designed for ease of loading, with a thumb button to help depress the spring. It is also feeds very reliably. The carbine is supplied with one magazine, but spares should be available soon at around $30 each. By the way, for those of you reading this who are trainers and have learned to consider how cop/soldier-proof a weapon is, the M&P15-22's mag well will not take M16 mags—I tried.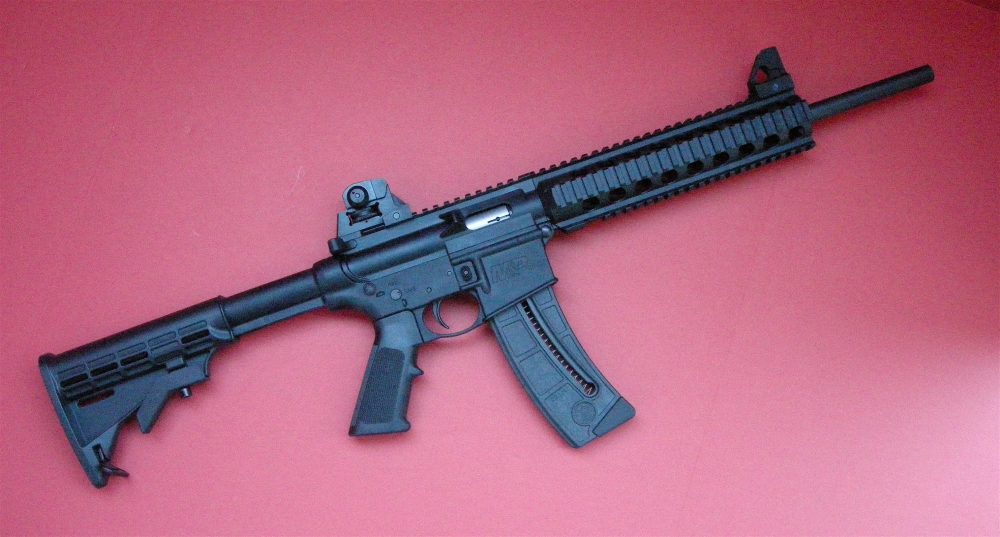 M&P15-22 with iron sights that come on the carbine. Note also A3 flattop and quad rail.
---
I have had a chance to shoot the M&P15-22 quite a lot over the last month. Smith & Wesson sponsored an event for writers to shoot the new .22 carbine and other new guns at the U.S. Shooting Academy (USSA) in Tulsa, Oklahoma, and I was invited. I put about 300 rounds through various M&P15-22 carbines on four different ranges and found it accurate and reliable. I was extremely impressed with the new carbine, as was every other writer there with whom I spoke.
In fact, though we all did a lot of shooting with various guns on the first day, the only ammo the Smith & Wesson reps had to go out and purchase because they ran low was .22 Long Rifle. I think we shot up most of the additional .22 ammo on the second day. The M&P15-22s got a lot of use and performed well.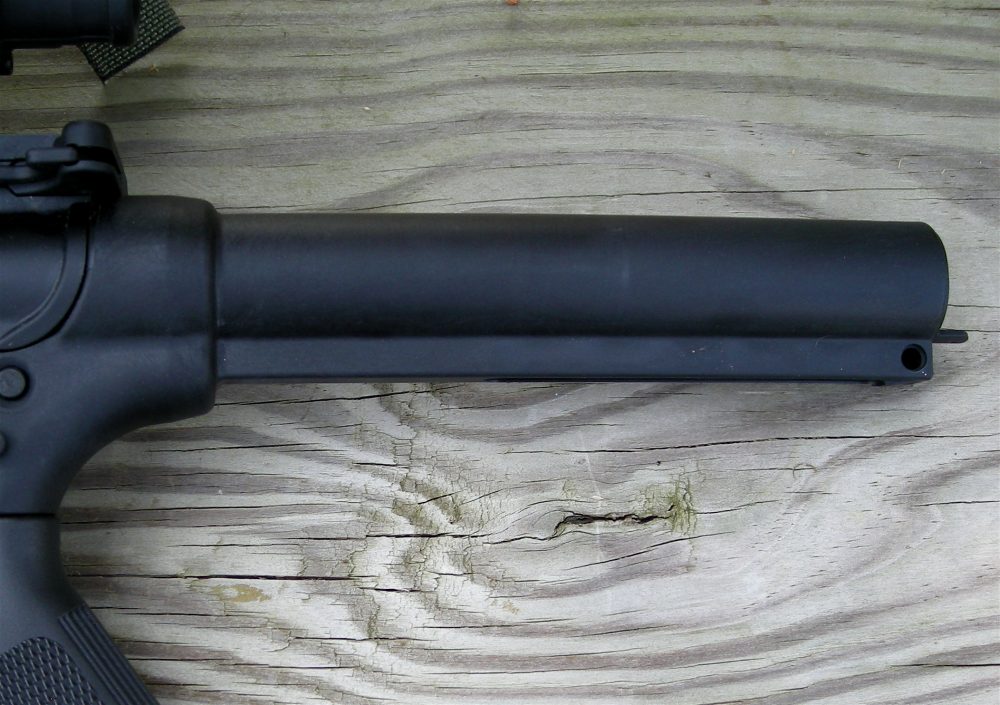 M&P15-22's receiver extension tube is milspec to take an array of stocks.
---
My test M&P15 .22 had come in a couple of days before I left for Tulsa, so I knew I would have a chance to do more long-range shooting with it when I returned home. Consequently I decided to take advantage of the ranges with pop-up targets at USSA. I shot the M&P15-22 mostly at ranges of 10 to 25 yards, with some shooting at 50 yards. Many of the targets were pop-ups that were only visible for a couple of seconds. I also did quite a bit of shooting on a range that allowed me to shoot using different types of "cover." That gave me a chance to really evaluate the handling and ergonomics of the .22 carbine.
I believe that to really properly use a .22-caliber training M4, you should use the same optics you use on your "duty" carbine. Admittedly that's expensive, but to properly train it is necessary. Removing the optic from the 5.56mm carbine and installing it on the .22 carbine requires re-zeroing for each carbine, each time. I was happy to see that Smith & Wesson had installed either Trijicon ACOGs or Trijicon Reflex sights on the M&P15-22s they had for the writers' event. This allowed me to shoot with optics that I use a lot.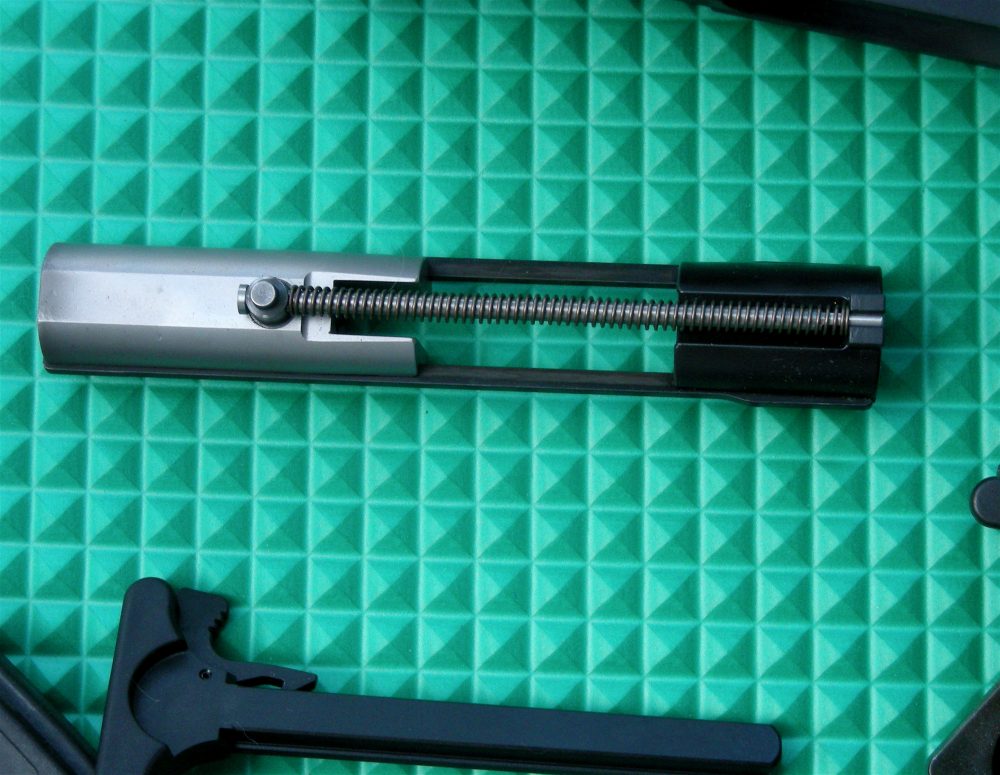 M&P15-22's bolt may be removed to allow thorough cleaning.
---
The M&P15-22 comes with very good BUIS (back-up iron sights), which may be easily detached to install an optical sight. I did some shooting at USSA with an M&P15-22 with the iron sights, and like them quite well. I also zeroed the iron sights on my M&P15-22 before removing them, a practice I recommend.
I found the M&P15-22 accurate, fast handling, and instinctive to shoot since controls are exactly where I expected them to be on an M4. The 90-degree safety allowed me to operate it quickly in the manner I normally do. The working bolt release also let me practice slapping it with my palm after a reload.
Since I had my M&P15 .22 waiting at home, I did not do accuracy testing at Tulsa. Some other writers did and got good results. Two writers were getting five-shot groups of around an inch at 50 yards. I've been told by those who shoot .22 rifles more than I do that anything better than two MOA with a .22 rifle is quite good due to the effects of wind, and those who had shot the one-inch groups seemed quite happy with them.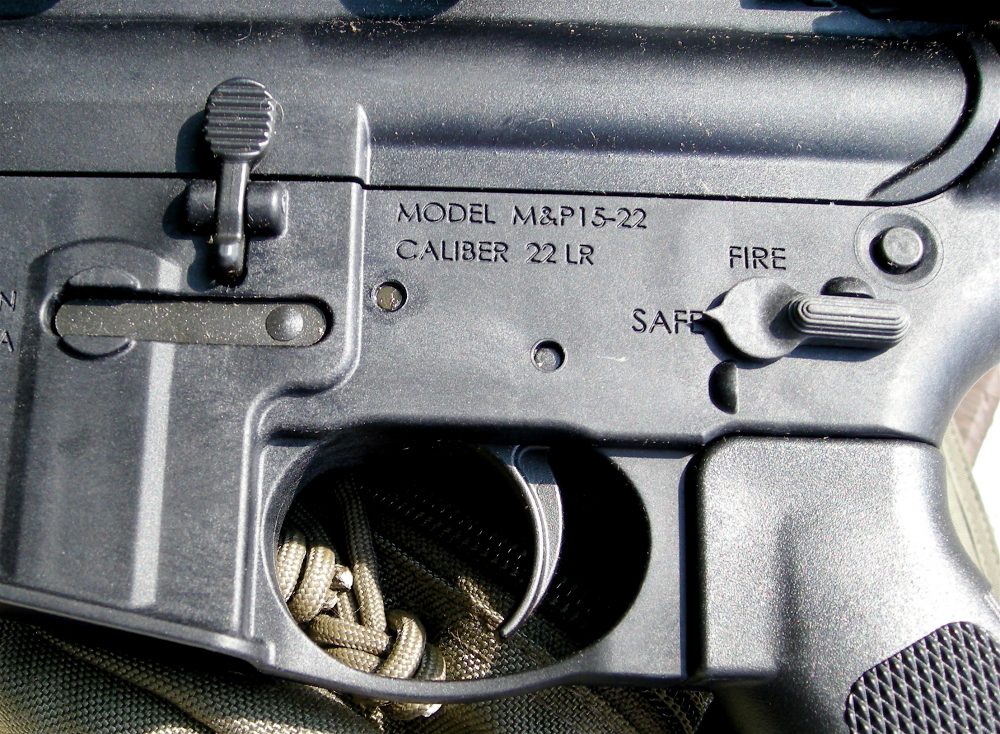 Working bolt release and 90-degree safety.
---
I have now put another 300 rounds through my M&P15-22. By the way, both the shooting at Tulsa and my shooting were with CCI Mini-Mags, which I have generally found accurate and reliable.
I wanted to use an ACOG of the type I normally use, so took the opportunity to test the ACOG TA31F-G 4X32, which uses a green chevron. While zeroing the ACOG at 50 yards, I got one three-shot group of about 3/4 inch from a rest and others just over an inch. When I moved to 100 yards to zero the ACOG at that distance, my best groups were around three inches from a rest.
I wanted to try some offhand shooting at 100 yards and, since the M&P15-22 is a "fun gun" as well as a training gun, I decided to try out some unusual fun targets I had gotten in from Zombie Targets.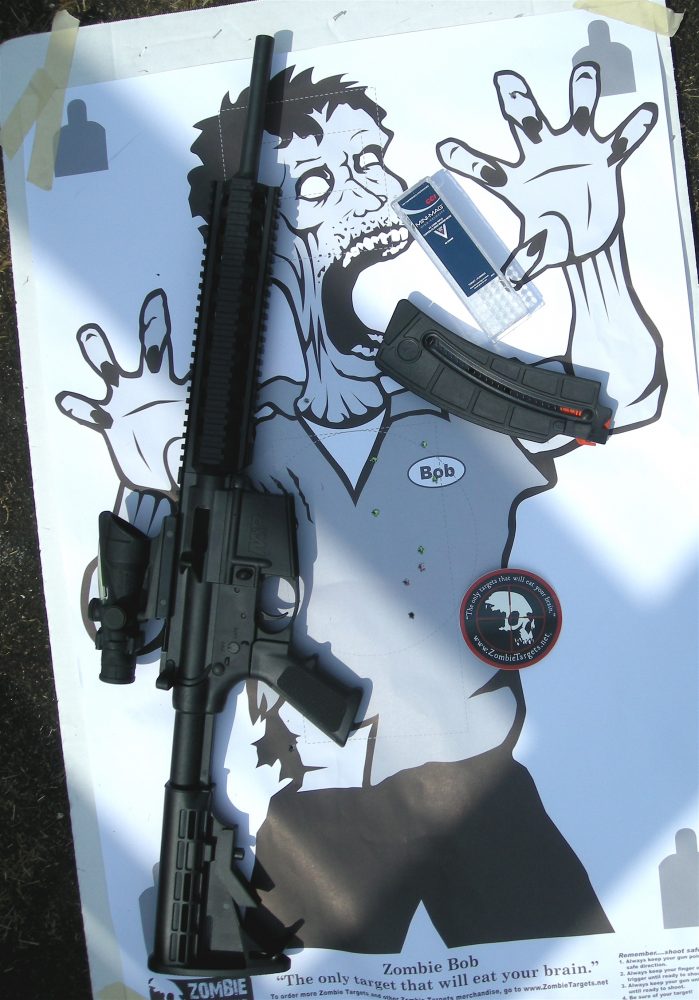 As most of you (other than my culturally deprived shooting buddy who gets zombies and vampires confused) know, it takes a lot of killing to put a zombie down. Therefore I decided to try quickly zippering the zombie offhand at 100 yards. My eight rounds fired quickly ran from the top of his stomach, or where it used to be, to the bottom of his neck. Since recoil is nonexistent with the M&P15-22, it was easy to hold the carbine on target.
Reliability is always an issue with .22 pistols and rifles, since they tend to get dirty—a greater problem with smaller tolerances—and malfunction. Amidst all of the shooting at Tulsa, I only saw a few malfunctions. I didn't see the Smith & Wesson reps cleaning the .22 carbines, but they may have when we took breaks or at night. I only had three or four malfunctions with my carbine and those were toward the end of the shooting session, when it had fired at least 200 rounds. Based on my experiences alone, I can't say that the M&P15-22 is completely reliable, but I can say it is highly reliable.
Cleaning the M&P15 .22 is quite easy, especially for those used to maintaining an M4 or other AR-15 type rifle/carbine. The take-down pin pushes out as on a standard M4 and is captive, so it cannot get lost. Once the upper receiver is rotated upward, the charging handle and bolt may be removed. It is then easy to use a brush soaked in solvent on the chamber and barrel from the rear. After pushing through a clean patch and oiling, including the spring and bolt, the rifle reassembles in standard fashion. For those who purchase the M&P15-22 as their first rifle or carbine of this type, the instruction manual is very clear on takedown and operating procedures.
Cosmetically, the only way in which the M&P15 .22 differs dramatically from a standard M4 is that there is no flash hider. I asked the S&W reps about this, and they told me that they wanted to be able to readily market the carbine in states with laws restricting magazine capacity and/or flash hiders.
By the way, a version with a 10-round magazine is available for sale in states that limit capacity. I understand that it is likely that a version with a flash hider will be offered later. There also is no M4 front sling swivel, so if using it as a training rifle, a method for mounting the tactical sling may have to be rigged.
Overall, I am very impressed with the M&P15 .22. It is an excellent training carbine that may also be used for recreational shooting. Even better is the suggested retail price of $499, right at or less than some .22 LR upper receivers, so even at full price it's a bargain. The savings on 1,000-1,500 rounds of 5.56mm NATO ammo alone will pay for it. I certainly plan to shoot my M&P15-22 a lot.
SOURCES:
Smith & Wesson
Dept. S.W.A.T.
2100 Roosevelt Ave.
Springfield, MA 01104
(800) 331-0852
www.smith-wesson.com
CCI Ammunition
Dept. S.W.A.T.
2299 Snake River Ave.

Lewiston, ID 83501
(800) 256-8685
www.cci-ammunition.com
Trijicon, Inc.
Dept. S.W.A.T.
49385 Shafer Ave.
Wixom, MI 48393-0059
(800) 338-0563
www.trijicon.com
Zombie Targets
Dept. S.W.A.T.
P.O. Box 683384
Marietta, GA 30068
(770) 624-4185
www.zombietargets.net