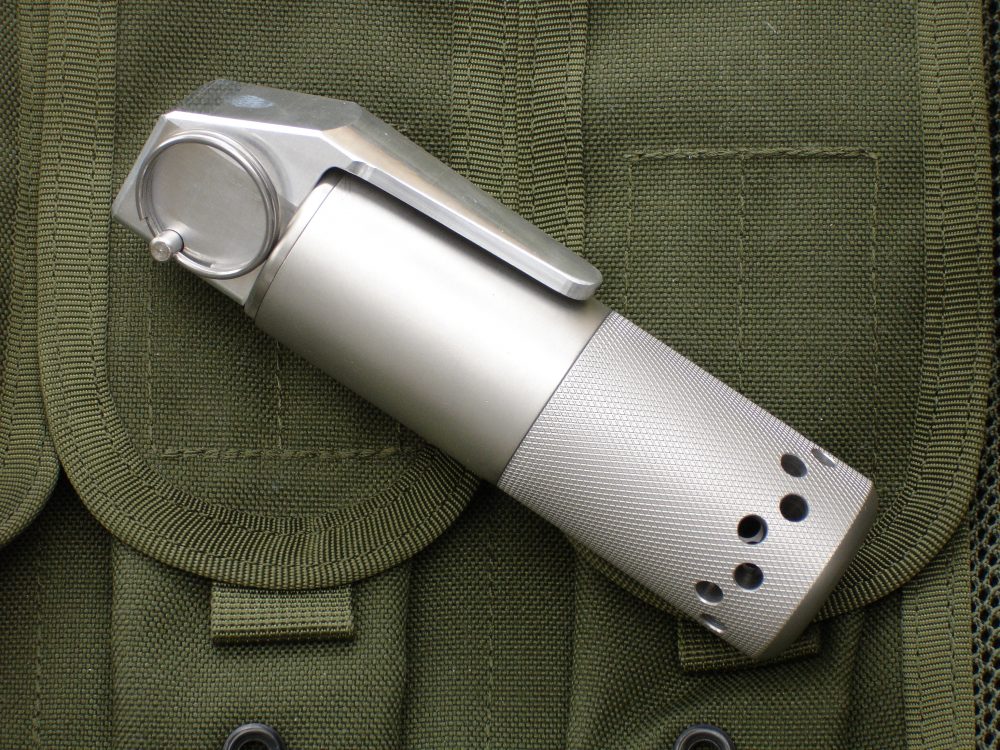 Royal Arms FBG-1 Flash Bang Grenade Trainer is a revolutionary new impact "detonated" flash-bang device that provides realistic low-cost training.
---
I generally don't get too excited about new products. Royal Arms International's patent-pending FBG-1™ Flash Bang Grenade Trainer™ is an exception.
The Flash Bang Grenade Trainer is a truly revolutionary reloadable impact-fired flash-bang device that offers numerous advantages over other noise flash diversionary devices (NFDD) training systems. After seeing a demo of the FBG-1, the tactical team of a major West Coast law enforcement agency immediately placed a $10,000 order for the devices. That's high praise indeed.
The Royal Arms FBG-1 is what is known as a blank-firing impact grenade (BFIG). It contains a mechanism that is designed to fire a blank cartridge when the device is thrown or dropped from a height of about one meter onto a hard surface. The FBG-1 is deployed in the same manner as a traditional flash bang.
During my testing of the FBG-1, its performance proved exceptional. In over 100 deployments, reliability was 100% when the device was deployed within its design parameters.
Royal Arms 12-gauge blanks for FBG-1 produce 175 dB and 500,000 candelas at five feet.
---
Traditional M201 fuze-type flash bangs have inherent problems in their design. These include "instantaneous" functioning as a result of flash through in the fuze assembly, fuze function failures, ejection of the fuze at velocities sufficient to cause serious and potentially lethal injuries, fires that result from smoldering cardboard body fragments, and susceptibility to sympathetic initiation from bullet impact.
A standard M201 fuze has a delay of 1.5 seconds +/- .03 seconds. This translates to anywhere from 1.2 to 1.8 seconds and creates uncertainty as to where the flash bang will go off, increasing the potential for injury. The timing on a military M201A1 fuze is even less accurate, with a delay ranging from 0.7 to 2 seconds.
The FBG-1 was developed to overcome the shortcomings of M201 fuze type flash bangs. It doesn't have a fuze or time delay. It "blows" where it's thrown. You can deploy it against any object, such as a floor, wall, ceiling, window, slider, second story, car door, etc. There's no worry about fuze separation. It won't start fires, is cool to the touch immediately after firing, and produces minimal smoke.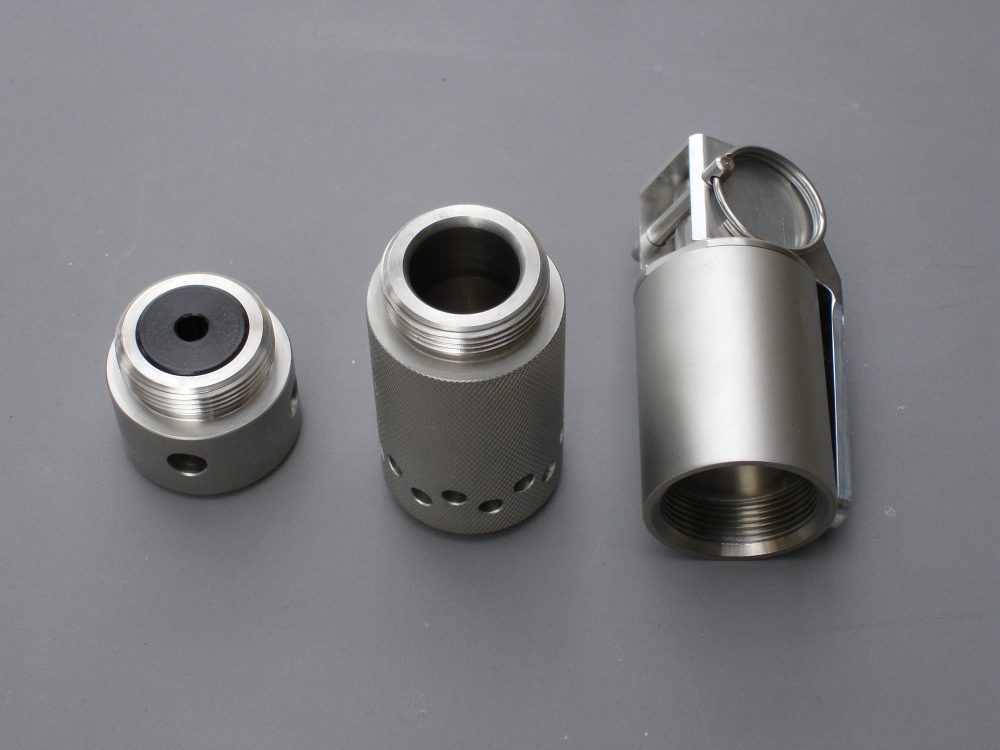 Royal Arms FBG-1 comes with two screw-on cartridge chambers. They allow operator to use either special 12-gauge blanks or standard 209 primers, depending on training scenario.
---
The design and workmanship on the FBG-1 are outstanding. Everything on the FBG-1 is overbuilt for ruggedness. It is machined from solid milspec-grade 304 stainless steel and aircraft aluminum at Royal Arms' Oxnard, California facility. The body, firing mechanism, cross-pin block, and cartridge chambers are stainless steel for strength and durability. The spoon is aluminum to reduce weight.
The FBG-1 comes with two screw-on cartridge chambers—a large (longer) cartridge chamber for 12-gauge blanks and a smaller (shorter) cartridge chamber with a 209 primer insert for standard 209 primers. Both for safety and to meet BATFE requirements, the 12-gauge chamber won't accommodate standard length (2 ¾-inch) shells.
The operator can use either Royal Arms special 12-gauge blanks or standard 209 primers with the FBG-1. The 12-gauge blanks produce 175 dB at five feet and 500,000 candelas. In comparison, the 209 primers produce 118 dB at five feet—about the same as a small firecracker. At roughly five cents per bang, you certainly can't beat 209 primers for cost effectiveness.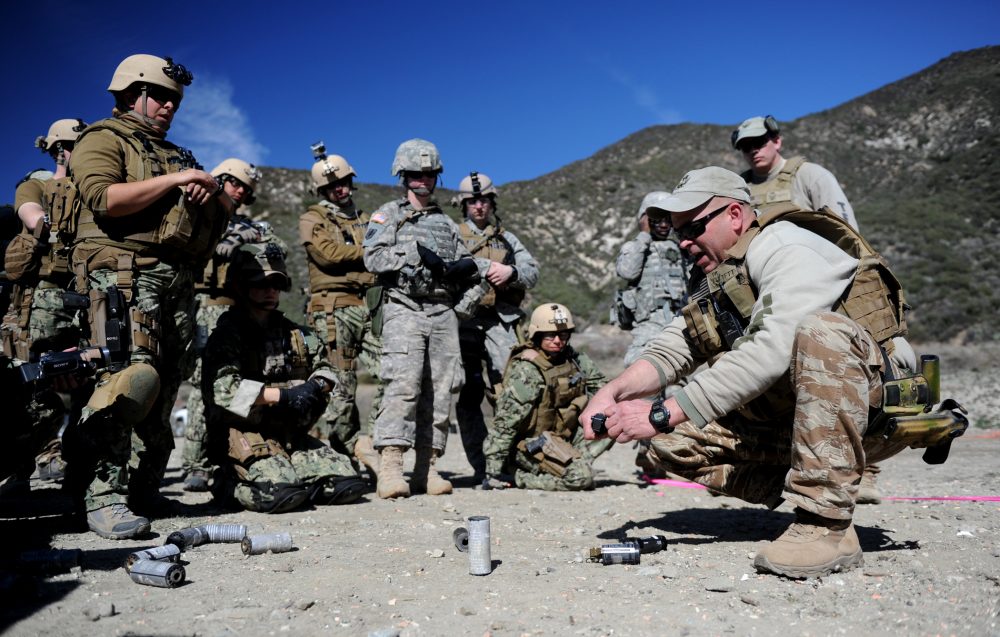 Max Joseph, director of Tactical Firearms Training Team (TFTT), gives briefing on flash-bang handling procedures during Winter Quick Shot 2012 in Azuza, California. Sound policy and proper training are keys to safe and effective employment of NFDDs. Photo: U.S. Navy by Mass Communications Specialist 1st Class James E. Foehl/Released.
---
The FBG-1 measures 5.625 inches (142.875mm) long with the large chamber. It's 1.75 inches (44.45mm) wide including the spoon. It weighs 1.742 pounds with the large chamber and 1.279 pounds with the small chamber.
Safety was paramount in the design of the FBG-1. The safety spoon and cross-pin block eliminate any chance of an accidental discharge. The cross-pin block has a spring-loaded ball detent that acts as a secondary safety, preventing the cross-pin block from being released unless the pull ring is deliberately pulled. The cross-pin block prevents any movement of the firing pin toggle.
The firing pin is of inertia design. The FBG-1 comes with two firing pin springs—a heavy spring for use with the 12-gauge chamber and a lighter spring for the 209 chamber.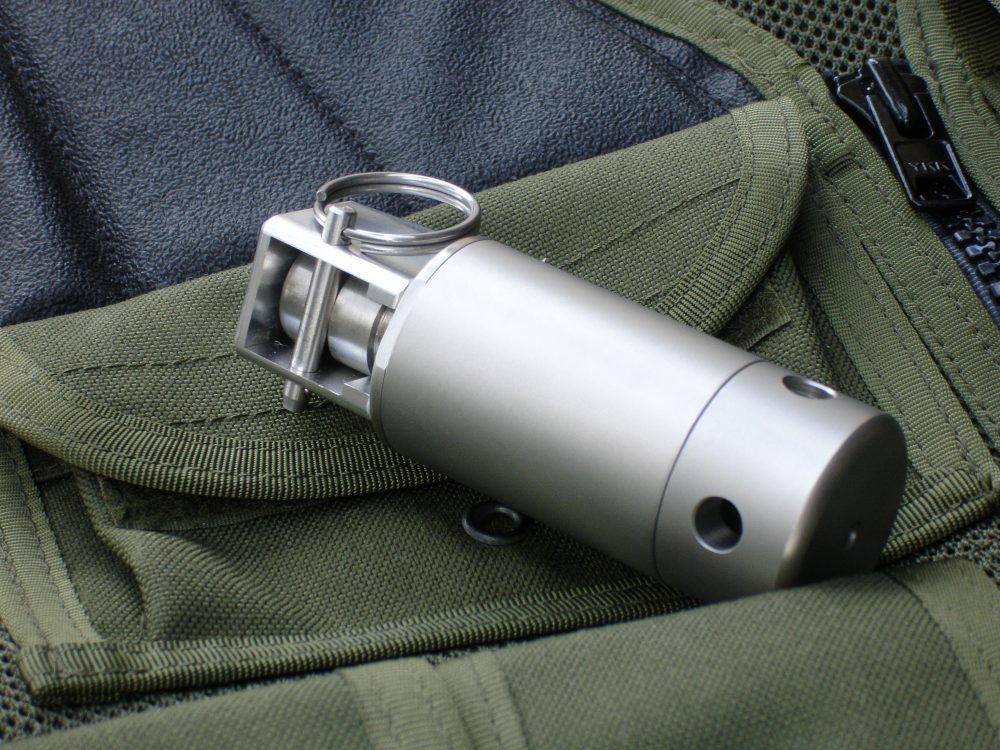 Safety was paramount in design of Royal Arms FBG-1. Safety spoon and cross-pin block prevent any chance of FBG-1 firing accidentally.
---
Loading/reloading the FBG-1 takes only seconds. After making certain that the spoon and cross-pin block are in place, simply unscrew the cartridge chamber, remove any spent blank or primer, insert a fresh blank or primer, and screw the chamber back onto the body. Any stuck hulls can easily be removed with the special tool that's included with the FBG-1.
The FBG-1 fits standard flash-bang pouches. I recommend a pouch with an adjustable lid in order to best fit both the longer (12 gauge) and shorter (209 primer) configurations of the device.
The price of the Royal Arms FBG-1 is $249. This is actually quite a bargain. The savings on the cost of reloads can literally pay for the FBG-1 in a single training session.
The FBG-1 is available for immediate shipping on agency purchase order. LE/MIL sales only. It comes with a lifetime warranty.
SOURCE:
Royal Arms International, Inc.
(805) 288-5250
www.royalarms.com