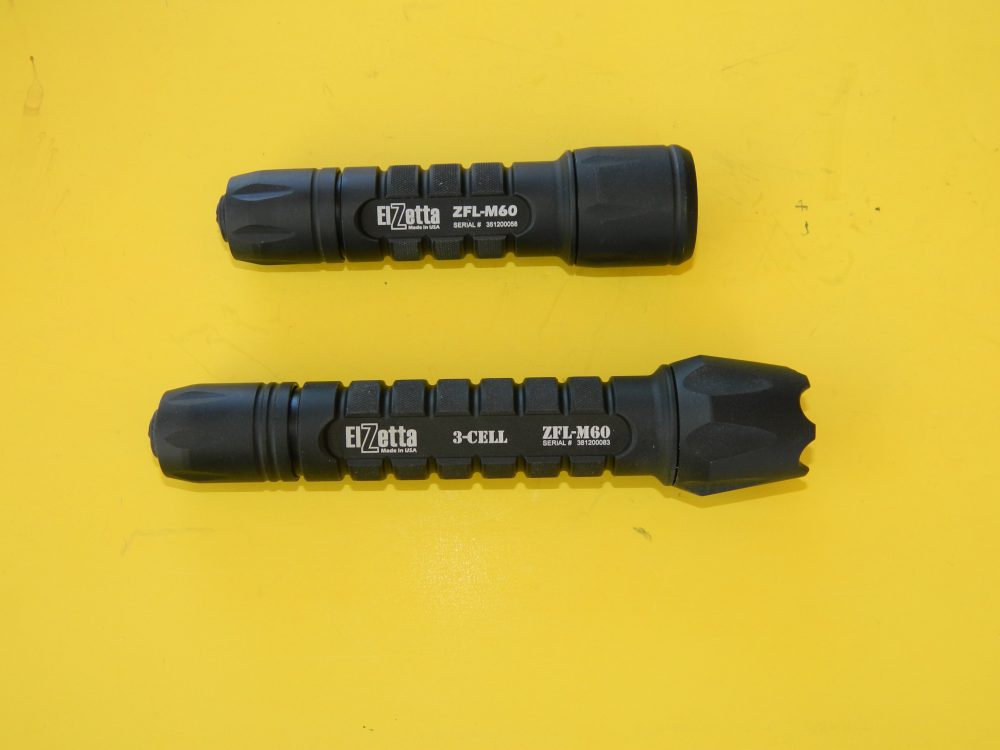 Elzetta ZFL-M60 is available in both two- and three-cell models.
---
On the first day, God created light and divided it from the darkness. From that day forth, man has feared the night and attempted to light up the darkness.
Little over a century ago, only firelight, candles and torches provided light. We have come a long way since then, and today there is no reason why anyone should be left in the dark.
From a tactical—as well as legal and moral—point of view, you cannot shoot at anything you can't see. In dark or dim light conditions, that obviously means you need a flashlight to identify your target—a good, bright flashlight.
Recently S.W.A.T. received two ZFL-M60 flashlights from Elzetta Design for test and evaluation—a two cell and a three cell. Both use CR123A Lithium batteries.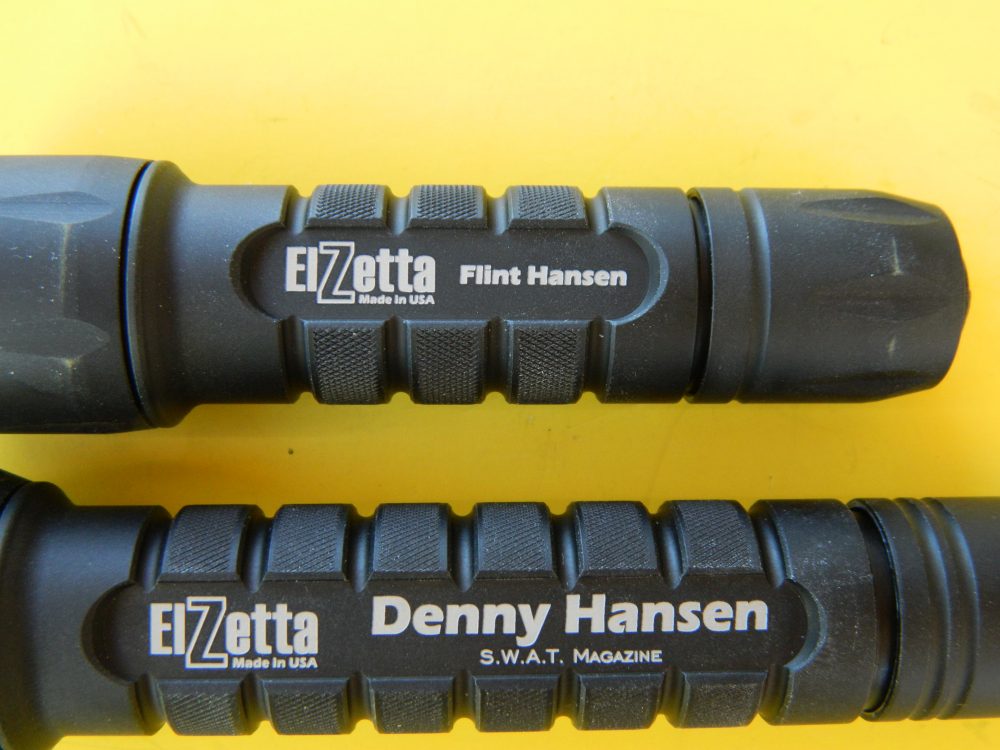 Elzetta's Custom Shop offers personalized laser engraving at a very reasonable cost.
---
ZFL-M60
The bodies of all Elzetta flashlights are made from milspec Type III hard-anodized 6061-T6 aluminum. These are not, however, lightweight units. Feeling the heft of an Elzetta light, one can tell immediately that these are tough units and feel confidence in them.
The ZFL-M60 two-cell models produce 235 lumens of light for 1.5 hours on high and 40 hours on low (which produces 15 lumens). The three-cell model will produce the same 235 lumens on high, but has a run time of 2.5 hours on high and 60 hours on the low setting.
While some may find the three-cell version easier to hold, after using both, I generally prefer the two cell because it fits my hand better, fits deep into my light pouch and does not stick out as much.
Bearing in mind how the light is used most of the time, I'm not overly concerned with the reduced run time. Consider this: there are 5,400 seconds in 1.5 hours. If you turn the light on for ten seconds, that translates to being able to use the light 540 times. Additionally, I always have extra batteries close at hand.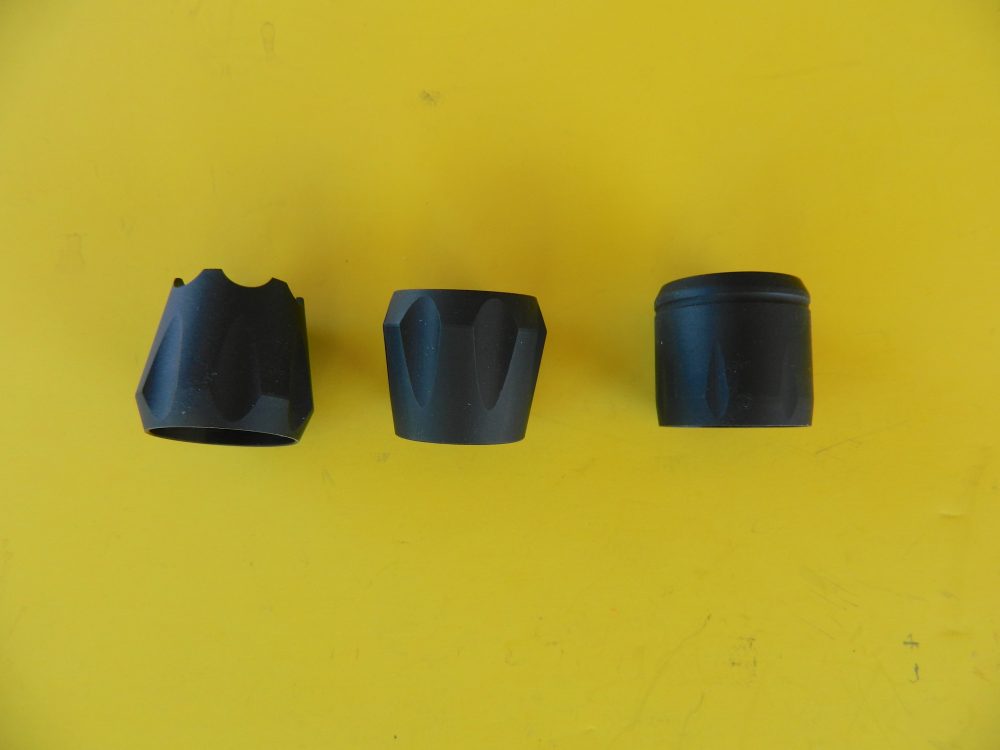 Bezels, left to right: Crenellated, Standard, and Low Profile.
---
BODY AND TAILCAP
An Elzetta light is like a Lego set for flashlight enthusiasts. All told, there are 72 possible combinations that Elzetta Design lights can be configured into.
After choosing either a two- or three-cell Elzetta body, you need to choose the tailcap of your new light. Available tailcaps include Rotary, Clicky, High/Low and High/Strobe switch. Also available are remote tape switch tailcaps with either a five- or 12-inch cord.
The Rotary switch is the old standby: the tailcap is rotated for constant on and a push button provides momentary light.
Pushing slightly on the Clicky's push button gives momentary light, while pushing it all the way in provides constant light.
If you choose the High/Strobe, you have the options of constant on or using the strobe to disorient an aggressor and hopefully end a confrontation before things get worse.
The High/Low tailcap is also a good choice for when you don't require the full 235 lumens. The 15 lumens put out on low are perfect for general use, reading a map, or navigation.
Both of the tape switches come with cable ties to secure cords to the weapon. One problem with a tape switch, especially with a long gun, is if you need to remove your support hand to operate a radio or phone, open a door, etc, you lose light, as the tape switch is momentary only.
Most of the folks I know have gone to a Clicky switch for a long gun since the tactical SOP in my area is that once the lights are turned on, they stay on. The reasoning behind this is that once a light is turned on, you've lost the element of surprise and your night vision is blown anyway.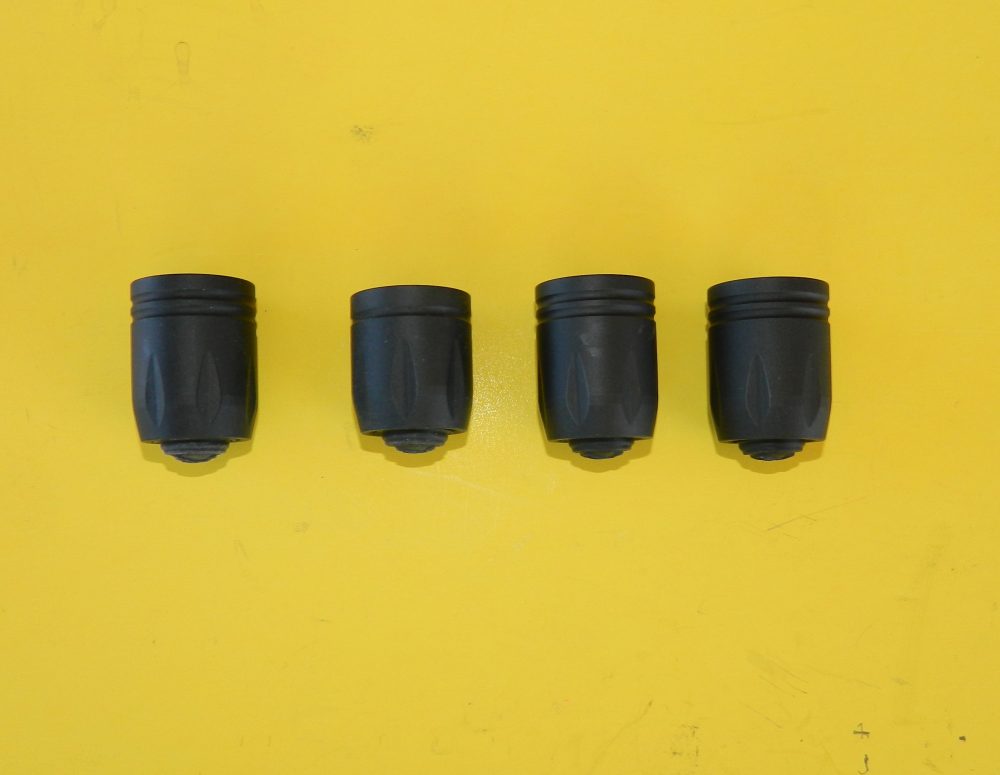 Tail caps, left to right: Clicky, Rotary, High/Low, and High/Strobe.
---
BEZEL
After choosing the body style and tailcap, you need to choose which bezel you prefer. Choices are Standard, Low Profile, or Crenellated (scalloped).
The Crenellated bezel may be used as a striking tool or to gain pain compliance with a resisting suspect. Anyone who has much experience with high-power LED lights knows they get hot. A further advantage of the Crenellated bezel is that the light can be placed bezel down while on and heat can escape between the scallops.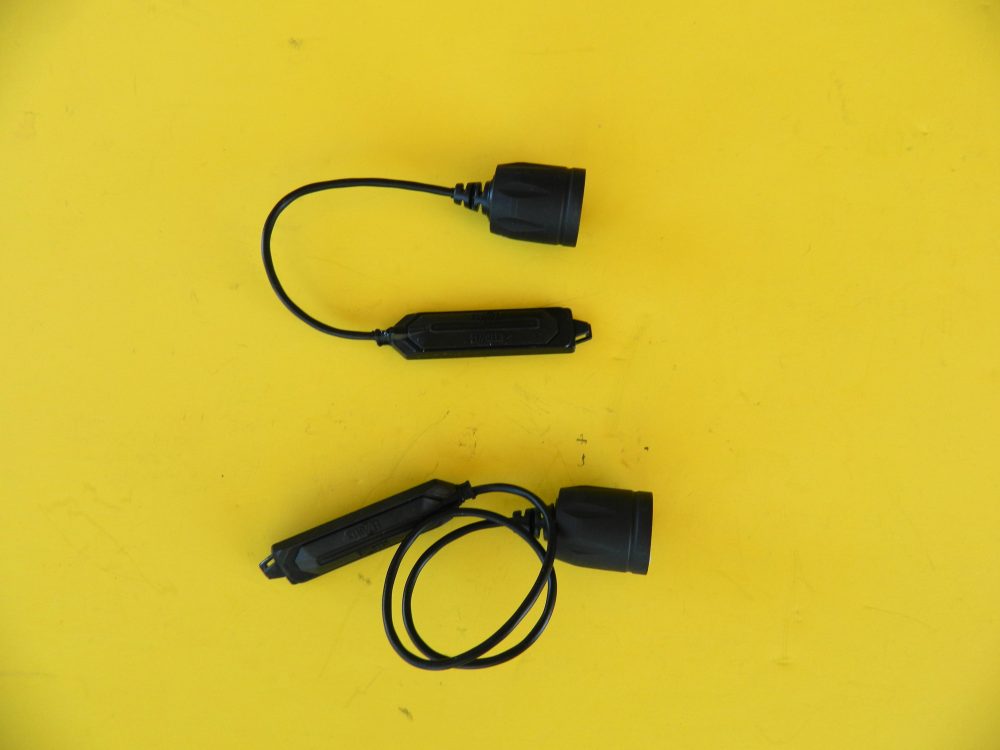 Remote tape switch tailcaps: 5 inch (top) and 12 inch.
---
ENGRAVING
I said earlier that there are 72 possible configurations with the Elzetta ZFL-M60. In actuality, through the Elzetta Custom Shop, the configurations are almost limitless.
The Custom Shop can personalize your flashlight by laser engraving your name on the body of the light for only $10. Or you can have your name and department engraved for the same ten bucks. If you want to get really wild, you can have your company's logo, department's badge or insignia laser engraved. Send Elzetta the artwork for a quote on customer-provided graphics.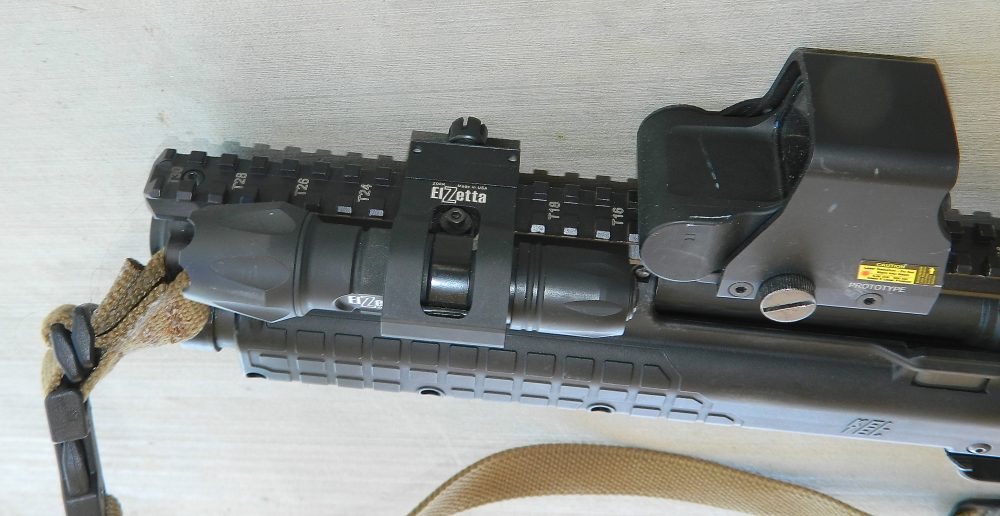 Elzetta ZFL-M60 light in Elzetta ZORM mount on Kel-Tec KSG. Offset mount places light close to the bore at 11 o'clock.
---
MOUNTS
The Elzetta ZFL-M60 lights fit into any of the weapon mounts that Elzetta also manufactures. The Elzetta ZSM mount is designed to be compatible with many tactical shotguns, including Remington, Mossberg, Winchester, and Benelli. The ZFH1500 easily attaches to the front sight base of AR-15 type rifles.
My personal favorite is the Elzetta ZORM mount. This offset mount will mount to any mil-standard M1913 Picatinny rail. I run mine on the rail at nine o'clock, positioning the light close to the bore at 11 o'clock.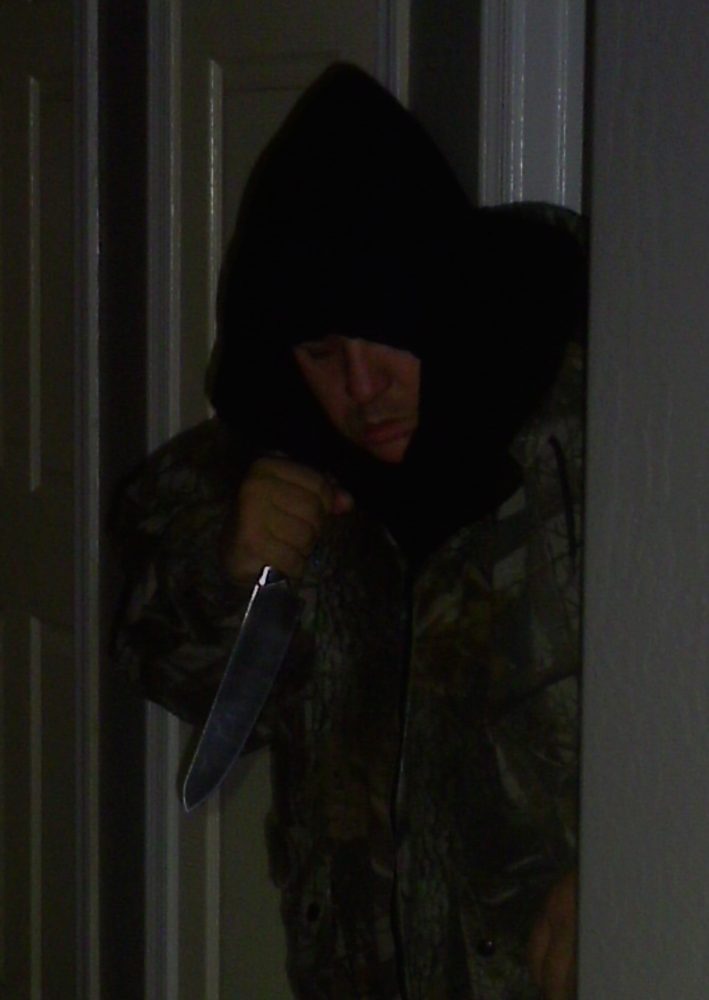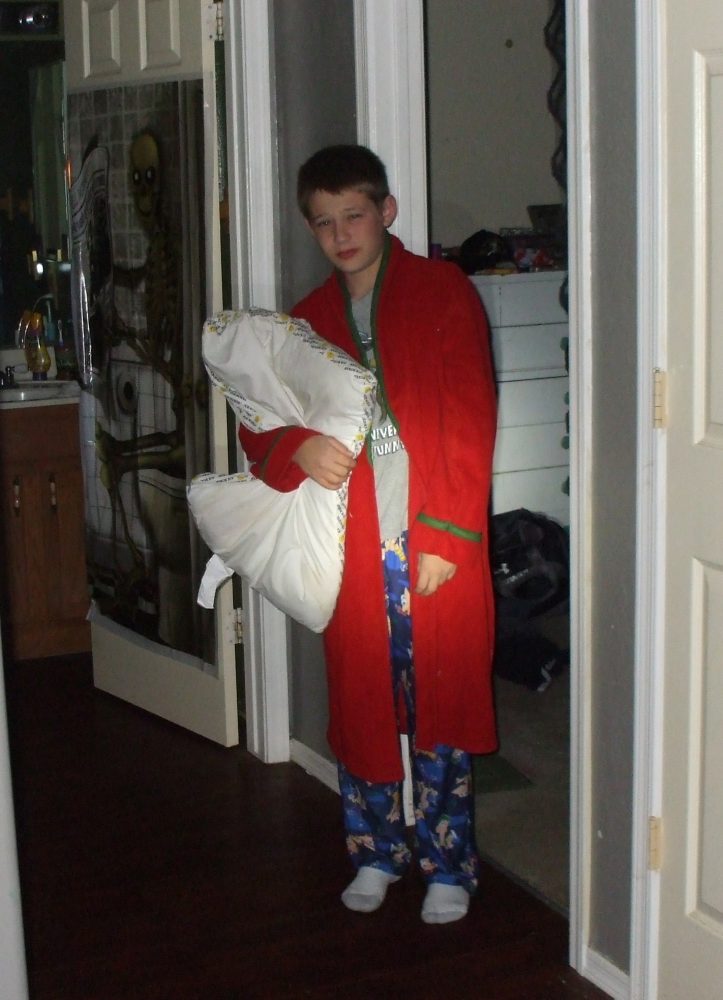 CONCLUSION
Overall I am very impressed with the lineup of Elzetta products. The quality of the lights is excellent. On both the two- and three-cell models, there is a very bright hotspot in the center of the beam, but ample spill around the hotspot to see the surrounding area.
Ordering your light—with the body, tailcap and bezel to meet your needs—takes less than five minutes on Elzetta's website.
Yeah, options are a good thing—a very good thing.
SOURCE:
Elzetta Design, LLC
(859) 707-7471
www.elzetta.com