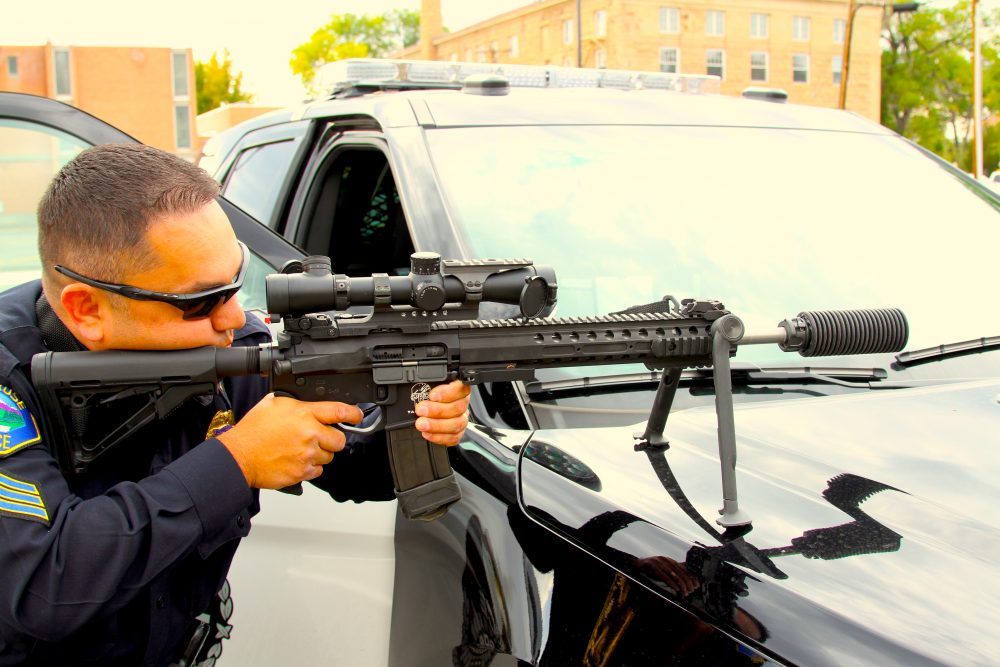 ---
It is said that there are no new designs, only modifications of old ones.
You can decide how valid this statement is, but it is certainly arguable. Take the concept for the AR (ArmaLite Rifle) platform: springing from Melvin Johnson's rifle, Eugene Stoner's AR-15 was certainly groundbreaking.
Seeing the AR-15 for the first time at the NRA Convention in Los Angeles in 1964 (the last one to ever be seen in California), I marvel that the little rifle is 100 times more popular half a century later. With hundreds of companies offering AR-15 variants in America and roughly 30 in foreign countries, the design could become the most prolific in the world.
Many of today's tactical treasure makers have upgraded or modified their ARs to include such innovations as quick-change barrels and calibers, exotic barrel machining, handguard variations, and much more. But just as often, such improvements amount to little more than pin striping or eye candy that entices one to buy a firearm but may have little utilitarian value. These investment-grade guns are great to appreciate, but will they be nearby when the elephant appears?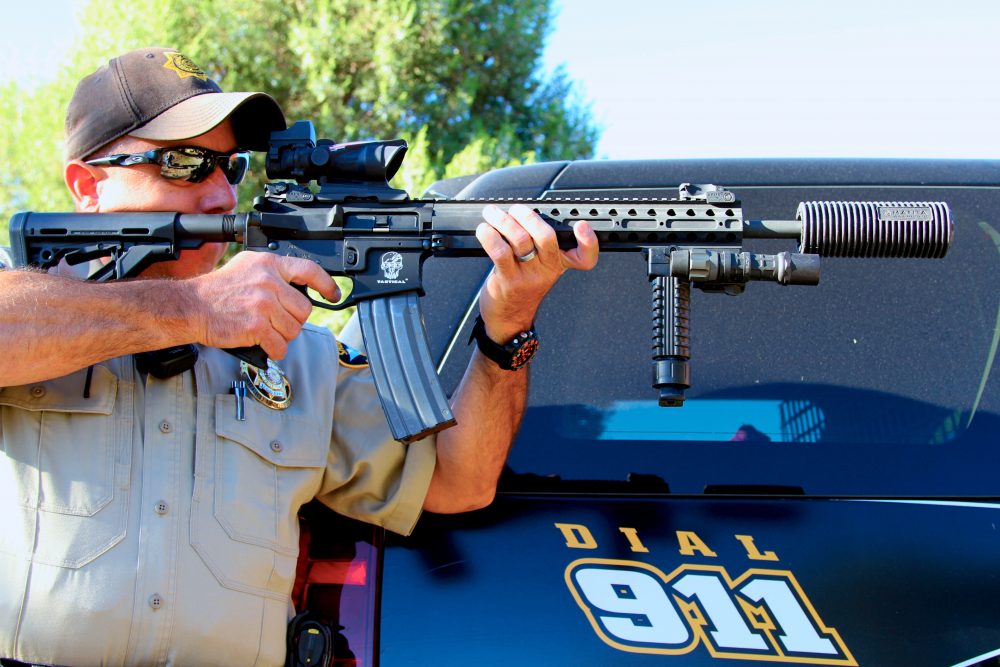 Cop's best friend can be a high-quality patrol rifle. DRD U556 Multi-Cal fills a variety of roles.
---
In reality, the old saying, "beauty is as beauty does" pretty much says it all. A firearm can be an ugly duckling, but if it proves itself when the chips are down, it takes on a beauty all its own—the beauty of utility. Then again, elements exist that not only catch one's eye but also prove valuable in use.
Having owned, carried, competed with, hunted with, and tested more firearms than I'd care to count since my Dad shipped me that Type 99 Arisaka in 1945, I have fairly strong opinions about what I like and what I don't. I like most firearms because of nostalgia, their appearance or, most of all, because they work, and that's why I like the AR-15 platform.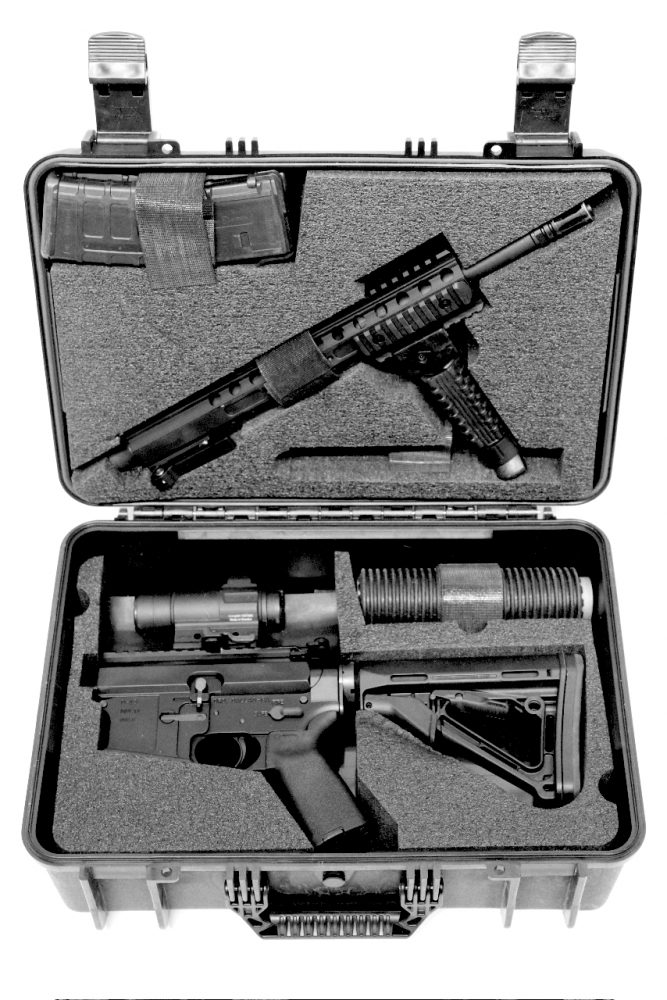 REVOLUTIONARY
Designed with a system of operation few understand, the AR-15 (and Eugene Stoner's AR-10 before it) uses an extended gas port in the form of a stainless steel tube to transport gas tapped from the barrel directly into a receptacle, which transfers the gas into the gas cylinder section of the bolt carrier. This is a stark difference from the systems of prior direct-gas rifles, in which the gas directly impinges into a dead-end recess in the bolt carrier.
In the AR-15, the gas continues to flow through the gas tube until the bullet has left the barrel and, once inside the carrier, it continues to expand like the gas inside the cylinder of an engine. As this happens, the gas begins to move the bolt carrier (gas cylinder) rearward while pushing equally hard against the back of the bolt, which acts as the piston.
During this millisecond, a channel in the moving carrier begins to rotate the bolt counterclockwise (looking from the rear) while pushing the bolt to offload the locking lugs. Once unlocked, the bolt travels with the carrier the full length of the receiver (long stroke).
Most of the AR-15's controls were designed to be ergonomic and able to be operated without removing the hand from the pistol grip. The buttstock was also of straight-line design to help control muzzle rise.
During the AR-15's more than 50-year lifespan, I have owned well over a dozen, carried several on duty, and tested several times that many. Some were excellent, most were very good, and some were comparatively dismal. The market has always been "buyer beware," and the bottom feeders among AR-15s should and probably would have gone out of business had it not been for a few panic buying sprees.
Even before the rush to buy one or several of these rifles, the AR-15 train was full up and it still hasn't left the station. In the fight for sales, accessories are made part of the package. To those in the know, many of these add-ons are of questionable value. Many of the best and most popular accessories are made by several aftermarket companies. A number of gun companies have seen this and now offer such add-ons and parts as manufacturer's original equipment (MOE).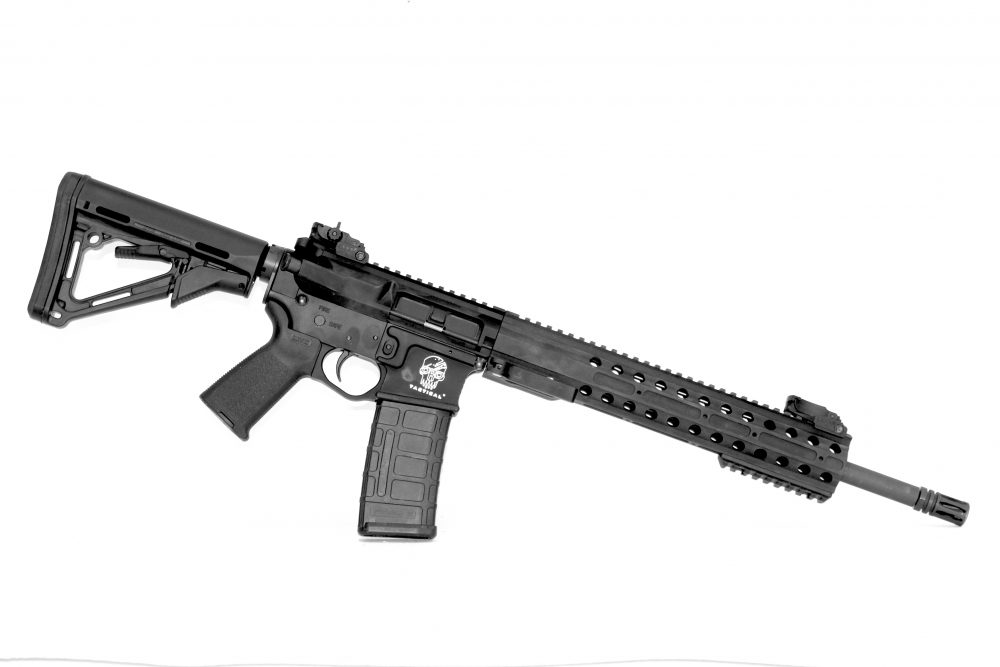 Assembled U556 is of high quality and capable of superb accuracy. It also lends itself to a host of accessories and is available in more than one caliber.
---
SPECIAL FEATURES
Separate from all the accessories and cosmetics for the AR-15 are real innovations to the rifle. These include quick-change barrels, conventional piston systems, free-float barrels, special sights, lights, sound suppressors, bipods, and more.
Whether you need or want any of these adornments is up to you. As I'm fond of saying, "Being an American is not just having what you need, but also what you want, as long as you use it properly." With use, you'll weed out what doesn't work.
Two major departures from the AR platform are piston systems and quick-change (QC) barrels and, while conventional short- and long-stroke piston systems may or may not be worth your effort, there is something to be said for so-called quick-change barrels. They do, however, have their pros and cons. Aside from their extra expense, just how quick are they to change, and do they return to zero?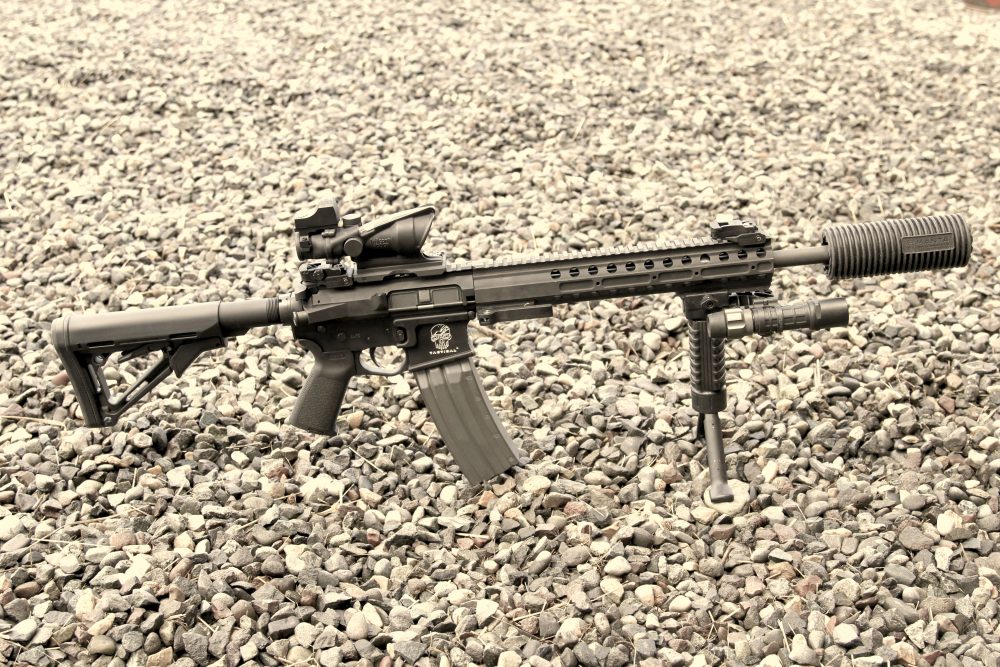 Sample U556 was equipped with a Trijicon 4X32 ACOG, which made fast hits a cinch out to 100 yards and beyond, lots of them using SureFire's 60-round magazine. GripPod tripled the distance and Gemtech TREK-T Suppressor kept things quiet.
---
A TAKEDOWN AR!
With several QC barrel systems now available for the AR platform, one of the first questions is whether or not tools are required. If they are, how much do they add to or subtract from the equation? If no tools are required, does the return to zero problem remain, and how long does the quick change take?
As an aside, some years ago an industry person told me a special military element was looking for a quick-change barrel system for the M16. I told him we already had one. When asked what it was, I replied it was a pre-sighted-in upper receiver group: just push out two pins and replace the whole thing with another upper.
Nonetheless, being able to quickly replace an AR-15-type barrel in the field not only has merit but also remains popular. Beyond that is being able to transport a rifle in the smallest possible package and assemble it quickly. In that regard there is something new, simple and reliable.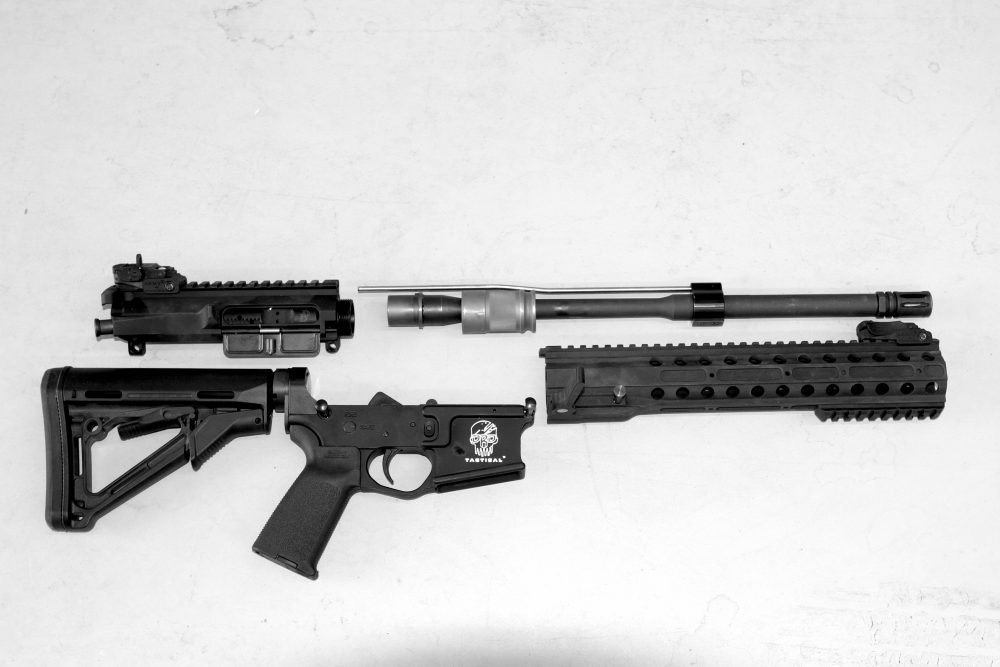 U556 field strips in about 20 seconds without tools, so it can be stowed in a short case or ready to change to another caliber. Reassembly provided a return to zero every time.
---
U556 MULTI
This new AR-15-type system comes from DRD Tactical of Dallas, Georgia. Its QC barrel design is reminiscent of that used by LMT but is much faster and requires no tools. Called the U556, it is offered either as a complete rifle or an upper receiver conversion unit. It's also compatible with different calibers—more on that below. Here's how it works.
In the U556, everything from the standard AR-15 upper receiver back is retained. Only the barrel nut and handguard differ. To assemble, the handguard and barrel are separated by rotating the adjustable cam lever outward from the right rear of the handguard and then simply pushing out the locking pin in front of it from left to right until it stops. The handguard can then be removed from the front, leaving the knurled barrel nut to be unscrewed by hand. The barrel can then be removed (making sure the bolt is locked to the rear or removed).
To reassemble, carefully insert the gas tube and barrel into their respective holes in the front of the receiver. If the bolt is forward, just push the barrel back until the bolt rotates and locks in battery. Once the barrel is snugly in place, move the barrel nut to the receiver threads and screw the nut on tightly by hand. Current nuts also have notches for a special wrench for a more permanent installation.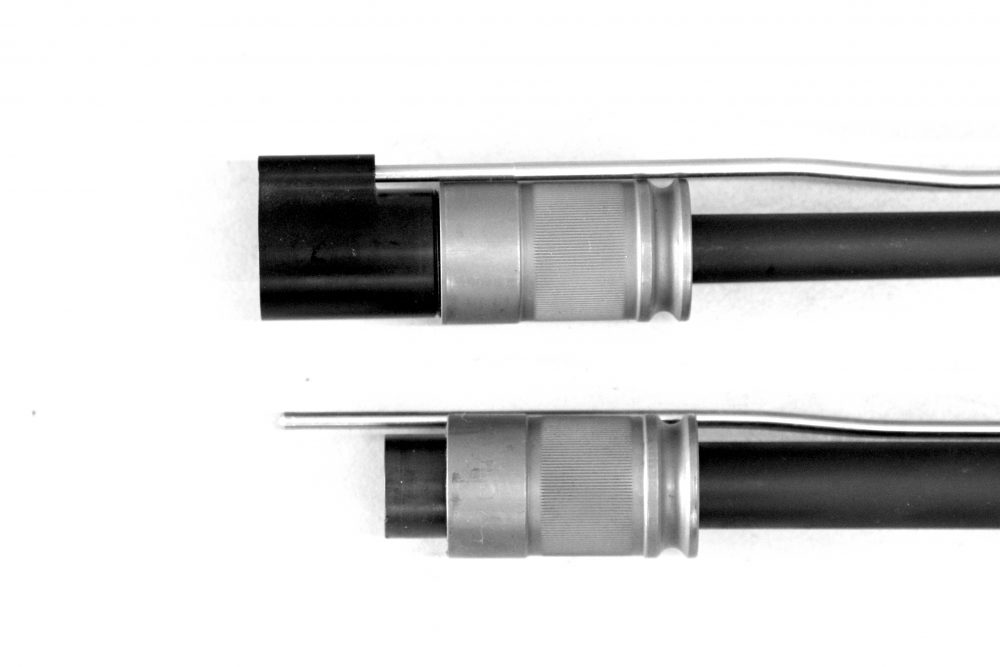 U556's knurled barrel nut is screwed onto the upper receiver hand-tight to be locked in place by a front cross pin and a cam that tightens the handguard around the nut, which can be screwed onto a protective cap when stored.
---
With the barrel in place and the barrel nut on tight, slide the alloy handguard over the muzzle and back until the handguard's top extended portion enters its counterpart at the front of the flat-top upper receiver. Push the handguard's cross pin all the way in and close the cam lever over it.
The cross pin locks the handguard in position and the cam lever tightens and locks the sides of the handguard around the barrel nut, preventing it from unscrewing. A hex bolt on the cam can be tightened, as desired. With the barrel nut hand tight, the entire upper receiver can be disassembled and reassembled in about a minute without tools.
Made by Lothar Walther, the U556's barrel is of match quality, including its chamber. The muzzle is threaded 1/2×28 for standard suppressors and comes with an A2-type flash hider.
The complete U556 comes in a rugged fitted SKB case.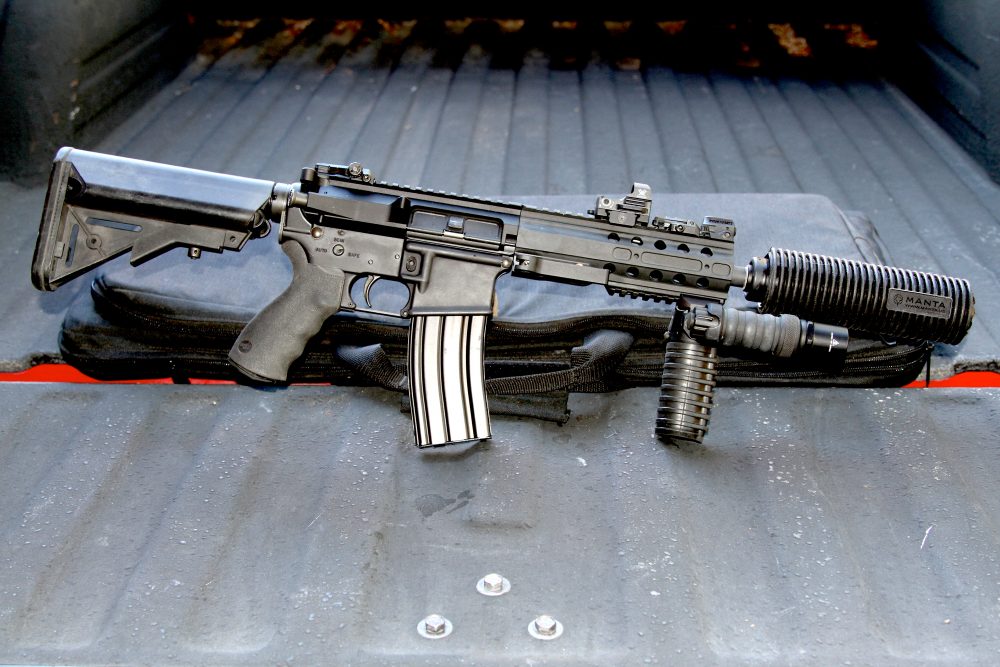 Slick conversion of U556 is SBR upper in .300 Blackout, here assembled onto registered M16 lower and using standard 5.56mm bolt and dedicated .300 BLK magazine from D&H Tactical. Vortex Razor, AAC 7.62 Suppressor with Manta Cover, LaserMax Micro, and RM Equipment Railgrip with SureFire G2 light top off the little carbine.
---
ACCESSORIES USED AND OTHER CALIBERS
Optics used with the rifle, with several upper units, included Trijicon, Vortex, and Leupold, with the Leupold used for targeting in all calibers.
Magpul and A.R.M.S. folding open sights were used on top rails in addition to the LaserMax Micro Laser. So equipped, the U556 demonstrated excellent application as a multi-caliber carbine for law enforcement, hunting, self-defense, and competition.
For use as a precision rifle, we equipped the U556 with a Leopold 3-9X30mm MR/T optic on an A.R.M.S. #17 Ext-LII 5.56 MKII Mount and Vltor Epod. Shot off the bench at 100 yards, the rifle produced five-shot groups running from 1.03 to 2.36 inches using Black Hills, Cor-Bon, Federal, Hornady, and Winchester commercial match-grade .223-caliber ammunition plus U.S. 5.56x45mm NATO M193 ball (the largest groups) for an overall average of 1.64 inches.
No change in point of impact or accuracy was noted in removing and replacing the barrel. On the 5.56x45mm, I used Gemtech's 5.56mm TREK-T Titanium Mini Suppressor. The lightest 5.56mm suppressor I've ever had, this one is tough, effective, and ear safe!
The U556 can be had as just the upper conversion in the fitted SKB case using the customer's milspec lower receiver group, or as a complete rifle with or without the case, but that's not all. The SKB case also houses a lower level, and you can get this fitted for a Glock pistol, magazines, and other accessories, or second QD barrel assembly in another caliber with magazines and accessories.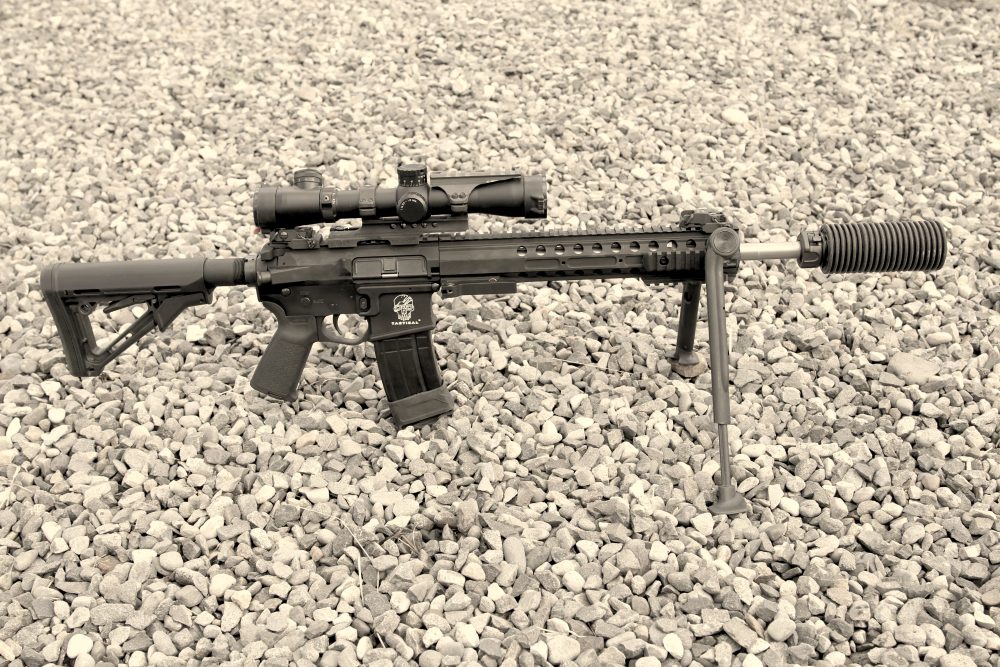 Leupold 3-9X30mm MR/T Scope and A.R.M.S. Mount were used for all accuracy testing and here are on a 6.8x43mm SPC conversion using a match barrel/bolt and 6.8mm magazine from Precision Reflex Inc. Vltor Epod and SureFire 6.8mm SOCOM Suppressor proved invaluable.
---
.300 BLACKOUT
DRD makes a 16-inch .300 BLK barrel that can be used in place of the 5.56mm barrel for conversion. After receiving the basic U556, I received another DRD takedown upper receiver group with a 10.5-inch .300 Blackout barrel and matching short handguard. This SBR conversion was used with another maker's legally registered selective-fire lower receiver and on another registered as an SBR.
As a tactical gun, the .300 SBR was happy with a Vortex Razor Red Dot Sight and the LaserMax Micro. I also tried an AAC muzzle brake/suppressor mount and AAC QD 7.62 Suppressor. A good variety of .300 BLK and Whisper ammunition was on hand, including new rounds from Gemtech, Hornady, Federal, DoubleTap, and Remington.
DoubleTap offers a new 240-grain bullet subsonic load. The 240-grain .30-caliber bullet is the subsonic load favored by J.D. Jones of SSK Industries, creator of the .300 Whisper, essentially copied as the .300 Blackout. And yes, the two cartridges are interchangeable.
Using the Leupold MR/T, the .300 BLK SBR produced 100-yard five-shot groups measuring from 1.24 to 2.27 inches with an average of 1.41 inches. Sighted in with 115-grain bullet supersonic loads required several inches of holdover to enable the heavier subsonic rounds to achieve a similar point of impact.
For reliable feeding of the heavier bullets, special .300 BLK magazines are offered by SSK and D&H Tactical. The AAC suppressor was used throughout, rendering the subsonic rounds almost completely without sound and supersonic loads ear safe.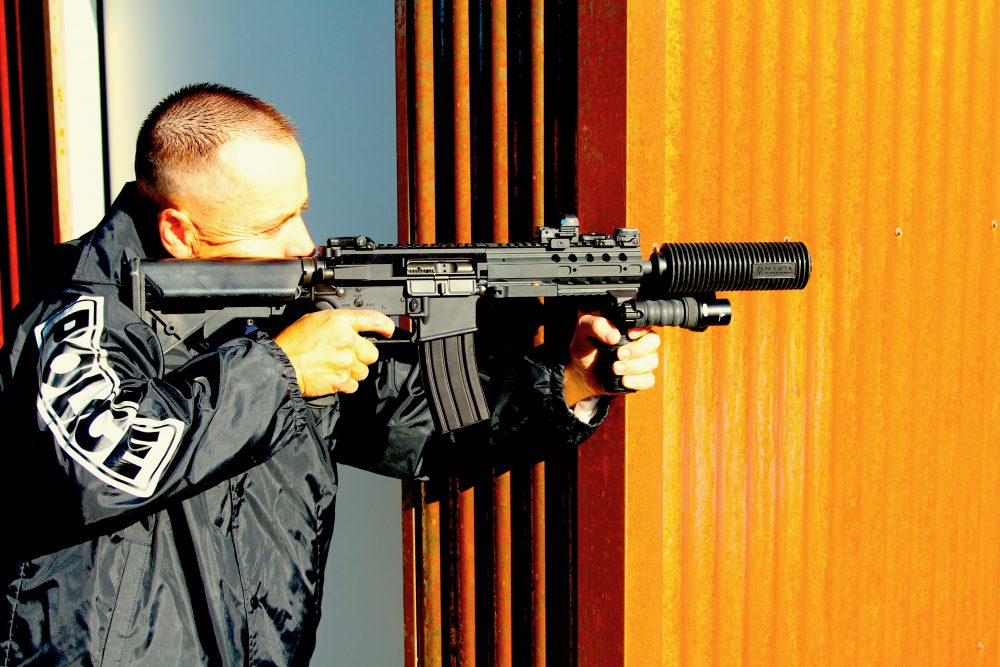 DRD .300 BLK SBR conversion on registered SBR lower is excellent choice for urban plainclothes officers, not to mention home defense where allowed.
---
6.8x43mm SPC
Being a fan of the 6.8x43mm SPC cartridge, I sent for a match-grade stainless barrel and bolt in this caliber from Precision Reflex Inc, of New Bremen, Ohio, along with their low-profile adjustable gas block. DRD provided a QD barrel nut and I put DRD's takedown upper together in this caliber.
Precision Reflex makes excellent 6.8mm SPC magazines for AR-15-type rifles, and these were used in testing. On the 6.8mm barrel, I installed SureFire's new QD 6.8mm SPC SOCOM muzzle brake mount and matching 6.8mm SPC SOCOM Suppressor. A variety of 6.8mm SPC ammunition was tested from Federal/ATK, Hornady, Remington, and DoubleTap.
Again using the Leupold 3-10X30mm MR/T scope, the match 6.8mm barrel produced 100-yard five-shot groups of from 0.66 to 1.54 inches with an average of 1.18 inches. The only malfunctions were several failures to feed from an early lot of round-nose 6.8mm FMJ bullet loads that are no longer offered.
A match-grade trigger would no doubt improve accuracy from all calibers tested. Will a 7.62x39mm conversion be next?
WHY SUPPRESSORS?
The short answer is, why not? The long answer is, because if you can legally own one where you live, I believe you will agree a good sound suppressor is one of the best investments you can make for a rifle.
You will enjoy shooting far more with a "gun muffler" and, although it will not eliminate all sound, it will allow you to shoot in comfort while not disturbing others. Three brands of sound suppressors were featured here, but many more exist. A .30-caliber suppressor can also be used with smaller calibers to lower their report. A suppressor cover is also advisable. The one from Manta is the best I have ever used.
DRD also offers its .308 Winchester caliber Peratus and other takedown .308 AR-10 type rifles, and their new semi-auto Kivaari .338 Lapua Long Range Precision Takedown, which should be available as you read this.
DRD's high-quality U556 Multi is a fast, simple and foolproof takedown AR system that can fill a wide range of needs from law enforcement and hunting to home defense and competition.
Having shot guns since the age of five, Gary Paul Johnston was a police officer for 28 years, commanding a SWAT team for the last 15. The author of some 2,000 published articles on firearms, tactics and history, Johnston has written two books including co-authoring The World's Assault Rifles, and is finishing three more.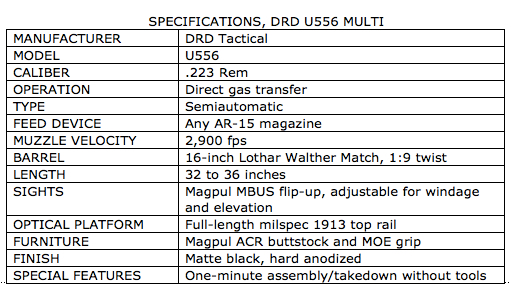 SOURCES
DRD TACTICAL
(678) 398-9059
www.drdtactical.com
ADVANCED ARMAMENT CORP.
(770) 925-9988
www.advanced-armament.com
A.R.M.S., Inc.
(508) 584-7816
www.armsmounts.com
D&H TACTICAL
www.dh-tactical.com
GEMTECH, INC.
(208) 939-7222
www.gem-tech.com
GRIPPOD, INC.
(800) 471-3144
www.grippod.com
LASERMAX
(800) 527-3703
www.lasermax.com
LEUPOLD & STEVENS, INC.
(503) 526-1400
www.leupold.com
MAGPUL INDUSTRIES CORP.
(877) 462-4785
www.magpul.com
MANTA COVERS
(330) 308-6360
www.manta.us
PRECISION REFLEX INC.
(419) 629-3173
www.precisionreflex.com
RM EQUIPMENT
(305) 477-9312
www.40mm.com
SSK INDUSTRIES
(740) 264-0176
www.sskindustries.com
SUREFIRE, LLC
(800) 828-8809
www.surefire.com
TRIJICON, INC.
(800) 338-0563
www.trijicon.com
VLTOR WEAPON SYSTEMS
(520) 408-1944
www.vltor.com
VORTEX OPTICS
(800) 426-0048
www.vortex.com