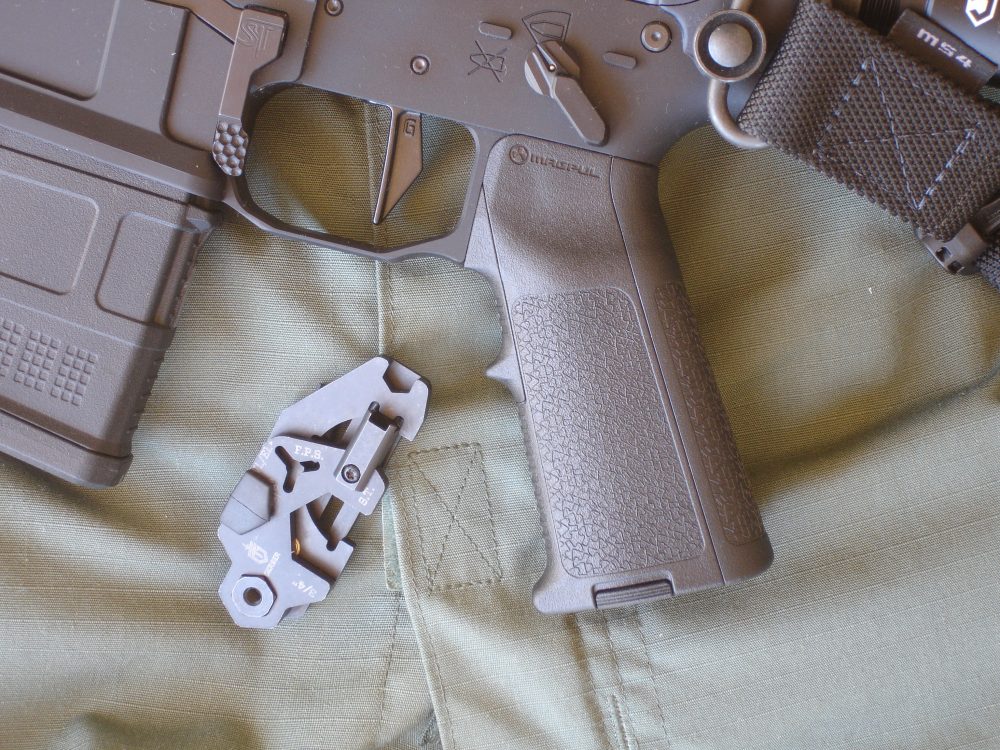 Gerber Short Stack is a modular AR multi-tool designed to stow away in Magpul MOE and MIAD pistol grip compartments. It performs 15 different functions.
---
The Gerber Short Stack is an ingenious new modular AR multi-tool sized to stow away in Magpul® MOE® and MIAD® pistol grip compartments. The Short Stack is equipped with 15 different tools designed to simplify weapons maintenance and take the chore out of cleaning your AR-15/M4/M16 weapon system. It is compatible with Magpul M-LOK® accessories.
In designing the Short Stack, the goal was for it to fit into a Magpul MOE/MIAD grip, ensuring it would always be available when needed and to also include as many tools as possible. This required a completely modular assembly that avoided the bulky pivots common to most multi-tools.
The Short Stack features an innovative three-piece design with 15 different functions for cleaning and maintenance. Each part of the three-piece design is magnetic for easy, secure assembly. The parts lock together to make a host of different wrenches and drivers. Closed length is only 2.9 inches and it adds only 2.8 ounces to the pistol grip. You won't even know it's there.
The Short Stack allows for multiple wrench configurations, including a 4mm wrench/bit driver, 7mm wrench for M-LOK® Fasteners, ½-, 3/8-, and ¾-inch wrenches, and two double-sided hex bits (#0 Cross Driver, T10, 1/8-inch Hex, 4mm Hex) that provide the necessary torque to let the user tighten and loosen the lower receiver extension, buffer tube, flash hider, and other parts on your AR. It also has an A2 front sight adjustment tool.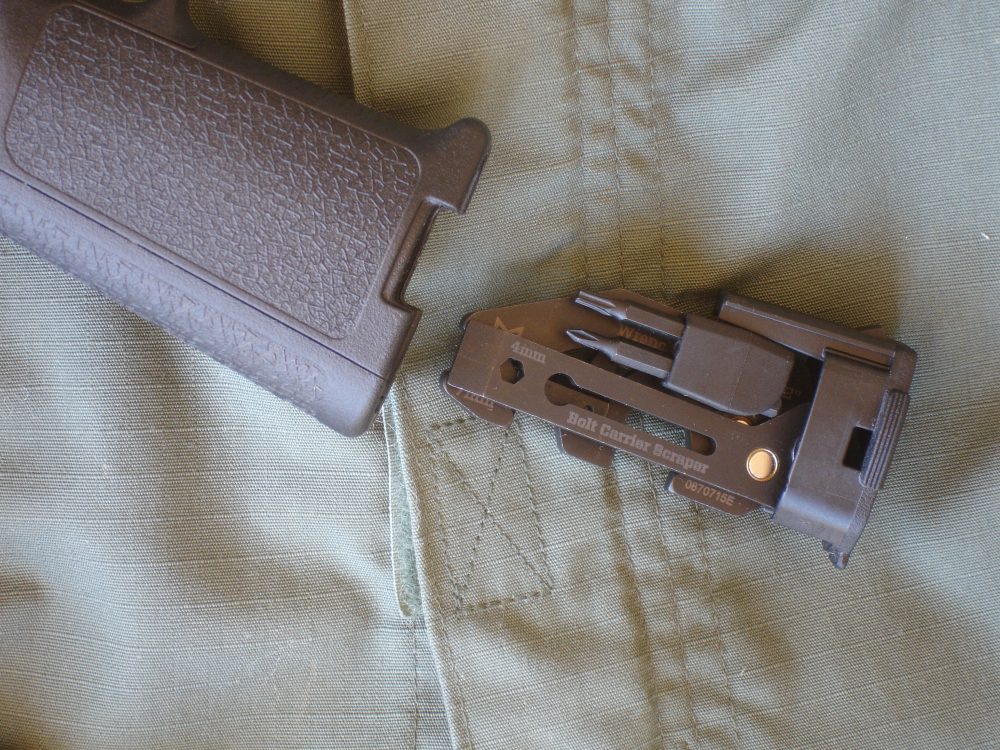 Short Stack is a perfect fit for MOE and MIAD grips. It adds only 2.8 ounces to the pistol grip.
---
The 7mm M-LOK wrench is a welcome addition. M-LOK is a freely licensed modular locking accessory mounting system developed by Magpul. An evolution of the MOE slot system that has been used since 2007, it is becoming very popular with manufacturers and the shooting public.
Of course, field cleaning and maintenance are at the heart of any AR multi-tool. Contrary to its detractors, the AR platform is an inherently reliable system and does not have to be kept meticulously clean for reliable functioning when properly lubed. However, carbon fouling can cause malfunctions. Weak extractor and buffer springs and lightweight buffers contribute to most so-called fouling-related issues, but that's a topic for another time. We can all agree that having a clean gun is not a bad thing.
The Short Stack's field cleaning options are all-inclusive. It acts as a pull-through handle for any standard 8-32 female threaded cable or rod, such as the excellent Otis Technology Memory-Flex® cleaning cable that allows for proper breech to muzzle cleaning. It also acts as multiple scraping surfaces for your weapon's firing pin, bolt, and bolt carrier to remove carbon buildup and keep your AR running at its best.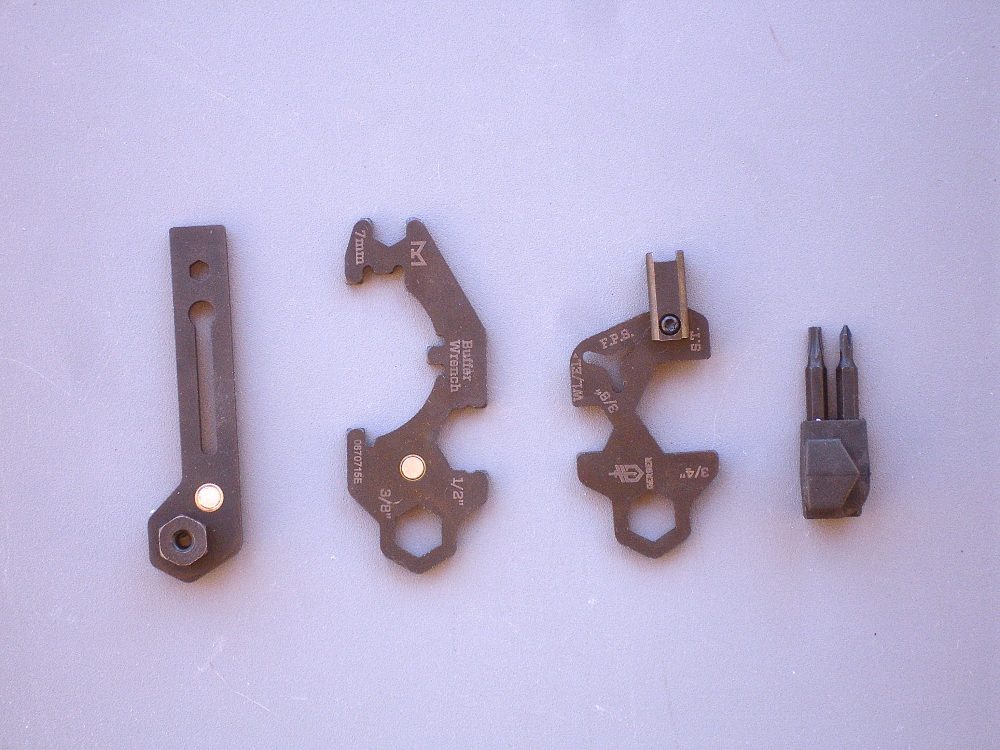 Short Stack parts lock together to make a host of different wrenches and drivers essential for cleaning and maintenance.
---
The Short Stack is cut from 420HC stainless steel and features a black oxide finish. Also known as 420C, 420HC is a higher carbon content 420 stainless. The HC stands for "high carbon." The steel has .4 to .5% carbon and about 13% chromium. It can be brought to a higher hardness than 420 and should not be mistaken for it. An outstanding choice for a tool of this type, 420HC has good toughness and very good corrosion resistance.
If you are looking for a compact multi-tool for the AR platform that will handle nearly all routine maintenance tasks, look no further than the Short Stack. It is an excellent addition to any cleaning kit and will take much of the chore out of cleaning and maintenance. If you have an AR equipped with an MOE or MIAD grip, it's a no-brainer.
The Gerber Short Stack has an MSRP of $54. It is designed and made in the USA at Gerber's Portland, Oregon facility. The double-sided bits are made in China. It comes with a full lifetime warranty in North America and 25-year warranty outside North America.
SOURCES
GERBER
(800) 950-6161
www.gerbergear.com
MAGPUL INDUSTRIES
(877) 462-4785
www.magpul.com
OTIS TECHNOLOGY
(800) 684-7486
www.otistec.com