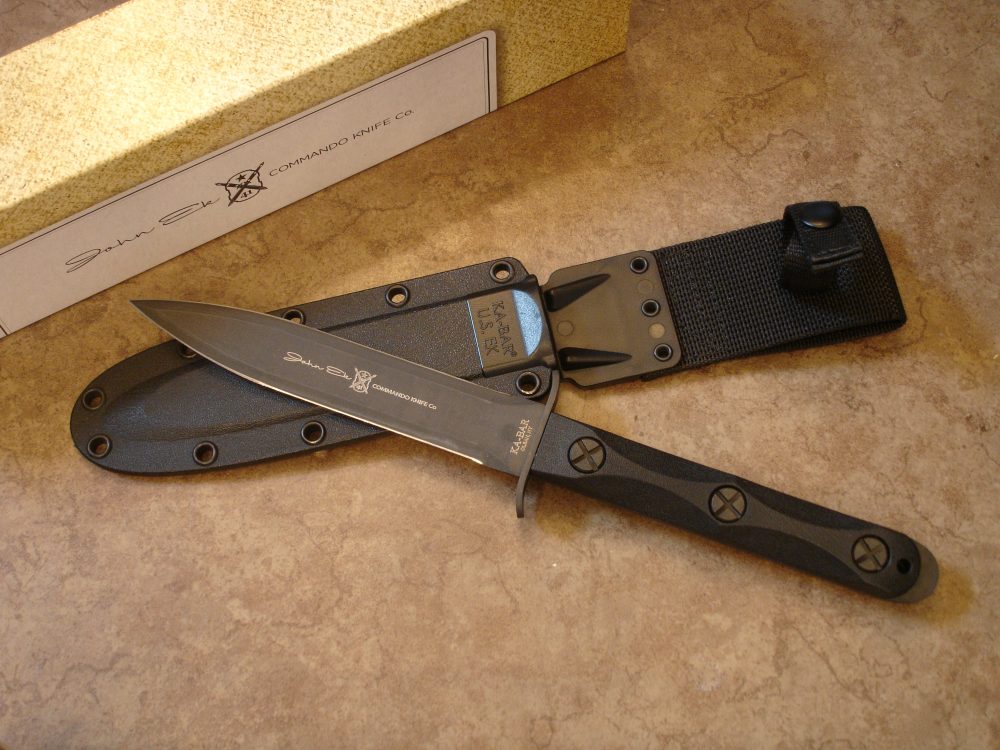 Ek Model 4 is the first and most anticipated Ek Commando Knife Company knife since company's acquisition by KA-BAR Knives. New Model 4 is an updated version of the original.
---
The John Ek Commando Knife Company has a long and distinguished history. Since John Ek founded the company in 1941, Ek knives have been battle proven in six major conflicts by American personnel. President Franklin Delano Roosevelt, General George S. Patton, Jr. and Captain Clark Gable were among the proud owners of Ek Commando Knives during World War II.
John Ek called his knives "Ek Commando Knives" in reference to the WWII Allied Commando-type units for which his knives were designed. According to company records, he requested and received permission from the British War Office to use the term "Commando." Ek Commando Knives were sold only for use by members of the U.S. Armed Forces until Ek's death in 1976.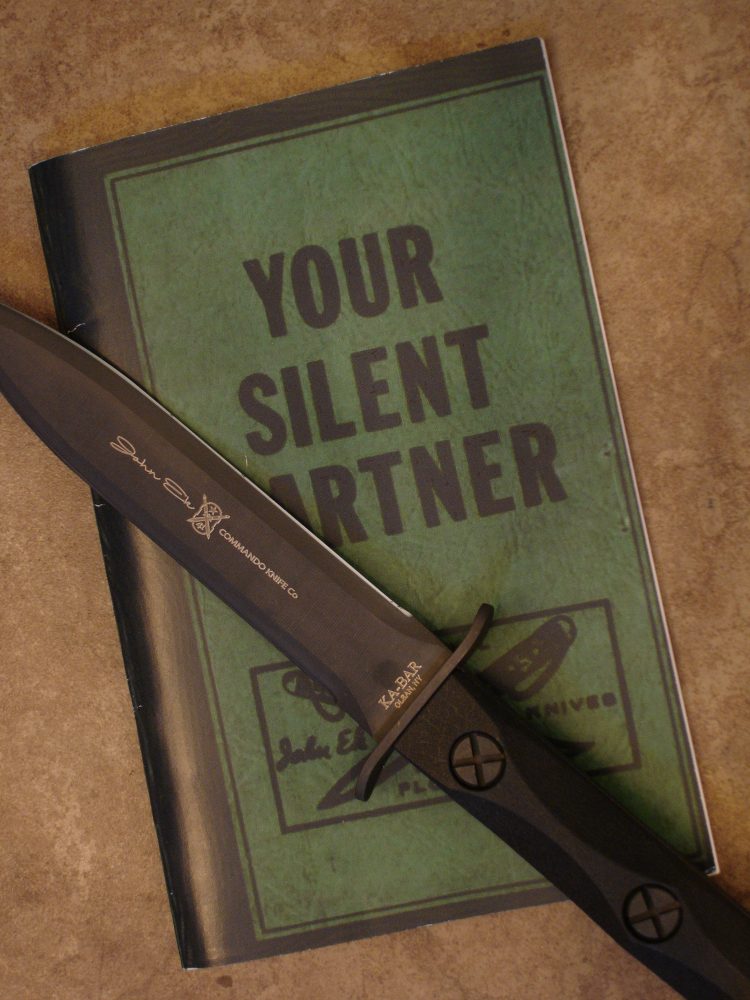 John Ek Commando Knife Company has entered a new era with its recent acquisition by KA-BAR® Knives. The Model 4 was the first Ek Commando Knife to be released by KA-BAR. The Model 4 also happens to be one of my personal favorites. The Ek Model 3 and Model 5 are now also available from KA-BAR. As with all KA-BAR products, they are made in the USA.
The new Model 4 is an updated version of the original. It is made from 1095 Cro-Van—the same steel used in the KA-BAR USMC Fighting/Utility Knife. It is 1095 high carbon steel with a little chromium added for better hardening, some molybdenum for edge strength and more edge holding, some nickel for added toughness, and a little vanadium for better bonding. It has excellent edge retention and ease of resharpening.
The Model 4 features a Parkerized 6.625-inch double-edged full-tang blade, 12-gauge commercial-grade steel crossguard, textured fiberglass-filled nylon scales (handles), and traditional X-head fasteners. Blade thickness is 0.154 inch. The Model 4 measures 12.62 inches overall and weighs 0.70 pound.
As a close-quarters combat knife, the Mark 4 is designed for both thrusting and slashing. The spear-point design concentrates 100% of the thrust force along the exact center of the knife. The blade on my Mark 4 came out of the box with a razor sharp edge—as my bloody hand attested to in a careless moment.
Although KA-BAR refers to the grind as flat, technically it is a sabre grind, which differs from the flat grind in that it begins at the middle of the blade or lower, not at the spine as is the case with a flat grind. A sabre grind produces a strong, more lasting edge, albeit at the expense of some cutting ability. It is commonly used on tactical and military knives. The Mark 4 has a 20-degree secondary bevel (cutting edge).
The Mark 4 has superb balance. It is quick and lively in the hand. The balance is toward the handle, making the knife easy to maneuver. It tends to fall into the hand rather than out of it. The handle and S-shaped cross guard facilitate the diagonal, cross-palm fencing grip that was advocated by W.E. Fairbairn and Rex Applegate.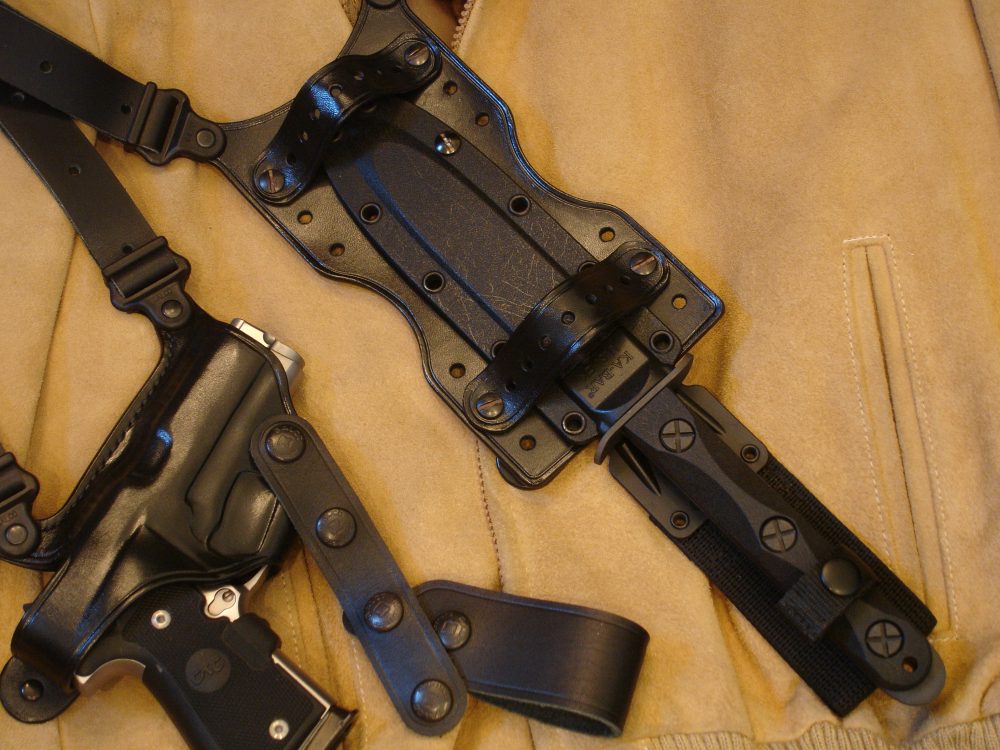 Galco SHUKA (Shoulder Holster Universal Knife Accessory) with Ek Model 4 on Galco Miami Classic Shoulder Holster System.
---
The textured scales feature deep scalloped finger grip depressions that assure a quick, firm grip and enhance the overall ergonomics of the knife. The X-head fasteners allow the scales to be easily removed in the field for cleaning. A coin or cartridge rim works.
All Ek Commando Knives have an extended butt. It is a direct extension of the tang, extending 3/8 inch beyond the grip. It protects the grips and hand if the butt is used as a hammer and can be employed as a light-duty pry bar. And according to Ek's 1944 manual, Your Silent Partner, it can be used for "an upstroke to lay your opponent out."
John Ek included a copy of Your Silent Partner with every knife he made. Full color restored and digitally enhanced reprints of the 30-page 1965 edition are available from Cornell Publications (Item #34920) for $12.95. Cornell Publications is the world's largest reprinter of old gun catalogs and manuals.
The Model 4 comes with a Celcon® thermoplastic sheath that offers multiple carry options. The sheath is of friction fit, self-locking design, with multiple tie-down points and a nylon secondary-retention strap and belt loop. The knife secures solidly in place with a positive click yet is easy to withdraw when one has a proper grip on the knife.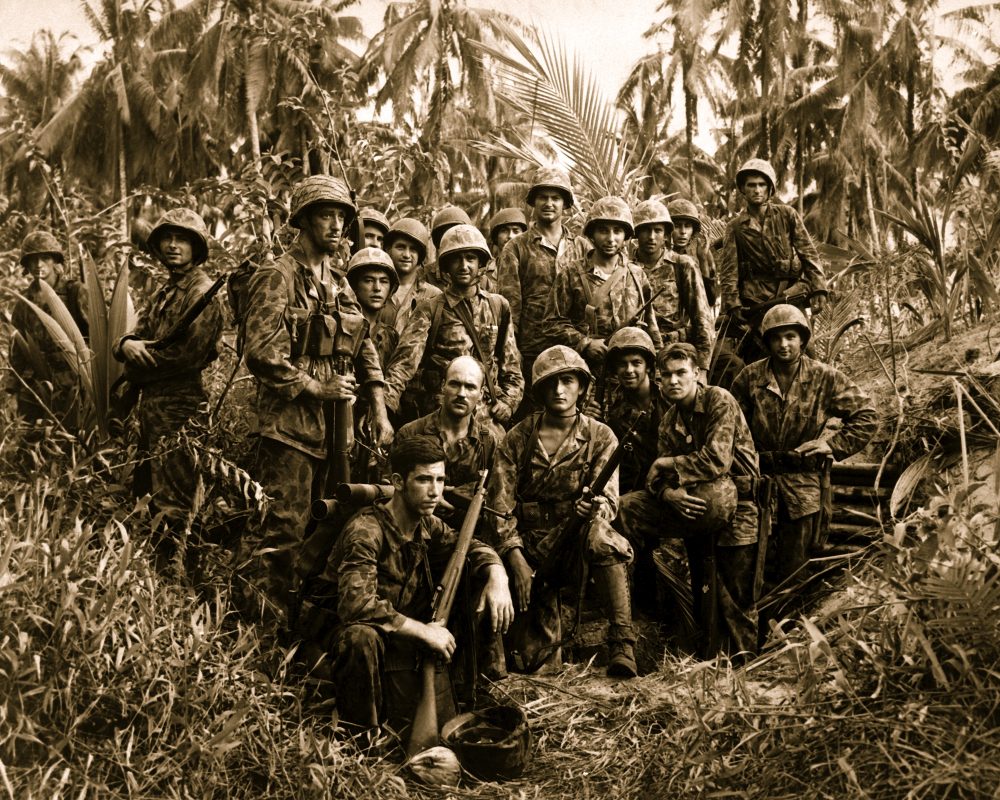 U.S. Marine Raiders gathered in front of Japanese dugout on Cape Totkina on Bougainville, Solomon Islands. Although not officially issued, Ek Model 4 was a favorite of the Raiders during World War II. Photo: U.S. National Archives
---
John Ek offered a shoulder rig for his sheaths to be worn under or over clothing. Galco® offers today's Ek Commando Knife owner a similar option with its excellent SHUKA (Shoulder Holster Universal Knife Accessory).
The SHUKA attaches to any of Galco's modular shoulder harnesses and allows carry of most medium and large fixed-blade knives. You can carry the knife as a primary weapon or attach it with your pistol on one side and your knife on the other.
Besides providing a means for low-profile carry of larger fixed-blade knives, the SHUKA keeps the weight off the gun belt and also frees up belt space. Employed in conjunction with belt tie downs, the harness itself acts like suspenders to uniformly distribute weight.
The SHUKA is made of premium steer hide and is available in black and tan. As with all Galco products, the quality and workmanship on the SHUKA are top notch. It retails for $59.95.
To sum it all up, the KA-BAR EK44 Ek Model 4 is an outstanding knife and definitely worthy of the name "Ek Commando Knife." The Model 4 retails for $125.40 and comes with a limited lifetime warranty.
SOURCES
JOHN EK COMMANDO KNIFE COMPANY
(716) 372-5952
www.ekknives.com
CORNELL PUBLICATIONS
www.cornellpubs.com
GALCO GUNLEATHER
(800) 874-2526
www.galcogunleather.com