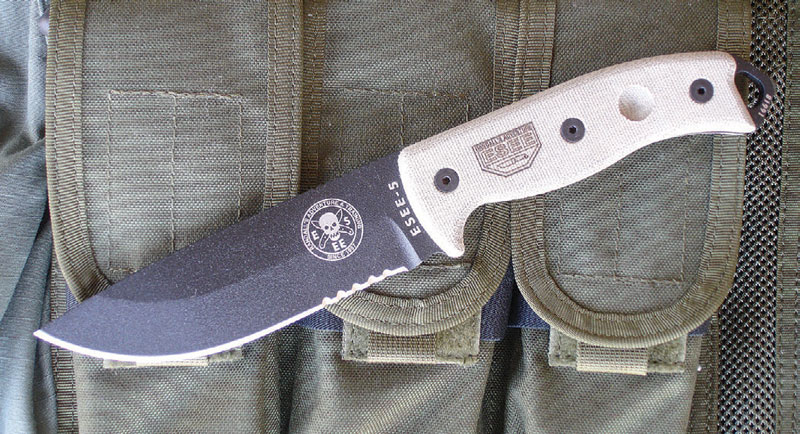 NO doubt about it, ESEE Knives/Randall's Adventure & Training makes some tough knives. The ESEE 5 is one of the toughest, designed by military SERE (Survival, Evasion, Resistance and Escape) instructors as a hard-use downed pilot's survival knife.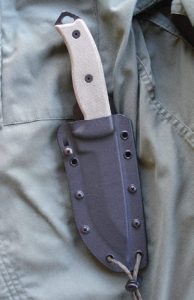 The ESEE 5 has an overall length of 11 inches, with a versatile 5.25-inch drop-point blade with saber grind. This type of grind provides maximum edge strength and a strong point, although it sacrifices some cutting ability.
The blade is made of 0.25-inch thick 1095 carbon steel, hardened to HRC 55-57 and finished with a textured Black or OD powder-coat finish. 1095 carbon steel contains only two alloying elements: 0.95% carbon (hence the 95 in 1095) and 0.4% manganese. It's reasonably tough, holds an edge well, and is easy to sharpen—all important in a survival knife. It's less brittle than many other types of steel due to its lower manganese levels. The U.S. Marine Corps has specified 1095 carbon steel for its issue knives since World War II.
The major drawback to this type of steel is that it rusts fairly easily. But with a little care, you won't ever have a problem. ESEE Knives suggests using a dry-film rust inhibitor such as TUFGLIDE ® or TUF-CLOTH®.
The ESEE 5 is available with either a plain edge or partially serrated blade. I chose the latter, as it offers the advantages of the plain edge for precise push cuts and the advantages of the serrated edge for slicing cuts, especially through tougher materials like rope and webbing.
The serrations on ESEE knives are among the best in the industry. They're significantly more efficient and easily cut through rope, seat belts, and other flexible materials. They also slice very well and don't get caught in material like some other designs. Plus, sharpening the ESEE serrations is a breeze: just sharpen the edge the same as you would a plain blade.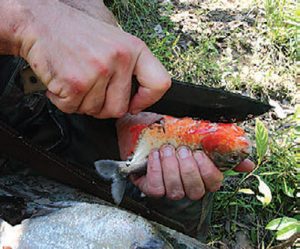 All ESEE knives feature full-tang construction for strength. The scales (handles) on the ESEE 5 are made of canvas Micarta®, a high-pressure laminate made from a cotton fabric and phenolic resin. Not only is it extremely durable, it also looks great and provides a superior gripping surface. The scales are attached with blackened stainless steel hex-socket screws.
The ESEE 5 has several cool and potentially lifesaving features. The handle on the ESEE 5 is equipped with a divot for use with a bow drill for fire starting in wilderness survival situations. The ESEE 5 also features a glass-breaker pommel with a large lanyard hole. The glass-breaker point is of a pyramidal design with four flats and is very effective.
If you're looking for a lightweight knife, the ESEE-5 is not for you. Weighing in at 16 ounces, it's a heavy knife designed for extreme use. Some have even likened it to a sharpened pry bar, but that doesn't do it justice.
Although it's a beast, the ESEE-5 is suitable for both heavy duty and detailed tasks. It has outstanding ergonomics and balance. Thumb jimping on the spine permits precise blade control when needed.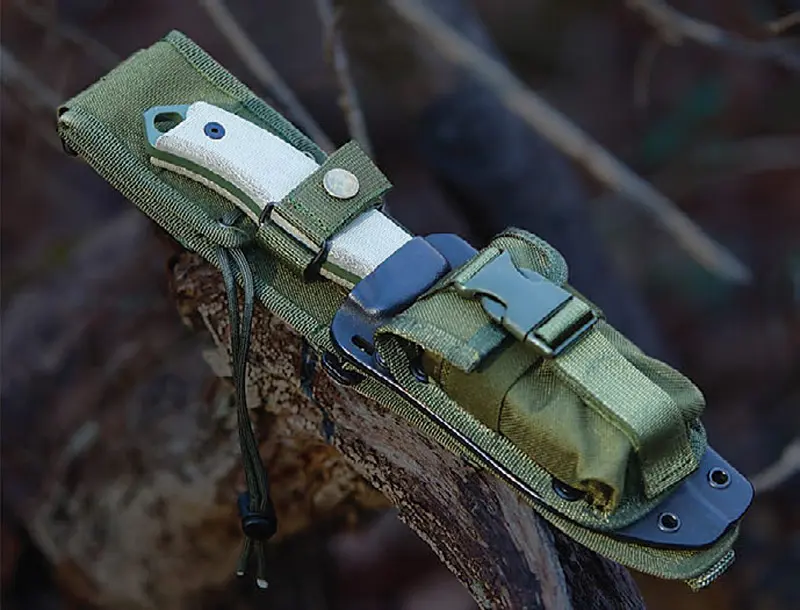 The ESEE 5 has a high-quality custom Kydex® sheath with mounting grommets. The sheath secures the knife with no rattle. The sheath features an adjustable slide-lock tension system that's licensed from Blind Horse Knives. The sheath has a drainage hole at the bottom, and includes a 550 paracord lanyard with cord lock.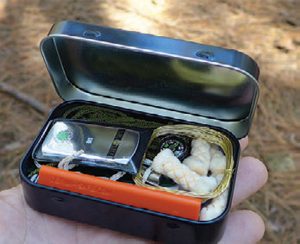 The ESEE 5 sheath comes with an ambidextrous clip plate, with mounting screws and washers included. The spring steel clip allows for easy belt carry. The clip makes the knife quick to don and doff. It's quite secure.
The hole spacing on the ESEE 5 sheath also fits Blade-Tech® attachments, including the TEK-LOK™ and MOLLE LOK™. Optional accessories available from ESEE Knives for the ESEE-5 include a Cordura® nylon MOLLE back sheath with a sheath pouch on the front. The sheath pouch can be used to hold a small survival kit, such as the ESEE Mini Kit.
The workmanship on the ESEE 5 received for evaluation was outstanding. The knife was absolutely flawless. The blade was exceptionally sharp right out of the box, another demonstration of ESEE Knives' great attention to detail.
The ESEE 5's MSRP starts at $129.50. Each knife is individually serial numbered. For a personal touch, ESEE Knives can laser engrave your department or team logo or badge. ESEE Knives has a license on file to engrave knives for employees and agents of the ATF and USMS.
ESEE knives are covered by the best warranty in the industry. If you break an ESEE knife, they will replace it, no questions asked. The warranty is lifetime and transferable. No receipt or proof of purchase is required.
If you're looking for a knife that won't let you down when the chips are down, the ESEE-5 certainly fills the bill.