Skallywag Tactical™ of Marina St. Croix, Minnesota is a veteran-owned custom knife shop that describes itself as a "skunk works shop out in the woods that builds cool stuff."
Scoring high marks for "cool" is the Skallywag Dagger, a stabbing weapon that can be employed as a transition tool to create distance in the grappling situations encountered in CQC. It is a ring dagger designed to let you get to a safe leverage position before transitioning back to your firearm, and is typically worn centerline for easy access with either hand.
According to Craig Burhart, one of the owners of Skallywag Tactical, the Dagger was designed to overcome some issues they saw with the SOCP (Special Operations Combatives Program) Dagger, e.g., it was hard to get a finger in if you have a big hand and/or are wearing gloves. They also wanted to make it a little more robust overall.
The blade profile of the Skallywag Dagger is based on an ancient Greek hoplite spear that could penetrate armor. In order to keep the tip strong, Skallywag Tactical chose not to make it a dagger/knife, but only a dagger, with no cutting edge at all, such as the Italian stiletto of the Renaissance. They accomplished this by grinding the edge only to a 40-degree angle to provide a following edge to the point.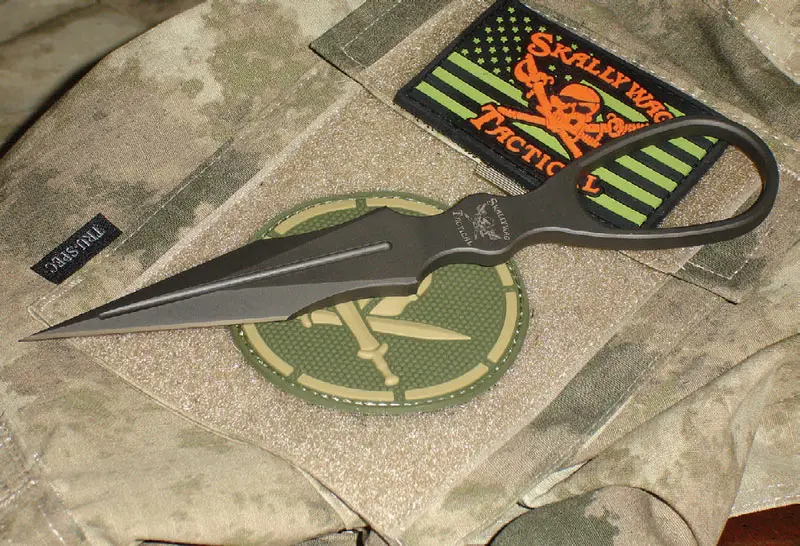 The Dagger features a large ring at the top that makes the blade a quickly accessed gross motor skill weapon, as you use one or two fingers to anchor your grip even with thick gloves. It also allows retention of the Dagger while performing other tasks such as transitioning to a firearm.
This retention capability is a critical feature of the design. As S.W.A.T. contributor and former U.S. Navy SEAL Jeff Gonzales of Trident Concepts has pointed out, "Once you've deployed an edged weapon, it's oftentimes just better to keep it out. Trying to secure a folder is reasonable, but trying to secure a fixed blade can pose new problems."
Simply dropping a knife or dagger is not an answer, because your assailant may pick it up and use it against you.
The Dagger has an overall length of 7.85 inches and weighs 3.8 ounces. It has a 3.85-inch blade and is 0.25 inches thick, tapering to the tip. It has a blade fuller (often erroneously referred to as a "blood groove") and choil.
The handle on the Dagger is scaleless to minimize thickness. The lack of scales means you can carry the Dagger closer to the body and it's more difficult for an assailant to grab. The handle has finger scallops in addition to the large handle ring. All edges of the handle are chamfered for comfort.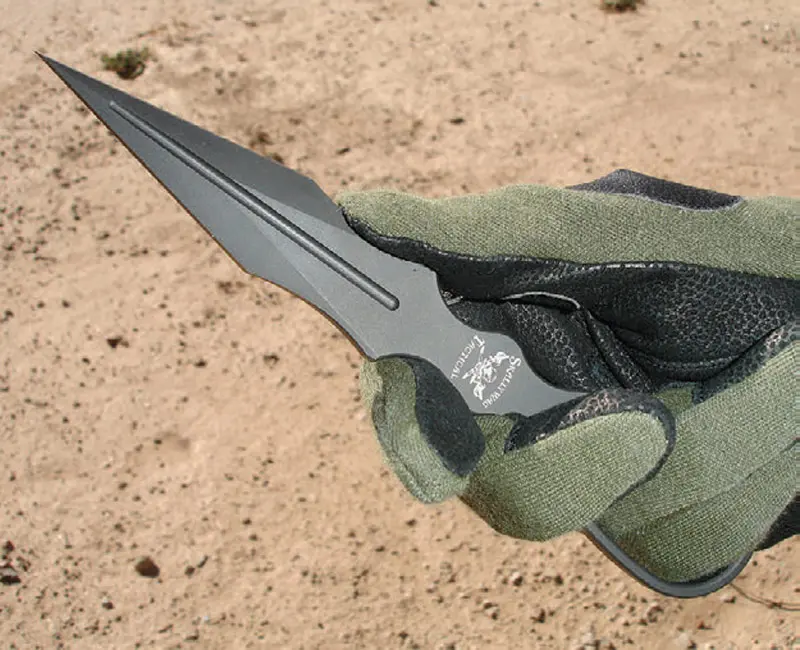 The Dagger is hand ground, hardened, tempered and coated in-house by Skallywag Tactical in its north woods facility. The blade undergoes a final hand grind for a needle-sharp tip that is designed to penetrate soft armor. The workmanship on the Dagger provided for evaluation was outstanding.
Upgraded from the original 440C stainless steel used in early production, the Skallywag Dagger is now CNC machined from a billet of D2 tool steel. D2 is an air-hardened semi-stainless tool steel. It offers better corrosion resistance than most tool steels due to its higher chromium content, and it has excellent wear resistance, making it a good choice for hard-use applications.
Skallywag now uses Ionbond™ for the coating process instead of the original Cerakote™ ceramic coating. Ionbond is a relatively new coating that is applied through a PVD (Physical Vapor Deposition) and/or PA-CVD (Plasma Assisted Chemical Vapor Deposition) process. Ionbond coating improves wear resistance due to its high hardness, low coefficient of friction, and high structural integrity.
The Dagger is available with either a DiamondBLACK™ or Flat Dark Earth Ionbond coating. The Skallywag Tactical logo is laser etched into the backside of the blade.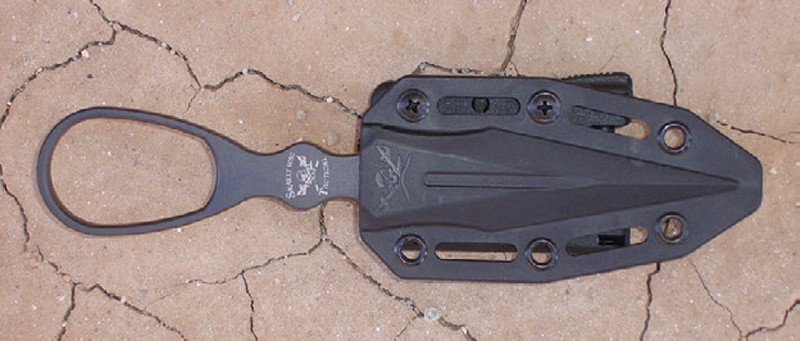 Skallywag Tactical has partnered with Blade-Tech™ and is co-branding the Dagger with them to bring extra value to the package. The Dagger comes boxed with an injection-molded friction- fit sheath from Blade-Tech and includes two Molle-Lok attachments for PALS mounting, two IWB clips, and one Tek-Lok™ attachment. The design of the sheath also allows it to be lashed onto PALS, on the belt or IWB using 550 cord in lieu of any mounting attachments, to keep the profile at its thinnest.
Skallywag Tactical also offers a training version. The Dagger Trainer features a rounded tip and is made from 6061 aerospace-grade aluminum. It is hard-anodized in bright blue to easily distinguish it. The Trainer fits in the standard Dagger sheath.
The Skallywag Dagger is a well-made and well-thought-out design. It is a lethal single-purpose tool that serves its intended purpose without compromise. It has a suggested retail price of $225, and $35 for the Dagger Trainer. Both models come with a lifetime guarantee against defects in materials and workmanship. Skallywag Tactical offers a 10% discount to military and first responders. Use code "USMIL" when ordering.