Georgian knifemaker Stephan Fowler named his series of knives after three well-known Georgia landmarks— Stone Mountain, Springer Mountain, and Sugar Hill.
My first impression of Stephan Fowler's knives was that they looked a little too nice. I almost didn't feel right getting the Stone Mountain and Springer Mountain dirty and marked up as I put them through the wringer for this review.
Fowler favors 1084 and 1095 steel (RC 59-60) for his hand-forged knives. Used in the automotive industry for springs, 1084 steel is an excellent knife steel, while 1095 steel is known as the industry standard for carbon steel knives and is a real workhorse.
Stephan informed me his heat treating is achieved by normalizing, several times bringing the steel up to or slightly below critical (1,430 degrees in the case of 1084) then applying a 1/16 nominal clay slurry to the blade to establish a transition zone (hamon) for hardening.
The knife is then heated to 1,430 degrees and held for a minimum of one minute, quenched into Parks #50 quench oil and immediately placed into the temper oven at 425 degrees for three one-hour cycles.
The final product? Hard-working, straightforward, classy knives at an affordable price.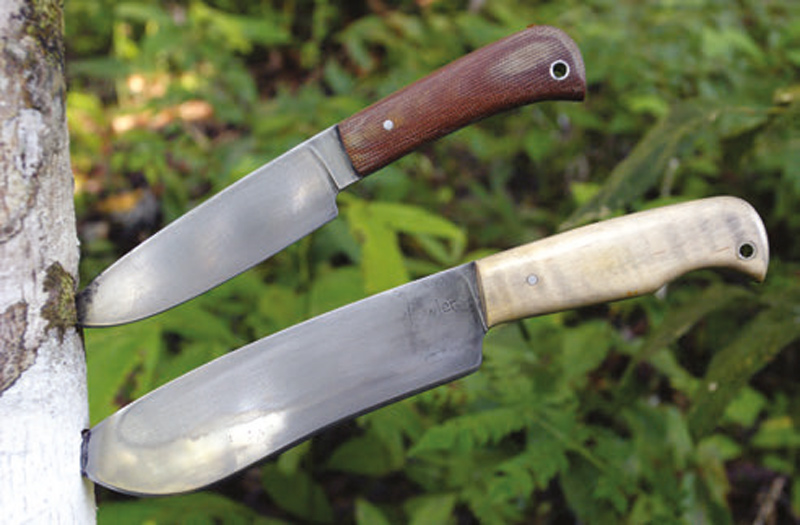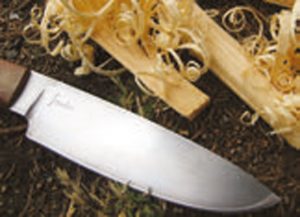 STONE MOUNTAIN
The Stone Mountain blade is named after a famous monadnock in Georgia, the largest piece of exposed granite in the world. At only 1,683 feet tall, this relatively small mountain packs a lot of punch for its size. It's no wonder Stephan Fowler picked such a befitting name for this knife.
The Stone Mountain features a 4¼- inch drop point blade, flat ground with a convex edge made from 1084 steel, with a tapered tang. It is 3/16-inch thick at its widest point. The brown canvas Micarta handle has a bit of a parrot beak to it. There's a grey hand-rubbed finish to the blade that screams, "Use me!"
I discovered the package late in the evening, so the Stone Mountain was instantly put to use in the kitchen cutting up fruit and meat. I noticed the thin blade sliced apples and pears very easily. In fact, I was able to see the Fowler logo right through a few of the ultra-thin pear slices. Strawberries were up a few days later. It didn't take long before the blade was covered in a nice patina. No rust, just some real character.
During this part of the testing, I just rinsed the blade off, patted it dry with a towel, and left it on the counter. I cut up about four pounds of cheddar cheese and three pounds of summer sausage during the last few weeks. The Stone Mountain is an excellent cheese knife and offered no real resistance while cutting blocks of cheese into small cubes.
The knife remained on the counter for about two weeks and was used for every possible mundane task from opening mail to cutting string. Whatever goes on the cutting board gets used for everything.
On the trail in the Cleveland National Forest in southern California, fresh green yucca stalks and bright yellow flowers are sure signs it's springtime in the desert. Time for some woodcraft!
Fuzz sticks and notches are common tasks for a knife in the outdoors. Whittling and carving for a good hour will tell you many things about a knife. This is a great way to become familiar with its balance and find that sweet spot for making fuzzies. Sometimes it takes only ten minutes of whittling before you start to feel hot spots in the hand. The Stone Mountain gave no hotspots or discomfort.
Chopping small branches with a flick of the wrist was easy due to the handle shape and balance of the knife. I am not one for prying, but I did dig into some dried wood to take small chunks out of a rotting log that had been attacked by bark beetles. (Southern California has a problem with bark beetles killing trees, especially during fire season.)
The knife remained perfectly intact and comfortable. And when the knife lost its ability to shave hair off my arm, it could still make nice fuzz sticks. That is attributable to good blade geometry.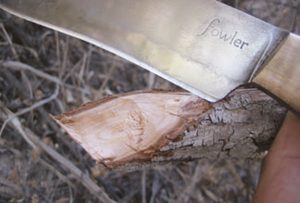 SPRINGER MOUNTAIN
Springer Mountain is at the southern end of the Appalachian Trail and is one of Stephan's favorite hikes, hence the name was a natural choice for a knife.
The Springer Mountain has an overall length of 10¼ inches. With its sixinch flat-ground, recurve blade that is 3/16-inch thick, it falls into the "camp knife" category.
Like the Stone Mountain, the Springer Mountain features a distal taper, a common characteristic on Fowler knives. Stephan put a nice set of maple scales over the tapered tang, which gives it an elegant look.
The intent of this knife design was to create an effective chopper profile while keeping the overall weight down. With the Springer Mountain, I focused more on big-knife chores like chopping and batoning.
Although lighter than most knives of its size, the handle design allows you to choke back and get a little more leverage, which makes the knife feel about two inches longer for chopping.
Bamboo was first on the menu. I chopped down a fair amount of green stalks for tarp stakes and making a digging stick—they were all cut with a single clean chop.
A little farther down the trail, I found some fallen trees that were perfect for testing the edge on hard wood. I soon had a nice pile of wrist- and finger-sized pieces of wood.
Either I'm a Good Samaritan or I just like chopping stuff, but I came across a small tree covering the trail that looked like it had fallen over from strong winds. I limbed it pretty easy, clearing the trail.
The handle of the Springer Mountain felt very comfortable but got a little slick after I started to sweat. This size knife really excels when it comes to batoning. Having six inches of steel to pound on gives the user the options of batoning near the tip or closer to the handle.
Finally, I came across some small dead stumps and stuck the knife in with a chopping motion, then wiggled the blade sideways until it broke the wood apart, leaving good kindling-size pieces. The blade had a nice flex to it when doing this. Both the handle and blade stayed intact throughout all the hard use.
The handmade vegetable-tanned brown leather sheaths Stephan includes with the knives really complement the beauty of his work.
BOTTOM LINE
There is much character and originality in hand-forged custom knives. The nuances in the steel and grain in the wood are much like a great jazz musician playing a solo. You can hear the same guy playing the same tune, but it will be a little different every time!