OLD tools often strike a chord, and not from nostalgia. I like old tools because, within the limits imposed by the materials available in times past, they were designed and made to give indefinite service, and they get better with age, like a lifelong friend.
Today, we have some wonderful new materials, but often as not we use "white-metal" alloys where we should use honest steel, and use cheesy plastic where we should use worthy die-cast alloys.
And more's the pity, because today's designers and manufacturers have access to new alloys and space-age synthetics that can build tools that would almost last forever, not just make the circuit from Asia through your wallet and into the planetary trash heap.

In the past, we've been a world leader in the design and manufacture of good-as-it-gets tools and knives. The good news is that some of our knife makers still are. Buck Knives, a good example, avail themselves of the best appropriate new alloys and synthetics and then design tools with a thoroughly modern, even innovative, esthetic.
Part of this hard-to-define esthetic is that when you hold a given knife in your hand, the only question is how you are going to tackle the job in front of you. With the two knives examined here, the TOPS/Buck CSAR-T Pro and CSAR-T Responder, the tool failing you with the job half done will never be a consideration. This is critically important to those in the life-saving professions.
As the name implies, these are collaborations between TOPS Knives and Buck Knives. They are purpose-designed and built for combat search and rescue, though their usefulness goes beyond those missions.

Although willing to be converted, I am not yet a total fan of the tanto-style point on a knife because, although it does give a strong tip, it comes at the expense of common knife functions besides poking people. As in, if I ever get somebody else's blood on my knife, I hope it's because I'm cutting them free from a downed aircraft. (Darkalley defensive slicing rights reserved, of course.)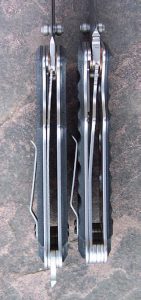 But through some diplomatic engineering, these two rescue knives have been given a modified tanto shape that I think gives the strength and weightforward balance of a beefy tanto without compromising other functions. The tanto influence and benefit are there, but in a slightly dropped point and radiused angle leading to that point.
Although this may not have been part of the design parameter, these are the only knives of this dimension I've used that were capable of chopping. I'd guess that if you had to baton the 0.175- inch blade of the Pro through something with a big rock, the damage would only be cosmetic, because it is built to do its job under abusive conditions. In fact, if you break one with your hands, don't bother sending it to Buck under their "forever" guarantee. Bring it to me because I'd like to shake the hand that could break such a knife. They are simply built strong.
Since they share several design features, we'll examine those first. Both blades are 3.5 inches in length and feature a modified tanto tip for strength. The CSAR-T Pro folds to a compact five inches closed, and the CSAR-T Responder folds to 5.25 inches.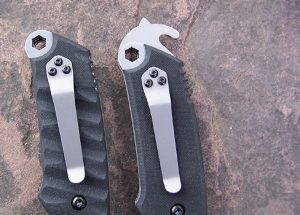 Each has ambidextrous thumb-stud opening and heavy liner locks, noticeably heavier on the Pro, and these liner-type locks are in addition to the stainless steel frame. Both blades pivot smoothly on bronze side bearings, making them easy openers.
Both knives feature G-10 grip scales, with a heavily sculpted "Rocky Mountain Tread" on the CSAR-T Pro and textured "fabric" finish on the Responder. Both grips have a similar silhouette, with a forefinger cut-out just aft of the pivot point. On the butt, both have a hex-bit compatible socket that can double as a lanyard hole. (Buck also offers a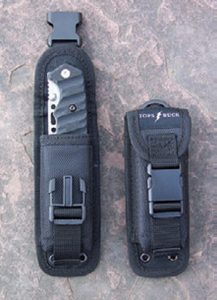 15-piece adapter and hex-bit set.) Each blade has an oxygen wrench cutout below the spine, plus two 15/64-inch wire bending holes.
They each come in a heavy-duty MOLLE-compatible sheath with positive quiet synthetic spring-locking flap closure. Both also feature a reversible stainless steel tip-up carry clip (with an extra set of pan-head Torx cap screws provided in place, to keep unused holes blind and clean).
Aside from the heavily sculpted grip of the CSAR-T Pro, the first noticeable differences in these cousins are the heft and mass of the Pro's blade. It's a massive 0.175-inch thick by 3.5-inches long, formed from 154CM, known for its toughness and hardenability, with smooth blasted finish, which accounts for the knife's solid 8.5-ounce weight.
The blade on the Responder is a respectable 0.120-inch thick. It's 3.5-inches long with a smooth zircon ceramic blasted finish formed from 420HC stainless, and features a pointed auto-glass breaker on the butt and an efficient seatbelt/textile/cordage cutter. Both blades have a similar silhouette from the side.
We reckon you can work these knives hard the rest of your life, and your grandson will still be glad you made the investment.
The CSAR-T Pro retails for $168, and Open architecture of CSAR-T the Responder $147.