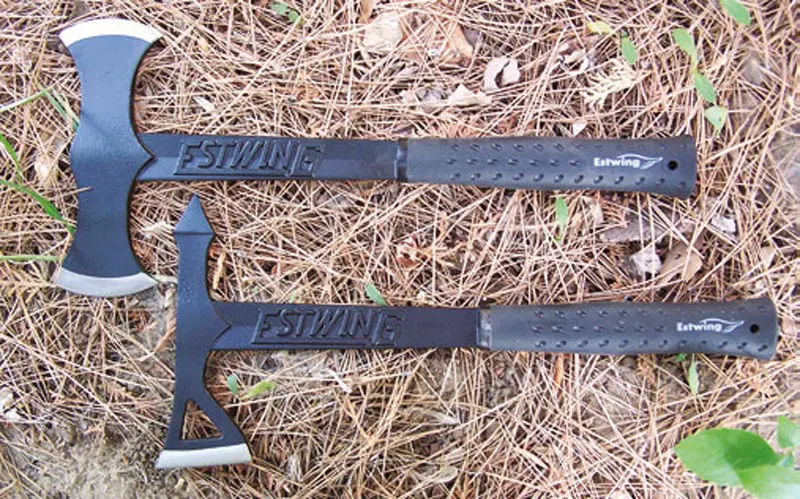 Full disclosure: I like Estwing hand tools. I have every one I ever owned or that belonged to my Daddy, except for a camp axe—and I know who got it and they remain forever unforgiven.
Like everybody else who ever pounded nails to make the grocery bill, I have a favorite hickory-handled framing hammer and a light finishing hammer. But if I'm putting together tools for a remote job or other circumstances where the aging tradesman might fail but the tools absolutely must not, you'll find an assortment of Estwing hammers, hatchets, geologist's picks, or single-jacks among them.
I have a smaller leather-handled Estwing hammer that I found lost in the desert, and the leather is "fixed" with fishing line and glue. I have a geologist's hammer with the pick worn down to a stub, and a dozen other job-specific Estwings, but I have never seen an Estwing tool fail from use or abuse.
They are still made in the USA by American workers and from U.S. steel. And they're still good for a lifetime. Or two.
End of rant, but not end of story.
Beyond a paycheck depending on the tool, we enter the arena where lives may depend on an operator's tool in military, police or rescue operations. The uniquely American tomahawk enjoyed a resurgence during the Vietnam War, and its unequalled capabilities have since seen it become an item of GI issue, individual purchase, and wide use in the public safety sector.
Whether your mission is professional service or personal survival, there are some excellent ones on the market, but one common denominator among the really tough stuff has always been the price.
Leave it to Estwing, which since the Roaring 20s has built a great tool company marketing to the working man, to introduce two top-quality tomahawks at a working-man's price.
Their new Black Eagle Tomahawk Axe and Black Eagle Double Bit Axe are not only within easy reach even on GI pay, but are well designed and look to be as indestructible as any other Estwing tool. Each of these two models can be had in black, which we tested, in blue with blue handle, or with the classic leather handle.
The specifications of each model are the same regardless of these esthetics. Both are made of 1055 tool steel, which is pretty tough stuff when hardened as appropriate for an axe, usually just a tad softer than for a hammer. Estwing is marketing these to "sportsmen and military professionals," and I'd guess those interested in no-excuses survival tools fall squarely in between.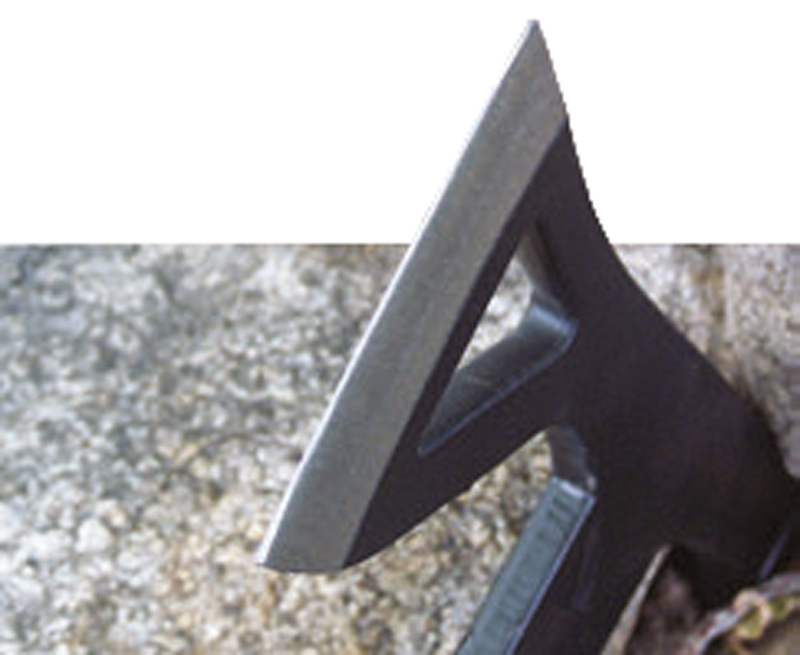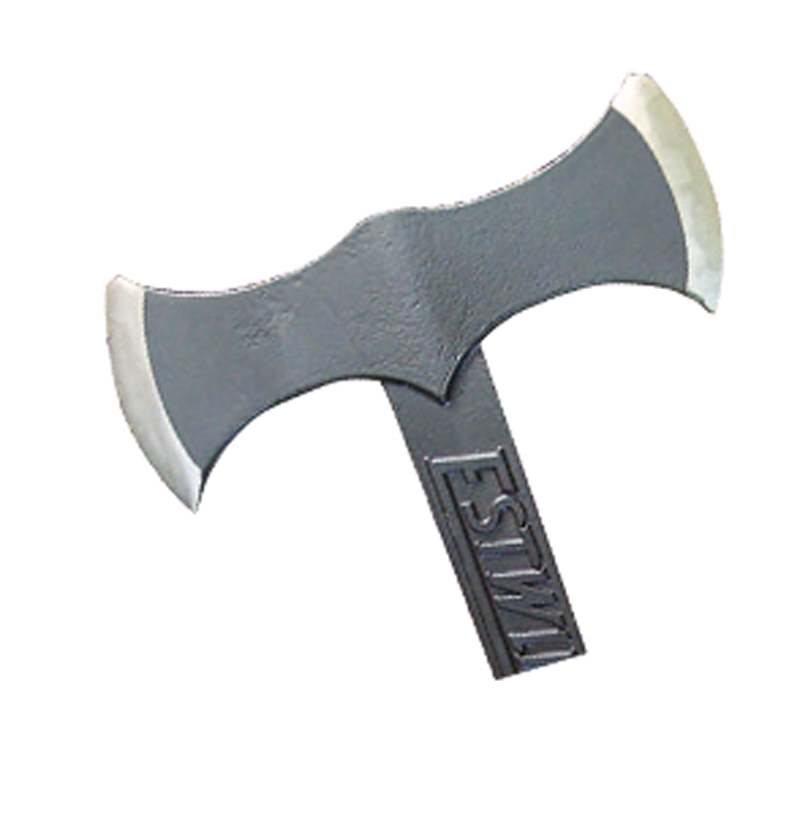 BLACK EAGLE TOMAHAWK AXE
The Black Eagle Tomahawk Axe has a head shaped in the neo-classic Tony Lagana style: a slight forward rake to the angular leading edge of the face, and a distinct trailing beard, with only a slight radius, intended for the usual acts of mayhem or desperation.
Opposite is a "spontoon" [sic]-style diamond spike for puncturing steel drums or helmets or for rescue work. The cheeks have a triangular cutout that allows a thicker crosssection at the face, while keeping the weight and balance of a fast-moving tool likely to be used as a weapon.
The handle is pure Estwing of forged steel, but broader and even stronger, and a leg up on most competitors because the whole tool is drop-forged from one piece. The over-molded nylon vinyl Shock Reduction Grip is similar to what you would find on a large framing hammer, with good tactile characteristics and a flare at the butt for retention. It has a thong hole.
In a breaching or rescue scenario, if you are able to insert either spike or axe between members that must be separated, you would not be able to bend this handle using the tool as a pry bar. Well, maybe if you sleeved it with a ten-inch pipe and gave it all you got.

BLACK EAGLE DOUBLE BIT AXE
I have an Estwing hatchet that has been used so much over the last several decades it's lost ¾ inch off its face from a round pocket stone. It's been my "go-to" hatchet for many years and usually lives next to the wood box between expeditions.
I liked my single-bitted camp axe until it grew legs. But this new little Double Bit Axe just may be the most axe for its dimension and weight anybody ever offered.
Of course it's not a serious logger's axe, but I can envision timber cruisers, now overloaded with electronics as they go into the field, carrying this on their belt and calling it good. It's also appropriate to consider when talking about the tomahawk genre, due to its dimension, weight and swing.
Although it has a short handle for a double-bitted axe, with two hands it can do serious work for its size. As a wilderness tool, the advantage of a double bit is that you can sharpen one side more keenly versus one side more obtusely, for different chopping functions like nasty digging as opposed to fine chopping, shaping or skinning.
Both these Black Eagle tools come in a decent ballistic nylon sheath that is not optimal for quick release or combat carry, but if you can't figure a way to secure it to your LBE or build a rigid sheath from retired fire hose, maybe you shouldn't be carrying sharp tools.