Grammy® Award-winning artist and knife enthusiast Zac Brown created Southern Grind to represent what he believes knives should be—ruggedly dependable and highly functional, using the highest quality materials and workmanship second to none.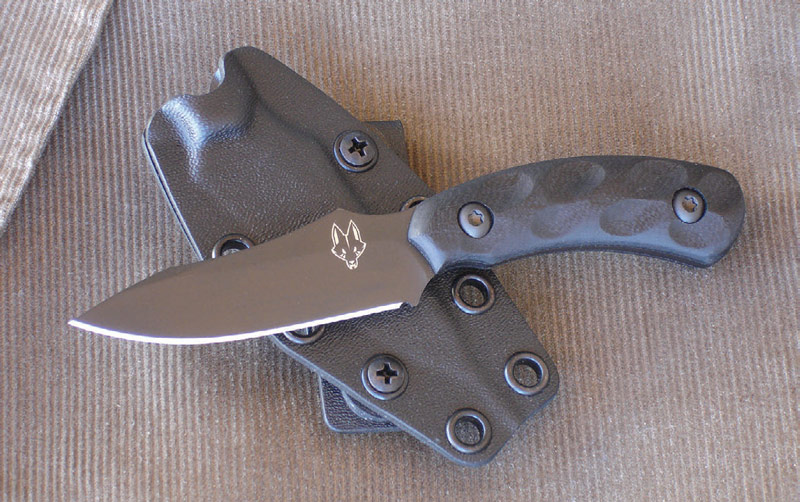 The mission of Southern Grind goes beyond making state-of-the-art knives. It's also about giving back to the community. The efforts of Southern Grind benefit Zac's passion project— Camp Southern Ground.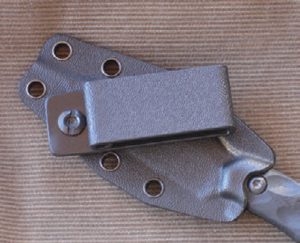 Nine weeks out of the year, Camp Southern Ground acts as a summer camp. The remainder of the year, the campus is used to bring together leaders in the fields of neurobehavioral disorders, military respite, and more to discuss how Camp Southern Ground can serve all those groups.
As a former camp counselor, Zac knows the benefits a positive camp experience can have on a child's life. Camp Southern Ground is a 501(c)(3) non-profit organization. It serves children from all backgrounds, races, and religions, with special emphasis on children with Autism Spectrum Disorders such as Autism and Asperger's Syndrome, learning and attention issues like ADD, ADHD and Dyslexia, social or emotional challenges, and those with family members serving in the military.

Southern Grind offers an evergrowing line of products. The Southern Grind Jackal Pup immediately caught my eye with its compact EDC-friendly size. A scaled-down version of the fullsize Jackal, the Jackal Pup retains most of the features of its bigger brother.
Like the Jackal, the Jackal Pup features full-tang construction, a modified clip-point flat-ground blade with finger choil and thumb ramp, 8670M high carbon steel construction, and sculpted G10 scales (handles). Also like its bigger brother, the Jackal Pup is available in a variety of handle and sheath colors and blade finishes.
8670M is a non-stainless, low-alloy tool steel. Think of it as a super L6 steel. The 86xx series low-alloy steels were developed during World War II to conserve nickel and other alloying elements critical for the war effort. 8670M is a specialized steel with a 320,000 psi tensile strength. Commonly used for circular-saw and band-saw blades, it's a tough steel with good wear resistance. Southern Grind cryogenically quenches the blade to -300°F for maximum strength and durability.
Although 8670M is a top steel for hard use, it will rust and stain if not properly cared for. Keep your knife sharp, clean, dry, and oiled and it won't let you down.
The Jackal Pup has a 2.8-inch blade. Blade thickness is .135 inch at the spine. The knife has a 2.95-inch handle length and overall length of 5.75 inches. It weighs 2.8 ounces. It's the perfect size for an EDC fixed blade and is also an outstanding caping, bird and trout knife.
Clip-point blades are very popular and date back to at least Macedonian times. The modified clip-point blade of the Jackal Pup provides a sharp and controllable point that's good for piercing and has plenty of belly for slicing. It's an excellent all-around blade.
The blade is finished with a Physical Vapor Deposition (PVD) coating. PVD is a vacuum deposition method that produces a thin, hard, and corrosion- resistant coating that is often more durable than even electroplating. The Jackal Pup is available with Black, Gunmetal, and Desert Tan PVD coatings.
The 3D milled G10 scales are attached with three Torx screws. The sculpting on the handle, coupled with the shape of the handle and finger choil, not only looks awesome, but also serves a practical purpose by providing a very secure, comfortable grip on the knife with any grip technique and with wet or bloody hands, without being abrasive on clothes. The Jackal Pup is available with Black, Black and Tan, Desert Tan, Jade Ghost Green, and OD Green scales.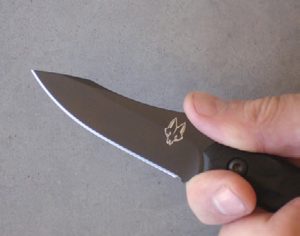 The Jackal Pup comes with a versatile multi-carry formed Kydex® sheath in your choice of Black, Coyote and OD Green. It holds the knife by a secure friction fit with no rattle. As with all Southern Grind products, the sheath exhibits great attention to the details overlooked by some, such as the small molded drain hole in the bottom.
The belt clip is attached by two Chicago screws and can be positioned for ambidextrous IWB/OWB carry or removed for carry on a neck chain as a neck knife. The clip fits belts up to two inches wide. It's MOLLE/PALS compatible.
Fit and finish on the Jackal Pup are flawless. The attention to detail is immediately apparent. The grinds on my knife are perfect. The scales are perfectly mated to the tang. Southern Grind takes great pride in its products. Every knife comes with a card signed by both the assembler and the final quality inspector.
The blade comes out of the box with a sharp factory edge. The 8670M blade is hardened to RC 58-60 and holds its edge well, yet is easy to sharpen. If you register your knife with Southern Grind, you'll receive free sharpening for life from the company.
The Jackal Pup has a suggested retail price of $129.95. All Southern Grind products are made in the USA by American craftsmen and come with a limited lifetime warranty. And not only is the Jackal Pup an outstanding knife, but your purchase helps support a very worthwhile cause too.