Every soldier needs a utility knife. When I was a GI, the Army commonly issued three blades: a bayonet for Garand or Carbine, the TL-29 lineman's knife, and the metalscaled "scout" style jackknife with the usual-suspect assortment of can openers.
Also issued to those who needed them on duty were an orange-handled automatic version of the "scout" knife, plus blades of the Ka-Bar genre and machetes. The most commonly used blade was the regular blade of the "scout" or TL-29. In other words, a single folding blade was what was really needed. These jackknife-type main blades were less than ideal, but they served.
Today, multiple-use tools with great assortments of implements, many of them mission-specific, are universal and commonly issued. I've been a fan since the first one hit the market. Almost every one has a typical spear-point, sheepsfoot or clip-point blade or even all three, most of them like those found on a jackknife, and in the better multi-tools, they lock open for safety.
After the pliers that are the primary raison d'etre of the multi-tool, these blades are the most-used function. Because they are only one function in a tool that is a handful of capable compromises, most of these blades are still similar to the original jackknife blade in size, form, and utility.



I got my first Buck Folding Hunter decades ago. I never knew what I'd been missing, except for part of a finger when a "scout" knife folded when I was using it wrong. Hmmm: a blade that locks and is big enough to do serious work. How had I missed that epiphany all those years….
Reduce the "pocket" knife to its most basic, most-used, most usable form, and what you have is the genre of the Buck 110 Folding Hunter, which incidentally is still going strong in an assortment of styles after a half-century of production.
The large single-blade folder has evolved considerably from the 110 and its contemporaries of a generation ago, but this genre is still the basic pocket knife. Today's offerings are a quantum leap ahead in utility, because most of them now feature a heavy blade, strong locking mechanism, and one-handed opening.
Healthy competition has resulted in many advances, including options for carry, type of lock, and one-handed opening, plus the creative use of advanced materials and careful attention to ergonomics.
Buck has recently introduced more than a dozen variants of the new Vantage® Force series, designed for use by GIs but equally useful for anybody who carries such a blade.
Within the series, all knives are dimensionally and functionally of the same excellent design, with variations on the theme being in the blade steel, handle materials and treatment. They run from the top-tier Pro models, through the mid-range Avid models to the great-value Select models.
With the Pro and Select models, the blades are available in both non-reflective stone-washed stainless or black oxide finish, with choice of grip colors. The Avid models are available in black oxide only, with black-anodized aluminum grips.
In all models, the blades are available plain or partly serrated. All blades are drop-point style, swedged along the spine, and have an oxygen-wrench cutout that also serves as an opening aid in addition to the flipper. All blades are 3¼ inches long and made from 0.12-inch stock. The blades are all slightly hollow ground and have the depth and bellied radius at the tip that separates this more-capable genre from a jackknife blade.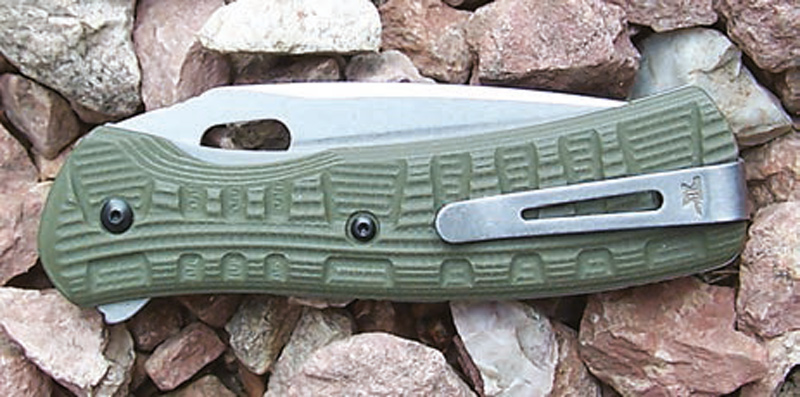 All models feature a strong linerlock mechanism and have a removable, reversible clip for tip-up discrete carry. With the clip removed, this is a very pocketable knife that is shaped so it comes to the hand in a pocket, properly indexed for quick one-handed opening as soon as it clears. The shape also tells the user the attitude of the blade when deployed in the dark.
Particularly useful on this design is that, in addition to the clip being reversible, with the clip removed the knife is better than ambidextrous—it's totally symmetrical and dominant-side neutral. For instant and one-handed flip-opening, this is of gratifying interest to us of the non-starboard persuasion. The discrete flipper is so arranged that a pull by the index finger and a shake have the blade open and securely locked as fast as an automatic knife.
The Pro 847 series features blades of premium S30V stainless, available in stone-washed or black oxide finish. The scales are CNC machined from blanks of G10 synthetic in Black/Blue on the blackoxide finish, Desert Tan or OD Green on the stone-washed finish. In this configuration, they weigh 4.6 ounces.
The Pro is also available as the 845, with grip scales of textured glass-reinforced nylon in the A-TACS® camo pattern, weighing 4.3 ounces.
Avid models come in black-oxide finish only, with blackanodized grips, and weigh in at 4.8 ounces. The blade of the Avid is made from 13C26 Sandvik® stainless.
Select models are made from Buck's standby 420HC stainless, in stone-washed or black oxide finish, with textured glass-reinforced nylon scales in your choice of Black (on black oxide model), Desert Tan or OD Green.
All the knives of the Vantage Force series are strong, capable, handy and attractive. We predict they will have at least a half-century run like their Grandpa, the 110 Folding Hunter. Suggested retail prices are from $63 to $142.