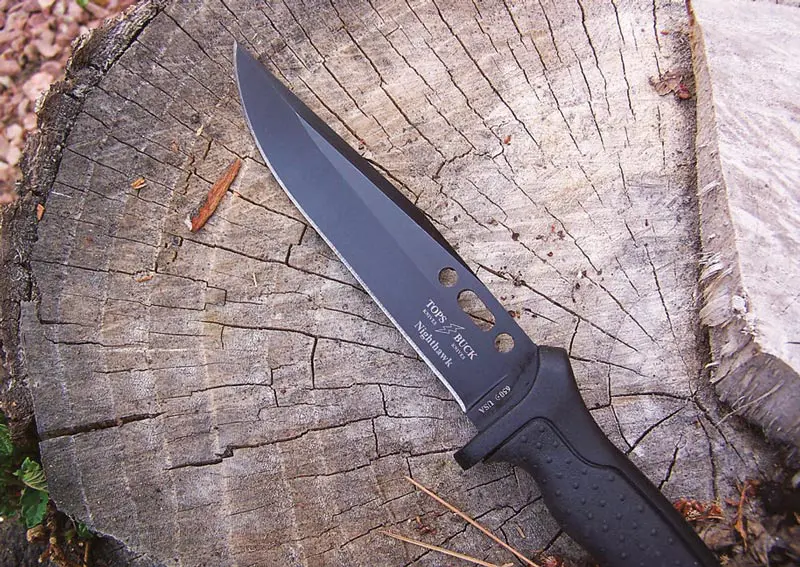 Some attributes of a knife, or any tool, have to do not with the implement itself, but how it is perceived by the user. Not relating to his objectivity but to the happenstance of his individual orthopedics.
In the interest of full disclosure, I like Buck's Nighthawk knives very much, starting with because they fit my particular hand, bone structure and dimension, like a custom English shotgun. That's just my good fortune, because there is much more to like about these blades.
The science of ergonomics is largely the science of shaping and sizing things so one size fits all, and the ergonomic design and execution of the TOPS/Buck Nighthawk 650 (61/2-inch blade) and the Nighthawk 655 (47/8-inch blade) may be some of the best work Buck has ever done in this area. Every single person I handed these knives to liked the shape and texture of the grip, and the hang and swing of the blade.
The Nighthawk is of full-tang construction, the grip tang being overmolded with fiber-reinforced nylon into which are strategically inset Dynaflex® rubber grips and a thumb-stop panel. Part of the hard nylon over-molding forms a comfortable hilt forward of the grip. For my hand, a knife handle doesn't get much more comfortable than this. Because of its shape and moderate texture, it retains its grip when wet, muddy or even oily, without the blisterraising problems associated with strong textures and hard use.
Importantly, the shape also communicates the position of the knife in the hand, even with turn-out or tactical gloves on.
Both blades are produced from 420HC stainless and, at the rear of the spine, both are 0.235-inch thick, which is plenty of meat. They are hardened and tempered to Rc 58-60.
The blades taper to a long straight clipped point, almost a drop-point silhouette. The full length of the cutting edge is nicely hollow ground to help preclude the workpiece from seizing on the blade and to facilitate years of sharpening. There's enough belly to the front radius of the blade that it would perform the usual field tasks including skinning game, even though it is not exactly an ulu.
Although marketed as part of Buck's survival and tactical line, it strikes me as an excellent all-around field knife, and because of its ergonomically driven quickness, a fine defensive or tactical blade as well.
Subscribers to the Bill Bagwell school of Bowie-knife fighting might be tempted to sharpen the long swedged clip point to facilitate back cuts. We assume it was a nod to the public-safety market that brought the oxygen-wrench cutout and 15/64-inch utility holes to the spine of this blade, as are common to the CSAR-T series.
As a combat-zone knife, I don't know how much they'd be used, and for a field knife, some of us might like to see the spine unperforated, so we could baton with more reckless abandon—although a .235-inch spine isn't likely to be shocked or stressed that much by a makeshift shillelagh.
Both blades come straight and plain, and although serrations are useful for many cutting tasks, particularly anything fibrous, they were not missed on these blades.
Grips and elastomer inserts are black, and the stainless blade itself is finished in black oxide to mute visual signature and for additional corrosion resistance.
Both knives come in black nylon MOLLE-compatible sheaths that have a snap strap and secure front pouch suitable for accessories of choice as dictated by your mission, and a tie-down thong. The sheaths are very well made in the contemporary style.
The 6½-inch blade Model 650 (11¼ inches overall) weighs in at 10 ounces; 15.4 ounces with sheath. The 47/8-inch blade Model 655 (103/8 inches overall) weighs 9.4 ounces with a carry weight of 14.4 ounces.
Both blades performed admirably on the usual gamut of blade "tests." No complaints, and I found them user friendly. I did not try to sever a hanging rope—first because I think this depends as much on technique and type of rope as it does blade-worthiness, and second because any of my horse-stealing relatives worthy of rescue probably would opt for lethal injection anyway.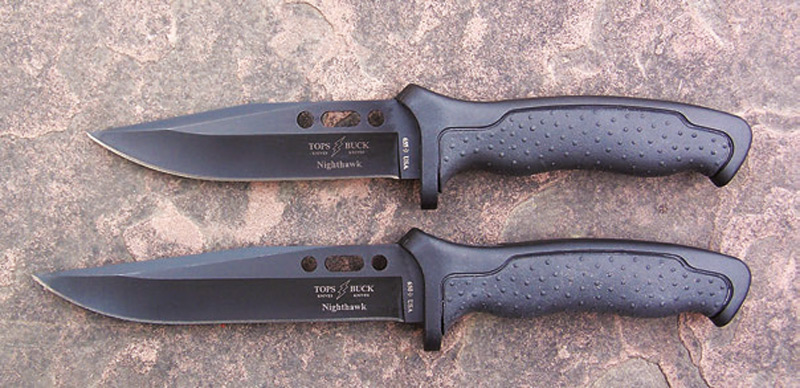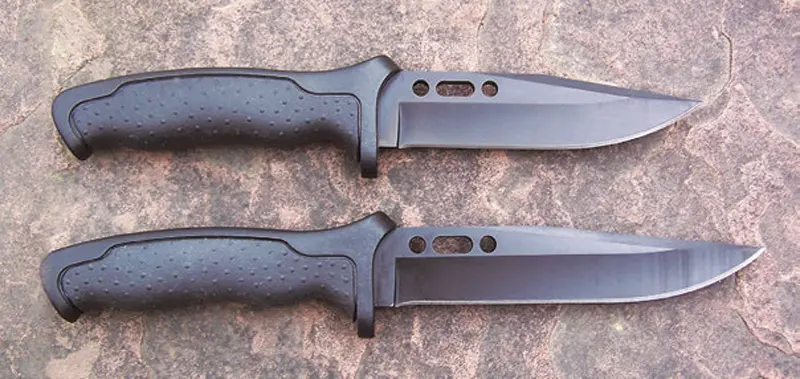 Personally being a founding member of the M1911-or-Adidas School of Knife Fighting, I turned the 650 Nighthawk over to a more capable friend who is schooled in this art, as the Nighthawk seemed to me particularly well suited to this arena.
Jim has a homemade Numb John stuffed with straw that he slices and dices for relaxation and training, and he gave the Nighthawk thumbs up, in particular mentioning the points I favored regarding its facile handling and quickness in the hand. He had already been on Amazon looking for one when I came back to collect his opinions and the knife.
In sum, no associates, including those who take trollish delight in dissing things I like (not even the bud we call Uncle Spiro because he's a nattering nabob of negativity regards anything you have and he does not), had anything adverse to say about the Nighthawks, save to ask "Does it come without the holes?"
Maybe "without" will be an option in the future, as it was on earlier iterations. In the meantime, these blades are so facile and capable that they inspire confidence even among those of us who would be indisposed to knife competitions unless we broke a firing pin and a shoelace at the same time.
It's gear that's good to go.