There is an ant that I have come to know: first, by the many different nature programs on the Discovery Channel, and later in the jungles of Peru. It is known as the Bullet Ant and is the meanest, toughest ant in the bush. In Peru, the locals have a nickname for it: "Izula." The Schmidt Sting Pain Index describes it as similar to "fire-walking over charcoal with a 3-inch rusty nail in your heel." However, the guys who were trying to convince me to let one sting me during our last trip to the jungle neglected to mention this to me. In other words, Izula makes a perfect moniker for the latest offering from RAT Cutlery.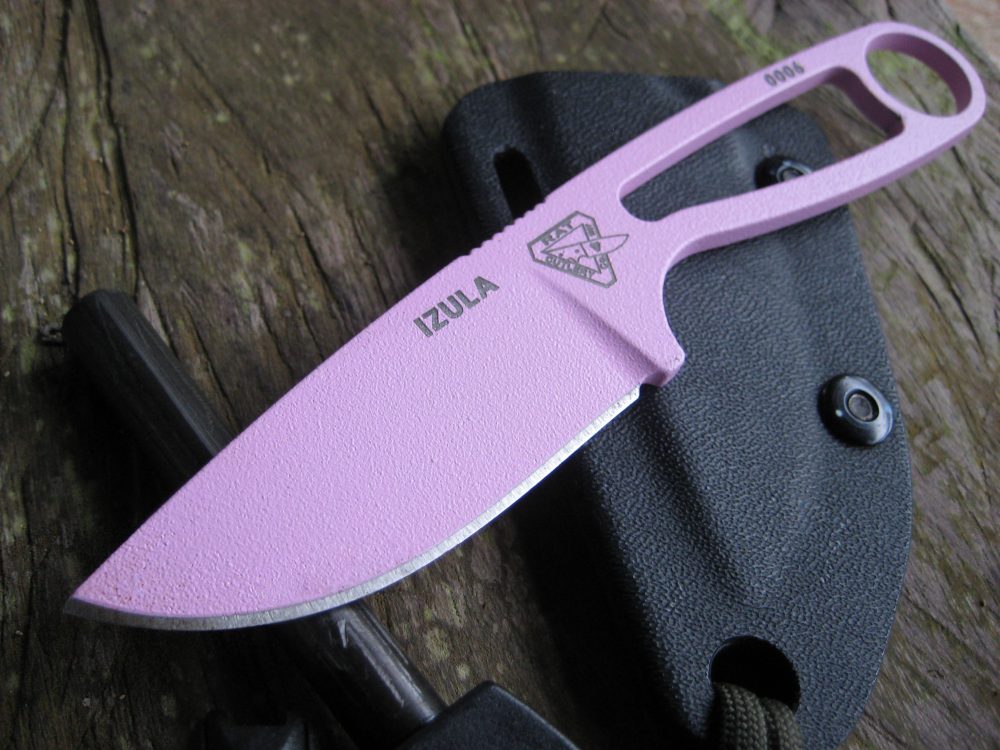 RAT Cutlery Izula in "Tactical Pink."
---
PINK IZULA
I can't tell you how many times I've put my knife down and lost it just as fast in a thick forest. It seems RAT Cutlery has found a way to keep knives visible. That's right, Tactical Pink! Why not? It stands out better than any color I have seen yet. Overall length is 6 ¼ inches with a 2 5/8-inch cutting surface. Blade width is about 1 inch and 5/32 inch thick with a flat grind. The skeletonized handle is sized quite generously at approximately 3 3/8 inches long. I managed to get a good four-fingered grip on the Izula with my medium-sized hand.
The pommel hole is ideal for attaching a lanyard or carabiner. There is a nice distal taper to the Izula. The Izula is finished in a textured powder coating and will be available in Black, Desert Tan, OD Green and, of course, Tactical Pink. Weighing only two ounces with sheath, the Izula is a tough, lightweight, aggressive survivor and is aptly named.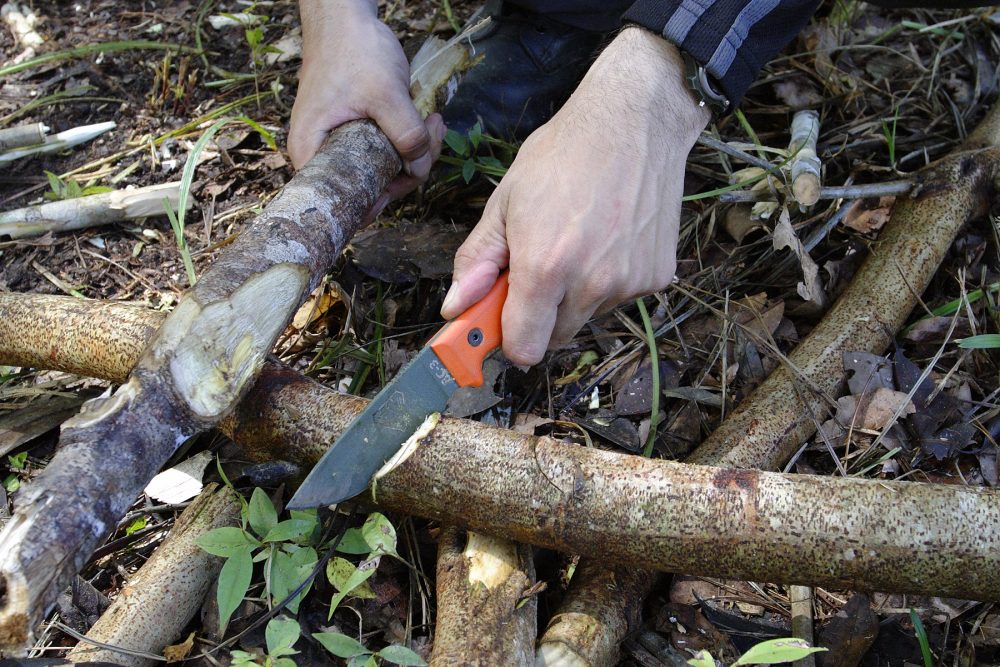 Shelter construction using RC-3 and stout baton. This is when machetes and knives get lost the most—performing shelter chores where a knife is constantly being picked up and put down. Another plus for the RC-3's orange handle.
---
IN THE FIELD
There are many tasks a small knife can handle while in the wilderness. Some outdoor enthusiasts actually prefer a large knife backed up by a smaller one. A neck knife is easily accessible and, for this reason, will most likely be called upon for utility chores. I made it a point to see how far one can really go with a small knife. Naturally, it would be unfair to compare the Izula to a machete or expect it to be a "do all" type of blade. Instead, it was put to work first as my fire craft knife.
At first glance it doesn't seem like a knife that would be able to split wood with a baton. Keep in mind that two-inch thick pieces of wood are all you need to acquire a good pile of fuzz sticks and kindling. The Izula's full-sized handle adds a degree of comfort not found in most neck knives. Carving into green wood was easy with the flat grind and perfect edge geometry.
When making trap parts, it is common practice to frequently make adjustments to keep everything in line. This means there is a lot of picking up and putting down of the knife, sometimes in deep brush. This is exactly where pink shines! This little knife is all about control. The Izula Neck Knife can handle everything from trap making and food preparation to making a fire.
Jungle grill made with RC-3 and small sapling.
---
RC-3 IN ORANGE G-10
The RC-3 is not new. In fact, it was the first knife produced by RAT Cutlery. However, the new RC-3 is a little different than the original old favorite. The new RC-3 has orange G-10 scales and an OD coated blade made from 1095 high carbon steel. Orange is a great color for a knife and machete handle simply because it's easy to find in thick vegetation—and if you lend it out to someone else, it's always easy to find your knife. The orange-handled RC-3 was the hardest working knife on my last trip to Peru. It pulled kitchen duty with tasks as fine as paring and as tough as pounding."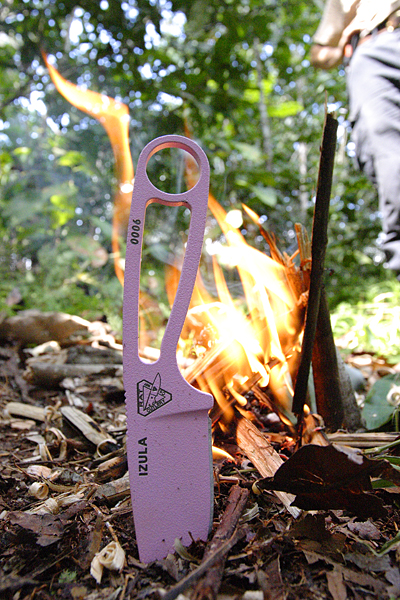 Making a shelter may seem to be the roughest task for a 1/8-inch knife. Some people consider hitting a 1/8-inch thick knife with a piece of wood to be abuse, but this is often done with a 1/16-inch thick machete. The RC-3 was used to split wrist-sized poles for constructing a swamp bed. With the help of a stout baton, the small trees were easily sheared to size. The flat grind of the RC-3 bit deeply into the tough green wood, taking only a few whacks to cut the poles in two.
The next task was to make a small grill out of green branches the size of a finger. It required four "Y" shaped branches and about six 12-inch branches to complete the project. The greener the branches the better, so they don't catch fire. All this was achieved with a simple baton to get all the pieces to fit just right. Unfortunately I didn't have anything to cook on it, but it was a good chance to practice some camp craft. An easier meal was searching for suri, the grub worms that live in the stumps of chonta palms. The RC-3 was used to dig for them in the rotting trees for a quick, easy meal.
SHEATH OPTIONS
The Izula Sheath system will include an ambidextrous Kydex sheath, paracord (for cord wrapping the handle or use as a neck lanyard), cord lock, a snap for snapping the system onto outdoor gear, MOLLE lock, split ring, fire steel, whistle, sheath and cord wrapping instruction sheet. The RC-3 with Orange G-10 scales comes with a black molded sheath, boot clip, and MOLLE locks. There is also a length of paracord and cord lock included for optional use, and a full set of instructions on the sheathing system.
Sharpshooter Sheath Systems has put out a waterproof leather sheath for the RC-3 and RC-4. Available exclusively from Knives Ship Free, these sheaths are treated with Sharpshooter Sheath Systems' exclusive EEP (Extreme Environment Protection) to allow the sheath to survive in the harshest environments in the world. I have tested them in the Arizona desert in 110-degree heat and the wet, humid conditions of the Peruvian Amazon jungle. By the time this article comes out, the sheath will be in Iraq with some of the country's elite. This is quite possibly the best leather sheath available.
For knives that can handle rough treatment and come back for more, check out RAT Cutlery's Izula and RC-3.
SOURCE:
RAT Cutlery Co.
Dept. S.W.A.T.
60 Randall Rd.
Gallant, AL 35972
(865) 933-8436
www.ratcutlery.com
Knives Ship Free
Dept. S.W.A.T.
RR 2 Box 213
Nowata, OK 74048
(918) 440-1311
www.knivesshipfree.com