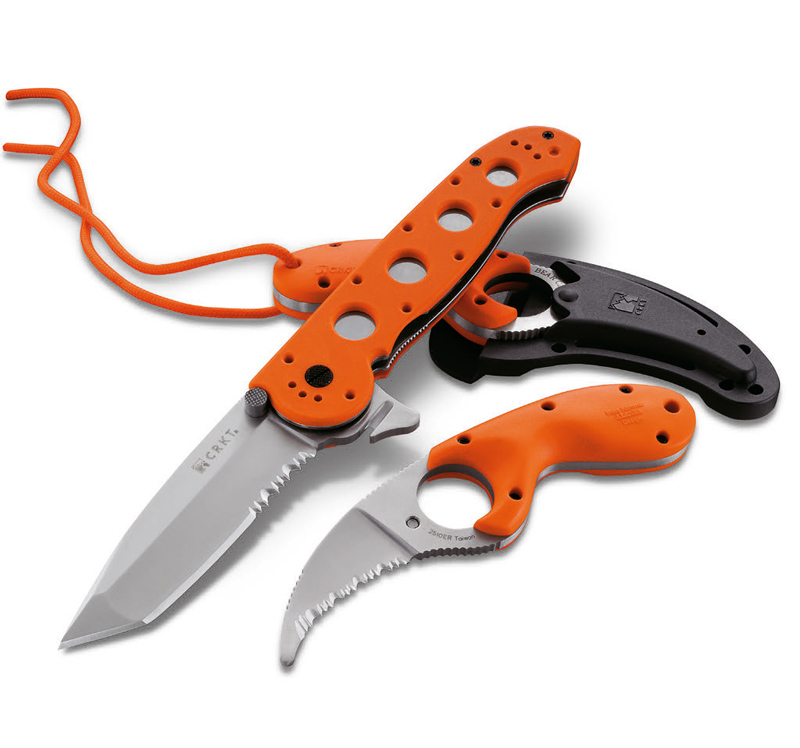 AS knife companies go, Columbia River Knife & Tool (CRKT) is one of the newer kids on the block. But it has built a real following and garnered its share of industry awards by engaging a very eclectic stable of well-known independent knife designers in addition to its capable in-house design team.
Although manufactured offshore, the design work and quality control are domestic functions, and everything I have examined showed a high level of quality manufacture and some intriguingly independent design esthetics, with an emphasis on ergonomics. CRKT offers a solid lifetime guarantee against materials or manufacturing defects to the original owner.
CRKT has a number of knives and tools for those in the public safety arena, although as with most quality missionspecific tools, their use is not limited to that. I had the chance to wring out the M16-14ZER emergency rescue knife, and was favorably impressed.
The M16-14ZER is a full-sized folder with a partly serrated drop-point 3.75- inch tanto blade, an appropriate choice for this kind of work because of the point strength compared to a clip-point. The blade is hollow ground and sharpened from one side. The design features full stainless-steel liners.
The blade of the M16-14ZER pops open and locks with a positive finger stroke of the Carson Flipper, the flipper rotating a full 180° and becoming a secure finger-stop/hilt when the blade is held by the liner lock. There are above the trigger guard varying iterations of this flipper on Kit Carson's designs, and all work well in a gloved hand. This knife also has thumb studs, but the Carson Flipper is simply too handy not to use.
The knife comes with the Auto- LAWKS™ blade safety, which is a small steel stud that automatically bears against the liner lock as it pops into place and must be retracted via a wee thumb-lever before the liner-locking segment can be moved to the side to disengage the blade so it can fold.
The liner lock is a strong design and I've only seen two fail. One was on a Khyber Pass special and made from such soft steel that it simply collapsed under pressure. The other was a Maoera Chinese knockoff. The locking segment of the liner was not adequately bent to spring out and positively engage the flat on the back of the blade, so the blade was just never locked at all.
Neither of these conditions would be a problem on the M16-14ZER liner lock, because the materials CRKT uses are well selected and properly heat treated. The scales dismount, so I grabbed a set of scribes. What should be hard was hard, and what should be springy was springy. In addition, the AutoLAWKS stud keeps the liner-locking segment indexed behind the blade until you positively disengage it. With a little practice, you can disengage this blade safety and fold the blade one-handed. The blade rotates solidly and smoothly against flat side-bearings.
The companion models of the M16- 14ZER are the M16-13ZE, with the same design features in a smaller envelope but with a partly serrated 3.375-inch spearpoint blade, and the M16-12ZE, with a 3-inch drop-point tanto blade in a yet smaller envelope. The blades are all made from AUS 8, hardened to 58-59 Rc.
This hardness is appropriate for an emergency tool, because you do not want it to break, and individual duty cycles are usually not long enough to dull a blade before you have a chance to touch it up. The blade thicknesses run 0.120 inch on the 12ZE, 0.118 inch on the 13ZE, and 0.138 inch on the 14ZER.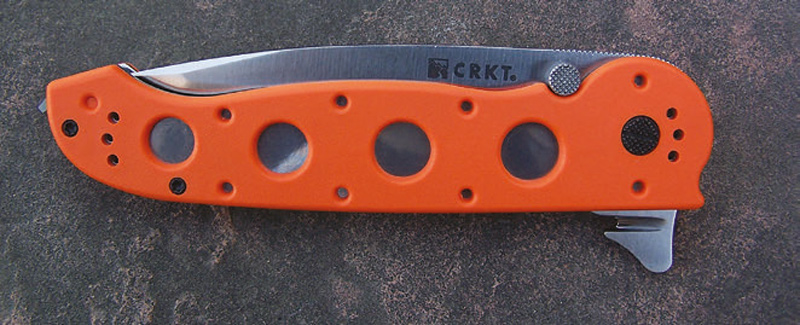 Overall length of the M16-14ZER tested runs 9.25 inches open and 5.25 inches closed, on the 13ZE 8.25 inches open and 4.75 inches closed, and on the 12ZE 7.375 inches open and 4.25 inches closed. The respective weights run 6.2 ounces, 3.5 ounces, and 3.6 ounces.
All feature safety-orange reinforced nylon grip scales and a spring clip. Built into the Carson Flipper, all have a belt cutter that can be used with the blade closed. On the model tested, the outside radius at the back end of the folded blade is deeply knurled for a better grip when using this feature. This works well on seatbelts and was a little tight but still effective on paracord. All feature an auto- glass breaking stud on the butt.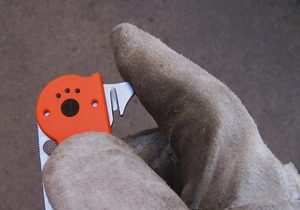 The spring clip may be moved to tip or butt, on either side, to accommodate your work requirements, dress or duty gear. On some models this clip is not symmetrical, and an extra appropriate additional clip is provided, as well as three additional pan-head Torx screws (plus one to drop and lose), and the appropriate tool.
They all have open architecture, which facilitates using a blast of air to get any grit or other particulates out of rotating or locking parts before you disinfect, dry and re-lube after any juicy rescue work. MSRP for the M16-14ZER is $89.99.
The M16-12ZE, M16-13ZE and M16- 14ZER have a little belt buddy called the 2510ER Bear Claw that is nifty gear for those who work auto accidents, cutting people free of belts then cutting away various textiles and fabrics to facilitate further medical attention.
The Russ Kommer-designed Bear Claw E.R. is handily small but effective (5.75 inches overall with a 2.375-inch curved blade) and is an adaptation of his defensive curved blade. It is fully serrated to efficiently engage anything made of fiber—from cordage to belts, fabric or leather—but with a blunt tip for the safety of the patient. It has a hole for the operator's index finger, one up on a conventional choil for precise control when hampered by bad light or body fluids.
Its AUS 4 stainless blade is 0.130 inch thick, and it weighs only 3.4 ounces with a full tang and removable safety-orange scales. It comes in a reinforced nylon sheath and has a lanyard hole as another carry option. MSRP of the 2510ER is $49.99.