Photos by Katie and Rebecca Davis

The Emerson CQC-8 is not the newest, trendiest piece of gear. And in this day and age when so many people only look at the latest gear, plenty of time-tested tools can be overlooked. This edged tool is a perfect example, as it has long been associated with the British Special Air Service.
For years, the SAS has issued the CQC-8 in its Escape & Evasion kits. The issued knives are the factory versions, not Mr. Emerson's custom models, which he told me in a conversation about the 8 a number of years ago. Despite that, Mr. Emerson's customs have long been a popular personal purchase and status symbol with many in the SpecOps community.
When we look at the CQC-8, it's not hard to see why it is so popular. The blade length is 3.9 inches, which is a decent size for a folding knife, and it offers lots of belly for slicing myriad materials. As its name "Close Quarters Combat" implies, it is as well suited as any folder, and surpasses most, as a weapon. The chisel grind is durable and simple to re-sharpen in the field because only one edge needs to be sharpened.
The 154 CM steel that Emerson uses is sometimes criticized by knife snobs because it is not the latest, greatest super-steel. But it does facilitate fast and easy sharpening, and it gets the job done, which is what this knife is all about.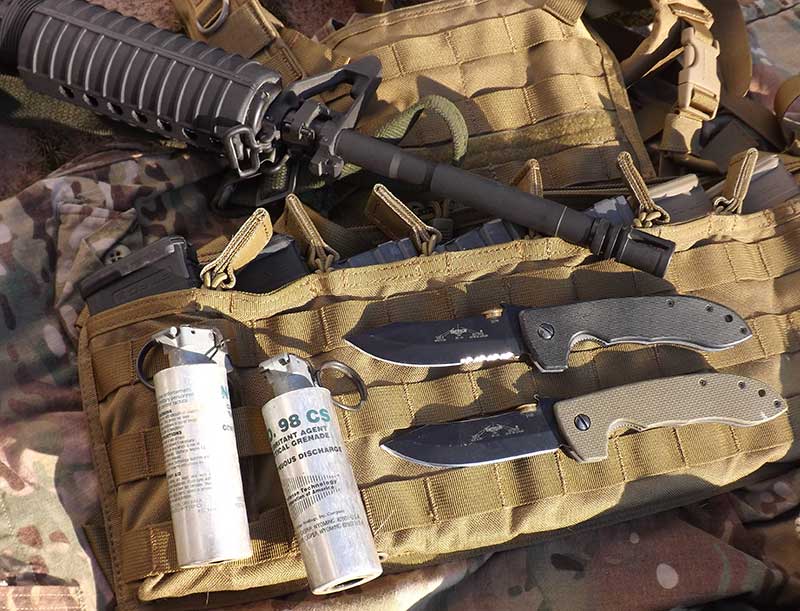 Although it slices with aplomb, the Banana is also a superb stabber, and the swedge helps in that department. Stabbing is important because when using the knife as a defensive instrument, stab wounds are more effective in shutting down an attacker. The deeper the knife penetrates, the more vital organs and arteries it reaches. Blood loss is what causes an attacker to begin shutting down, along with shock. The more quickly these conditions are created, the more quickly we can stop an attack.
But wait, that's not all! The CQC-8 also handles any utility cutting you can throw at it, from whittling wood to cutting up carpet, zip ties, plastic packaging material, or whatever. Personally, I cut a lot more inanimate material daily than I do people (which is how it should be).
The 8's handle is another major selling point. Many users claim the handle is so comfortable that it feels as though it were custom made just for their hand (I am included in this group). It feels equally comfortable in a sabre grip or a reverse grip, and seems to just melt into the hand. This isn't a surprise, as Emerson is known for producing knives with extremely ergonomic handles.
The scales are made of G-10, a very grippy substance that is impervious to most chemicals. If used in extremely cold conditions, it grips the user back with a "warm" grip. The butt of the handle is also slightly pointed, which facilitates the possibility of using the butt for strikes and less-lethal techniques.

The blade locks open via a liner made from Titanium, with the liner on the non-locking side typically constructed from stainless steel. The action is very smooth, and when the Wave feature is used, it snaps open faster than a switchblade because, as the knife is exiting the pocket, the blade is opening.
Because Mr. Emerson was making folding knives for Naval Special Operations early in his career, he makes his knives with the distinct possibility that they will be used in a maritime environment. As such, he uses nylatron washers. They do not require lubrication and last for a ridiculously long time, even if used in salt-water conditions. They also help the action to open like butter.
A few different finishes can be had for these knives (in fact, for the entire Emerson lineup). The first (and my favorite) is the BT coating, which is colored black and really keeps the knife from rusting in the elements. It has the added advantage that when it wears and receives "battle scars," it looks cool. I know, looking cool doesn't help it function better, but let's face it, many of us enjoy cool-looking gear.
Another finish option is Stonewashed. It's an interesting finish that is not quite shiny but does reflect some light. It wears nicely and doesn't show scratches and wear easily. It's more durable than a bead-blasted finish, in that it is smoother and doesn't have the tiny nooks and crannies blasting has that allow rust to manifest on the metal.
Some runs of various Emersons are produced without the Wave, but most have it as a standard feature. For those who dislike the Wave, it's easy to deploy the knife without activating the Wave, since we don't always want the blade snapping open every time we draw the knife. I simply wrap my index finger over the spine of the knife while taking care not to catch the Wave on the edge of my pocket.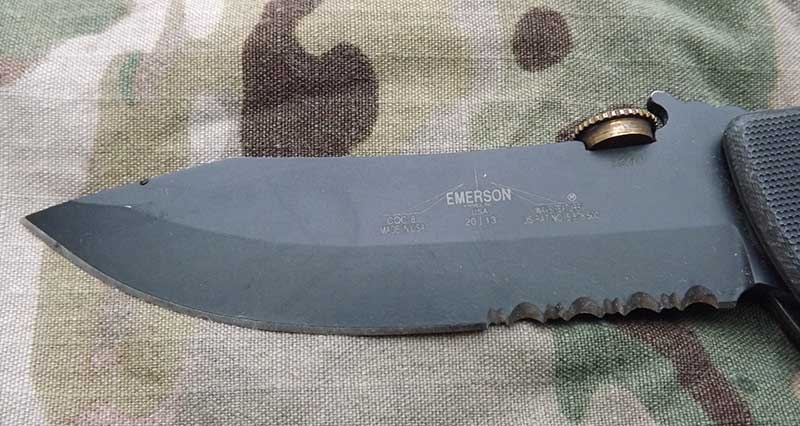 The last optional feature is one that people either seem to love or despise, and that would be serrations. Emerson can make any blade partially serrated. Personally, I love serrations because they cut like there's no tomorrow and will keep doing so long after the rest of the blade has dulled. They go through clothing like a hot knife through butter, and for cutting seat belts, there's nothing more effective. Mr. Emerson himself said if you're only carrying one blade, it should be partially serrated. I believe he's right!
By this time, you may have guessed that I'm a major fan of the CQC-8. Guilty as charged! It's been around all these years for a very good reason. If they had been on the market back when I was a sniper on a tactical unit for a large state agency, I'd have been sure to snap one up. You should too!
SOURCE
EMERSON KNIVES, INC.
(310) 212-7455
www.emersonknives.com