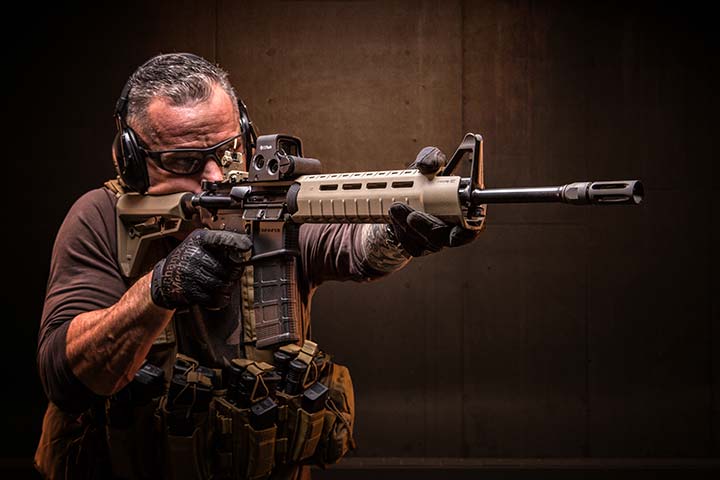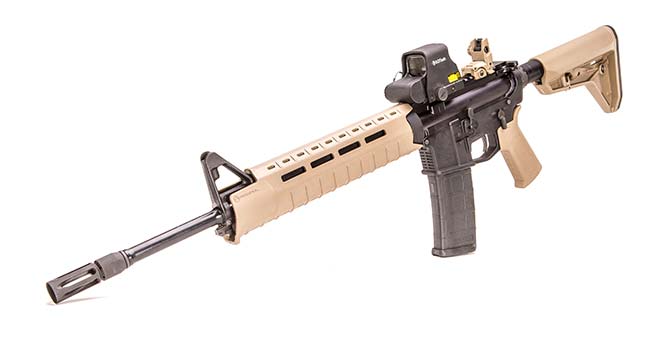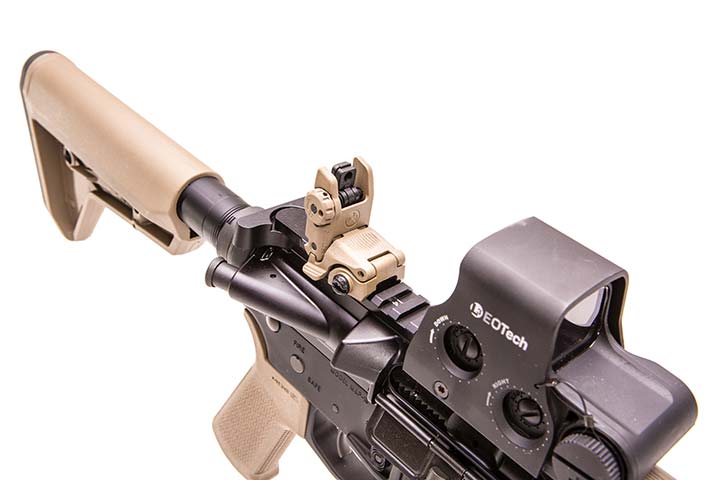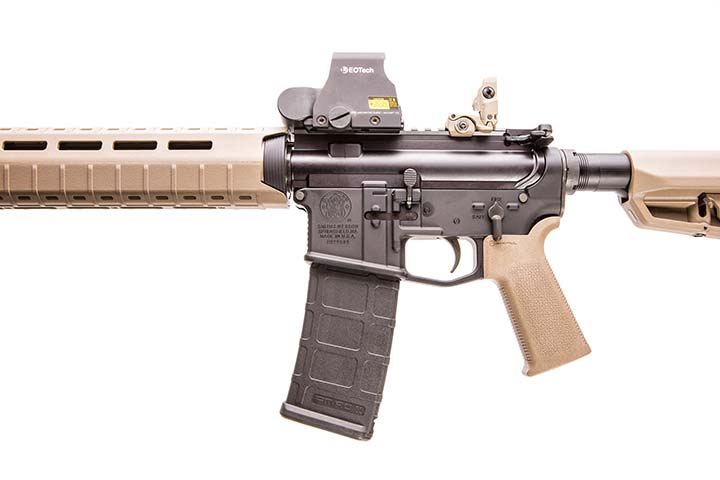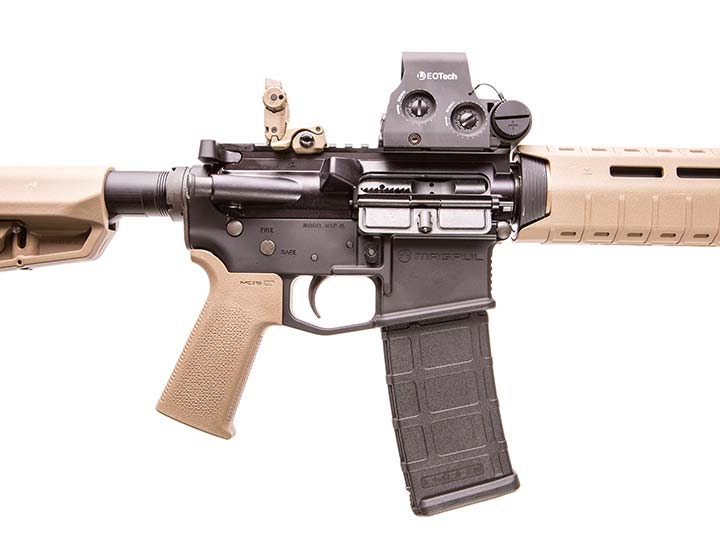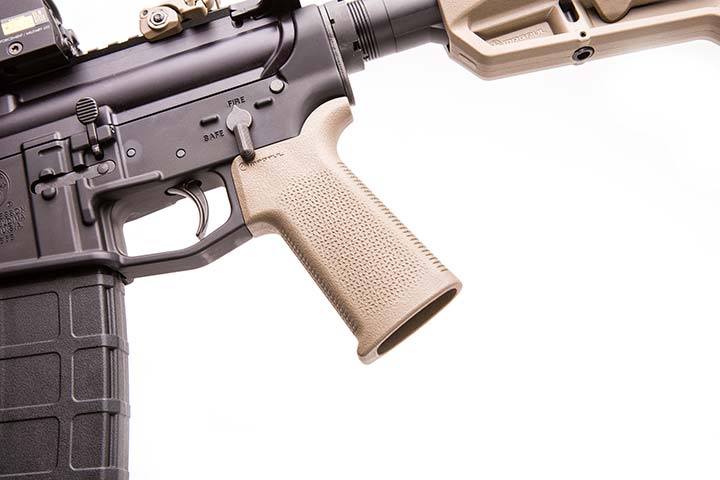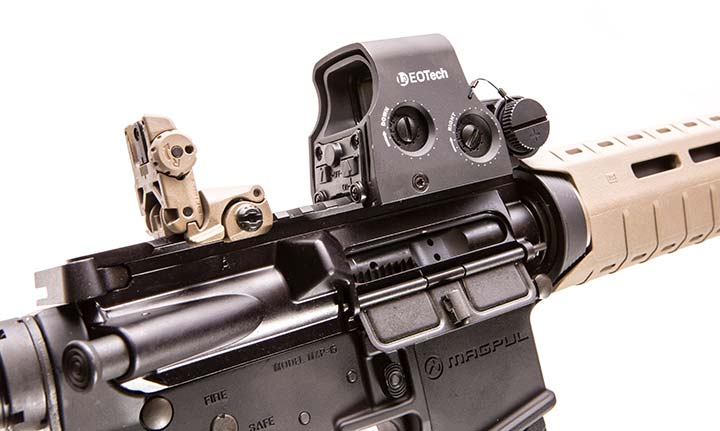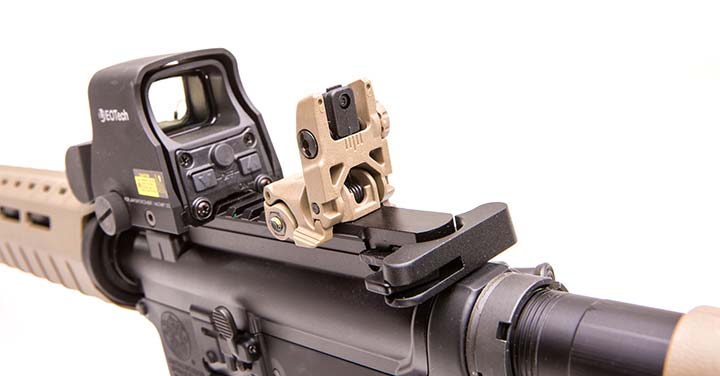 When two great companies collaborate on a project, good things are bound to happen. Such is the case with the Smith & Wesson (S&W) M&P®15 MOE SL® Mid.
M&P15
The S&W M&P15 modern sporting rifles are some of the best of the breed. The lower receiver on the M&P®15 MOE SL® Mid is Smith & Wesson and Magpul co-branded. The S&W logo is on the left side, with the Magpul logo on the right.
The M&P®15 MOE SL® Mid has a 16-inch, 1:8 twist barrel, which should stabilize most bullet weights. The barrel has an Armornite® finish on both the interior and exterior.
The S&W/Magpul carbine has a mid-length gas system. Carbines equipped with mid-length gas systems are generally considered to be extremely reliable. Though only a few inches longer than a carbine-length gas system, the extra length increases the dwell time, allowing more time for the moving parts to cycle and keep up with the bursts of gas generated by the firing of the rounds.
Mid-length gas systems have less felt recoil, and the extra length gives the user more options for the mounting of accessories.
The muzzle is capped with S&W's patented flash suppressor. Jeff Gurwitch wrote about this flash suppressor in his article on upgrading the M4 (OVERDUE UPGRADES: Improving the M4 Carbine, May 2018 S.W.A.T.), but this was my first hands-on experience with it.
The device is similar to an A2 flash hider but with vent holes built into the top of it. These holes redirect the gas up and out, helping to reduce felt recoil as well as flash. In essence it is a combination flash hider and compensator.
The front sight is a standard adjustable post A2-type. A 30-round PMAG is included with the carbine.
MAGPUL
As the model name indicates, the carbine comes equipped with Magpul accessories, all in Flat Dark Earth.
The MOE SL (Slim Line) stock has an internal anti-rattle feature that minimizes wobble on the receiver extension tube. Dual side-release latches are tucked away under the comfortable sloping cheek weld to keep the latches snag free, while the rubber butt pad ensures an anti-slip surface when shouldered.
The MOE SL Hand Guard for modern sporting arms with a mid-length gas system and A2 front sight provides modular flexibility.
The handguard has M-LOK slots at the two, six, and ten o'clock positions to allow the attachment of an optional Picatinny rail for mounting lights, slings, grips, etc. Reinforced, heat-resistant polymer construction provides durability without the weight of an aluminum handguard. A large front extension and lower lip protect the user from the hot front sight assembly and maximize useable handguard length.
The MOE SL Grip has a more vertical grip angle than many other grips and is optimized for weapons with a short length of pull, bringing the primary hand in closer to the shooter's body. It has an aggressive TSP (Trapezoidal Surface Projections) texture for positive weapon control and excellent ergonomics.
The MBUS (Magpul® Back-Up Sight) Rear Sight is an adjustable dual-aperture spring-loaded flip-up sight that is easily activated from either side or by pressing the top. The folding sight has the same height-over-bore as standard A2 iron sights.
Unlike some back-up sights, both apertures on the MBUS are on the same plane. This means that regardless whether the small or large aperture is deployed, rounds will have the same point of impact. The sight can be folded with either aperture in position. Protective wings shelter the aperture.
Finally, the carbine ships with a two-inch M-LOK® polymer Picatinny-style rail panel. All Magpul products are made in the U.S.A.
OPTIC
I evaluated the carbine both with the iron sights and with an EOTech XPS3 red dot sight (RDS). An ongoing debate has been raging over which is the "best" RDS and is about evenly split between EOTechs and Aimpoints, though the fanboys of each brand argue their cases as if they have stock options.
My personal observations are that the EOTech is the easiest to zero because the windage/elevation controls are readily available and can be adjusted with a coin or cartridge rim, while the turret caps on an Aimpoint must be removed and, in the case of the Micro sights (e.g., T-1,T-2, H-1, H-2), a special tool is required to adjust them.
Either is easy to turn on, but when it comes to adjusting the brightness level, Aimpoint takes top honors as it's quick and easy to turn the brightness switch. The EOTech requires repeatedly pushing on either the up or down button.
The one thing that really sets them apart is battery life. Aimpoints' runtimes are rated in thousands of hours, while EOTechs are rated in hundreds. Except for the battery issue, I have no real preference for one brand over the other.
The XPS3 is only 3.8 inches long and, along with the horizontally mounted CR123 battery, leaves plenty of rail space for backup iron sights, magnifiers, NODs, etc. It weighs nine ounces.
The optic has 20 daylight settings and 10 settings compatible with Gen I through III+ night-vision devices. Battery life is 600 continuous hours at nominal setting 12 at room temperature.
ON THE RANGE
Before I left for the range, I ran a patch down the bore and made sure the carbine was properly lubricated.
Many people have magazines from other manufacturers they may want to use in the S&W M&P15 MOE SL Mid. I tested the rifle with magazines from Bravo Company Mfg, C Products Defense, FAB Defense, Fusil-USA, Lancer Systems, Magpul, SureFeed (OKAY Industries), TangoDown, and GI mags.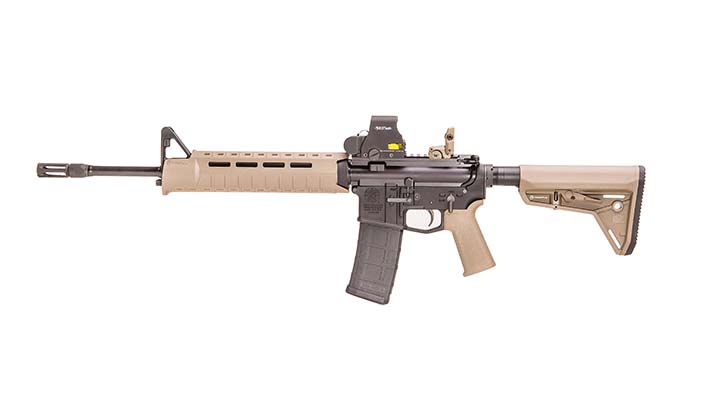 I arrived at the range with 27 loads from nine manufacturers and one handload. Bullet weights ranged from 50 to 77 grains—both 5.56x45mm NATO and .223 Remington.
Using a PACT Professional model chronograph, I fired a ten-round string of each load to establish velocity. Accuracy was verified by shooting three five-round groups at 50 yards, and then averaged for group size.
This particular carbine showed a preference for longer, heavier bullets. Taking top honors was Hornady 75-grain TAP FPD at .89 inch, followed closely by Black Hills 77-grain Tipped MatchKing (5.56 load) at .90 inch.
Coming in last was the Aguila 55-grain FMJ at 3.20 inches. Lighter bullets generally grouped over two inches, and heavier bullets grouped less than two inches.
Next, I put the carbine through several standard drills, including shooting on the move from 50 yards to contact distance and ending by firing a non-standard response of five to six rounds. I followed this up by shooting while moving forward, backward, and laterally to cover.
Although felt recoil is subjective—especially the light-recoiling .223—I think the patented flash hider/compensator did help reduce it. Firing at dusk, the flash hider performed as well as the A2, possibly a bit better.
In total I fired about 700 rounds through the carbine and had a grand total of two malfunctions. Both came in the form of failures to feed using the TangoDown ARC magazine loaded with Black Hills 77-grain Tipped MatchKing.
SUMMARY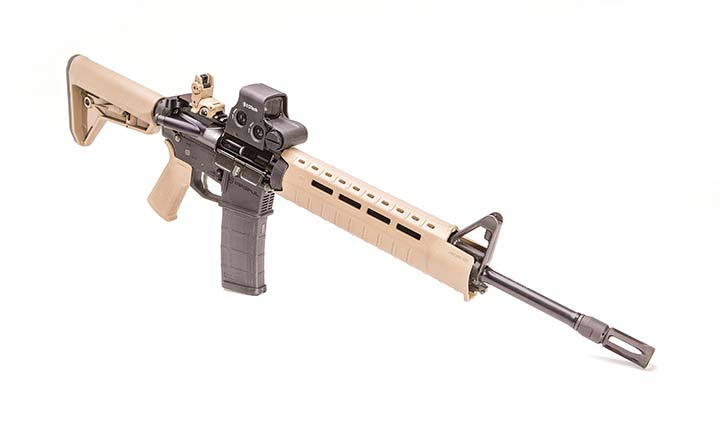 No surprises were encountered during the evaluation, with the M&P15 performing as expected from a quality-manufactured modern sporting rifle.
Although a few substandard carbines are still out there, the days of using inappropriate parts (like a rifle extractor insert and four-coil spring in a carbine) are mostly—and happily—in the past.
Some may ask, "Do we really need another model of modern sporting rifle?" The answer, of course, is absolutely yes.
And if it's a winner such as this collaboration between Smith & Wesson and Magpul, we need it even more.
SOURCES
SMITH & WESSON
(800) 331-0852
www.smith-wesson.com
MAGPUL INDUSTRIES CORP.
(877) 4MAGPUL
www.magpul.com
AGUILA AMMUNITION
(888) 452-4019
www.aguilaammo.com
ATOMIC AMMUNITION
(623) 580-8888
www.atomicammunition.com
BLACK HILLS AMMUNITION
(605) 348-5150
www.black-hills.com
BRAVO COMPANY MFG.
(877) 272-8626
www.bravocompanymfg.com
C PRODUCTS DEFENSE
(941) 727-0009
www.cpdmags.com
DOUBLE TAP AMMUNITION
(866) 357-10MM
www.doubletapammo.com
EOTECH, INC.
(734) 741-8868
www.eotechinc.com
FEDERAL PREMIUM AMMUNITION
(800) 379-1732
www.federalpremium.com
FUSIL-USA, LLC
(847) 437-0100
www.fusil-usa.com
HORNADY MFG. CO.
(800) 338-3220
www.hornady.com
LANCER SYSTEMS
(610) 973-2600
www.lancer-systems.com
PACT INC.
(800) 722-8462
www.pact.com
REDFIELD
(877) 798-9686
www.redfield.com
SIG SAUER
(603) 610-3000
www.sigammo.com
SUMMIT AMMO
(877) 726-4345
www.summitammunition.com
SUREFEED MAGAZINES
(860) 225-8707
www.surefeedmagazines.com
TANGODOWN INC.
(520) 888-3376
www.tangodown.com
SPECIFICATIONS, S&W M&P15 MOE SL MID MAGPUL SPEC SERIES
| | |
| --- | --- |
| MANUFACTURER | Smith & Wesson |
| MODEL | M&P15 MOE SL Mid |
| ACTION | Gas-operated semi-auto |
| TYPE | Mid-length, direct impingement |
| CALIBER | 5.45mm NATO/.223 |
| CAPACITY | 30 rounds |
| BARREL LENGTH | 16 inches, 1:8 twist |
| BARREL MATERIAL | 4140 |
| OVERALL LENGTH | 37.0 inches (stock fully extended) |
| WEIGHT (empty) | 6.54 pounds |
| FRONT SIGHT | Adjustable A2 post |
| REAR SIGHT | Folding Magpul MBUS |
| GRIP | Magpul MOE SL Flat Dark Earth |
| HANDGUARD | MOE SL |
| STOCK | Magpul MOE SL Flat Dark Earth |
| RECEIVER FINISH | Hard coat black anodized |
| SUGGESTED RETAIL PRICE | $2,239.00 |
AMMUNITION PERFORMANCE
BRAND
LOAD
AVERAGE VELOCITY
(fps)
AVERAGE GROUP SIZE
(inches)
Aguila
55-gr. FMJ*
3,035.3
3.20
Atomic
77-gr. HPBT
2,689.5
2.32
Atomic
77-gr. Tipped MatchKing
2,715.9
1.92
Australian Outback
55-gr. BlitzKing
3,039.1
2.46
Australian Outback
69-gr. MatchKing
2,738.4
1.83
Black Hills
50-gr. TSX
3,398.9
2.21
Black Hills
55-gr. FMJ
3,058.2
2.74
Black Hills
60-gr. VMAX
2,887.8
2.11
Black Hills
62-gr. TSX*
3,038.4
2.20
Black Hills
68-gr. Match
2,674.7
1.16
Black Hills
69-gr. MatchKing
2,621.2
1.18
Black Hills
75-gr. Match
2,653.1
1.28
Black Hills
77-gr. Tipped MatchKing*
2,848.0
.90
Black Hills
77-gr. Mk 262 Mod1*
2,789.6
1.18
Double Tap
55-gr. Ballistic Tip
3,158.5
2.40
Double Tap
55-gr. TSX
3,124.6
2.54
Federal
55-gr. Ballistic Tip
3,121.8
2.83
Hornady
55-gr. FMJ
2,994.3
2.27
Hornady
55-gr. GMX*
2,949.8
2.67
Hornady
55-gr. TAP FPD
3,058.4
1.43
Hornady
60-gr. TAP Urban
2,955.9
2.96
Hornady
68-gr. BTHP
2,825.6
1.70
Hornady
75-gr. BTHP*
2,824.8
1.55
Hornady
75-gr. TAP FPD
2,638.5
.89
SIG
77-gr. Match
2,515.2
1.91
Summit
55-gr. FMJ*
2,996.3
2.64
Summit
77-gr. Match*
2,710.2
2.02
Handload
60-gr. OT
2,684.1
1.94
*Indicates 5.56x45mm load
Velocity obtained with PACT Professional chronograph with first screen ten feet from muzzle, 10-round string of each load. Elevation 4,483 feet; temperature 80° F; humidity 18%. Average five-round group at 50 yards.