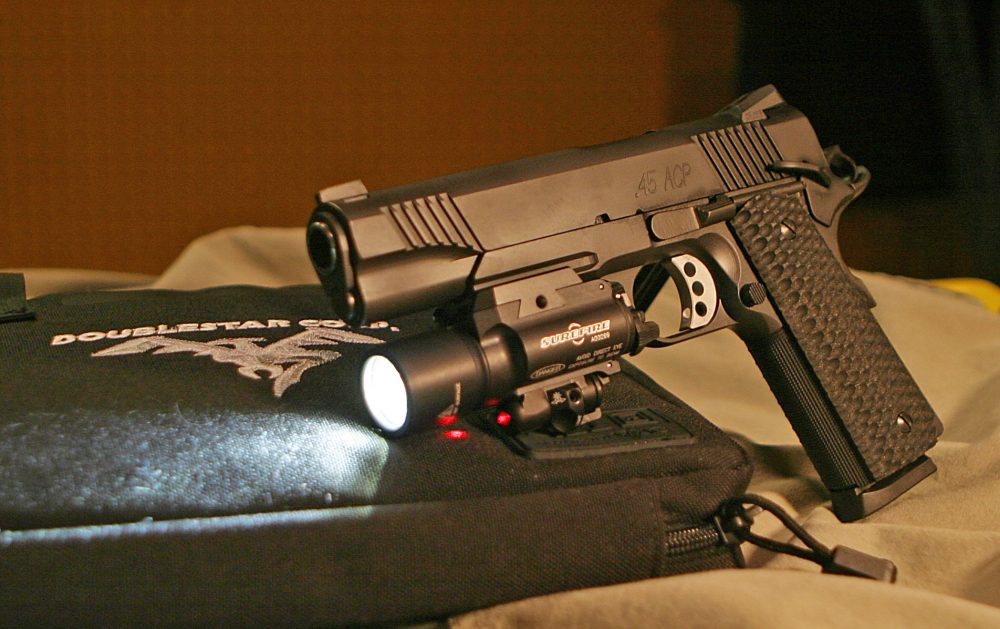 DoubleStar 1911 has a railed frame for accessories like Surefire X400 light/laser aimer.
---
After years of making various and sundry AR-15 parts, JT Distributing/ DoubleStar Corporation (DSC) began making their Star-15 rifle series. Their black rifles were made on their lowers. A number of parts came from other makers. They tended toward the better class of AR parts.
They also made 1911 frames and slides. I became aware of the frames because a friend talked his way into two of them. He began the process of making a pair of 1911s the way he wanted.
Lately, I became aware that DoubleStar is making a finished 1911 pistol. As soon as I heard the news, I decided I had to check into this. I've tried their rifles and have a DoubleStar lower waiting to get the Frankengun treatment.
Their 1911 was something I'd have to shoot.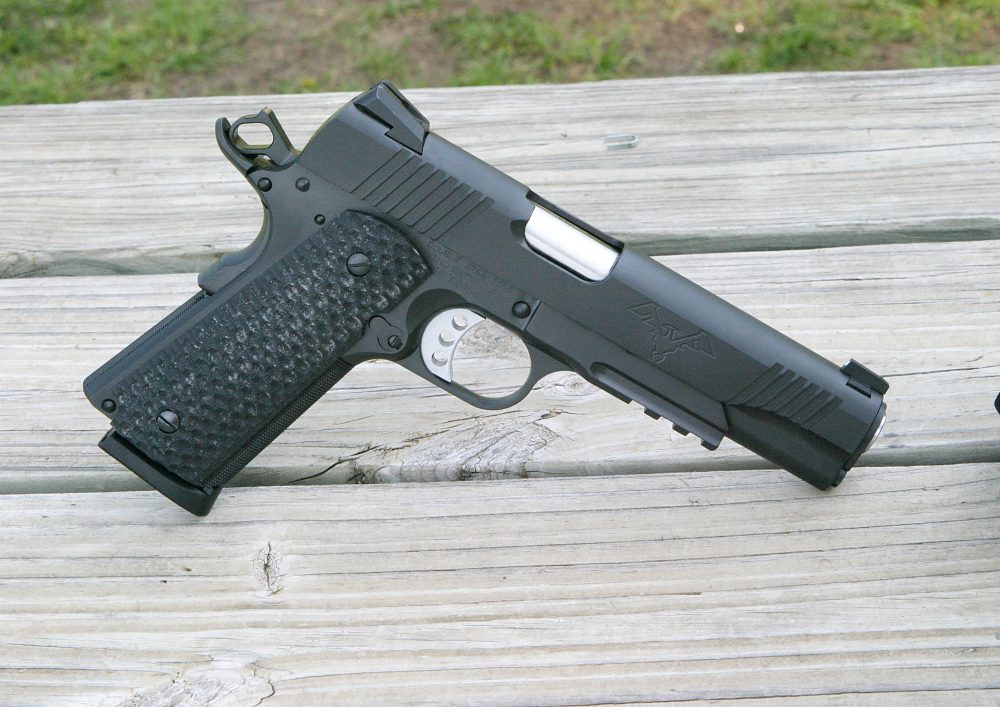 DoubleStar features front and rear cocking serrations, real Novak sights, aggressive Strider Gunner G10 stocks, Greider trigger, and Ed Brown hammer and grip safety.
---
DREAM GUN
Jack Starnes, president of JT Distributing—the parts arm of DoubleStar—has toiled for four years to make the DSC 1911 a reality. He was no doubt spurred by word of potential pistol trials to take place in 2010 by and for USMC Special Operations.
The Marines wanted a receiver capable of handling accessories—aimers and/or white lights—and the new 1911 Combat Pistol has a railed receiver. It's forged, not cast, of 4140 steel in DoubleStar's Winchester, Kentucky factory. The Marines also wanted Strider G10 Gunner Grips, and the sample was provided with these aggressive stocks. A stainless-steel match barrel is fitted. As far as parts go, if you can buy quality parts cheaper than you can make them, buy them.
The DoubleStar 1911's hammer, grip safety, sear and disconnector are by Ed Brown. The trigger is by Greider, the sights by Novak. These are not Novak lookalikes, either; they are marked with the maker's name. They are available in three-dot or night sights. There is checkering on the front strap, at 25 lines-per-inch. The ejection port is lowered and flared.
The Strider Gunner Grips are made from G10 filament glass cloth/epoxy resin composite. The material is impact resistant, is not prone to absorbing moisture, and remains solid across a wide range of temperatures. The clean-edged dimples give a texture similar to the surface of a golf ball yet are more aggressive. The stocks actually grip your hand. Between the G10 stocks and the checkering, this gun won't be slipping in your hand.
The springs are by Wolff Gunsprings.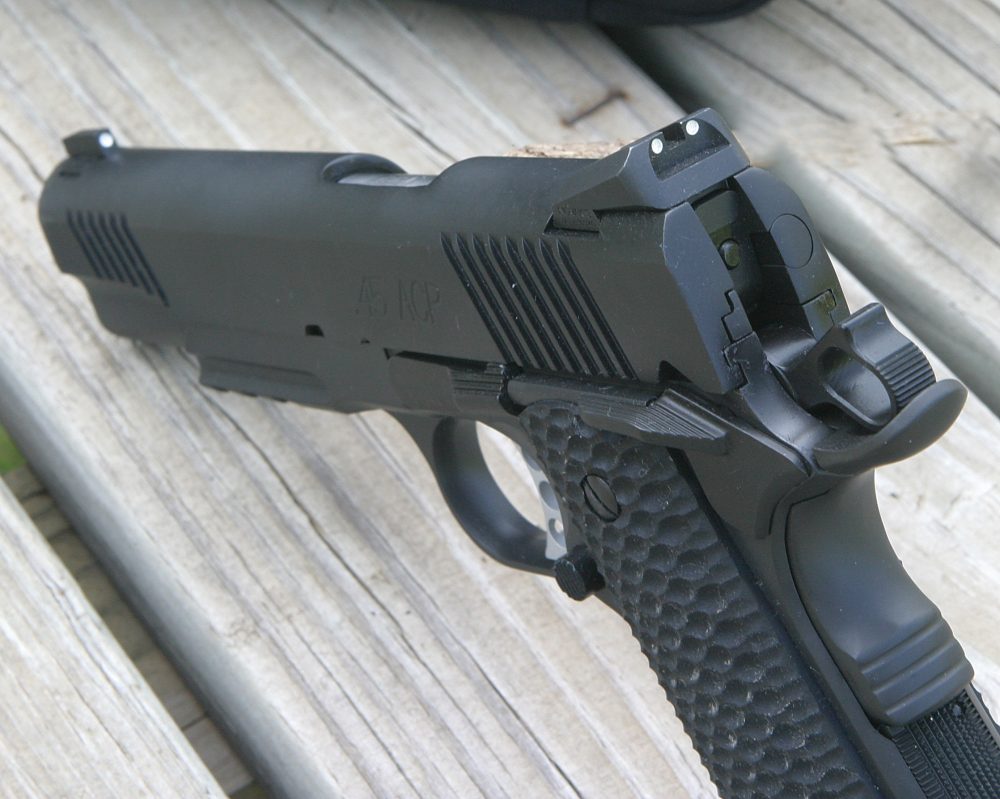 Hammer, grip and thumb safeties are Ed Brown products. Rear sight is from Novak.
---
Front cocking serrations are cut at the same width and angle as the rear slide serrations. The prominent DoubleStar logo is just behind the front serrations on the right side of the slide. On the left side, just in front of the rear serrations, the slide has bold markings, ".45 ACP."
The Combat Pistol is shipped in a 5.11 Tactical soft case. The case is padded, made of nylon and has compartments for the pistol and magazines. An eight-round magazine is shipped with the gun. My sample had a parkerized magazine that was marked with Novak's logo.
THE NEWS
Word came out in June that new DSC Combat Pistols would be furnished with Storm Lake's American-made match-grade barrels. My sample was received before the deal was cut with Storm Lake, a Tennessee-based manufacturer specializing in pistol barrels.
Storm Lake's barrels for the DSC guns are made from select 416R stainless steel bar stock which is hardened to 40-42 HRC. The material is machined, bored, heat treated, rifled and finished using precision CNC machinery at Storm Lake's Lenoir City, Tennessee facility. Storm Lake has been making barrels since 1983. Their product has a good reputation.
Taking the pistol into the shop, I gave it the once over. The trigger averaged at 4 ½ pounds, very little take-up and a reasonably good reset. I was a little surprised that the trigger was so good. It was nice and crisp. It would take someone ham-handed to throw a miss with this trigger.
I knew just the guy to do it, too.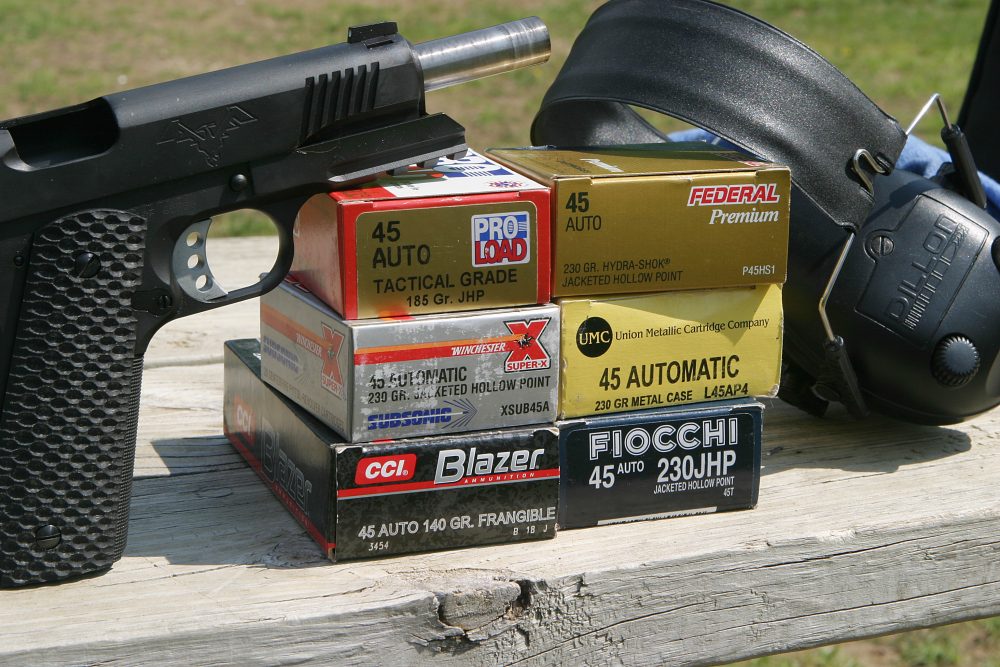 Variety of loads were tried in the Combat Pistol. After two early stoppages, all loads fed, fired, extracted and ejected without problems.
---
The gun does not have a full-length guide rod. This means it has the original barrel bushing/short recoil spring guide/spring plug arrangement. I field stripped the DSC and found that the bushing was only finger tight. If you need to work on this gun away from the smithy, it can be done.
Everything looked pretty good inside. I wiped it down, then used SLIP 2000 to lube rails, barrel and barrel hood, and disconnector. Putting the DSC back together, I ran the slide. Slick, very slick.
With a suggested retail price of $1200 for a 1911 with real Novak and Brown parts, there's not a lot of room for DSC to make money. After I applied SLIP 2000, a cleaner/lube with no petroleum products, it felt like a custom handgun.
The DSC 1911 is not a pretty-pretty safe queen. Some might think it looks quite plain. I think it looks business-like and professional. The message is, "Just ready to do the job."
So let's see.
AT THE RANGE
I started out with a break-in to get the pistol going and get me used to it. I know, "It's just another 1911," but each pistol has its own peculiarities. The first 50 rounds were UMC 230-gr. metal case. There were no stoppages. I went to an older box of ammo, Proload Tactical Grade 185-gr. JHP, firing 20 rounds of that. I had a failure to feed and began to wonder if the DSC 1911 would like hollowpoint ammo. Some pre-1980s 1911s don't. I finished up with 30 rounds remaining from a box of CCI Blazer 140-gr. Frangible. It also gave a failure to feed.
That was two rounds in 100. With some trepidation, I moved to an accuracy test. I used Champion Visicolor 50-yard color-coded sight-in targets to aim in on.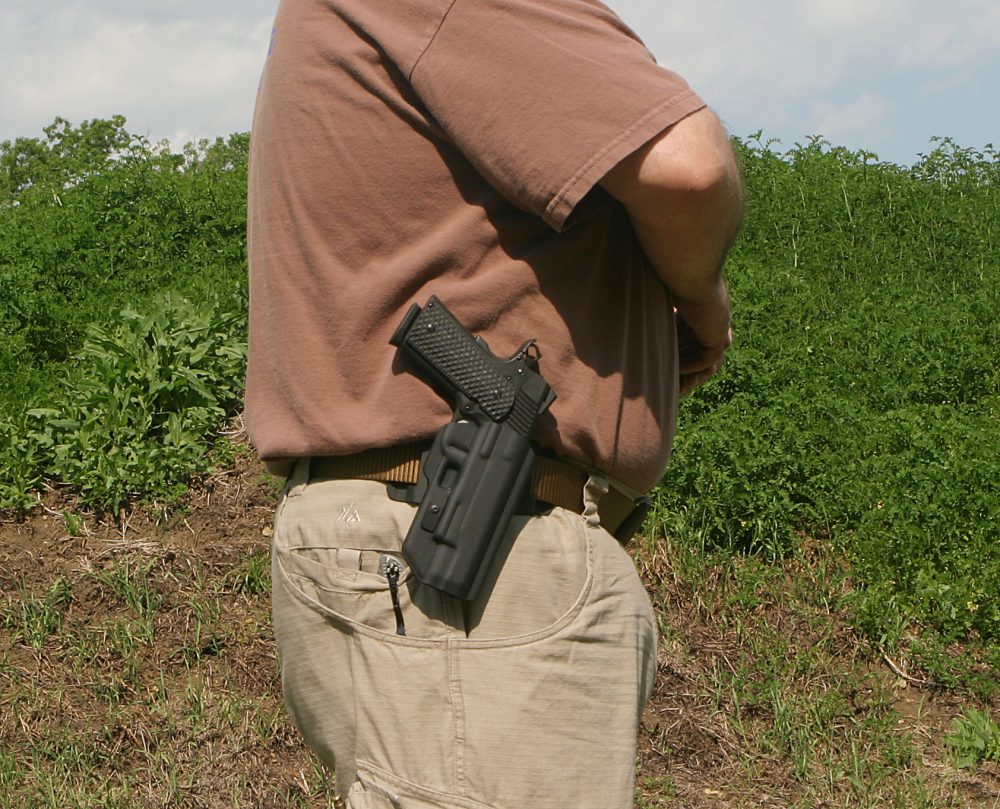 Sidearmor Modular OWB was perfect fit for DoubleStar, good for the range and casual concealment.
---
The DoubleStar was easily service-pistol accurate. Winchester 230-gr. Subsonic JHP put five rounds into three inches including a low flyer. The best three rounds of the group clustered into 7/8-inch, which I thought was interesting. Federal Classic 230-gr. HydraShok HP put five rounds into 2 ¼-inches—not a bad 25-yard group for a service pistol, with the best three going into ¾-inch.
Finally, I tried Fiocchi 230-gr. JHP. The five-shot group was 2 1/8-inches, with three going into 1 1/8-inches.
I noted that the failures to feed vanished. I also noted that there was an irritating tendency not to lock open on an empty magazine. I segregated problem magazines. All but the one provided by DSC came from my stash, and I attempted to determine what the magazines had to do with it. Since it did not happen again, I believe the early malfunctions were simply a break-in issue.
I moved to the handling test using Fiocchi 230-gr. JHP ammo and an NRA TQ-21 target. The distances shot were from 25 yards in to three.
There are a number of Kydex makers who provide products I'm fond of. For range, field and casual concealment work, the Sidearmor brand is the Cadillac.
The holster I used was the Sidearmor Modular OWB (outside waist band). Made of Kydex but thicker than most Kydex holsters of my acquaintance, it's a very quick and rugged rig. The outside of the holster is pretty much molded to reflect what is inside the holster. A flat pad tension system—Sidearmor's adjustable isometric tensioning system—can be set to the amount of retention you desire. This holster was made to fit a 1911 pistol with the partial integrated dustcover rail. Sidearmor notes on its website that the holster is IDPA approved, and it serves for casual concealment.
The handling test was largely uneventful. I printed a couple of hits high in the central scoring area and forgot all about that trigger-control-thing, dumping a round low out of contention. It was not the fault of the Combat Pistol. Head shots were all at home where they belonged.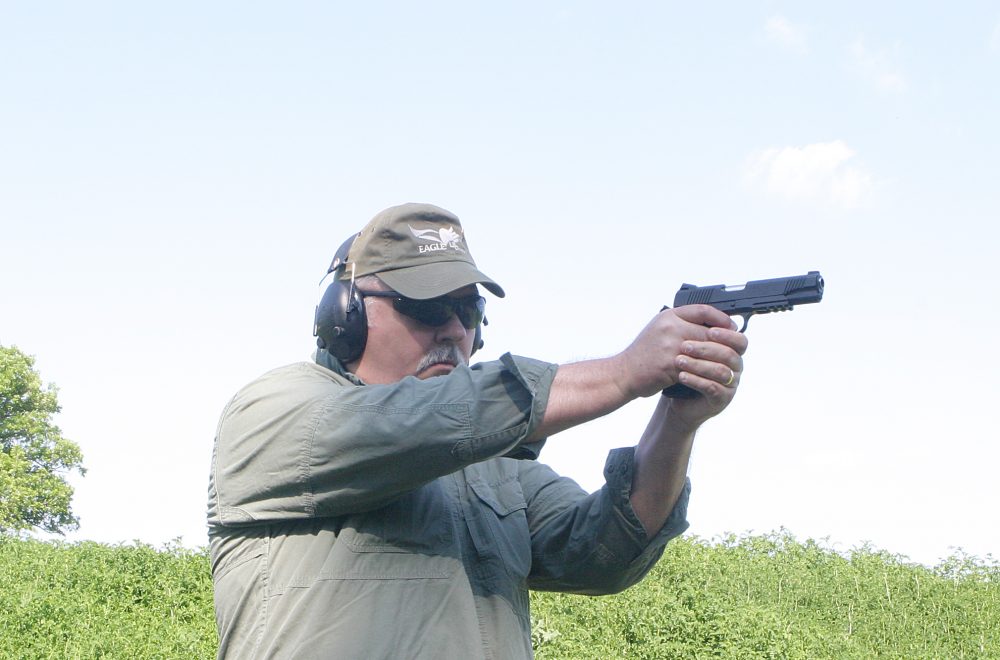 DSC 1911 felt just like a 1911. It's outfitted and made to the price point, while being functional and accurate enough for duty.
---
Failures to lock open on empty magazines were the pistol's fault. I found that it happened a few times with each of the six magazines tried, including the factory-provided unit. I also noticed that, with the slide locked open manually on an empty magazine, the slide would drop forward when the magazine was forcefully removed. I figured I knew what that meant, so I called the factory.
I spoke to Gary, the builder of the DSC 1911. "Slide stop," he said, confirming my suspicion. "The slide stop's bad."
With all the high-end parts that had gone into the DSC Combat Pistol, the slide stop was likely pulled from a bin and installed. It worked when I first tried it, but the situation became worse as I shot the gun. If the gun weren't going back, I'd drop a dime on Wilson Combat and order up a Bullet Proof Slide Stop from them. I'm guessing that would clear the problem up quickly.
I finished my range time mixing ammo up in magazines. At random, I loaded magazines with mixtures of Hornady, Winchester, Federal 185-gr. JHPs, hardball, Federal Expanding FMJ +P, even some old Winchester Black Talon! Shooting the mixed magazines through the DSC 1911, there were no other stoppages, except failing to stay open when empty. All the rounds fed, fired, extracted, and ejected through the DSC with no problems.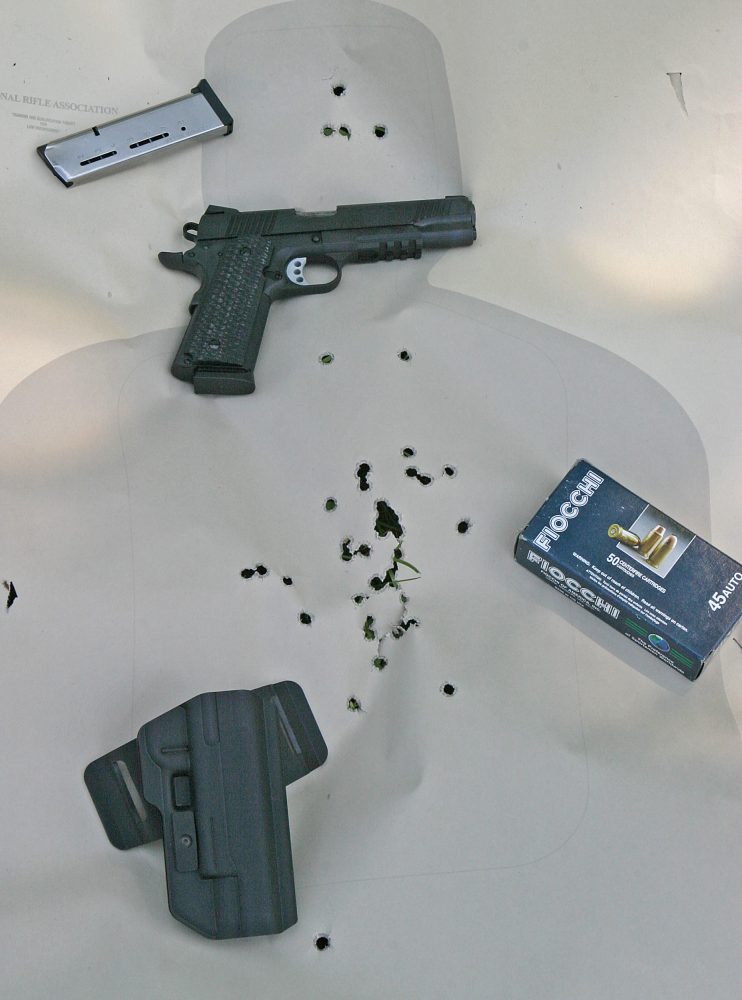 SUREFIRE X400 WEAPONLIGHT
At the end of the day, I realized that there was a part of the gun I hadn't tried. As there was a brand new, factory-fresh SureFire X400 light/laser on the bench, I decided to try the rail. To test it, I tried a new accessory-rail add-on.
The Surefire X400 is like the SureFire X300 Weaponlight—a powerful LED white light plus a red-laser aimer mounted below. The LED is recoil proof, a handy thing on a .45 auto. It generates about 110 lumens of light, which can be sustained at the tactical level for over 2 ½ hours on a set of batteries. A tightly focused beam pierces the dark, while the corona of peripheral light will light up a room. According to SureFire, the aimer has an output of 5 milliwatts at a wavelength of 635 nanometers. SureFire says this makes it brighter and more visible than their nearest competitor's laser.
SureFire's Rail-Lock attachment system keeps the user from having to slide the unit on and off from the front. The X400 can be attached from the side. Using the right adapter plate helps, as the X400 ships with the Picatinny-rail adapter plate as well as the plate for Universal rails.
The X400 Weaponlight looks to be another great piece of gear from Surefire.
CONCLUSIONS
The DoubleStar 1911 is exactly what Jack Starnes had been looking for: it's more accurate than it needs to be, it's reliable, it has an aggressive gripping surface, and you can add lights/lasers to it.
The original Novak sights are top-flight gear. If the test pistol were mine, I'd have tritium up front and I'd black out the two rear sight dots. This wouldn't be a problem and wouldn't disqualify the DSC 1911 from the USMC trials. The bad slide stop could happen to anyone who shoots a 1911—and probably has.
Out of all the things that could have been wrong, the only thing that was wrong was user-correctable. With the addition of Storm Lake barrels, the Combat Pistol will only be better.
SOURCES:
DoubleStar Corporation
Dept. S.W.A.T.
Box 4671
Winchester, KY 40392
(888) 736-7725
www.star15.com
Sidearmor
Dept. S.W.A.T.
7810 North Highway 89, Suite 320
Flagstaff, AZ 86004
(928) 526-4379
www.sidearmor.com
SureFire, LLC
Dept. S.W.A.T.
18300 Mount Baldy Circle
Fountain Valley, CA 92708
(800) 828-8809
www.surefire.com