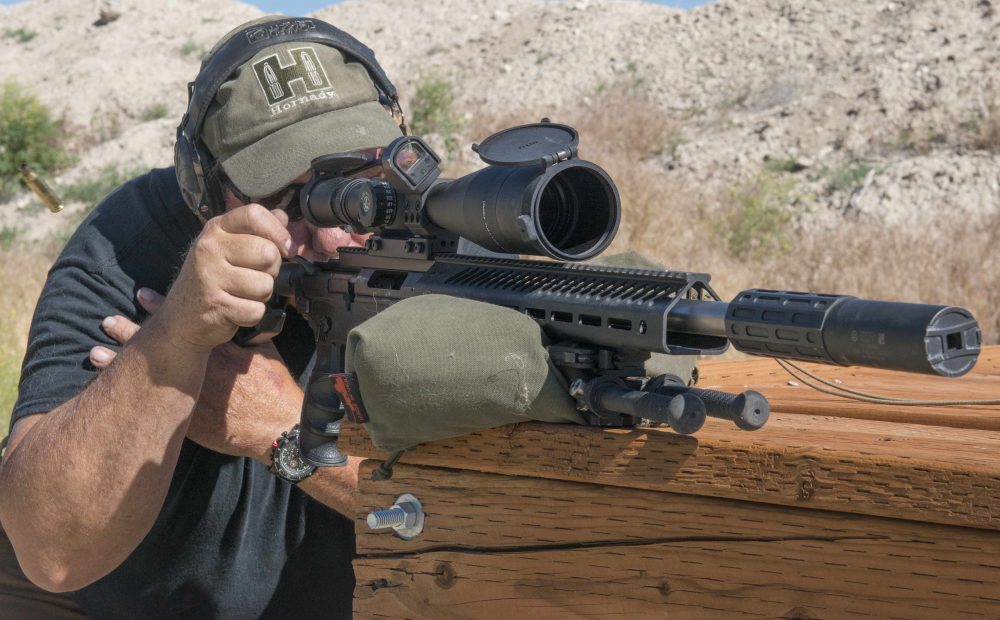 Seekins Precision flat rails provide stable platform on barricades or other structures. Action is smooth and fast.
---
The Ruger Precision Rifle (RPR) has quickly become one of the most sought-after precision rifles on the market. During a time when custom rifles start at three grand and rise to over ten, the RPR is a breath of fresh air. Attending the initial writers' event a couple years ago, I was impressed by the RPR. It's truly rare when the hype is matched by the reality, but this was an exception.
Initially chambered in 6.5 Creedmoor, my test rifle produced groups well under half an inch at the event and in subsequent testing. Even after 1,000 rounds, it continued producing groups in the .35-inch range using factory Hornady ammunition, and today it's still shooting lights out.
Currently chambered in 6.5 Creedmoor, .308, 6 Creedmoor, and 5.56mm NATO, the RPR remains incredibly popular, with speculation about several other calibers rampant. For the impatient, after-market barrels provide for most any .308-based cartridge, including one of my favorites, the .260 Remington.
6.5MM REVOLUTION
It's hard to call the 6.5mm revolutionary, since it's been around since the late 19th century, but its resurgence as a precision-rifle caliber has exploded.
While the 6.5 Creedmoor remains the most popular, the .260 Remington is also a favorite. Starting life as a wildcat called the 6.5-08, it was standardized and introduced by Remington as the .260 Rem in 1997. Along with a number of NRA High Power wins, it was popular in metallic silhouette competitions. It has since seen significant use in the Precision Rifles Series and other precision rifle competitions.
Its ability to move from the competition field to the backcountry keeps it popular. Factory ammunition is plentiful, and even match ammunition availability is growing. Our current military is looking at a 6.5mm for their latest semi-auto precision rifle, and the .260 Remington is among the candidates. Based on a .308 case, all it needs is a barrel change, making it simple for military units. Its increased range, flat trajectory, and ability to cheat the wind make it perfect as a military or police sniper rifle, the basis for this test.
SIMPLE BARREL CHANGES
One of the best aspects of the Ruger Precision Rifle and a significant part of its popularity is the ability to swap barrels without a gunsmith. No need for a lathe, just some simple tools including an AR wrench and head-spacing gauges. With the aid of a barrel vise or Seekins Precision Action bar, I change barrels out in less than half an hour, start to finish. It's allowed me to test this rifle in .308, .243 Winchester, .260 Remington, and 6mm Creedmoor.
Proof Research has been kind enough to provide both steel and Carbon Wrapped barrels to facilitate the changes. Recent testing on using the RPR as a police sniper rifle gave me the idea of a compact and suppressed tactical RPR.
TACTICAL VERSATILITY
Most of my barrel changes on the Ruger Precision Rifle have been long, 24 to 26 inches with the exception of a 20-inch .308. They all worked great, but adding a suppressor makes them too long. I deployed as a police sniper for over a decade, and the ideal length for me was closer to 19 inches, especially if the suppressor were a direct thread model. It still fit in a standard "drag bag" or case. With a folding stock, it fit in a pack and some smaller cases.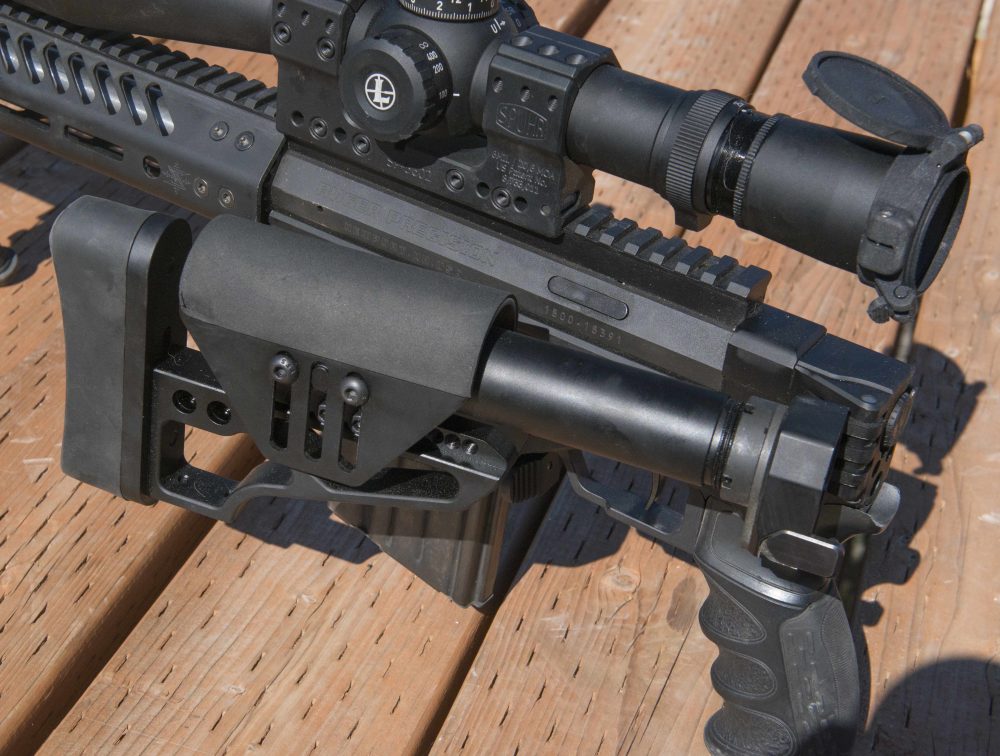 Given a typical deployment distance well under 100 yards, ballistics with the short barrel were pretty meaningless, but it did suffer a bit during training or police sniper competitions. It prompted an experiment, an 18.5-inch .260 Remington, and the Ruger was the perfect platform.Shorter barrels for the 6.5mm are nothing new: Many have completed similar projects, but mostly on very costly custom precision rifles or hunting rigs. Ruger's low initial cost makes this more than possible for an average police department or officer, or just someone looking for a tactical rig. At ranges beyond 800 yards, it should clean the .308's clock and allow deploying police snipers to use their rig to great success at restricted competitions.
Proof Research had previously provided a 24-inch steel .260 Remington barrel that was a perfect start.
SUPPRESSION IS A MUST
Police sniper rifles should all be suppressed. It's not that they can't do the job without it, but a suppressor offers several advantages and a single disadvantage—length. Adding a suppressor to a long barrel makes the rifle unwieldy, hard to conceal, and an overall pain.
Shortening the barrel fixes that, and the rest is pure advantage. No need for hunting hearing protection during operations, allowing for free and easy communication. Properly deployed, you do not draw attention to yourself if a shot is taken. Recoil is lessened, no muzzle blast, and moderate to excellent flash suppression.
Those using Quick Detach (QD) methods allow for a very short rifle when needed, or to fit in a small pack. Most shoot suppressed rifles better, and if you do reach out, you can stay on target to see your shots. Especially on a bolt rifle, there is just no downside.
One of the best for this purpose is the Gemtech One, an incredibly versatile, do-it-all QD suppressor. It is a true one-handed QD mount requiring no locking mechanism, dial turning, or special tools. Rated for full auto, it works on 5.56mm barrels as short as 7.5 inches, .308 barrels at 12 inches or longer, and is rated to .300 Win Mag.
Built from Titanium and Inconel, it weighs a mere 16.3 ounces. Overall length is 7.5 inches, but it adds slightly more when using a flash hider or muzzle brake. It can even become a direct-thread model with the addition of an adapter. It's rugged, reliable, quiet, and about as versatile as a suppressor gets.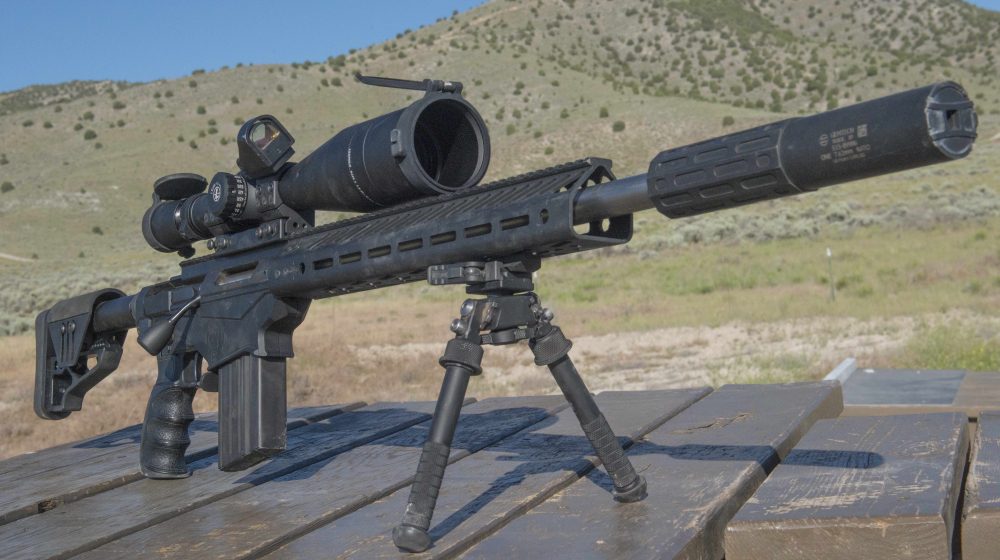 Gemtech One suppressor is surprisingly light. It keeps the Ruger Precision Rifle well-balanced, avoiding barrel-heavy condition many suppressors add.
---
RIFLE BUILD
My Ruger Precision Rifle is equipped with a Seekins Precision handguard, Timney Two Stage Trigger, and XLR Industries Tactical Lite Buttstock. A trip to my local smith, Rogers Rifle Shop, took the Proof Research steel barrel down to 18.5 inches. Roger pays incredible attention to detail, so the Gemtech Quickmount flash hider was perfectly centered with proper thread tension. The Seekins Precision handguard lets you perfectly align it to the Ruger's top rail with ease.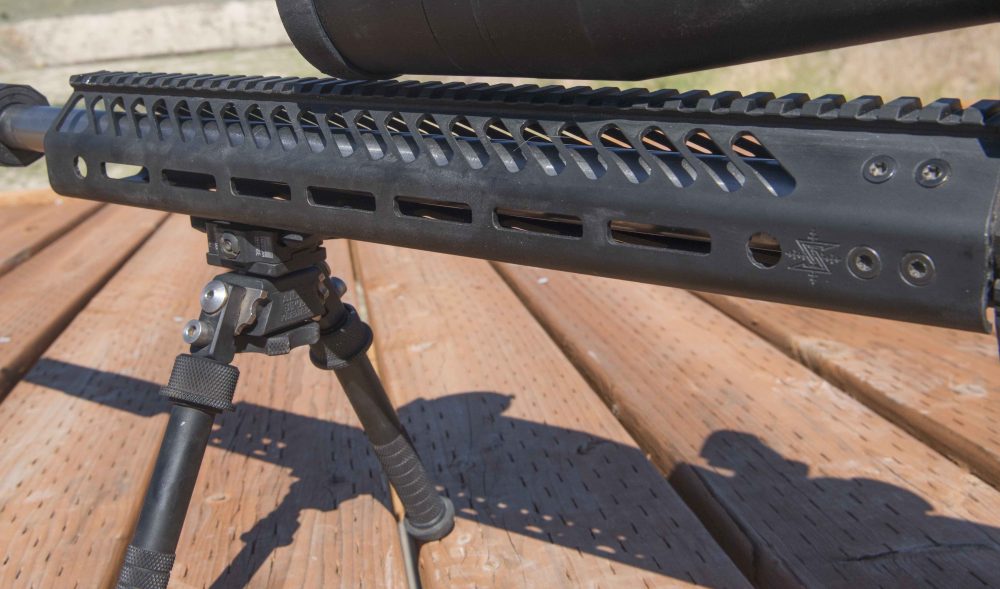 Seekins Precision rails can be ordered in M-LOK or KeyMod, and are flush and tight. Flat bottom is perfect for barricades or other obstacles.
---
Scope duties were managed by a brand-new Leupold Mark 8 mounted in a Spuhr ISMS mount with an EOTech MRDS Red Dot, which is used for identifying small targets at long range, not as a backup sight. Rather than zooming out, simply place the RDS on the target or a nearby landmark and it appears in your field of view. You can move between targets at long range more quickly and get on target while staying at a higher power range.
Leupold has done a fantastic job with this scope. I've used a Mark 8 for years, starting with a mil lined reticle and a DTR more recently. It is one of my favorites, though it was heavy, and the price point all but stratospheric. Not so with the latest.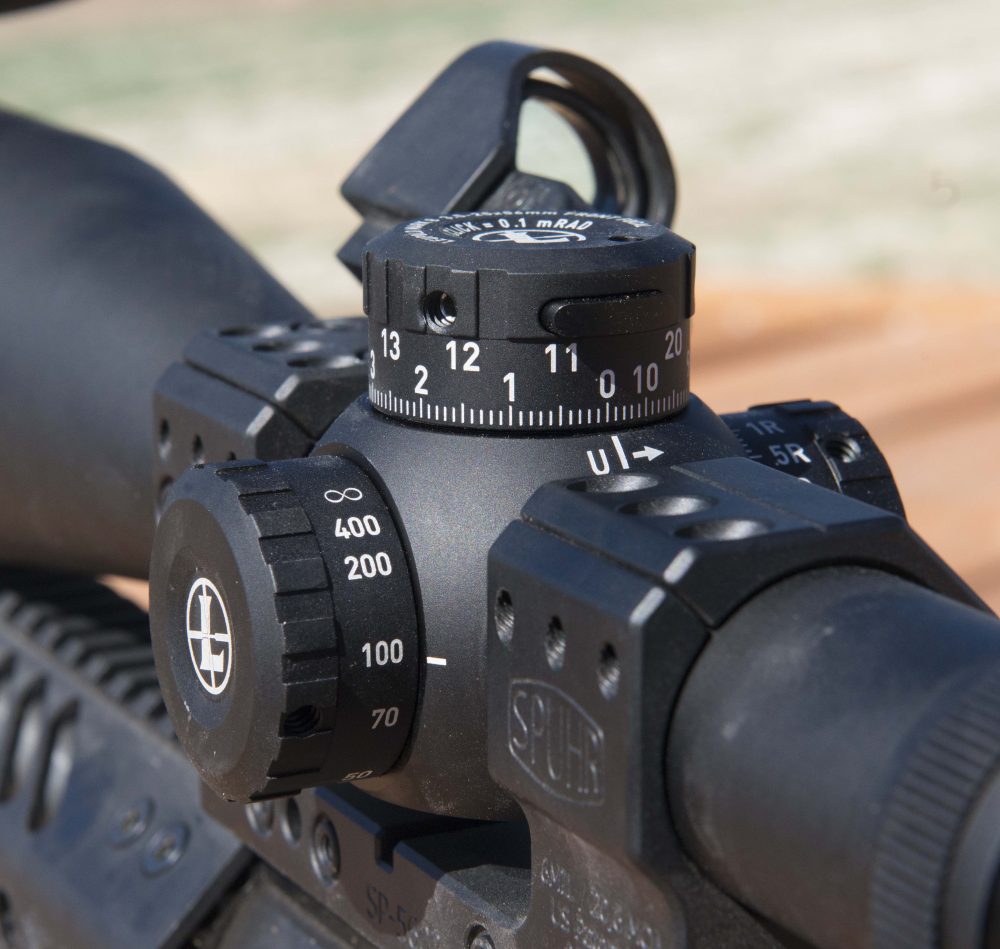 Removing the mostly useless lighted feature dropped almost $2000 off the retail price. Weight is also dropped significantly, and the new knobs are fantastic. White letters are large and easy to see, with tactile clicks. They both lock at zero with the wind (zero) moved higher on the knob, so the user can see it more easily. Removing the illumination knob provides ample mounting space.There was enough elevation to allow a zero using what amounts to 40 MOA of elevation in the mount and rail. With power ranging from 3.5-25X, it may be the perfect tactical scope. You get field of view at practical deployment distances, plenty of detailed identification up close, and target identification at range. Using a 35mm tube keeps it rugged and provides ample elevation adjustment for longer ranges.
TESTING
Using a QD suppressor with any intent of removal requires testing for impact shift in both conditions. Most QD suppressors see about a three-inch vertical shift, with varying shifts horizontally. Much is ammunition dependent, as well as barrel, shooter, and some other factors, but three inches seem to be the norm. You can choose to hold or just adjust at the scope.
Vertical shift was almost exactly one mil, or about 3.5 inches with no horizontal shift. Zero stops are great for most things, but it means if you are going to remove your suppressor, it must be zeroed suppressed. In most cases, impact shifts up when the suppressor is removed, an easy adjustment. Reverse and your zero stop may not let you move down. That's fine for most, since shooting unsuppressed is rare. You are more likely to remove it for storage, so impact shift when removed and installed is critical.
The Gemtech One QD mount is timed on the rifle so that when the suppressor is installed, it goes in the same spot. During the testing, it was removed and installed several times with no perceptible shift in impact. It is quiet enough to shoot without ears on a deployment, and outdoors in general. Recoil reduction is noticeable and, under rapid-fire strings, bolt lift effort did not increase. Nor was there any stringing when heated up at range. I would feel perfectly comfortable deploying this rifle.
Accuracy ranged from excellent to astounding. Cutting this Proof Research steel barrel down did nothing to decrease accuracy, and may have increased it. Hornady's 130-grain ELDM produced consistent groups at or under .50 inch. Random testing of some Corbon 123-SCENAR put three rounds into .28 inch. I only had a few rounds of the Corbon, and I'm looking forward to having enough next time for a full test.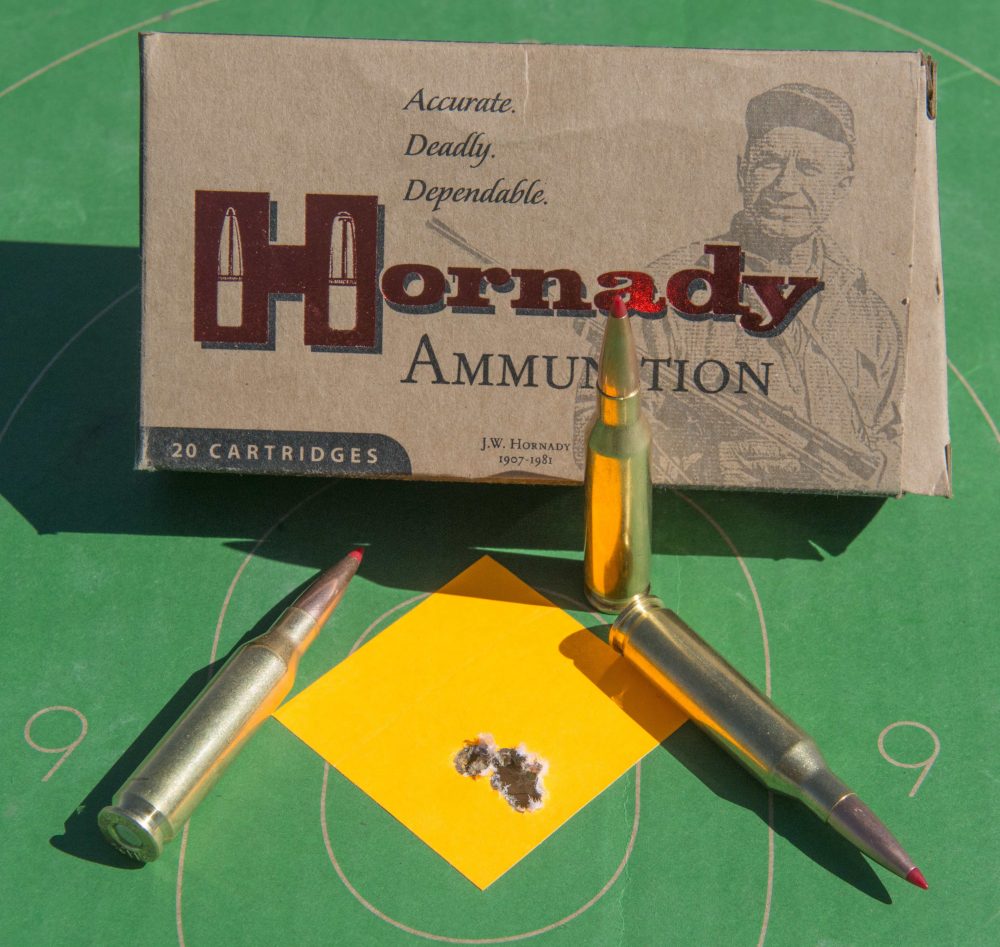 The Hunting Shacks (HSM) 123-grain SCENAR was about the same as the Hornady. Both produced .75-inch groups at 300 yards. Truing for velocity at 1,172 yards, the Hornady put eight rounds into a ten-inch circle, about as accurate as you get, and tough to do with an 18.5-inch .308.Bottom line? This setup is as accurate as most people can shoot it, and even with the short barrel, it's fantastic out to 1,200 yards.
Ruger's RPR allows the use of most SR-25 and AICS compatible magazines. The best mag so far on this rifle is the LaRue Tactical version. Its follower is just different enough that it is overcome easily by the bolt. It feeds flawlessly, drops free, and is incredibly rugged.
The CTK Precision Mag Release Extension makes it much easier to access from either side. It mounts to the existing paddle without removal; just bolt it on. You can push forward with either index finger if needed or the thumb from prone.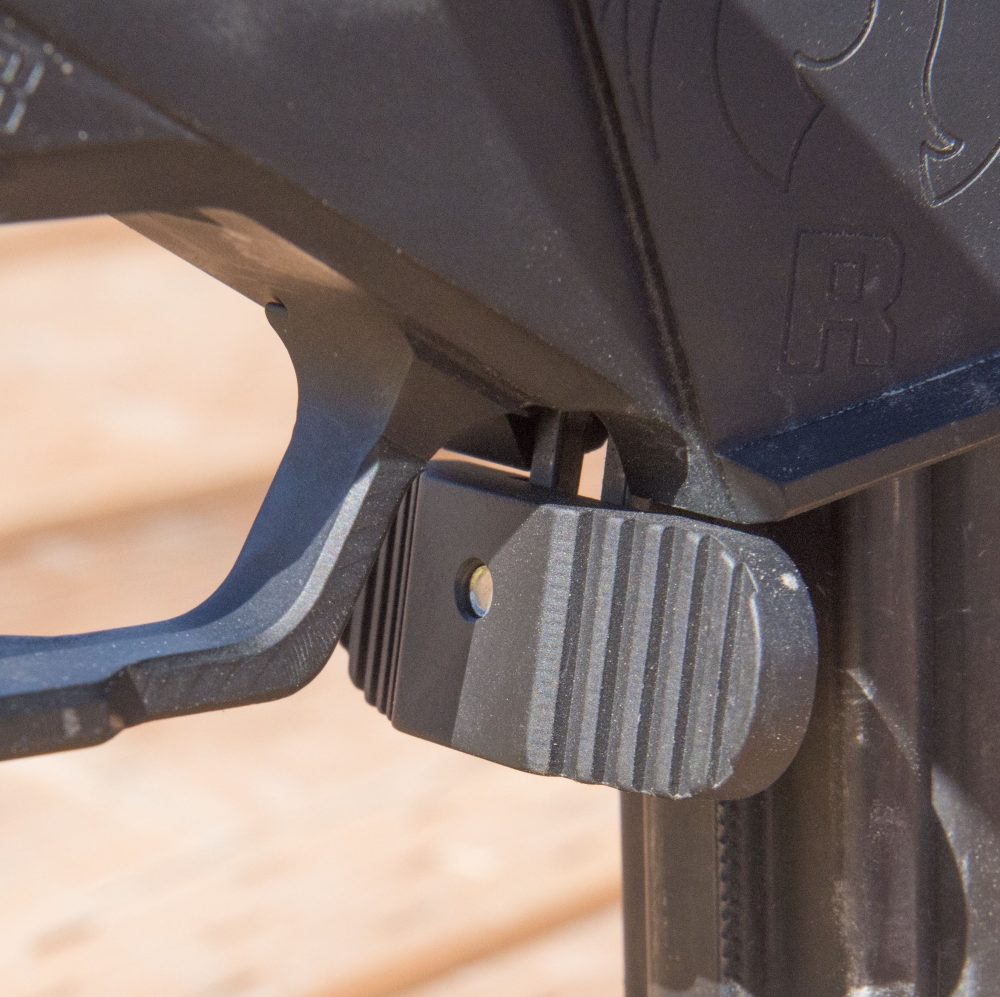 The XLR buttstock is simple, light, and never shifted. Running on barricades, the Seekins Precision handguard provides a very stable platform.My last test was to run a modified Precision Rifle Series-style stage using only holds for aiming. Targets at 100 and 200 yards were typical steel silhouettes. At 300 yards, it was a 12-inch square, with 12-inch round targets at 550 and 650 yards. Cutting the barrel down kept the weight about the same, since six inches of barrel weighed more than the One suppressor. It was handy working around barricades, and incredibly comfortable from prone.
FINAL THOUGHTS
This is at least the fifth different configuration this RPR has seen, and it shone just as brightly as it always has. Barrel changes with minimal tools and no need for an experienced machinist. Ergonomics all but identical to the AR platform. Accuracy that exceeds the ability of 90% of the people shooting it. Chambered in a 6.5mm (any of them), it is a fantastic rifle with range out to well beyond 1,200 yards, even with this shorter barrel.
The Gemtech One matches its name as the single suppressor for multiple uses. Having used it on everything from 5.56mm to 300 Win Mag, it has performed perfectly. Back-pressure is less than many and, at just over a pound, it is downright light for a 7.5-inch suppressor.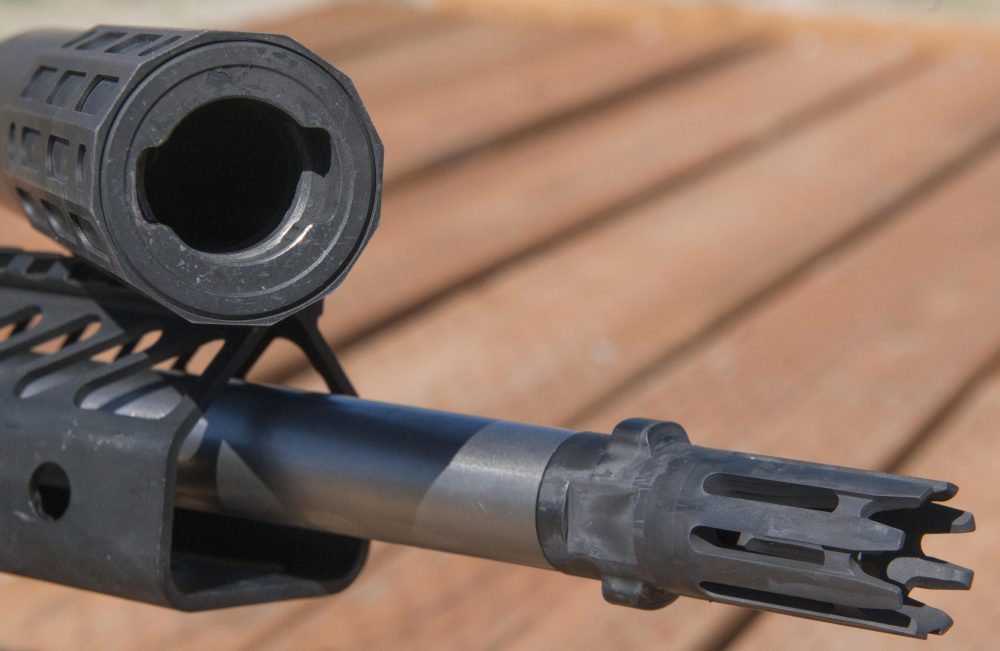 Gemtech One can be mounted using flash hider (shown) or muzzle brake. Direct thread adapter can be used for either 1/2×28 or 5/8×24 for a more permanent mount.
---
Leupold has knocked it out of the park with their new Mark 8. Expect to see them on more and more tactical and long-range rifles. Street price will be more in line with comparable scopes. Every improvement was evident when using it. Having such a large range of magnification makes it perfect for police and tactical uses.
Proof Research steel barrels retail for $485 and require zero machining. They are drop-in and pre-threaded for suppressor or brake use. You just need an AR barrel wrench and a vise or barrel vise. Compared to my other switch barrels, you can buy the RPR and several barrels (steel or carbon) and still have money left over.
This was a fun project, and the result is an excellent tactical or even hunting rifle. Run the lighter bullets and it is still viable well past 100 yards, and it is as effective as any .308 at typical deployment distances. There's a reason the military is looking at the 6.5mm, and this rifle proves exactly why—it works!
SOURCES
6.5 CREEDMOOR LOAD DATA
loaddata.com/Cartridge/65-Creedmoor-Hodgdon-Data/5393
STURM, RUGER & CO., INC.
(203) 259-7843
www.ruger.com
GEMTECH
(208) 939-7222
www.gemtech.com
HORNADY MFG. CO.
(800) 338-3220
www.hornady.com
LEUPOLD & STEVENS, INC.
(503) 526-1400
www.leupold.com
PROOF RESEARCH
(406) 756-9290
www.proofresearch.com
SEEKINS PRECISION
(208) 743-3400
www.seekinsprecision.com
XLR INDUSTRIES
(970) 241-1807
xlrindustries.com