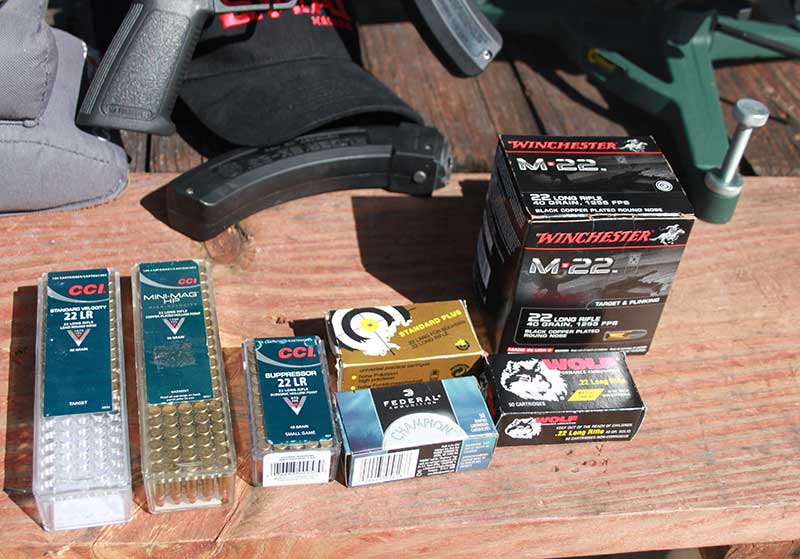 Sturm, Ruger & Co is a noteworthy force in the U.S. in all firearm categories, whether sporting, competition, tactical, or personal defense. Their most recent addition is the Precision Rimfire.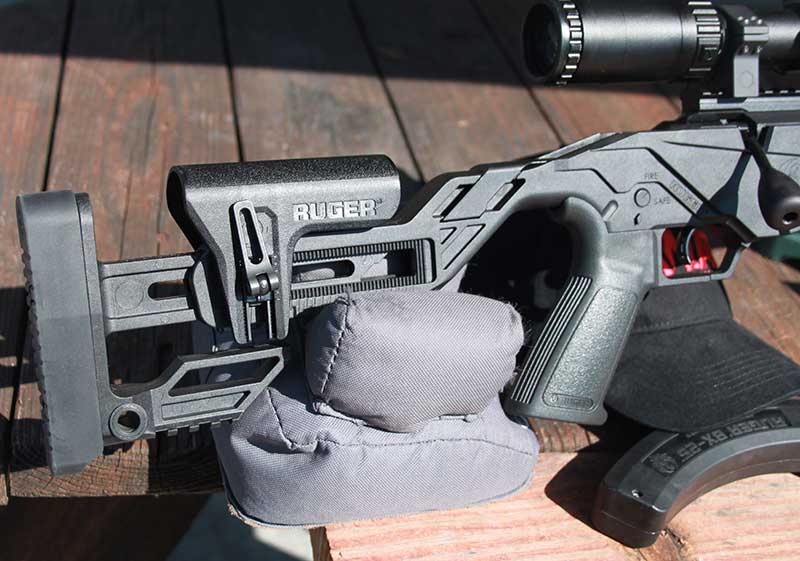 This rifle model indicates a new approach at Sturm, Ruger & Co. The Precision Rimfire is Ruger's take on creating an affordable, yet highly accurate, chassis-style bolt-action rimfire with detachable magazine.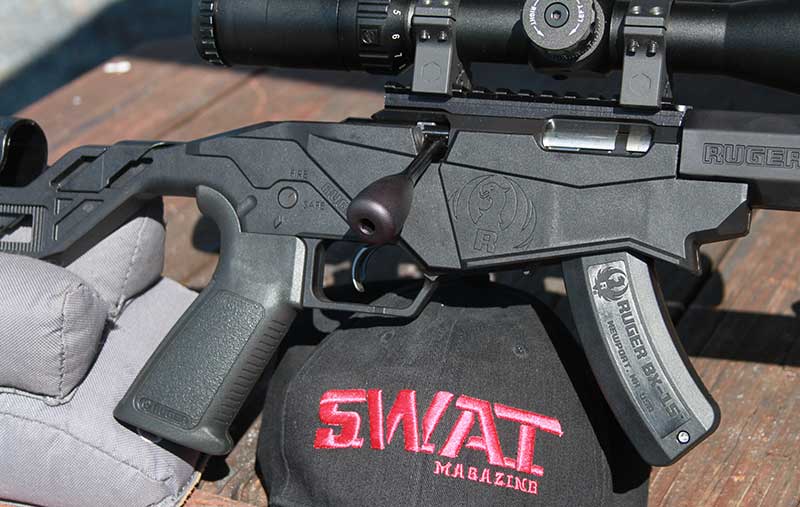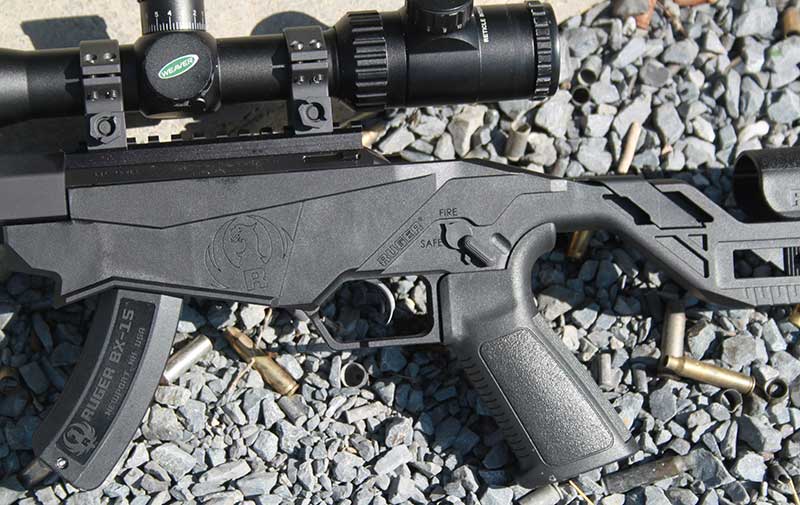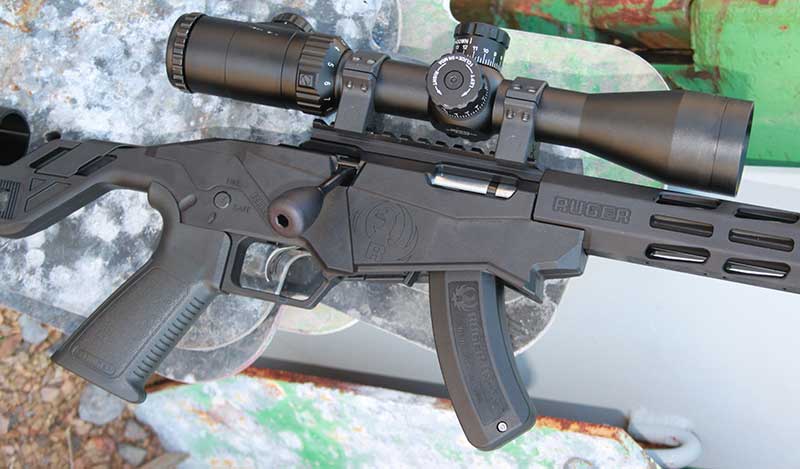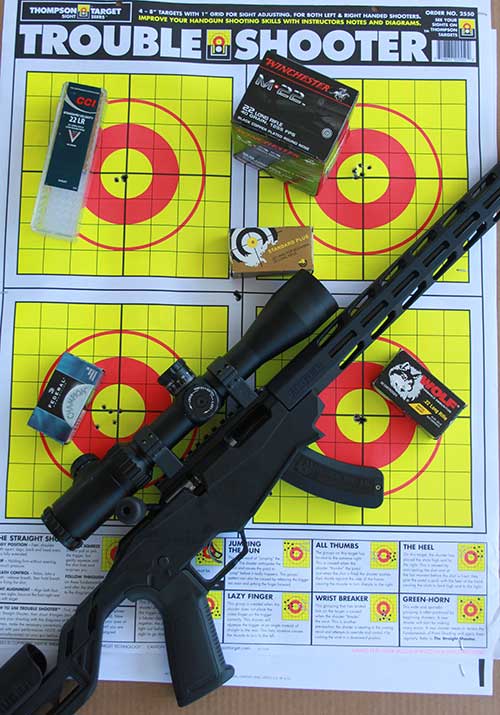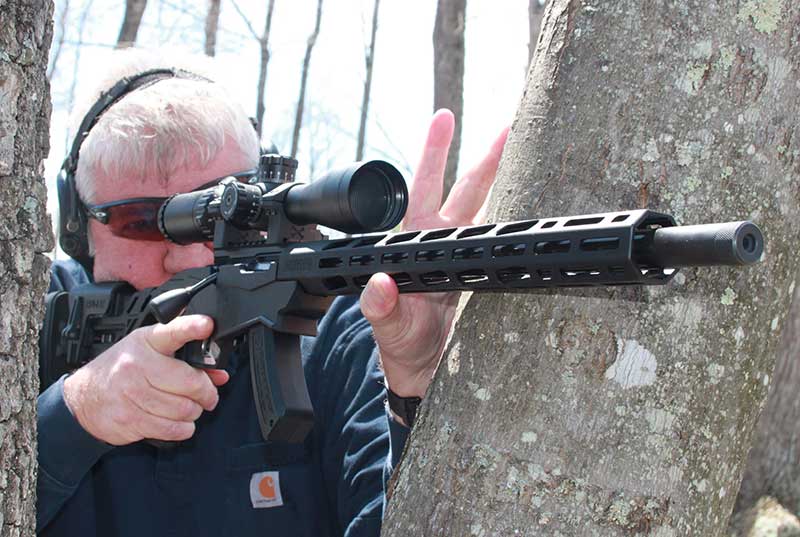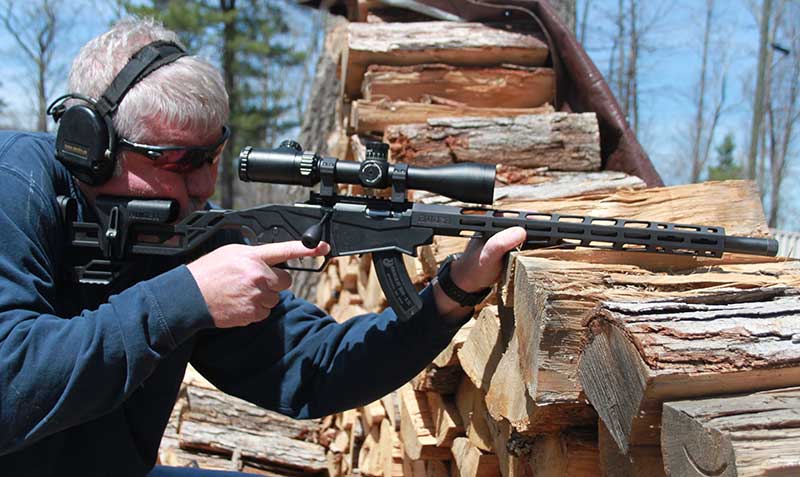 Sturm, Ruger & Co is a noteworthy force in the U.S. in all firearm categories, whether sporting, competition, tactical, or personal defense. Their most recent addition is the Precision Rimfire.
This rifle model indicates a new approach at Sturm, Ruger & Co. The Precision Rimfire is Ruger's take on creating an affordable, yet highly accurate, chassis-style bolt-action rimfire with detachable magazine.
Precision bolt-action rifles are enjoying a resurgence, with chassis-style rifles leading the way. But premium centerfire ammunition associated with the pursuit of accuracy is not inexpensive. Many are searching for ways to maintain or increase proficiency without having to spend disproportionate amounts of their budgets on centerfire ammunition.
The advantage of having an "understudy" rifle chambered in .22 Long Rifle (LR) similar in ergonomics and controls to its full-powered sibling is well recognized.
RUGER PRECISION RIFLE
The Precision Rimfire models itself on the Ruger Precision Rifle. The centerfire Precision Rifle is built around the Ruger All-American bolt action and features Ruger's take on the precision chassis bolt-action.
The Precision Rifle utilizes a linear in-line recoil path to maximize accuracy potential by directing unwanted movement and vibration straight back into the buttstock. This minimizes impact on barrel harmonics when the rifle is fired; the key here is consistency during the firing impulse. The stock is threaded into the rear of the receiver, in effect becoming a part of it.
The Precision Rifle arrives with many notable features, including a fully adjustable foldable MSR rear stock, threaded muzzle, full-length Picatinny rail running over the upper receiver out to the end of the forend, and Ruger's Marksman Adjustable trigger.
One thing that distinguishes the Precision Rifle, functionally and aesthetically, is its ability to accept multiple types of detachable magazines, such as DPMS, M110, SR-25, PMAG, and AICS. The Ruger Precision Rifle takes a back seat to no rifle in terms of precision, repeatable accuracy, ergonomics, reliability, trigger, capacity, and safety.
RUGER PRECISION RIMFIRE
The Ruger Precision Rimfire follows the path blazed by its big brother via chassis and highly adjustable buttstock. Length of pull and comb height adjustments allow both an adult and a child or shooter of smaller stature to achieve proper firing position. The Ruger Precision Rimfire weighs 6.8 pounds and measures 35 to 38.5 inches depending on adjustment.
The buttstock features a section of Picatinny rail for a rear monopod.
A nod to the obvious understudy role of the Precision Rimfire is its ability to configure the bolt pull to three inches, simulating a short-action centerfire. A shooter can choose to leave the bolt pull the shorter length (1.5 inches) more accustomed to a rimfire.
The bolt handle is the same size as on the Ruger Precision Rifle. The Ruger AR pistol grip and AR-style safety lever are standard with the rimfire, as is the 15-inch handguard with Magpul M-LOK attachment points. The Precision Rimfire operates with 10/22 magazines. A BX-15 arrives with the rifle.
The heart of any rifle, centerfire or rimfire, with precision in its name is the barrel. Ruger did not skimp here, using an 18-inch 1:16-twist cold-hammer-forged barrel made from 1137 alloy steel. The muzzle is threaded 1/2×28.
Like the Precision Rifle, Precision Rimfire barrels can be replaced easily by a competent gunsmith using AR-style wrenches and headspace gauges.
Following this same theme, the Precision Rimfire features a Ruger Marksman Adjustable trigger with pull weight range of 2.25 to 5.0 pounds.
OPTICS AND BALLISTICS
An integral 30 MOA elevation rail serves to attach optics to the receiver. A Weaver KASPA 2.5-10X50mm was mounted via Talley Tactical rings. The KASPA features an illuminated Mil-Dot reticle. This both reinforces the understudy role of the Ruger Precision Rimfire and maximizes its potential as .22 LR. Holdovers and windage adjustments can be worked on with only a 200- or 300-yard range necessary, versus needing 500+ yards if a centerfire rifle were used.
The accuracy of the Ruger Precision Rimfire mated with a ballistic chart will aid in figuring hold over/offs to help master using mil-dots or other reticles. Long-range target engagement often hinges on being to read wind speed and direction accurately. Wind wreaks havoc with light, low-ballistic-coefficient .22 LR bullets.
Using a .22 LR to engage 300-yard targets brings this fact home. A ten-mph cross wind pushes a 40-grain bullet 1.4 inches at 50 yards, five inches at 100 yards, and 11 inches at 150 yards. CCI and Federal Ammunition websites are great resources for this type of information.
The ballistics of the .22 LR allow for effective target engagement out to 100 yards before the ballistic gods swat it out of the air. A 50-yard zero with a standard-velocity load—approximately 1,200 feet-per-second (fps)—shows a five- to six-inch drop at 100 yards and nearly 20 inches by 150 yards. This is more than enough for users not to feel handicapped in typical training scenarios, especially if proper targets are selected.
RANGE TIME
Range procedure consisted of my normal firing from a bench for accuracy assessment using CCI Target standard-velocity 40-grain, Federal Champion 40-grain, Wolf 40-grain, Winchester M-22 40-grain and SK Standard Plus. Groups at 25 yards were in the .25 to .75 inch area and at 50 yards 1 to 1.5 inches.
After the accuracy benchmark was established, courses of fire were set up similar to those used for centerfire training involving multiple targets and field positions. Echo Valley Training Center (EVTC) proved ideal for T&E, with various ranges equipped with range vehicles and other aids.
The Ruger Precision Rimfire performed well, though it took some time getting used to the lack of muzzle blast while moving through the courses of fire—a pleasant problem to deal with. There were no excuses to miss small targets, including golf balls 50 yards away or miniaturized clay pigeons at 100.
If you are missing, it is time to slow down and re-evaluate. Here the advantage of being able to fire hundreds—even thousands—of rounds of .22 LR for significantly less than even the cheapest centerfire surplus ammunition becomes evident.
ROLES
The Ruger Precision Rimfire can definitely fulfill the traditional .22 LR role of introducing new shooters to the sport. Trigger control and steady hold can be perfected with minimal recoil and blast. Proper sight alignment and trigger control are easy to self-diagnose with the .22 LR.
The economic advantages are again a major plus. Inexperienced shooters can afford to practice much longer with the .22 and have the endurance to do so without having to deal with recoil and muzzle blast.
The Ruger Precision Rimfire has the added benefit of training shooters of all skill levels in the manipulation techniques of a bolt action. Similar to a centerfire rifle, the Ruger Precision Rimfire's bolt needs to be worked firmly for the best efficiency in extracting and chambering a fresh round.
While the low cost of shooting .22 LR ammo is attractive, it should not be at the expense of an unfamiliar rifle with awkward controls and an uncertain reliability aspect compounded by not getting any training value out of range time applicable to your primary weapon.
The look, feel, and controls of the Ruger Precision Rimfire are nearly identical to its centerfire big brother. From the first time I handled the Ruger Precision Rimfire, I had the same feel as if shooting a centerfire bolt-action.
Whether it is for low-cost realistic training or to help a youngster learn to handle this style of rifle without the recoil and intimidation of muzzle blast, the Ruger Precision Rimfire will make a nice addition to any firearms collection.
SIG SAUER SRD22 SUPPRESSOR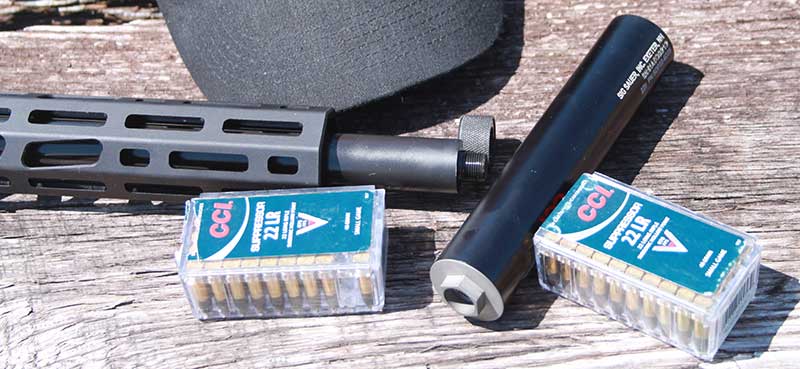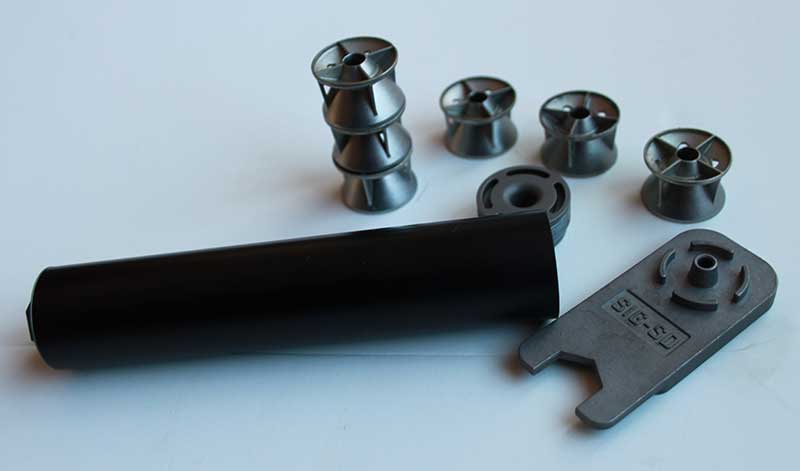 I also evaluated the Ruger Precision Rimfire with the SIG Sauer SRD22 suppressor. The SRD22 features an aluminum outer tube with stainless steel baffles. It measures 6.2 inches long, 1.25 inches in diameter, and weighs 7.7 ounces. SIG Sauer lists sound-signature reduction down to 117 decibels (db) with the SRD22.
In comparison, the actions of many semiautomatic .22-caliber weapons produce 125 to 130 decibels when cycling out and into battery. An unsuppressed .22 LR produces approximately 142 decibels when fired. Unsuppressed centerfire rifles and handguns produce approximately 165 decibels. The SRD22 comes with both a ½x28 tpi and M9x.75 adaptors to facilitate mounting to typical U.S. and European thread patterns found on .22 LR weapons.
Under 1,050 feet-per-second is a good rule of thumb for subsonic velocities. The difference in noise produced from firing supersonic ammunition, which generates a distinct "crack" due to exceeding the sound barrier, versus subsonic through a suppressor is striking.
Experimentation with different loads is encouraged and can yield surprising results. CCI Suppressor 45-grain and Subsonic 40-grain .22 LR loads are solid choices.
The SRD22 suppressor is easily disassembled for cleaning. This is especially important with a .22 LR suppressor versus other calibers due to the high percentage of lead in .22 LR ammunition.
SIG Sauer provides a tool that matches the end-cap notches of the SRD22, facilitating easy removal. After removing the end cap, the stacked stainless steel baffles are removed, simplifying cleaning. The baffles are then inserted back into the aluminum shroud and the end cap screwed back into place.
The removal and reinsertion of the baffles are intuitive, with little concern warranted for doing it incorrectly. I say this because some .22 LR suppressors on the market are more complicated to clean.
This simplicity makes it easy to follow proper maintenance routines with the SRD22, thereby keeping it operating at maximum efficiency.
A mounted SIG SRD22 suppressor reinforces all the positive characteristics of using a .22—zero recoil and no muzzle signature for increased proficiency. Accuracy is often enhanced when using a suppressor on a .22. The SIG SRD22 can easily be used with any threaded .22 LR platform, whether handgun or rifle. No other suppressor/caliber combination is as quiet as a suppressed .22 LR using sub-sonic rounds.
Range time with the SIG Sauer SRD22 is often described using the unscientific term fun!
SOURCES
STURM, RUGER & CO, INC.
(203) 259-7843
www.ruger.com
CCI AMMUNITION
(800) 256-8685
www.cci-ammunition.com
ECHO VALLEY TRAINING CENTER
(540) 450-7998
www.echovalleytrainingcenter.com
FEDERAL PREMIUM AMMUNITION
(800) 379-1732
www.federalpremium.com
SIG SAUER INC.
(603) 772-2302
www.sigsauer.com
TALLEY MANUFACTURING
(803) 854-5700
www.talleymanufacturing.com
WEAVER OPTICS
(866) 788-7386
www.weaveroptics.com
WINCHESTER AMMUNITION
(615) 258-3340
www.winchester.com