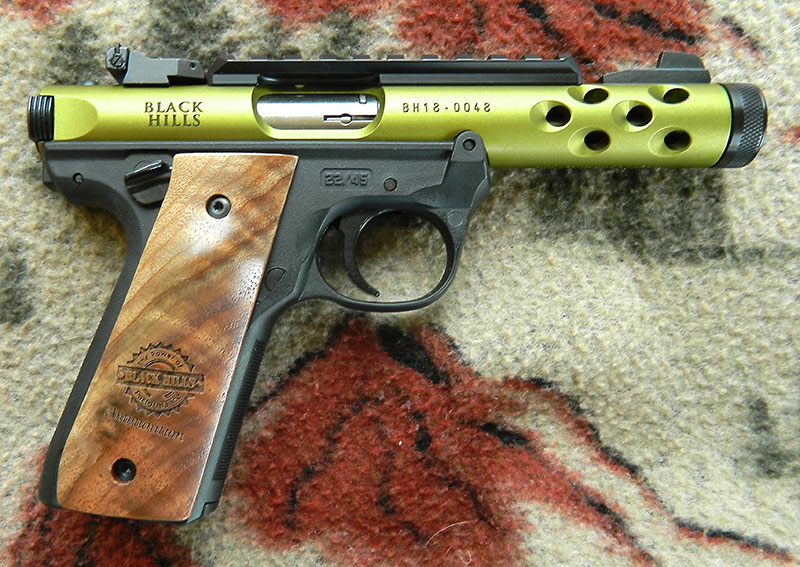 Using a firearm chambered in .22 Long Rifle (LR) as a supplemental trainer for a larger caliber is nothing new. Now that the price of .22 ammunition has come back down, it is less expensive to shoot than center-fire cartridges.
Due to the lesser recoil and muzzle blast, it increases the shooter's awareness of the sights, trigger press, and stance—all important elements of good shooting that can be carried over when switching to full-power rounds. The virtual lack of recoil and muzzle blast make them great for beginning shooters and youngsters. Resist the urge to fire too quickly with the .22 since it does not recoil, and focus on good technique.
One important thing to keep in mind is that dry firing with .22 should be kept to an absolute minimum, as the firing pin is meant to hit the primer on the rim (hence the term rimfire), and dry fire may result in a peened chamber or broken firing pin.
I once observed a very experienced shooter bring a .22 AR to a Pat Rogers carbine course in Casa Grande, Arizona. He was having numerous malfunctions—mostly a failure to chamber. He cleaned the rifle and applied lube with no improvement. I asked him if he had dry fired it a lot, and he replied that he had. I looked in the chamber with a flashlight, and sure enough, it had been peened to the point where it hampered feeding. A couple of careful, light motions with a fine-toothed round file cured the problem.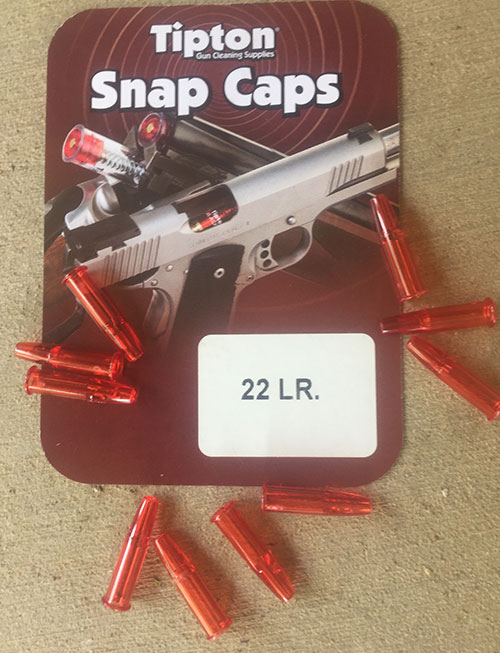 If dry fire with the subcaliber gun is important to you, an alternative is to use .22 LR snap caps, which run around six dollars for ten "rounds." I use Tipton Snap Caps, but other brands work as well. For those who are truly frugal, #4-6 plastic drywall anchors will also work, but due to the barbs on the sides, won't feed from a magazine.
If due to weather or other reasons you can't get to an outdoor range, indoor ranges allow rimfire rifles. Chalk up another point for the .22.
AMMO
There is a wide variety of ammunition in .22, including plain lead, copper plated, hollow points, and subsonic ammo. For semi-autos, it is not uncommon for some brands/types of .22 to not function reliably. I have found that copper-plated rounds run my guns the most consistently. Less dependable rounds can be used in bolt-actions, lever-actions, and revolvers.
In a variation of the old "ball and dummy" drill, I occasionally load a magazine that will not run reliably to practice immediate action drills. They may chamber or not, making it a surprise when an immediate action drill is necessary.
On the subject of loading magazines, some handguns, mostly 1911 clones and conversion kits, have ten-round magazines. I choose to download mine with either seven or eight rounds, forcing me to reload as I would with the big gun in .45 ACP. I view this as a training opportunity. An exception is, of course, if you are shooting a 9mm 1911 that has a ten-round magazine.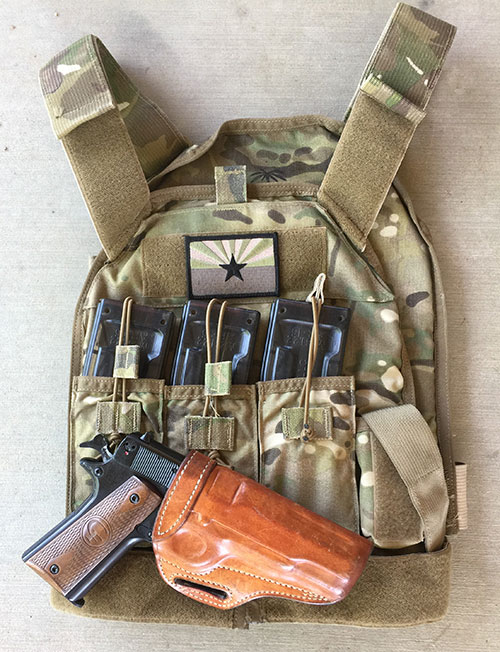 Likewise, many modern .22 revolvers can hold eight to ten rounds instead of the common six. Loading the same number of rounds that the revolver you use holds, using snap caps in the other chambers, offers—like the pistol—an opportunity to practice your reloading skills. Pay attention to which direction your cylinder turns to ensure you start off with a live round.
I prefer to use dedicated guns rather than conversion kits when possible. This is especially true with AR carbines. While the magazines of most AR conversion kits fit in the magazine well, they then reduce in size equivalent to a .22 pistol and do not replicate the size of the standard magazine. This largely prevents them from being used to good effect in the same magazine pouches and load-bearing vest I normally use.
And while any .22 can be used, such as a Ruger 10/22, using a firearm with the same manual of arms will be the most beneficial in the long run. What follows are some of the subcaliber trainers that work well for me.
HANDGUNS
Semi-Autos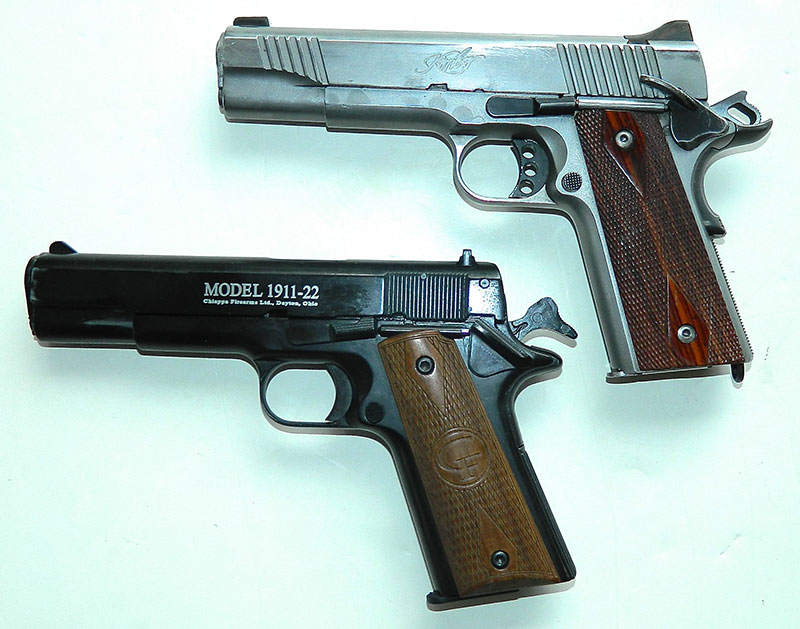 Since my normal everyday carry (EDC) pieces are either a 1911 or Browning P35 (Hi Power), I wanted a .22 trainer that had the same manual of arms in regard to the safety and magazine release. I settled on a Chiappa 1911-22. It fits perfectly in every holster I have for a 1911 and in some pancake holsters that fit both of the big guns.
The Chiappa runs very reliably with copper-plated .22 LR but is fussy with the externally lubricated plain lead bullets.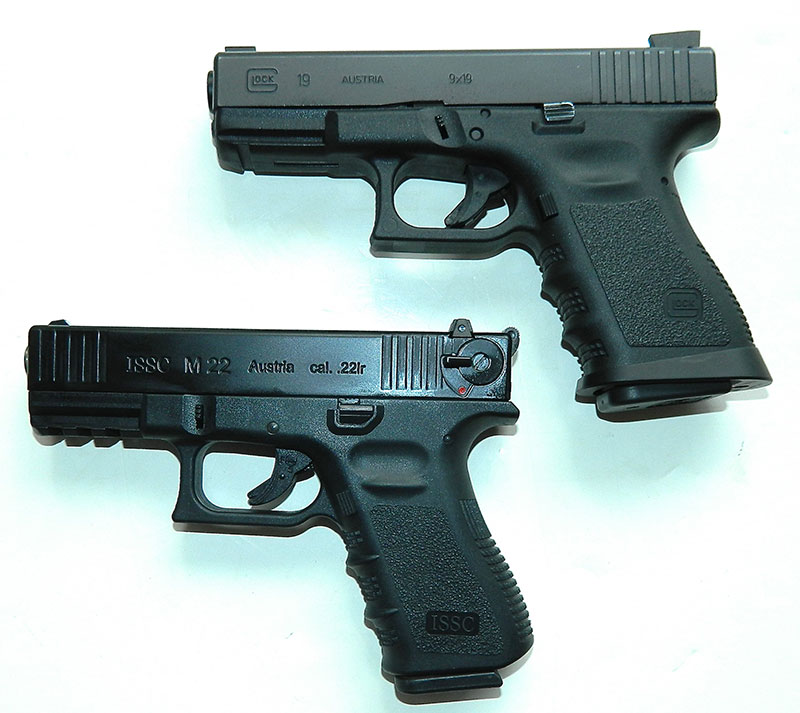 Somewhere along the way, I acquired an ISSC M22 that looks like and mimics the feel of a Glock 19. It differs from the Glock in that it is hammer fired rather than striker fired and has an external ambidextrous safety added due to import restrictions. The pistol works satisfactorily, and having to disengage the safety can be viewed as a minor inconvenience or a nuisance. A conversion kit may be a better choice for the Glock.
One of my prized possessions is a Black Hills Commemorative Ruger 22/45. It feels and points like a 1911 and the safety, magazine release, and slide release all operate in the same fashion. It does require a different holster than a 1911, but is a true pleasure to shoot.
Revolvers
I like shooting wheelguns and, although most of my "tactical" practice time is allotted to my EDC guns, I still shoot them whenever I can. A wheelie is likely as not what I'll take with me if I'm out for a casual walk.
My favorite revolvers are a century-plus old Colt New Service .45 Colt, a Smith & Wesson Model 325 Thunder Ranch .45 ACP, and an S&W Model 686 .357 Magnum.
My subcaliber trainer is a Ruger SP101. At 30 ounces, it's not heavier than most revolvers. The black rubber stock and engraved wood inlays are aesthetically pleasing. It has a four-inch barrel and eight-round capacity. Speed loaders are available from www.shopruger.com, so you can practice reloading in the same fashion as its full-size counterparts. Snap caps are often used in dry fire for practicing the double-action trigger press.
LONG GUNS
Carbines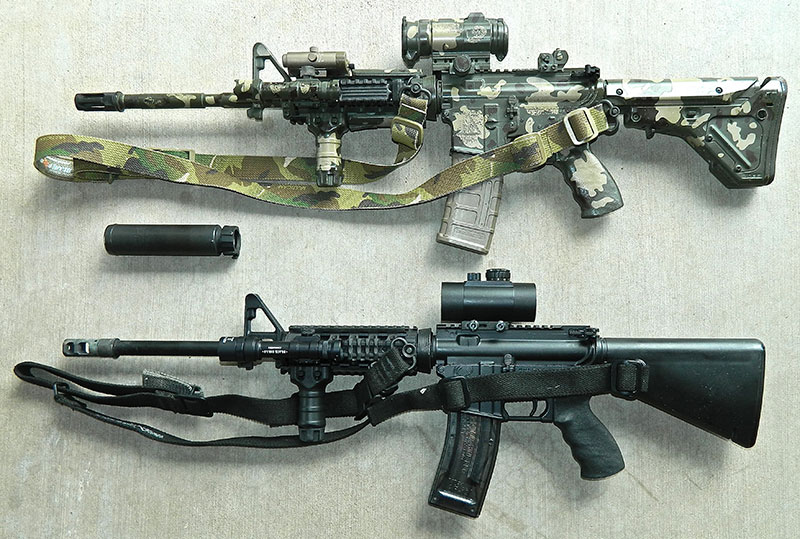 Carbines/rifles that use the double-deuce are now fairly common. The S&W M&P15-22 may be at the top of the heap in terms of popularity and reliability.
I purchased mine years before .22 carbines gained widespread acceptance. It consists of an Olympic Arms Partner (now discontinued) upper on a Stag lower. The Partner's bolt is semi-attached to the 16-inch rifled barrel. The barrel fits snugly into the smooth bore outer barrel, which acts as a sleeve.
With the exception of a cheap red dot instead of an Aimpoint, it is set up exactly the same as my work gun. Both have SureFire muzzle devices, allowing me to use the same SureFire MB556K suppressor. No suppressor is totally quiet, but subsonic rounds out of the .22 are about as quiet as one can expect.
It uses Black Dog magazines, which perfectly duplicate the size and feel of standard mags that fit into my standard-size pouches or pockets on my vest.
Lever-Action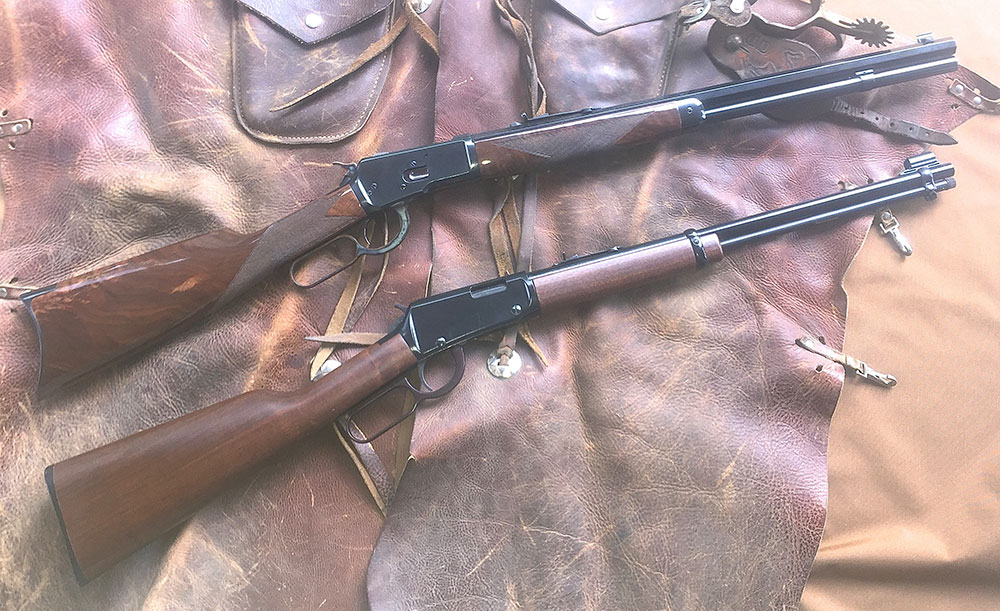 When going afield, I most commonly use either a Model 1894 Winchester .30-30 or a Navy Arms Winchester 1892 chambered in .45 Colt. The sub-caliber gun is a no-frills Henry Classic. All Henrys have become renowned for their slick actions and, though lower priced than some of the other Henry models, the Classic is no exception. The first time I worked the action, I actually had to confirm I had chambered a round and not short-stroked the action. It's that smooth.
Bolt-Action
Within its range limitations, I like hunting with my Ruger American Ranch Rifle® chambered in .450 Bushmaster. It has proven to be effective on elk and tough Texas hogs. (If you see a big-bore theme developing, you'd be correct.)
Before I go on a hunt, I warm up with a Ruger American Rimfire®. Except for the throw of the bolt, it operates in exactly the same way as its larger sibling, including the tang-mounted safety.
Shotguns
Shotguns are usually overlooked when talk turns to subcaliber training guns.
No doubt about it, shotguns can be painful to shoot. The two biggest sources of more felt recoil are a stock that is too long, and poor technique.
The former requires modifying the stock to fit the shooter, but the latter can be solved with training. The "gauge" that stays in the house for repelling invaders is a Mossberg 590A1 12 gauge.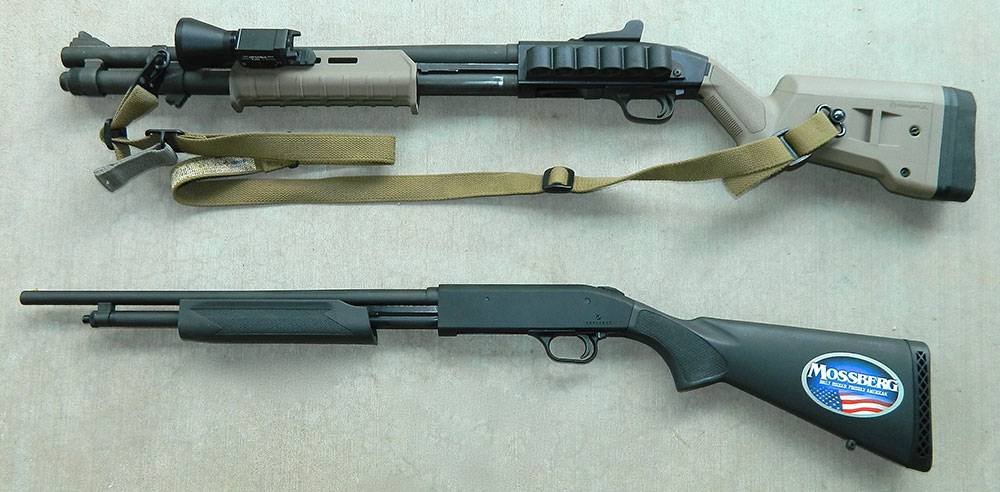 What I have used to train novices in regard to technique is a Mossberg 500E .410. Its minimal recoil and muzzle blast allow a neophyte to concentrate on stance and working the action. For me as an instructor, the 500E shows how little the shot spreads and that it must be aimed like a rifle to score good hits. The .410 allows a shooter to obtain these goals without being initially intimidated by the recoil the larger gauges produce.
But unlike the .22 LR, don't expect to save on ammunition costs. Due to supply and demand, a box of .410 is likely to cost every bit as much as 20 or 12 gauge, and often higher.
SUMMARY
The foregoing is just a sampling of what I use and have used to train beginning shooters. The selection is vast, and you can likely find a firearm(s) that meets your needs and budget—and it may not be absolutely necessary to obtain a duplicate of your EDC firearm to get the benefit of training using a .22.
A bonus for me is that I turn empty .22 LR cases into high-quality .223 bullets (FREE BULLETS: From .22 to .223, December 2008 S.W.A.T.).
Subcaliber training firearms can be used to sharpen skills that will transfer over to larger firearms. Another benefit is that shooting the .22 LR is just plain fun.
[Editor's Note: For some great training tips for subcaliber training firearms, see DOUBLE-DEUCE DRILLS: Real-Deal Rimfire Training, June 2016 S.W.A.T.]
SOURCES
CHIAPPA
(937) 835-5000
www.chiappafirearms.com
ISSC-AUSTRIA
(413) 967-3767
www.issc-austria.com
HENRY
(201) 858-4400
www.henryusa.com
O.F. MOSSBERG & SONS, INC.
(203) 230-5300
www.mossberg.com
STURM, RUGER & CO, INC.
(203) 259-7843
www.ruger.com