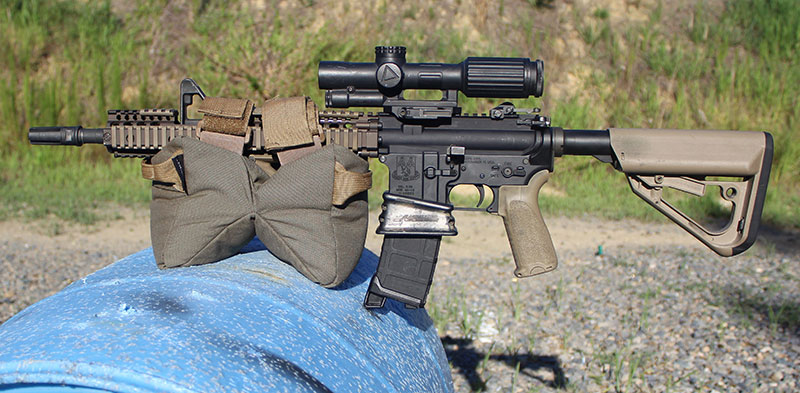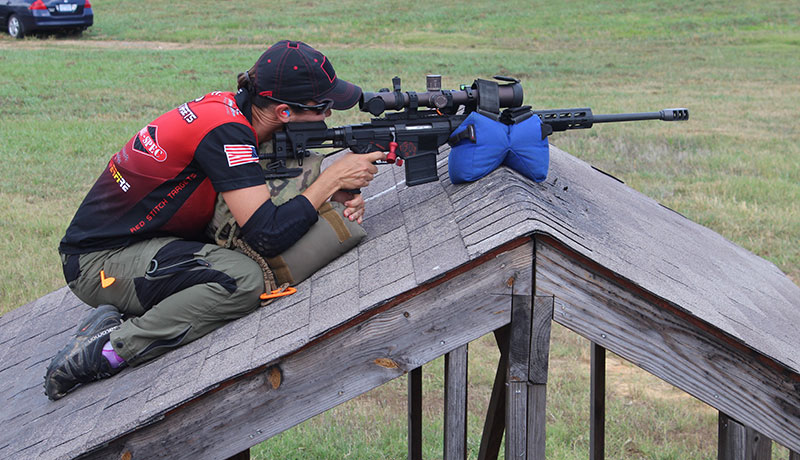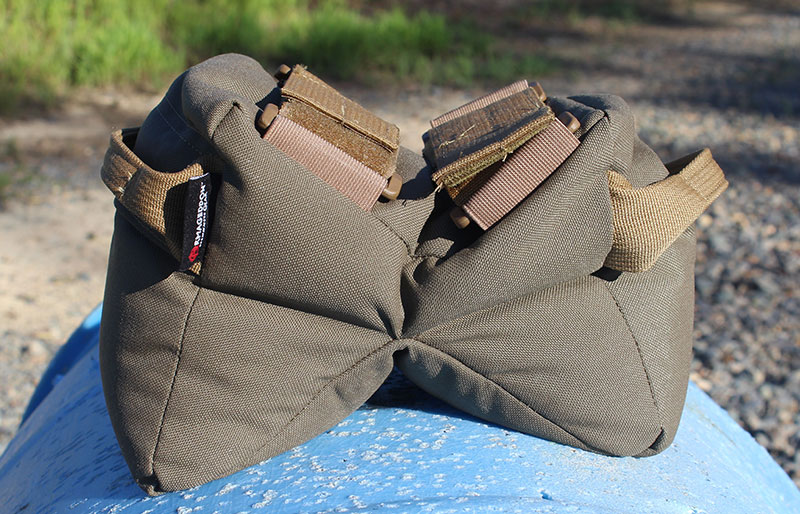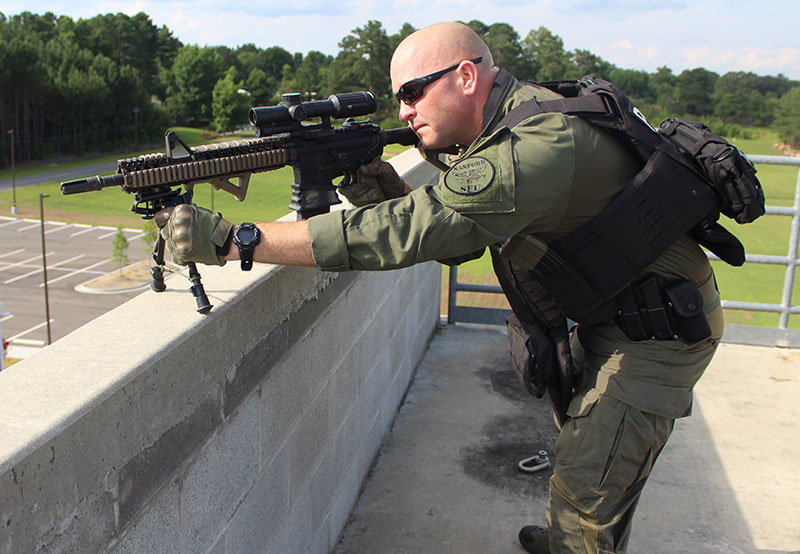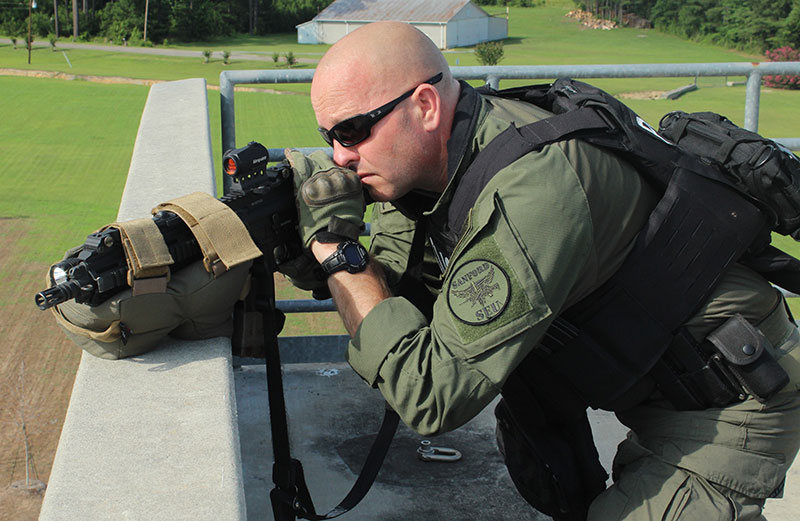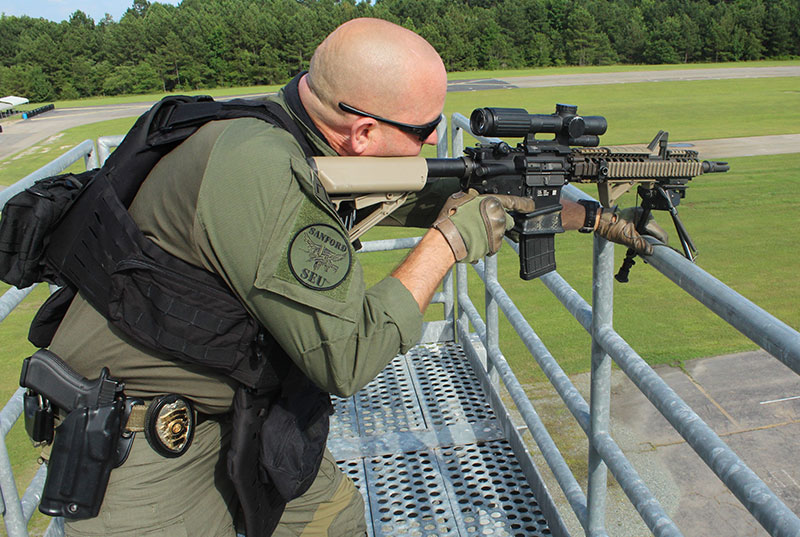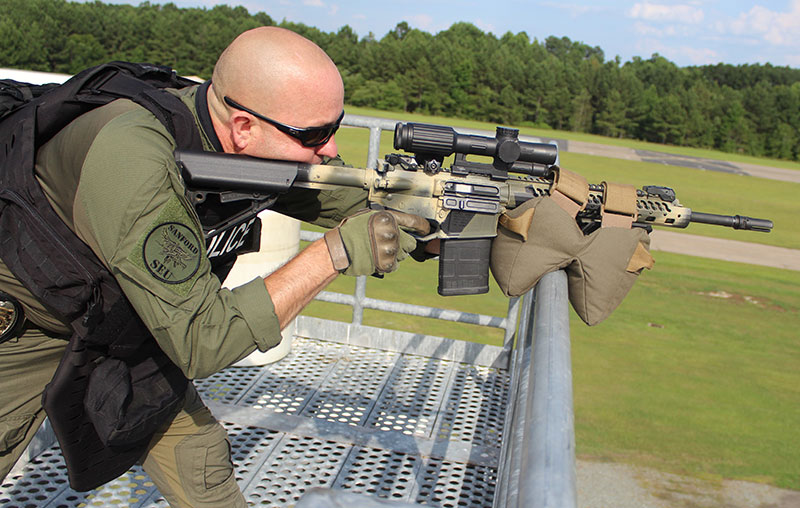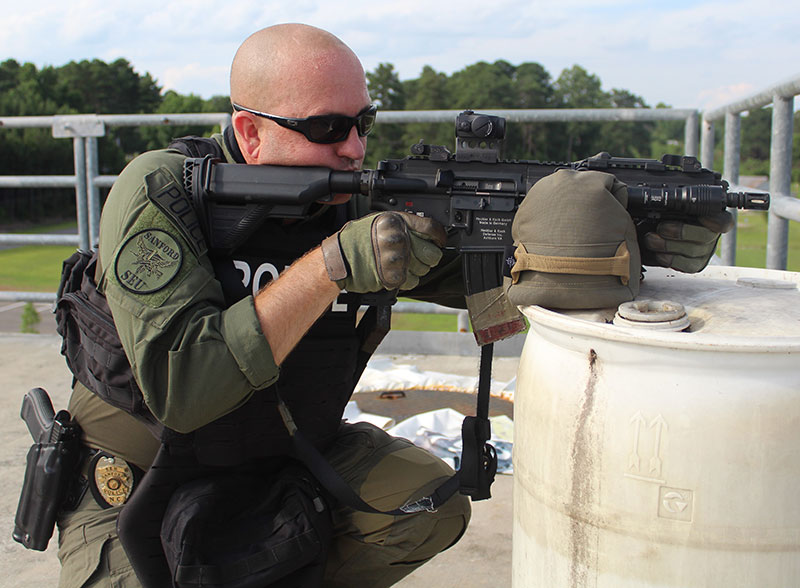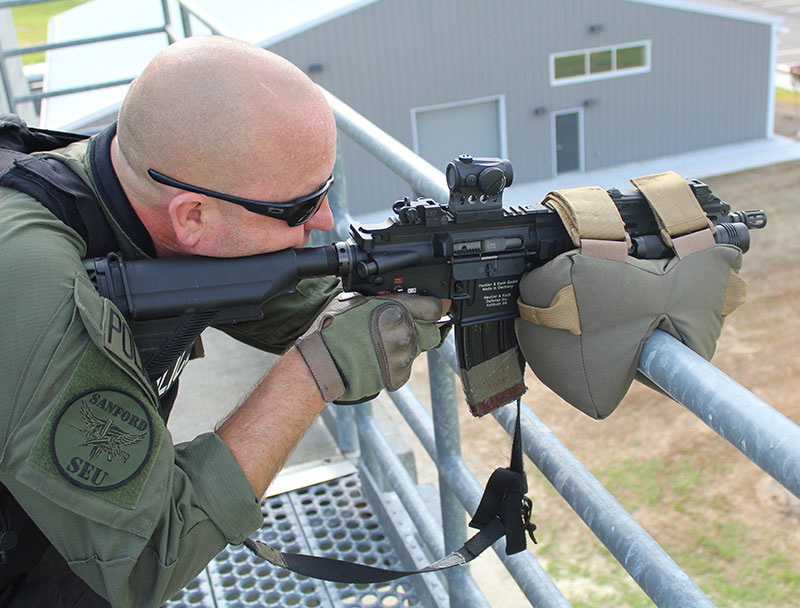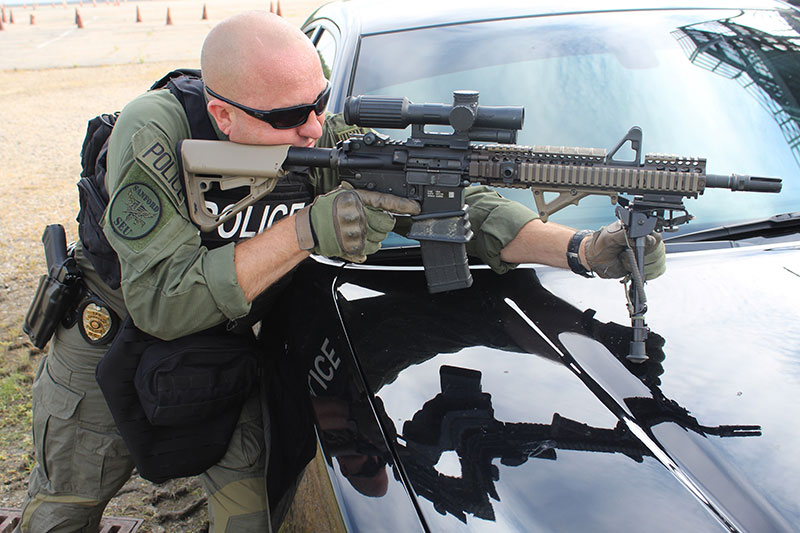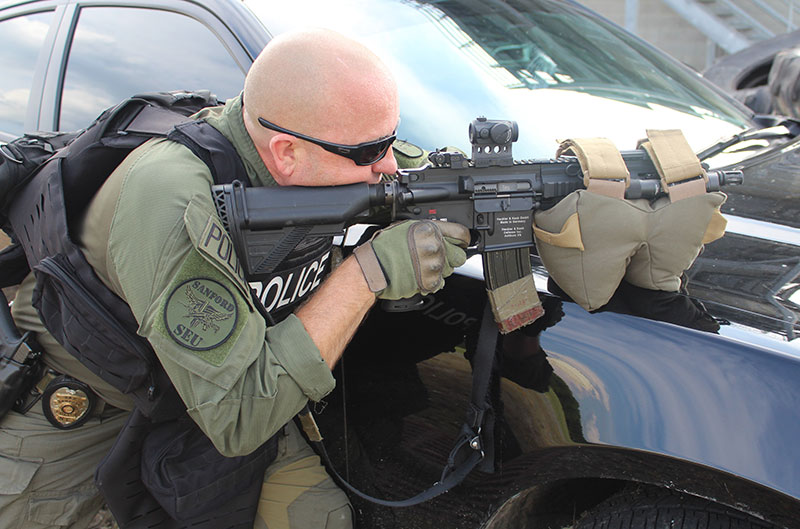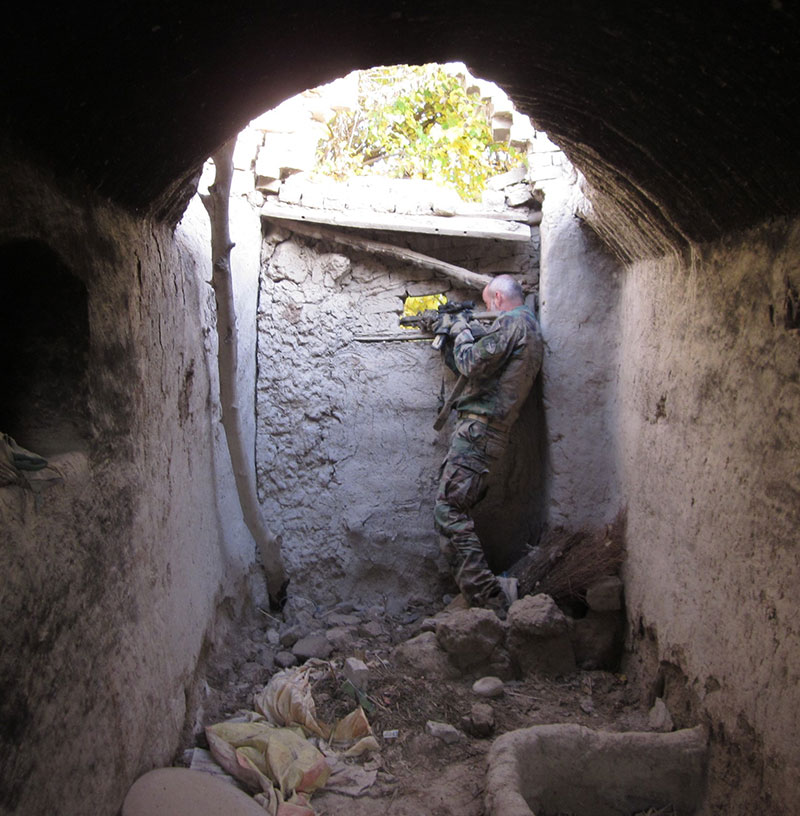 I competed in my first Precision Rifle Series (PRS) match this year. What separates PRS matches from other long-range shooting competitions is you can rarely expect to shoot prone off a flat surface. Instead one can expect to have to shoot off, shall I say, "very interesting" props: everything from sloped roofs, tipped-over 55-gallon drums, and 3-Gun style barriers to piles of logs and stumps. Anything to make stabilizing the rifle as difficult as possible is used as the platforms to shoot from.
I had an adjustable bipod and a rear bag for my rifles, but as I found out in the first couple of stages, these items—especially the bipod—were almost totally useless. Because of the different uneven surfaces, even with adjustable bipod legs, there was no even, stable, or wide enough surface to rest them on.
The majority of competitors were using an accessory aptly named the Game Changer. Designed by competitive and precision shooter Clifton Reasor, it is a bag specifically designed to mold around objects. Whether it's a 4×4 fence post, tipped-over 55-gallon drum, or stack of logs, when placed on these, the Game Changer bag has proven to be the ideal accessory, providing a stable, non-slip purchase for your rifle to rest on.
IT'S A SHOOTING BAG. WHAT'S THE BIG DEAL?
The problem with traditional shooting bags is the squarish, flat bases many have, which are perfect for flat, even surfaces such as shooting benches and tables and shooting from prone. A flat base fails when you are trying to use it on a two-inch-wide railing or the ¾-inch-wide edge of a VTAC barrier. In these instances, you have to take time to balance a traditional square-shaped shooting bag, to get it stable enough to rest a rifle on.
The Game Changer has a couple of features specifically designed to address this shortcoming, along with a few more capabilities not found with classic shooting bags. First is the shape of the bag. Instead of just one V-shaped pocket formed in it, it has two. A large V-shape is cut out on one end that, like traditional bags, is meant to rest the rifle on, but on the opposite side, instead of a flat base, it's tapered in the shape of another V.
Even though this V is smaller and not as pronounced as the V on the opposite end, this taper allows the bag to give and settle around curved and narrow objects. With a flat bag, you have to balance it evenly on an object to get it to rest firmly. The shallow V-tapered base of the Game Changer does a much better job gripping to sloped, narrow, and uneven surfaces.
Another key feature of the Game Changer is the two adjustable straps on the top of the bag. They allow the bag to be attached to the forearm of a rifle, giving a significant advantage over a bag with no straps. Now you have the ability to move the rifle around to different shooting positions, without having to carry a bag separately then having to spend time and effort positioning the bag between the prop and the rifle.
With the bag already attached to the front of the rifle, it not only allows for much faster transitions between different shooting positions but also frees up the support hand so you can use it to grasp barriers for an additional point of contact. Another benefit with it attached to the gun is no more worrying about recoil affecting the stability of the bag placement.
Unless you manually hold strapless bags in place when shooting large calibers or rapid strings of fire, there is a good chance, especially if the bag is rested on a small surface, that the rifle will eventually shift the bag around, potentially falling off whatever it is resting on or at least shifting the rifle around on the bag, changing your point of aim. This is also true with using a bipod. Depending on the surface it is resting on, bipods can also shift due to recoil.
With the Game Changer attached to the rifle, there is no chance of it falling off or sliding around between the rifle and shooting platform, and the chance of the rifle shifting point of aim from recoil is greatly reduced.
Some other handy features that come with the Game Changer: It has two carry handles placed on opposite ends of the bag and a zipper on one side. The zipper lets you take out or add filler content to make the bag softer or firmer depending on your preference. The ability to empty out the bag via the side zipper also has a tactical application, which I will cover later.
NO LONGER JUST FOR BOLT GUNS
Although it may have been initially designed with bolt guns in mind, the Game Changer bag works well with just about any rifle. In PRS, it is just as popular with shooters using AR-type rifles as it is with bolt-action gunners. It even works with short-barreled rifles. As long as you have about a ten-inch barrel, that is plenty long enough to use with the Game Changer.
Another application the designer had in mind for the Game Changer was tactical shooting, particularly shooting in urban environments. The same challenges that face a PRS shooter, such as uneven platforms, narrow ledges or windowsills, and barriers may be faced by not just snipers but also Soldiers or law enforcement who are providing overwatch with AR-type rifles.
Sure, you can just rest the forearm on whatever you are using for cover, but for the same reasons a shooting bag works so well on a shooting bench at a normal flat range, a shooting bag can work very well in a tactical scenario. Using one can enhance your ability to keep the rifle steady, resulting in a much better chance of hitting what you're aiming at.
With the Game Changer's capability to attach to the gun, in a tactical situation you can easily change from one position to another, while keeping both hands on the rifle. With the exception of being able to be adjusted in height (aside from turning it on its side the long way), I have found the Game Changer can do everything a bipod can do and more. In fact, if I could only have one item to help stabilize the rifle, I would choose the Game Changer bag over a bipod.
TACTICAL APPLICATIONS
In fact, I wish I'd had this bag during my last combat deployment in Afghanistan. Would I have taken it with me on every mission? No, but it would have been very handy for a few situations I was regularly in.
Common practice during multiple-day patrols was to hole up in Qalats (basically houses with thick walls) during periods of daylight and move at night. The reason? The Taliban does most of its fighting during the day. So it's best to find a place offering great cover during the day, and let the enemy come to us.
Because of this, some guys bring empty sandbags with them. It adds some cover to where they are sitting, but they also build rifle rests with them. I see the Game Changer being perfect for this. To get around carrying the extra weight, I could foresee carrying it empty. Then for times where I might be sitting for an extended period and want to build a stable position, filling it up with all the readily available sand and dirt found in Afghanistan.
Soldiers are already carrying and employing larger items such as tripods to support accurate shooting. When trying to determine what is right for the situation, I see the Game Changer bag as one more tool a shooter can choose from, with the added benefit that when carried empty, it's lighter than both a tripod and bipod. Plus in many circumstances, it vastly outperforms a bipod. This bag has many tactical applications for combat situations.
SUMMARY
With the commercial success of the Game Changer among long-distance PRS shooters, numerous bags very similar in design to the Game Changer are now being offered by other companies. But I do recommend the original Game Changer from Reasor Precision Solutions. It's currently being produced and sold under license by Armageddon Gear.
Two versions are being offered: the Game Changer, which has the two adjustable straps for attaching around a rifle, and the Optimized Game Changer, which does not have adjustable straps. Other than that, they are both made from 1000D Cordura fabric and are filled with almost five pounds of pelletized-polymer fill. Both come in various colors, including Multicam. When I spoke with Clifton Reasor, he told me he is working on offering different size Game Changer bags in the future.
When choosing shooting accessories, I always look for high quality and try to select items with the most versatility. Sure, if you are strictly a bench rest or prone shooter, a standard shooting bag will work just fine. But if you are thinking about competition in Precision Rifle Series matches, a Game Changer bag is a must, that is if you want to be able to quickly and accurately hit targets from the various challenging shooting positions.
On the tactical side of things, with its ability to mold around objects, the Game Changer offers the shooter many more options when it comes to places where you can set up a rifle for overwatch and sniping. If I had to deploy downrange into harm's way again, I would definitely take a Game Changer bag with me.
Jeff Gurwitch is a retired Special Forces Soldier who served 26 years in the United States Army (18 years with Special Forces). He served in the First Gulf War, three tours OIF, and three tours OEF. He is an avid competitive shooter, competing in USPSA, IDPA, and 3-Gun matches.
SOURCES
ARMAGEDDON GEAR
(229) 314-9059
www.armageddongear.com
PRECISION RIFLE SERIES
www.precisionrifleseries.com