I recently had the good fortune to try a Wilson Combat EDC X9 and was able to immerse myself in the experience for long enough, and intensely enough, to get a really good feel for it.

My primary carry gun is a striker-fired system, and almost all the training and practice I do is with striker-fired weapons. I've used 1911s on occasion but haven't worked with them enough to have the same level of comfort I do with my Smith & Wesson M&Ps or Shield, from which I've fired several thousand rounds. As I'm sure you understand, they've become like an extension of me.

That being said, I wish I had that luxury, because this gun performed so well for me that I'd be foolish not to carry it if I could.

I should say up front that, while the Wilson EDC X9 is an excellent carry gun, I don't think I'd actually carry it. If I ever had to use a firearm in a defensive situation, I wouldn't want a premium handgun such as this confiscated as evidence for any amount of time. Additionally, I've heard horror stories of police officers who are not "gun people" marking their name and badge number on the slide with an electric pencil when putting it into evidence.
FIRST IMPRESSION
Right out of the box, the Wilson Combat EDC X9 impressed me cosmetically. The design appealed to my own aesthetic tastes with its sleek lines, detailed "starburst" grips, and attractive diamond patterns instead of serrations on the slide. I also like the look of the fluted chamber and barrel. While the purpose may not be beauty, I consider it a positive feature.

The EDC X9 felt instantly at home in my hand. Because of my long fingers, I requested a large grip and long trigger. I snugged my hand under the beavertail, and the bobtail cut fell naturally into the base of my palm by my thumb pad. My fingers wrapped around the grip like they'd been designed for the gun rather than the other way around.

I was also a bit surprised at how light the EDC X9 felt compared to other 1911s I've fired. With its alloy frame, it's only slightly heavier than my Shield.

Because of the narrow 15-round double-stack magazine, my trigger finger is a little long for a perfectly natural fit, but that idea was forgotten the first time I fired it. This may be a 1911 hybrid, but I was instantly in love with its 1911 trigger.
SHOTS FIRED
First, I took the EDC X9 to my local range, where I train with Defense Preparedness Training and the Women's Defensive Weaponry Club. This group of women works with a variety of self-defense techniques, including firearms, and is continuing to expand their skills and offerings to both women and men.
My first opportunity to fire it was on a club shoot day, so some other lucky folks got to try this gun as well. Primarily a ladies' club, we sometimes have guests, and the one husband who was there that day declined to shoot it because he didn't want to have to buy one—he was that sure he'd love it.
All the women who tried the EDC X9 were impressed. One medal winner who had been struggling on the steel that day picked it up and knocked everything down in short order. She'll probably be buying one at her earliest convenience.
The only person who didn't fall in love with it was a lefty. She knows a left-handed thumb safety wouldn't be an issue on a custom gun, but she's got other plans for her gun budget and was probably happy it didn't make her go goo-goo eyed like the rest of us.
We ran some older, random ammunition through the EDC X9, and while we did have a couple malfunctions, I attributed those to some of the women's smaller hands not being able to keep a solid grip on the large frame.
EDC X9 GOES TO SCHOOL
I shot the pistol a few more times after my initial range session and then took it to Gunsite for the academy's new Active Shooter/Terrorist Response for Civilians class. (Click

here

for my full report on this class.)

As you might guess, the first thing I recognized was that operating the thumb safety wasn't yet second nature to me. That had been a concern for me, as neither of my full-sized M&Ps (9mm and .45) has a thumb safety.

My Shield has one, but I rarely bother to use it because I figure I'll operate it like the others and, in a time of crisis, it won't have been ingrained in me to do so. Plus, it's a tiny tab and not the wider shelf-type safety you can rest your thumb on once disengaged.

My second concern was that, as much as I appreciated the appearance of the Black G10 Aggressive Starburst Grips, they would tear up my hand over the course of the week. That concern was also groundless.

While my thumb took a day to get accustomed to the repeated use of the safety, my hand never felt anything but the security, power, and respect one feels when operating a handgun.

But my first several drills on the line at Gunsite with the Wilson ensured the rest of the week would be seamless as to the operation of the safety.

While I didn't get the chance to do any low-light work with it, my EDC X9 came with a rail. I actually slid one on and off just to try it. More and more people are using a light with a laser built into it, so I consider this an important feature.

I also appreciated the serrations on the front and rear of the slide. In addition to forming an attractive diamond pattern, they provide a solid hold for manipulations and malfunction clearance drills, which is especially helpful on warmer (or rainy) days when your hands might be slick.

Whether it was 115-grain FMJ range ammo, +P 124-grain, 135-grain factory rounds, 147-grain Hornady XTP, or reloads, operation was flawless at Gunsite. Overall, I'm totally confident in the EDC X9's reliability, and of course you will likely be carrying it loaded with high-quality defensive rounds, not reloads.
PREMIUM WEAPON, SUPERIOR ACCURACY
The more rounds I fired, the more I fell in love with the trigger. Some reading this will undoubtedly marvel at my naiveté about 1911 trigger systems, but maybe you'll get over it by the time I get over marveling at the trigger feel.

What about accuracy?

Usually at Gunsite, my first day targets aren't too impressive, and that's at a leisurely warm-up pace. On Day One of this particular class, they didn't fool around. The class began with targets turning for a couple seconds, and I was nailing every head shot and putting up nice groups in the center mass of the school's targets.

As we backed off of that five-yard starting point and other elements like cover, concealment, doors, vehicles, and innocent bystanders were introduced, that accuracy held, which I attribute almost completely to the quality of the firearm.

While the trigger played a large part in the pistol's accuracy, the sights helped, too. The front sight stood out with its bright fiber optic, but I didn't think I'd like the U-shaped rear sight—probably just because I'm so comfortable with the familiar sight pictures of my other weapons. I was wrong.

The U-notch is wide enough that it gives a spacious and crisp gap of light on each side of the front sight's bright dot, which is easy to pick up quickly and would come in especially handy in low-light conditions. The back of the slide and the rear sight have 40 LPI horizontal serrations, while the top of the slide has 30 LPI serrations that help reduce glare and permit better focus on the front sight.

Not surprisingly, this weapon proved to be exceptionally reliable. I probably fired about 1,500 rounds through the pistol and can't recall a single malfunction besides those that were purposely set up for a drill.

The accuracy of the EDC X9 was especially noticeable at longer distances. We did a class competition on a half-sized steel silhouette, in which students were eliminated with a miss, moving farther back after each series. When we got to 50 yards, the only people left standing were one other student and I, and he was using a red-dot optic. He won, but I feel certain that the Wilson's crisp trigger break, short pull, and clear sight picture are what got me that far.In any defensive situation, accuracy is imperative. In an active killer situation, where distances may be longer and innocent victims may be everywhere, accuracy is vital.
CHECKLIST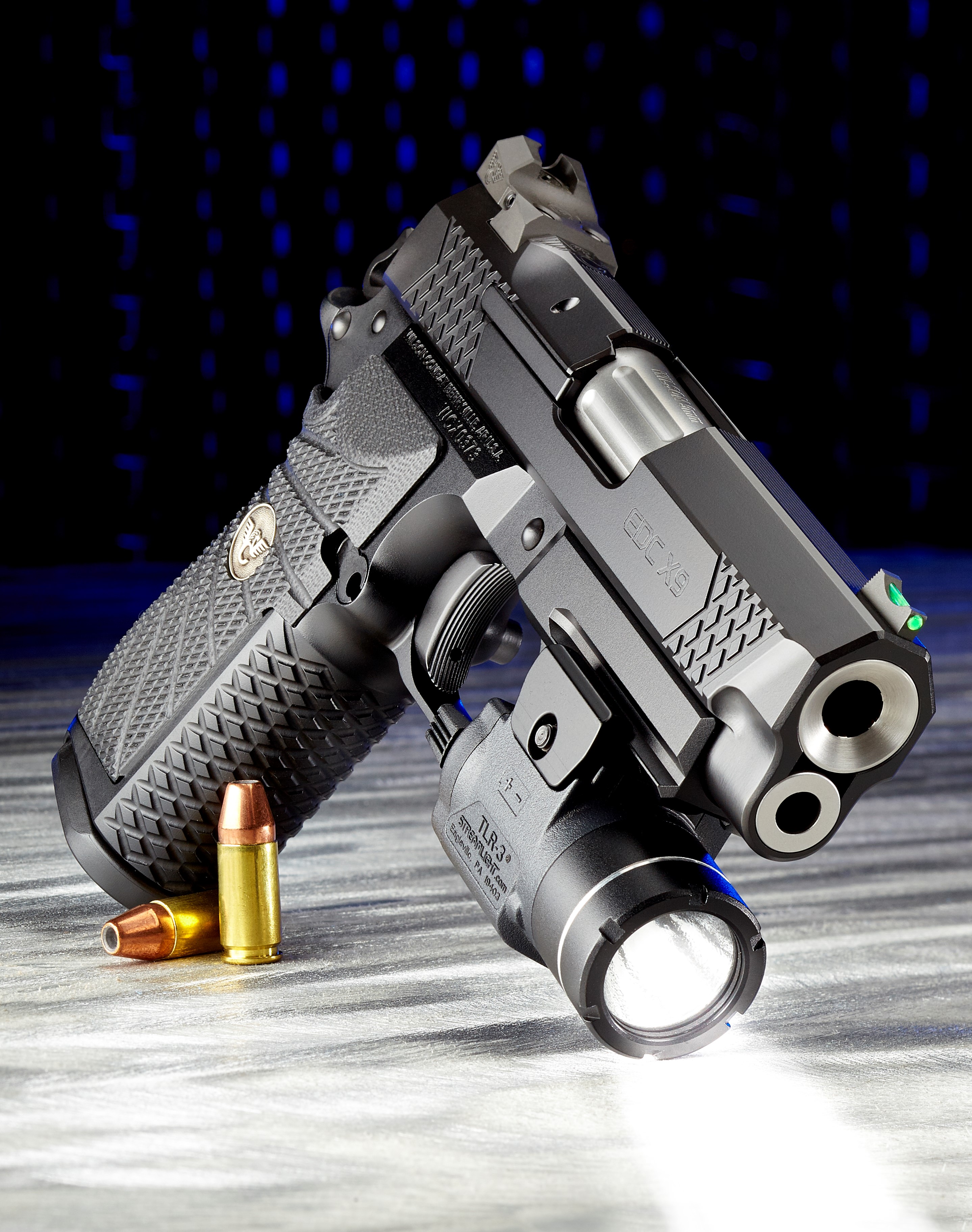 When considering a weapon for everyday carry, you want a pistol with which you're confident you can make the shot(s). Check.
You want something you can carry and conceal comfortably. Check.
As mentioned earlier, this Wilson pistol is not much larger or heavier than my Shield. I'd have to carry three extra magazines with my Shield to match the capacity of the EDC X9 with a backup magazine.
Even with its 15-round capacity, the EDC X9 boasts a relatively slim carry profile that I can wear in the same belly band holster I use for the Shield.
I tried to think of something negative to say about this gun, if only to not come across as a shill, but could come up with only one thing—the price.
For many people, what keeps them from buying high quality, be it art or firearms, is the cost of the item. At a suggested retail of $2,895, only the most discerning handgun aficionados will shell out that kind of hard cash.
With that said, I'd be foolish not to carry this gun every day if I could.
Photos by Steve Woods
SOURCES
WILSON COMBAT
(800) 955-4856
www.wilsoncombat.com
GUNSITE
(928) 636-4565
www.gunsite.com
WOMEN'S DEFENSIVE WEAPONRY CLUB
(702) 346-6149
www.womensdefensiveweaponry.org
WILSON COMBAT EDC X9 SPECIAL FEATURES
High-capacity compact size aluminum X-frame with reliability enhancing frame rails
Unique X-TAC frontstrap/mainspring housing treatment
Concealment Bullet Proof® hammer
Bullet Proof® thumb safety
3½- to 4½-pound crisp trigger pull with medium-length pad
Bullet Proof® magazine release
Black G10 Aggressive Starburst Grips with pewter medallions
Four-inch stainless steel Tri-Top Slide with external extractor
Unique X-TAC front and rear cocking serration treatment on slide
Heavy machine chamfer on bottom of slide
Elevation adjustable tactical Battlesight with fiber-optic front sight with 4-40 hexhead cap screw
Four-inch stainless cone barrel with reliability enhancing lock-up, flush-cut reverse crown
Fluted chamber and barrel
30 LPI slide top serrations
40 LPI serrated rear of slide and rear sight
Carry cuts/ball endmill cuts
Two 15-round magazines
SPECIFICATIONS, WILSON COMBAT EDC X9