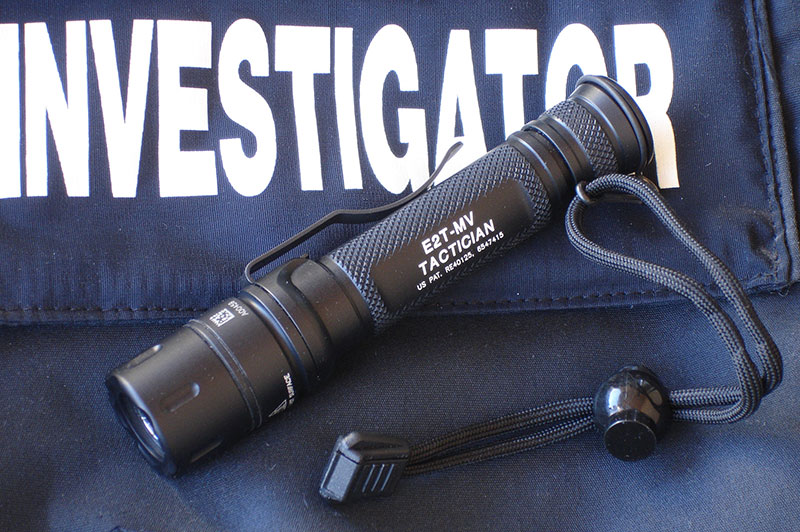 The SureFire® Tactician™ handheld flashlight is an outstanding new addition to the SureFire lineup. Designed for everyday carry (EDC), the versatile Tactician has a unique combination of features that make it an ideal flashlight for personal defense.
Size and weight do matter when it comes to EDC. At five inches in length with a one-inch diameter bezel and weighing only 3.5 ounces with batteries, the compact Tactician is small and lightweight enough to conveniently carry on a daily basis. At the same time, it has enough of a footprint to comfortably grasp and employ in tactical situations. It's the perfect size for an EDC fighting flashlight.
The Tactician features a rugged aerospace-grade 6061-T6 aluminum body and milspec (MIL-A-8625 Type III Class 2) hard-coat anodized finish. The heavy-duty aluminum housing can be employed as an expedient impact weapon or fist load. The body and tailcap are knurled for a secure grip. The flashlight is O-ring sealed to keep out dust, dirt, and moisture. It has an impact and heat-resistant tempered, coated Pyrex® glass window.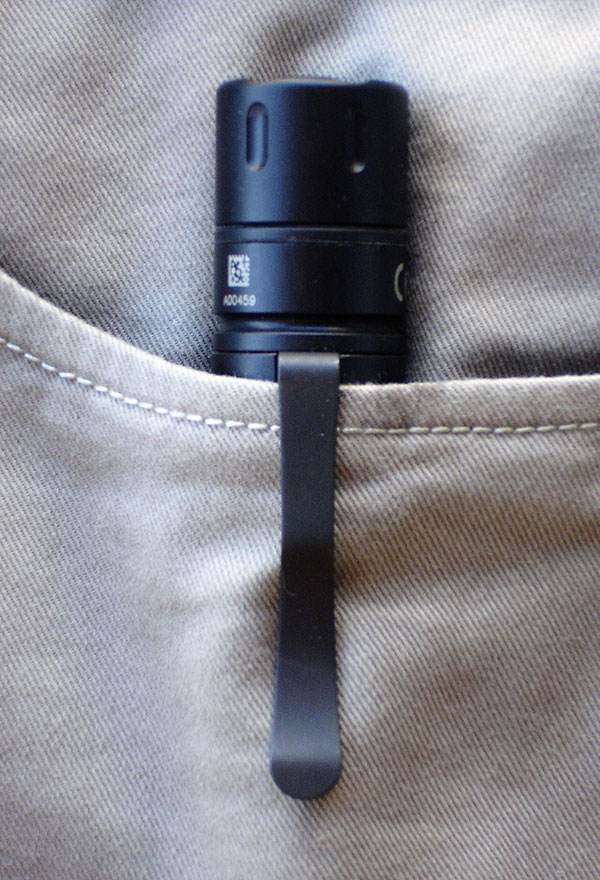 The flashlight features a strong and very robust black-oxide finished stainless steel pocket clip for secure bezel-up carry in a pocket, purse, or pack. It's the strongest and most robust pocket clip SureFire has ever offered on a flashlight. The design and orientation of the pocket clip also allow the Tactician to be securely clipped to a hat brim for use as an expedient headlamp.
The tailcap is equipped with a black-oxide finished stainless steel lanyard loop. The Tactician comes with a SureFire Z33 lanyard, which is made from black 550 cord (paracord) and equipped with two cord locks and a cord fastener. The fastener is designed to break away for safety if the lanyard or flashlight is pulled on with extreme force.
The Tactician features a tactical push for momentary-on/twist for constant-on tailcap switch. It's simple and foolproof under even the most stressful situations. The tailcap switch has a twist lock-out feature to prevent the flashlight from inadvertently activating in a pocket, purse, or bag. To lock-out the tailcap, simply rotate the tailcap counterclockwise until it will not activate when the tailcap pushbutton is pressed.
The Tactician has dual-output modes: high and low. The flashlight is capable of producing 800 lumens on high for tactical applications or where longer-range illumination is needed. By rotating the bezel counterclockwise a quarter turn, it can be dialed back for a five-lumen utility/task beam and longer battery life. The Tactician has an intensity of 10,000 candela. All performance claims were tested to the ANSI/NEMA FL1-2009 Standard.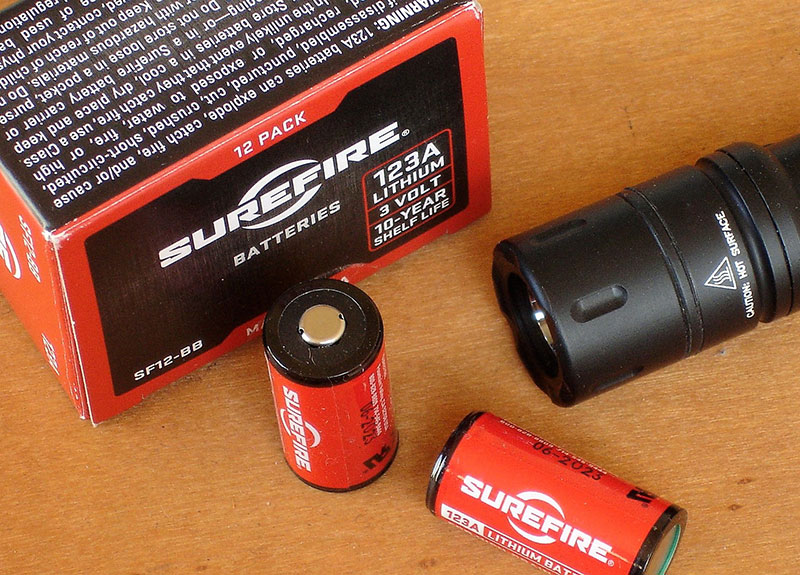 The Tactician runs on two disposable 3-volt lithium 123A batteries (included). Run time is one hour on high and 70 hours on low. The flashlight is not designed for use with rechargeable batteries. SureFire recommends using only American-made UL-certified batteries, such as those from SureFire, Duracell®, Energizer®, and Panasonic®.
Inferior-quality or counterfeit batteries greatly reduce overall performance and may develop short circuits, which can lead to fires and/or explosions. You can purchase SureFire 123A batteries in boxes of 12 or 72 at considerable savings.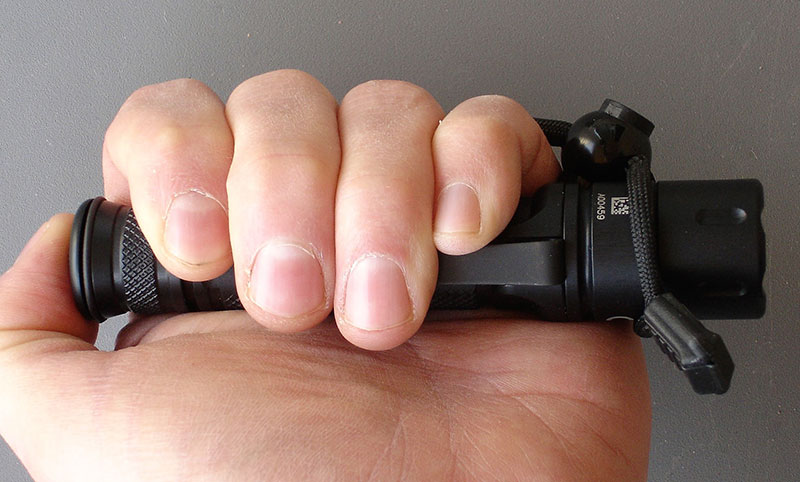 The issue of heat management is at the core of many LED-based lighting applications, in order to maintain the longevity of the LED. All SureFire LED illumination tools are thermally regulated to keep the LED junction temperature below the recommended limit. When run continuously on high mode, the Tactician maintains its initial level of output for only a couple of minutes and then begins a decline until it drops out of regulation.
The Tactician features a virtually indestructible high-performance Cree® LED and specially developed proprietary CNC machined aluminum reflector that create a wide, smooth MaxVision Beam™, optimized for your field of vision and free of imperfections. The MaxVision Beam is a hybrid flood with throw as far as you need for personal defense while providing maximum peripheral illumination. It produces a lot of usable light and illuminates all the corners in a medium-sized room. It's the ideal beam shape for CQB/gunfighting.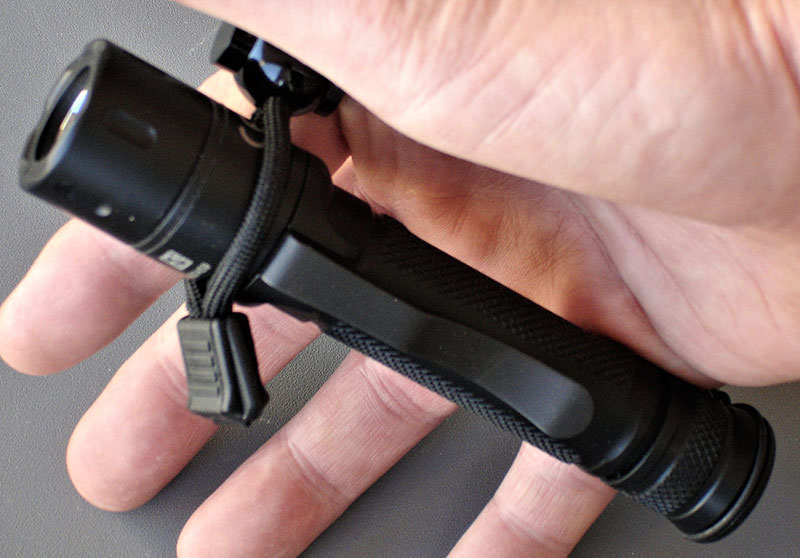 To sum it up, the SureFire Tactician Dual-Output LED Flashlight (Model E2T-MV) is an outstanding, very well-thought-out tactical flashlight that offers maximum versatility for both EDC and personal defense. It has become part of my daily carry.
The Tactician has a suggested retail price of $149.00. It's backed by SureFire's No-Hassle Guarantee. As with all SureFire products, the Tactician is designed and made in the USA.
SOURCE
SUREFIRE, LLC
(800) 828-8809
www.surefire.com
| | |
| --- | --- |
| MANUFACTURER | SureFire, LLC |
| MODEL | E2T-MV |
| OUTPUT | High: 800 lumens. Low: 5 lumens. |
| RUNTIME | High: 1.0 hour. Low: 70 hours. |
| INTENSITY | 10,000 candela |
| BEAM TYPE | MaxVision Beam |
| PEAK THROW | 230 meters |
| LENGTH | 5.0 inches |
| BEZEL DIAMETER | 1.0 inch |
| WEIGHT (with batteries) | 3.5 ounces |
| SUGGESTED RETAIL PRICE | $149.00 |